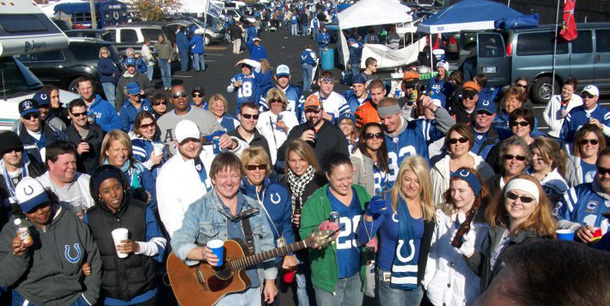 The South Lot Gang of the Indy Blue Crew has been tailgating in support of the Indianapolis Colts for fourteen years. They drive 93 miles EACH way to Indianapolis in T-Bone's decked out '92 Ford Conversion Van for the games! For home games you can find them in the pre-sold Blue Crew Lot outside of the Lucus Oil Stadium.
Chrissy is their "Beer Goddess" who organizes this rowdy crew. Someone's got to do it! You'll most likely hear them before you see them as this tailgate group prides themselves on booking bands and DJs to provide entertainment before the football games.
The South Lot Gang has mouth-watering special they cook up in the lots: Uncle Dan's Award Winning Schnackburgers. These suckers are a mini meatloaf in a bun. Done and done! They wash 'em down with their Rocket Fuel drink – a high octane Long Island Iced Tea. If that doesn't do the trick they've got an awesome beer bong… signed by Vince Neil of Motley Crue! Beat that!!
Trick to the trade? A pot holder built into their tailgating table. Two years ago their resident chef Dan Cole boiled 20 pounds of crablegs and made about 4 gallons of clam chowder for a Patriots game. The chowder got too hot so he took it off the burner and quickly set it on the table. Doh! The pot melted into the table, leaving the perfect pot holder. Ha! Don't try that one at home!
Like us, they get excited about cornhole! The South Lot Gang of the Indy Blue Crew has organized several fundraisers for the Indiana National Guard units deployed in Afghanistan. In 2010 the tailgating group raised $1,200 with a cornhole tournament and silent auction to provide the troops with internet service so they could connect with their families back home.
Ready to be a friend? Find them on their Indy Blue Crew Facebook page.
They also have a website: Indybluecrew.com
>>If you'd like to nominate a tailgate group, hit us up here!