If you are one of the lucky racing fans attending the Daytona 500 this weekend, you are in for one epic adventure of a weekend! We here at Inside Tailgating want to make sure that you are prepared to have that weekend of a lifetime, so we put together five must see attractions to hit up while in the Daytona Beach area.  Florida is absolutely gorgeous so I hope you check out these places before or after your NASCAR adventure.
The Richard Petty Driving Experience
If you have planned your trip to go down to Daytona for the full racing experience, then I'm sure you want to race cars yourself. With Richard Petty's Driving experience, now you can! If you have the money to shell out for this attraction then definitely do it.  The Richard Petty Driving experience puts you the fan, behind the wheel of a NASCAR vehicle and lets you feel the thrill of being an actual NASCAR driver.  I would definitely try this experience of a life time so all your NASCAR fan friends can be jealous. www.drivepetty.com
Jackie Robinson Ballpark and Statue
If you love Baseball as much as you love professional racing then check out this ballpark modeled after the late great Jackie Robinson. Tour the stadium and check out a classic baseball atmosphere.  If you're lucky you may even get to run the bases.
The Beach at Daytona Beach
 You can't go to Daytona and not go to the beach. After a long day of racing action, maybe you want to relax. The landscape is beautiful. The weather will be nice. Lay back, kick your feet up, and just take in the beautiful Florida scenery. Build a sandcastle, watch the pretty girls pass by and just enjoy!
Congo River Adventure Golf
Like a lot of tailgaters, I love mini golf and try to play a round of mini golf wherever I go. It's a great way to relax and it's awesome for the family. Moments are always made in mini golf and I highly recommend this course. It's unique, the price is right and it's just a fun way to blow off some steam while prepping for the race.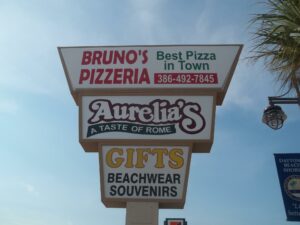 Bruno's Pizzeria/ Heli Hogs
After all the racing festivities and Daytona Beach attractions you are going to need to eat. These two restaurants are staples in the Daytona community and have gotten rave reviews. Bruno's has the best gourmet pizza in that area and Heli Hogs is an amazing BBQ eatery. Pick both if you have time and your belly will be satisfied on your trip to Daytona. Bruno's Website:
www.brunospizzapalmcoast.com
Heli Hogs:
www.helihogs.com
Daytona Beach is filled with great attractions and there is much to see. For more ways of planning your trip check out
tripadvisor.com