[fblike style="standard" float="left" showfaces="false" width="450″ verb="like" font="arial"][twitter style="horizontal" source="@TailgateWithUs" hashtag="#tailgating" float="left"][hr]
[typography font="Jockey One" size="25″ size_format="px"]Whoohoo![/typography]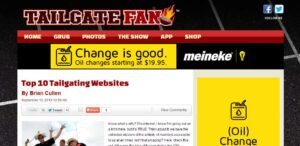 This weekend we were notified that Brian Cullen of TailgateFan.com/CBSLocal (and a true tailgate fan), named InsideTailgating.com as the No. 1
Tailgating Website and one of his go-to
sources for Tailgating Inspiration. If you haven't seen the article which features other awesome tailgating sites, you should browse his Top 10 List.
[quote style="boxed" float="none"]Inside Tailgating has been one of my go-to sources for inspiration.
They put a big focus on the fans, meaning that you'll be able to track down write-ups on some of the craziest tailgating groups out there. At the time of publication of this piece, they're
currently running front page stories about a Belgian trippel and beer cake.
Yes. Yes we like all of that.[/quote]