BBQ Turkey with Mustard Sauce
So often it is the simplest ideas that lead us closer to perfection. If you haven't had a turkey grilled up just right then you are definitely missing out. Give this beautiful bird recipe a test flight, so you will be ready for the main event later on this month!! "Thems parts, don't be scared to go for the whole bird now…" #Thrilla
Join our Inside Tailgating Community For Free Today!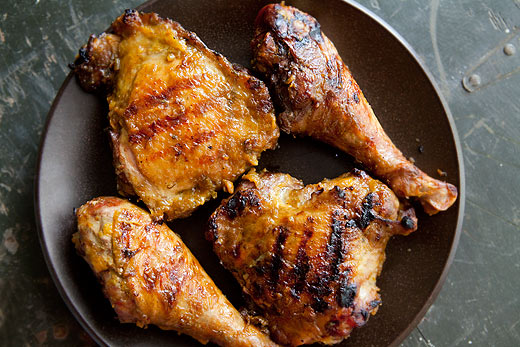 Ingredients –
4 to 6 turkey legs and or thighs, trimmed of excess fat
Salt
Vegetable oil
South Carolina Mustard BBQ Sauce (ingredients below)
Directions –
1. Rinse and dry turkey pieces. Salt to liking, let rest at room temperature for half an hour.
2. Prepare the sauce, saute onions lightly on a medium heat, then add other sauce ingredients simmering slowly for another half an hour, be sure to stir the mixture from time to time
3. Set up grill for high heat on one side and low indirect heat on the other, all grills are different so just use your best judgment with the equipment you are working with-
4. Rub oil on turkey pieces and clean and oil your grill grates
5. Very carefully sear the 'skin' side of the turkey pieces on the hot side of the grill, once browned and looking the way you would like them to, move the turkey pieces over to the cooler side of the grill on their opposite sides. Turkey grease may cause flare ups, be vigilant-
6. Cook with lid down on low indirect heat for twenty minutes, keeping lid on the entire time. Slow cook for 1-3 hours checking the progress in 10 to 15 minute intervals. You may want to have a temperature gauge ready just to be safe.
7. Start basting turkey with sauce after about an hour of cooking time. Turkey juices will run clear when the turkey is finished cooking. One last sear and baste on the skin side will complete your masterpiece. This would be very easy to prep ahead of time and bring to the tailgate in a cooler ready to go!!
Yield – Serves 4 to 8
South Carolina Mustard Sauce
4 tbsp butter
1/2 onion, finely grated
1/2 cup cider vinegar
1/2 cup brown sugar
1/2 cup yellow mustard
1 tbsp dry mustard
1 tsp cayenne
1 Bay leaf
Salt to taste
contributed by simplyrecipes.com