A Chicago-style hot dog, Chicago Dog, or Chicago Red Hot is an all-beef frankfurter on a poppy seed bun, originating from the city of Chicago, Illinois.
The "dragged through the garden" style is heavily promoted by Vienna Beef and Red Hot Chicago, the two most prominent Chicago hot dog manufacturers, but exceptions are common, with vendors adding cucumber slices or lettuce, omitting poppyseeds or celery salt, or using plain relish or a skinless hot dog. Several popular hot dog stands serve a simpler version: a steamed natural-casing dog with only mustard, onions, plain relish and sport peppers, wrapped up with hand-cut french fries, while the historic Superdawg drive-ins notably substitute a pickled tomato for fresh. Many vendors, including Portillo's, offer a Chicago-style dog with cheese sauce, known as a cheese-dog.
The recipe does not include ketchup, and there is a widely shared, strong opinion among many Chicagoans and aficionados that ketchup is unacceptable. A number of Chicago hot dog vendors do not offer ketchup as a condiment.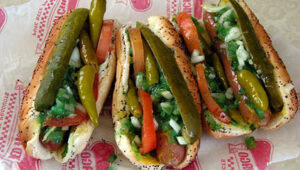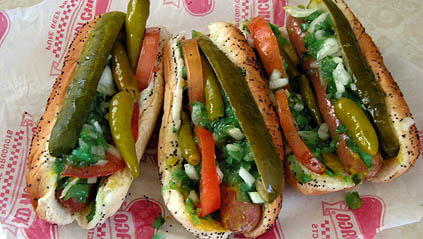 Recipe courtesy of Wiener's Circle
Ingredients
1 all-beef, natural casing, Vienna hot dog, char-broiled to perfection
1 poppy seed bun, well steamed
1 heaping teaspoon mustard
1 tablespoon green relish
Fresh chopped, steaming hot, grilled onions
2 large pickle wedges
4 slices red-ripe plum tomatoes
A dash celery salt
Hot sport peppers, optional
Directions
Place char broiled hot dog in bun.
Top with mustard, relish, onions, pickles, and tomatoes.
Finish it off with a dash of celery salt.
Hot sport peppers are optional.