Inside Tailgating is kicking off a new monthly series called the "Select 6." We are picking everything from our favorite portable grills, RVs, and coolers to the best barbecue sauces, burger recipes and seasonal beers. If it's tailgating-related, we have an opinion and we want yours too! Each month we will name our "Select 6" and then turn it over to you, our readers, the front-line tailgaters, to vote for your favorite. We will then republish the Top 6 based on your input.
We begin the series with our Select 6 Best Summer Music Festivals of 2019, because what goes better together than tailgating, summertime and live music? Vote for your favorite of the six by noon Wednesday, May 29. We will tabulate the results and release the Top 6 shortly thereafter, both on our website and across social media platforms.
Without further ado, here are the Select 6 Best Summer Music Festivals (listed alphabetically) with input from legendary tailgater and discerning music fan Bernie Nabors, who is also the Collegiate Coordinator for the American Cornhole League, our sister business. (Just don't get him started on the musical contributions of Prince. It might take a while.)
Bonnaroo. June 13-19 in Manchester, TN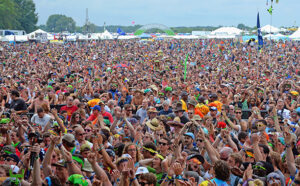 Because it's got the history, the hippy factor, and a lineup that includes Phish, Post Malone, the Avett Brothers and the Lumineers. If we're not getting Woodstock 50 this summer – investors just pulled the plug on the 50th anniversary concert – then Bonnaroo is the next best thing.
Governors Ball. May 31-June 2, New York, NY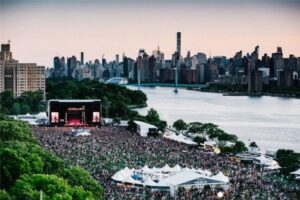 Something about turning from the stage on Randall's Island to glance over the Harlem River at the New York City skyline has got to send chills up your spine. Music, Manhattan and being in the middle of the best fare in the world – the food and food trucks are straight outta New York City as well – doesn't hurt.
Glastonbury. June 26-30, Pilton, Somerset, England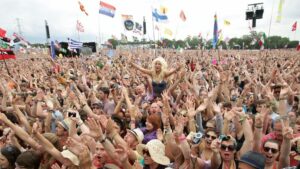 Because tailgating isn't just for events in the States anymore, and because English fans change the concert experience entirely. Want to hear acts like Radiohead, Foo Fighters, Ed Sheeran and Katy Perry perform to a crowd that's singing ever lyric along with them? Glastonbury in Somerset, England is the place.
Hangout. May 16-19 in Gulf Shores, Ala.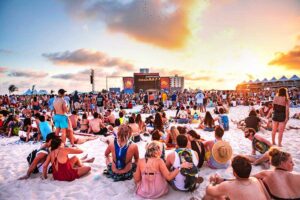 Just about any musician could play this festival and we'd be all about it because it's on the beach. Literally on the beach. Hangout is billed as a music vacation and we can see why, with seaside hammocks, beach volleyball and a ferris wheel setting the mood. The music ain't bad either, and this year headliners include Travis Scott, Cardi B, and Khalid.
Lollapalooza. Aug. 1-4 in Chicago, IL.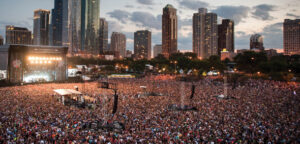 This one has the name recognition, the tradition and the chops with a multi-faceted lineup that's deep too. Where else are you going to see Ariana Grande, Kacey Musgraves, Lil Wayne, Death Cab for Cutie, and Fitz and the Tantrums in one spot? Lollapalooza has seen its share of problems when it packs up and goes on the road, but Grant Park is still the place to be for a music festival mainstay.
Tailgate Fest. Aug. 17-18 in Eastvale, Calif.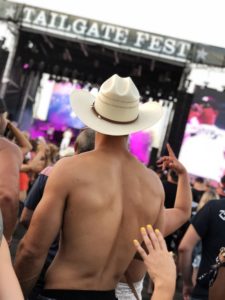 It's only in its second year but founder Melissa Carbone is revolutionizing music festivals by encouraging fans to tailgate during the musical acts. Every parking space has a vantage point of the stage and easy access to both tailgating necessities and the music. Toby Keith headlined last year's inaugural Tailgate Fest and this year's lineup is equally legit with Brantley Gilbert, Brett Eldredge, Lee Brice – and for the old-timers Clint Black – as musical guests.