Last Updated on 06/24/2021 by Jennifer Rutzen
Yard games other than cornhole to break out in the backyard for some family fun while sheltering in place
At Inside Tailgating, we independently select and write about stuff we love or want to try out and think you will too. We are a participant in affiliate advertising programs, including the Amazon Services LLC Associates Program, which is designed to provide a means for sites to earn advertising fees by advertising and linking to Amazon.com.So, we may receive commission from sales or other compensation from links on this page, at no additional cost to you. We gotta pay for our tailgates somehow…
Looking for ways to liven up your homegating scene? Why not pull out some of your favorite tailgate games for the backyard? Or order something new to use now and enjoy again in the lots when we get back to tailgating together?
In case you don't have a cornhole board handy, or you've already worn yours out and are looking for something else to try, here are 10 of our favorite tailgate/yard games other than cornhole that are fun for the whole family to enjoy. (Oh, and if you're looking for a yard game – where drinking is part of the fun – check out our Select 6 tailgate games for ideas.)
Classics
1. Croquet. Yes, totally old school. But wouldn't it be fun to grab a wooden mallet and teach it to your kids to hit a croquet ball through a series of wickets? It would give you a little shot of nostalgia at the same time. You don't have to break the bank for a set either. Amazon has an array of sets like this one with a pack-away carrying case for $42.99.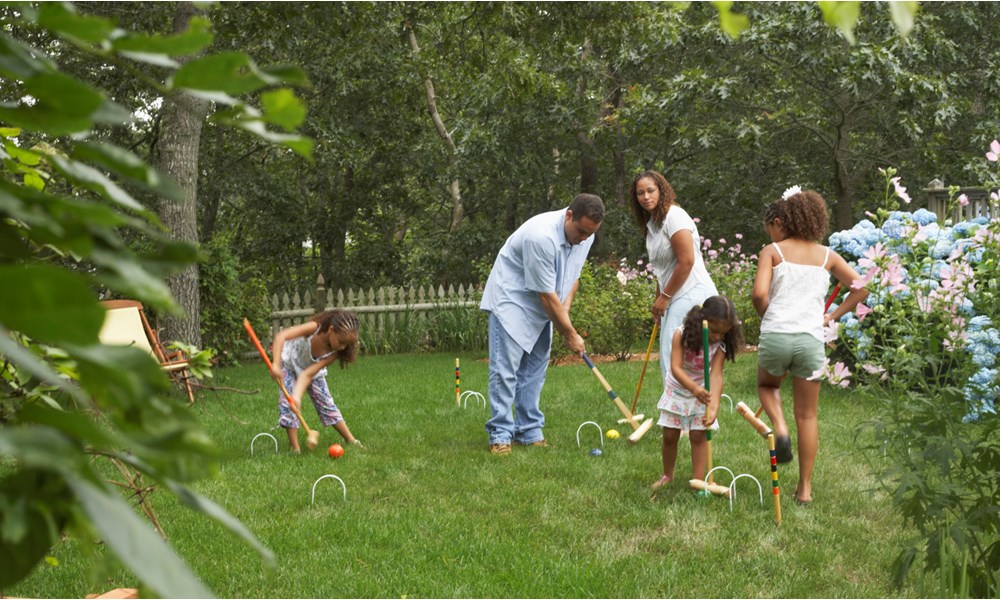 2. Bocce. Talk about a classic yard game – this one with roots that trace back to the Roman Empire! It's perfect for a little retro homegating entertainment. All you need is flat ground, whether it's a paved surface, dirt, closely-mowed grass or a formal Bocce court. This variation on yard bowling can be played by two to eight people. Here's one backyard set on Amazon.
3. Horseshoes. If you actually want the real thing but without the safety hazard of flinging metal objects 40 feet? How about the Champion Sports Rubber Horseshoe Set? It's lightweight, comes with rubber playing mats and rubber horseshoes that allow you to play indoors too, without damaging walls or floors. It's easy to pack and ideal for kids.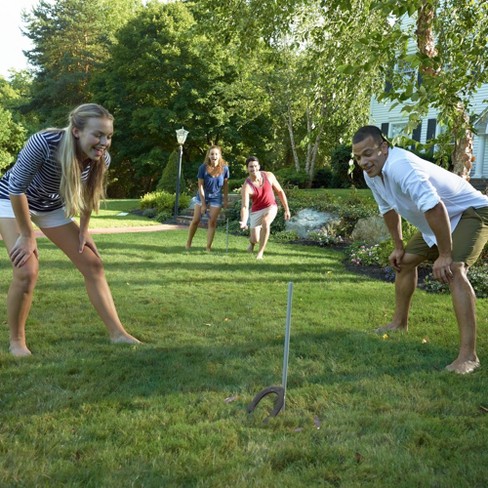 Updated classics
4. Glow Toss Game. So you've got the daytime hours covered, but need something special as the sun is setting? This light-up ring toss game is a whole new kind of fun, featuring light-up rings and stakes so you can play ring toss on into the night. It's not easy to find in stock at the moment, but try this one on Amazon or check out Glow Universe for details.
5. Lawn twister. Get a little rush from doing a DIY project and a fun game all in one. This outdoor take on an indoor classic doesn't adhere to social distancing of any kind but great fun for family who's already sharing tight quarters. All you need are some spray paint, four pieces of poster board, scissors and something round to trace, like a plate. For how-to and inspiration, try this site.
Crowd Pleasers
6. Ladder Golf. It's a tethered ball toss game. The goal is to wrap a bola, which in essence is two golf balls attached by a cord with knots at each end, around a rung on a ladder-shaped target. Each rung gets you a certain number of points. The game can be played by two or four players, indoors or outdoors, and is great for ages 14 and up. It's available on Amazon.
7. Polish Horseshoes. This frisbee game is also called Spanish Horseshoes, Frisbeener in the Midwest, French Darts in Virginia, and Beersbee in Canada. It's an outdoor game played between two teams of two people that involves trying to knock a glass bottle (sets come with unbreakable bottles) off a pole using a Frisbee. You do it while holding a beverage – or perhaps a phone, if you want to keep it family-friendly – in your other hand. Also known as Bottle Bash on Amazon.
Modern player
8. Kan Jam. What originated as "Garbage Can Frisbee" is all grown up now and called Kan Jam. The disc-tossing game is played 2-on-2, which makes it a great option for homegating in the backyard. For a look at how it's harder to master than it looks – not to mention some laughs – check out our own "Tailgate Crashers" attempting to play Kan Jam, among other games at a NASCAR tailgate. A full set is available on Amazon for just $39.99.
9. Spikeball. OK, this game not only looks fun (I've never played), it can double as a workout. This Shark Tank-featured distant cousin of volleyball looks fun, addictive and challenging. You play in teams of two, and any flat grassy area will do. It'd make a great game to pack and take to the beach on a vacation too, for future reference. Check it out on Amazon.
10. QB54. We at Inside Tailgating are fans of this football-tossing game created by two brothers from New Jersey. You get a set of two canvas tailgating chairs that convert into the game, complete with a basketball-shaped goal in what were the seats and attachable bright yellow "goal posts." It's win-win and available through Amazon.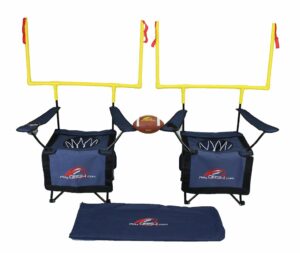 Inside Tailgating is a participant in the Amazon Services LLC Associates Program, an affiliate advertising program designed to provide a means for sites to earn advertising fees by advertising and linking to Amazon.com.