Last Updated on 04/15/2021 by Inside Tailgating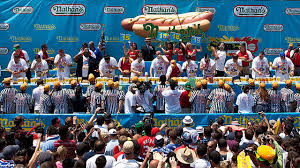 Eating hot dogs on the 4th of July is as American as it gets. This holiday is the best homegating holiday of the year…grilling out in the backyard or neighborhood with friends and family and honoring the USA brings everyone together for a common celebration. While you are eating and commenting on the number of hot dogs your Dad, Uncle or friend is putting down, be careful, because they have an easy out and comeback on this day. Nobody will eat as many as Joey "Jaws" Chestnut at the 2014 Nathan's Hot Dog Eating Contest all day…and Jaws is going to do it in 10 minutes.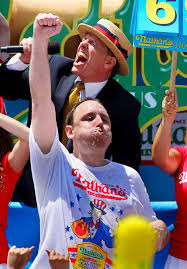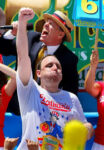 As Jaws' celebrity status continues to grow, so does the popularity of this event. It is being shown live at noon on ESPN News and then replayed throughout the day on various channels within the Network. At some point in time you are going to check out a guy put down around 70 Hot Dogs in 10 minutes if history is repeated this year.
Last year Jaws', currently a 1 to 20 favorite, put down a record 69 Nathan's Hot Dogs and buns in the allotted time. That was a solid 18 hot dogs more than 2nd Place Finisher last year and sitting at 6 to 1 odds this year, Matt "The Megatoad" Stonie. While Matt may not have much more than a hail mary prayer, we are going to award him with our favorite nickname in the Contest.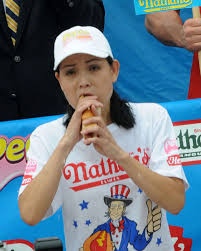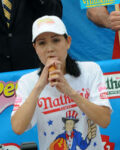 Not to be left out are the Women who will be rapidly consuming Nathan's Hot Dogs as well. This will be a much tighter match between defending Champion Sonya "The Black Widow" Thomas a 4 to 5 favorite and newcomer Miko Sudo at 5 to 4 odds. Miko ate 40 Hot Dogs in one of the qualifying contests and The Black Widow's put down 36.75 in last year's contest. However, Miko has never won a Major League Eating contest over Sonya. Our opinion is that she can't win because it is her first time on a stage this big and she has no nickname…so Miko, get a handle….especially if you do win or we will give you one.
In Homegating We Trust…Have a safe and happy holiday…and enjoy the Nathan's Hot Dog Eating Contest.
For those that want to make some "for amusement only wagers" our advice is don't bet against Jaws and go with picking the over / under on 70 hot dogs or margin of victory or the battle for second place. The Women's field is much more even. We have listed our Top 5 Nicknames in the contest with some bio info from Major League Eating along with the listed odds for the event.
Inside Tailgating's Top 5 Nathan's Hot Dog Eating Contest Nicknames (check out Major League Eating)
1. The Megatoad (Matt Stonie)
San Jose, CA
5'8", 120 lbs, 22 y/o
How He Got Here: Won Boston, MA, Qualifier with 53 Hot Dogs & Buns in 10 min
This may be a tribute to animated character, but we think this dude can consume anything…very fast and win all kinds of side bets in the lots…
2. Deep Fried Diva (Meredith Boxberger)
Barrie, Ontario, Canada
5'8", 130 lbs, 27 y/o
How She Got Here: Won Charlotte, NC, Qualifier with 18 Hot Dogs & Buns in 10 min
Who doesn't want to hang with someone called Deep Fried Diva….every tailgate needs one…130 LBS? Seriously!?!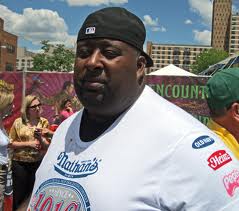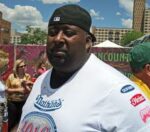 3. Badlands (Eric Booker)
Selden, NY
6'1", 380 lbs, 45 y/o
How He Got Here: Won Bloomingdale, IL, Qualifier with 27.5 Hot Dogs & Buns in 10 min
Badlands means business. Triple up on your food if you invite him to your 4th of July Party
4. The Black Widow (Sonya Thomas)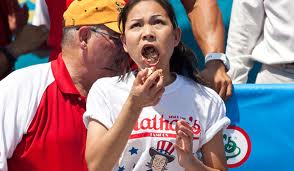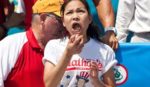 Alexandria, VA
5'5", 100 lbs, 46 y/o
How She Got Here: Sponsor's Exemption (2013 Women's Champion)
WATCH OUT!…she will poison you if you get in the way of her and her food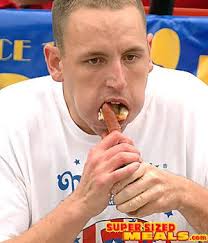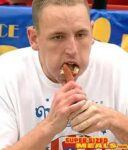 5. Jaws (Joey Chestnut)
San Jose, CA
6'1", 225 lbs, 30 y/o
How He Got Here: Sponsor's Exemption (2014 Women's Champion)
We want to put some Texas Pete on his nickname for some reason to move him up the charts and match his skills…How about Jabber Jaws or Javelin Jaws or Jacknife Jaws…we better stop or he may eat one of our limbs
ODDS FOR THE MEN'S COMPETITION
• Joey Chestnut (1/20)
• Matt Stonie (6/1)
• Tim Janus (10/1)
• Patrick Bertoletti (20/1)
• Bob Shoudt (20/1)
• Field (7/1)
ODDS FOR THE WOMEN'S COMPETITION
• Sonya Thomas (4/6)
• Miki Sudo (5/4)
• Juliet Lee (20/1)
• Field (9/1)