Is there a better tailgating food than salty, smokey, crispy bacon? Many of us would say no. So we've decided to round up our favorite bacon tailgating recipes we've collected over the years for the bacon lover in all of us. Here are just some of our favorite bacon tailgating recipes to try at your next party.
Smokey Stuffed Jalapenos With Bacon
We all know that stuffed jalapenos are a winning dish at any tailgating party. However, these stuffed jalapenos using Stubb's BBQ sauce are the ultimate tailgating food. Prepare to make extras, your guests will stuff themselves with this tasty appetizer.
Smokey Stuffed Jalapenos with Bacon
Ingredients
24

Fresh Jalapenos, halved and seeded

16

Oz

Cream Cheese

1/2

Lbs

Uncooked Chorizo

24

Slices

Bacon, cut into halves

1

Cup

Stubb's Smokey Mesquite Bar-B-Q Sauce
Instructions
Preheat a skillet to medium heat. Remove the chorizo from the casing and cook over medium heat until cooked through, about 8 minutes. Remove from heat and transfer chorizo to a paper towel lined plate to drain and cool.

Mix the cream cheese and chorizo.

Stuff each jalapeno half with cream cheese mixture. Wrap with half a strip of bacon and secure with a toothpick.

Prepare the grill for direct cooking. Place peppers onto the grill and cook for 8-10 minutes, turning frequently. Baste peppers with Smokey Mesquite Bar-B-Q sauce in the last 2 minutes of cooking.

Alternatively, cook in the oven for 25-30 minutes at 350°F, adding the Bar-B-Q Sauce during the last 10 minutes of cooking.
Do you want to go in the complete opposite direction for your tailgate this weekend? Well, you can't go wrong with bacon. And these Smokey Stuffed Jalapenos with Bacon look about as anti-holiday as you can get. Plus they will keep you warm in the December chill! Here's the lowdown on how to prepare the tasty treats created by Stubb's Legendary Bar-B-Q.
BBQ Bacon Shrimp
"Put some shrimp on the barbie" but first wrap it in bacon. These bacon-wrapped shrimp are a perfect tailgating food to serve as an appetizer. They are bite-sized, salty, and really easy to make.
Bacon BBQ Shrimp
Ingredients
2

Lbs

Raw Medium Shrimp (Peeled)

4

Slices

Smoked Bacon

2

Cups

Ketchup

2

Tbl

Apple Cider Vinegar

2

Tbl

Black Strap Molasses

1

Tsp

Fresh Ginger (Minced)

1

Tbl

Prepared Horseradish

1/2

Tsp

Ground Cinnamon

1/2

Tsp

Cayenne Pepper Powder
Instructions
Sauce Preparation
Cook Bacon until just crispy, Reserve the Bacon Grease. Combine Bacon and all other ingredients into a sturdy blender. Blend on medium while you drizzle the bacon grease into the mixture. Blend until Bacon is pulverized.
Shrimp Preparation
Marinate the shrimp in ½ of the sauce for 1-2 hours. Skewer Shrimp head to tail (about 4 Shrimp per skewer). Grill Shrimp over Medium High Heat, basting the remainder of the sauce continually. Cook until Shrimp is just done through.
Two of the best items on earth collide into one glorious edible food item. Check out this recipe for Bacon BBQ Shrimp for your next tailgate party!
Bourbon Bacon Shrimp Avocado Pockets
Another great way to pair bacon and shrimp is with these delicious puff pastry pockets. Flavored with a sweet bourbon sauce and topped with avocado cream dip and pico, these are sure to be a crowd favorite.
BOURBON, BACON, SHRIMP & AVOCADO POCKETS
Ingredients
Main Ingredients
Sugar Cookies (3-in diameter)

1

Pkg

Frozen Puff Pastry (2 sheets)

1/4

Cup

Bourbon

1

Pkg

Bacon (cut into small pieces)

12

Oz

Shrimp (medium-large raw peeled, deveined, tail-less shrimp defrosted, cut in pieces)

Creole-style Seasoning

1

Medium Sweet Onion, diced

1

Bunch

Scallions, finely chopped, using all whites and about 1/2 of greens

1

Tbsp

Dark Brown Sugar

2

Tbsp

Butter
Avocado Cream Dip Ingredients
1

Hass Avocado (Large)

4

Oz

Cream Cheese, room temperature

2.5

Oz

Soft Herbed Cheese (half of the pack)

1

Tsp

Minced Wet Garlic

1/4

Tsp

Salt
Sweet Corn Pico De Gallo Ingredients
1

Can

Sweet Corn

1

Ripe

Tomato, diced

1/2

Sweet Onion, diced

1/2

Bunch

Fresh Cilantro, chopped

Salt & Pepper, to taste
Instructions
Preheat oven to 400 degrees.

Roll out defrosted puff pastry, cut into 18-to-20 squares.

In frying pan, melt butter with bourbon and sugar, then add onions and scallions and cook until onions become translucent. Add bacon and fry until bacon is cooked through and almost crispy.

On 10 of the squares of puff pastry, place a big dollop of the Avocado Cream Dip (pureeing above ingredients in food processor). Top with a few shrimp pieces and sprinkle with Creole seasoning. Add heaping spoonful of bacon & onion mix. Cover with a square of puff pastry and seal the edges by pressing the sides or crimping with the tines of a fork. Repeat process until all puff pastry is used.

Bake pockets for 25 minutes at 400 degrees. Remove from oven and serve with generous portion of remaining Avocado Cream Dip and entire Sweet Corn Pico de Gallo (combine above ingredients in mixing bowl).
If you're looking for an appetizer that is sure to induce smiles. Bourbon, bacon, shrimp and avocado are quite an incredible combination. Enjoy! 
Bacon Pinwheels
While you have the puff pastry out, consider making some bacon pinwheels. These tasty bacon pinwheels are really impressive but super simple to make and can be eaten without silverware. They're the perfect tailgating food.
BACON PINWHEELS
Ingredients
8

Oz

Cream Cheese (softened)

12

Slices

Bacon, cooked crisply (crumbled)

1/3

Cup

Grated Parmesan Cheese

1/4

Cup

Onion, finely chopped

2

Tbsp

Fresh Parsley, chopped

1

Tbsp

Milk

2 – 8

Oz

Cans Of Crescent Dinner Rolls
Instructions
Preheat oven to 375 degrees.

Mix cream cheese, bacon, Parmesan cheese, onions, parsley and milk until well-blended. Set aside

Take the two triangular pieces of dough and press perforations together to create sealed rectangle. Divide cream cheese into four equal parts and spread ¼ of mixture evenly onto the dough.

Cut dough lengthwise into four equal pieces, about ½" to ¾" wide. Roll dough up into a pinwheel shape and place on greased baking sheet.

Bake 12-to-15 minutes or until golden brown. Serve warm.
If you're looking for a tasty, but healthy recipe to try out for your tailgate this week, the ingredients below are not going to keep you slim. But if you're willing to work off the bacon and cream cheese, your mouth will thank you for it.
Cheddar Bacon Ranch Pulls
What's better than sopping up the last few drops of barbecue sauce with some bread? What if that bread had the two most delicious ingredients: bacon and cheese? 
Cheddar Bacon Ranch Pulls
Ingredients
1

Unsliced Loaf of Round Sourdough Bread

8-12

Oz

Cheddar Cheese, thinly sliced

3

Oz

Real Bacon Bits

1

Tbsp

Ranch Dressing Mix

1/2

Cup

Butter, melted
Instructions
Cut bread loaf in a checkerboard pattern in both directions with sharp knife, but do not slice through the bottom crust.

Place cheese slices in between the cuts.

Sprinkle real bacon bits all over bread, making sure to get in between cuts.

Mix butter with ranch dressing and pour over bread.

Wrap loaf in foil and place on baking sheet.

Bake for 15 minutes at 350 degrees.

Unwrap. Bake for an additional 10 minutes, or until the cheese has melted.
Tailgating is done right in Alabama, especially the preparation of food. The majority of Iron Bowl tailgates will feature succulent barbeque of some kind — ribs, brisket, pulled pork or sausage are the most prevalent. But one group of Auburn Tigers fans will be eating their much-anticipated appetizer, the Cheddar Bacon Ranch Pulls. Auburn fan Stephanie Parker shares this easy-to-follow recipe that is perfect for the Iron Bowl because you need an iron stomach to digest it.
J&D's Bacon Flavorings
If only there was a way to add bacon flavor to all our tailgating food. Well, you're in luck. J&D's bacon flavorings is a line of bacon-flavored salts that can be sprinkled on top of any of your favorite tailgating recipes.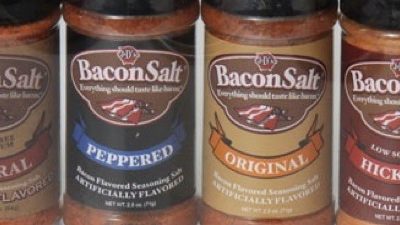 While some people need an alarm clock or coffee to wake up, others can simply rise out of bed with one distinct breakfast food smell — bacon. When the sizzling begins, most folks can't help but tuck their napkins into their shirt collars in anticipation of getting greasy.
But two dudes named Justin and Dave, the makers of J&D's products, have taken their love of side/back cuts of pork to a completely different level. With their slogan "Everything Should Taste Like Bacon," J&D's sells all kinds of bacon-flavored items, which is not limited to just food. The company sells bacon lip balm, bacon-favored "Mmmvelopes" and an item so popular that it requires a waiting list is the bacon baby infant formula. Seriously.
Some of the food staples are pretty predictable, including baconnaise, bacon croutons and bacon ranch dressing. But other edible items are just out of this world. Have you ever eaten bacon popcorn, bacon gravy or put bacon salt on a Bloody Mary rim shot? Didn't think so. This bacon salt is also a hot-selling item coming in nine different flavors — original, natural, maple, applewood, jalapeno, cheddar, hickory, mesquite and peppered). Get your J&D's Bacon Flavorings here.
Bacon-Flavored Desserts From The Baconery
Finally what bacon lovers' meal would be complete without a bacon dessert? Luckily our friends at The Baconery have you covered!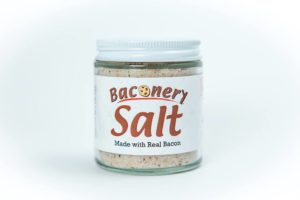 We all know that Bacon and Dessert are god's gift to the taste buds. So what if those two things were combined into the ultimate sweet-meat concoction? Would the world explode? So far, that hasn't happened but the delicious combination of bacon and sweets does exist at the New York based hybrid sweet shop at The Baconery. If you are ever traveling to NYC for a game and want to pick up some very unique items for your tailgate, you should give this a try. You can also order some crazy bacon concoctions online in their online store. These guys know how to mix some of the best flavors known to man.
Founded by owner Wesley Klein in 2011, this bacon-centric bakery has been the subject of much buzz around the web. People have been tweeting, instagramming, facebooking and just speaking word of mouth about how absolutely delicious their menu is. Once the word was spread, the Baconery opened up a physical location in New York, New York. Since then more people are able to get their bacon fix with many of their specialties. Bacon lovers will appreciate their creativity as much as they will appreciate their delicious products. Klein shares with Inside Tailgating how the idea was born for his Baconery.
We love bacon and we love all these bacon-themed tailgating food ideas. We'd also love to hear your favorite ways to use bacon in the comments or tag us on social. For more recipes and ideas for delicious tailgating food, be sure to follow us on Facebook, Twitter, and Instagram.