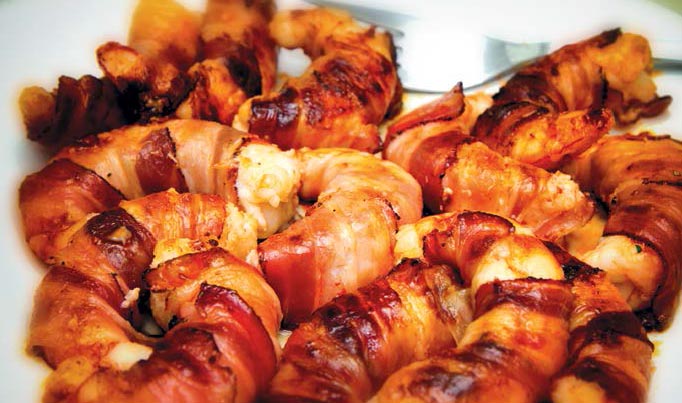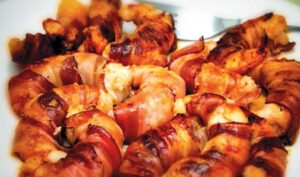 Two of the best items on earth collide into one glorious edible food item. Check out this recipe for Bacon BBQ Shrimp for your next tailgate party!
Ingredients:
2 lbs Raw Medium Shrimp (Peeled)
4 Slices Smoked Bacon
2 cups Ketchup
2 Tbl Apple Cider Vinegar
2 Tbl Black Strap Molasses
1 tsp Fresh Ginger (Minced)
1 Tbl Prepared Horseradish
½ tsp Ground Cinnamon
½ tsp Cayenne Pepper Powder
Sauce Preparation
Cook Bacon until just crispy, Reserve the Bacon Grease. Combine Bacon and all other ingredients into a sturdy blender. Blend on medium while you drizzle the bacon grease into the mixture. Blend until Bacon is pulverized.
Shrimp Preparation
Marinate the shrimp in ½ of the sauce for 1-2 hours. Skewer Shrimp head to tail (about 4 Shrimp per skewer). Grill Shrimp over Medium High Heat, basting the remainder of the sauce continually. Cook until Shrimp is just done through.