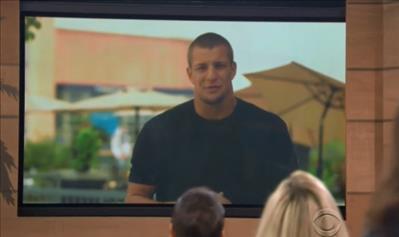 Rob Gronkowski is known to enjoy a cold beverage and game of beer pong when he is not catching balls and winning Super Bowls with Tom Brady and the New England Patriots. It is fitting that the summer reality show, Big Brother, tapped him to become a part of their #BBTakeover game twist and created a Head of Household challenge called "Grong Pong".
The concept is pretty simple and has elements of many other pong related tailgating games we enjoy like Pong-O and BearPong. Gronk Pong is a triangle of cans with different point values at the bottom of can. Players roll a ball down a plank and launch it towards the cans. Whatever can your ball goes in is the point value you get. A simple, fun, and large backyard game – maybe coming to a stadium fan zone near you at some point.
James Huling, a self-proclaimed "hillbilly asian" from Wichita Falls. Texas with roots in Sumter, SC, ended up yielding the highest score, 53, to Vanessa Rousso, a professional poker player from Las Vegas, on the last shot of a playoff to determine the second HOH for the week.