Last Updated on 08/19/2021 by Inside Tailgating
The post season has left this little tailgater without a tailgate to call home. Unfortunately, being alone on a stadium corner, dressed to the nines, has a completely different connotation when you aren't surrounded by fellow football fans. With this said, I will be going into clothing hibernation for the rest of the winter. You will find me cuddled up in my cave, eating everything in sight, under more layers than you can imagine, silently repeating "I'll worry about the calories tomorrow." In the name of full disclosure, I live in Charleston, South Carolina, and winter will be ending by Friday. Regardless of th
e time frame, I'm cold… and, more importantly, I'm sad. Sad to see the passing of what has been an amazing football season and sad to hang up my pom poms for what will seem like an eternity!
Even though my soul is lost, my feet are incredibly warm and cozy thanks to Genuity Gear and their adorable collegiate uggs. What I personally love about the line is the ability to be comfortable and warm while supporting my team! In my humble opinion, these uggs should be a staple in every football fan's wardrobe. After all, Basketball is in full swing and what better way to enjoy it than throwing on a pair of these bad boys while kicking back in the comfort of your own home.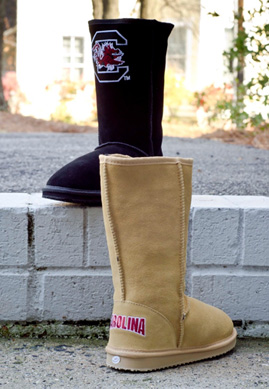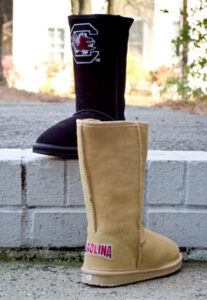 Currently, the Genuity line includes three teams, Clemson, University of South Carolina, and Virginia Tech. Hopefully, as Genuity Gear grows in popularity, so will the number of teams offered! If you're interested in getting a pair for yourself or a friend you can contact Genuity Gear (877-394-3684) or shoot over an email to [email protected]. As you would with all ugg type boots, I would recommend going down a half size from your normal shoe size. The lining tends to settle in ugg boots and sizing down will help them fit perfectly for a long time!
**Don't forget to stop by www.tailgatequeen.com to load up on amazing post season dresses. All dresses are on sale now for 30% off with coupon code: 30%OFF! We will be closing for the off season and ramping back up in May**