Last Updated on 04/15/2021 by Inside Tailgating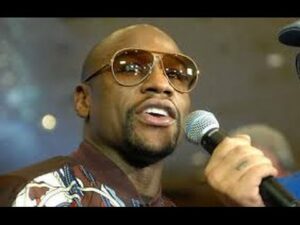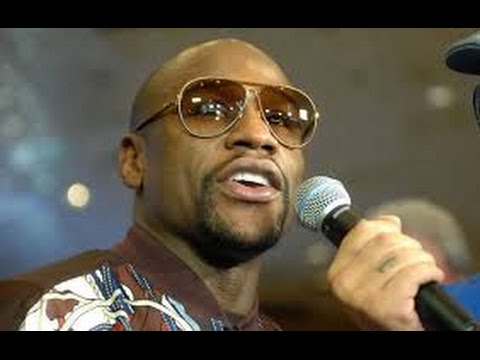 Is it possible to make The Hangover look like a tame week-end in Las Vegas? It is quite possible the first week-end in May will not only be the best time to be in Vegas in 2015, it will be TBE (in Floyd's terms…The Best Ever). This fight and animosity has been building for years. Five years too late or not, the hype train has left the building and anyone that wants to see or be seen is going to try to find a way to be at the Fight…or at least in Vegas.
The savvy businesses and fans got rooms way in advance of the formal announcement. About a month before the announcement happened, my personal MLife Account (MGM Rewards Program) had rooms, normally comped or $49 a night,, listed at over $300 a night. After the formal announcement, the MGM Grand announced it sold out within 15 minutes.
The most exciting part of the Press Conference on March 11 was the announcers. Michael Buffer (HBO) and Jimmy Lennon Jr (Showtime) squared off in a battle of voices that was more entertaining than the voices that followed at the podium. This is the only time the fighters will be seen together until that week-end in May. Soft jabs were exchanged between Promoter vs Promoter, Network vs Network and Fighter vs Fighter. The closest thing to a hard punch was made by Manny's trainer, Freddie Roach, when he said, "and we are going to kick his ass…I'm sorry, best of luck Floyd"…really? That's it? Where is the chair tipping, name calling, face to face banter, Mayweather bravado from Sr and Jr? Everyone knows More Money = More Problems, but it also means More Conservative, Less Risk. Floyd's incredibly skilled defensive nature in the ring is playing outside of the ring to protect what is guaranteed.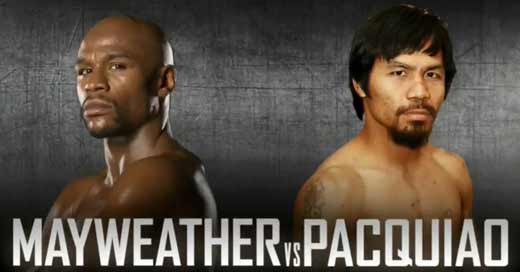 The fight could very well turn out to be as soft as the press conference, but hopefully it will be the best of these fighters generation and TBE. Regardless of what takes place in the Ring at this point, it is these facts make this fight an EPIC Event that is not to be missed:
Floyd Mayweather will be named the highest paid athlete again in 2015 – just from this one fight. This will be four years in a row. $120 Million is the expected floor for him for this fight. Not only is he the king of boxing, he is currently the king of sports.
Face value of tickets range from $1,500 – $7,500. Ticket brokers have seats listed from $4,500 for the worst seat in the house to $30,000 for the best seat (6x the price for Mayweather – Maidana II). Average ticket broker price for the 2015 Super Bowl was $3,715. The box office revenues will be close to 20x the recent UFC event featuring Ronda Rousey
Pay Per View revenues are expected to top $300 Million, more than doubling the current record.
Over 60,000 people were reported to be at the MGM Grand for Mayweather – Alvarez. The arena holds less than 18,000. The buzz outside the arena at closed circuit viewings and related parties is going to be insane.
Guesstimates for the total financial impact for Las Vegas? $100 Million or more is achievable. MGM Resorts is seeing room prices around $1,600 a night. Statements have been made that a $250,000 is required for Rewards Program tickets and that credit line has to translate into action on the tables. Closed circuit viewing and directly related parties at other places could exceed 50,000 people.
Planning a trip to Las Vegas around big sporting events is nothing new. Being in Vegas for one of the 22,000+ business conferences a year pales in comparison to being in Vegas for a sporting event. Having been there for both and making personal donations for many years during March Madness, the Super Bowl and other Prize Fights, there is a vibe and electricity that is awesome. It definitely has some similarities to tailgating at a stadium. While the hamburgers and hot dogs at the Sports Book Grill are not quite the same, gathering with friends and family, meeting other passionate fans and groups happens. It happens at the sports book, at the tables, at the bar and in the nightclubs. The events surrounding the epic fight are sure to be memorable. Even if you are not a fight fan, there is plenty of action to be found for any sports fan. The week-end in Las Vegas will be an EPIC for any sports fan because:
The Kentucky Derby happens midday in Vegas. What better way to start the day than having some Bloody Mary's or Mint Juleps and wagering on some ponies that you pick just because you like the name.
NBA and NHL Playoffs are going on during this time. Any casual or avid fan can see all the games in the best sports bar atmosphere possible.
NFL Draft starts on Thursday April 30 and ends on May 2. "I can't believe XYZ team picked…" will be common chatter throughout Veags.
World Golf Championships – Match Play starts April 29 and ends on May 3. Match Play format provides the most fun way to wager on golf. A great way to relax and recover on May 3.
MLB Baseball regular season action every day. Catch your favorite team or take a power nap.
If the fight plus all the other sporting events does not make you want to come to Vegas, there is always Cinco de Mayo. Who is ready to ready to celebrate the Battle of Puebla with me?!? My fan fight prediction is that Floyd wins a controversial decision to fuel the rematch in the final bout of his career. I am definitely going to wager something on a draw, currently 16 to 1. I got even money on an EPIC FIGHT, EPIC WEEK-END, EPIC HANGOVER….hope it includes Zach G and Mike Tyson's Tiger.