If you're like me, after you've gotten a few beers deep, you can lose track of your Cornhole game score.  This is definitely a huge problem.  It can cause fights, and bean bags flying faster than usual.  Plus, just keeping score verbally, you have no proof of your victories or of all the points you're scoring.  That's why the Score Tower Combo set is essential for any serious Cornhole player.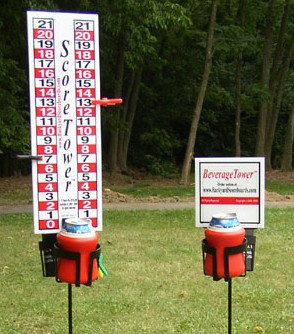 The Score Tower Combo set lets you keep score of your game easily.  You'll never forget the score, and there won't be any arguments between you and your friends.  As an added bonus, these have a beer holder, making it easy to play Cornhole drinking games.
Some of the features of the Score Tower Combo:
58 inches tall

Double sided graphics

Dual column scoring

Reusable storage box

All weather material
Whether you're a serious Cornhole player or just getting started, the Score Tower Combo is an absolute must.  You can get it here.
If you're new to Cornhole too, make sure to learn the rules of the game, and get your first boards here!