Last Updated on 11/03/2021 by Inside Tailgating
When shopping for a tailgating grill, there are a lot of considerations. You need something portable and compact that can be transported. Something easy to clean and wipe down. You also look for something that can cook a lot of food with a little space. However, when it comes to picking a grill for your homegate, the entire game changes. You can go as big as you want, as fancy as you want, and go as over the top as you want. Here is our guide to our favorite grills that are ideal for your next homegate. Hopefully, you'll find the perfect grill, and hey maybe invite us over for the game.
NexGrill 4-Burner Gas Grill Named Best Value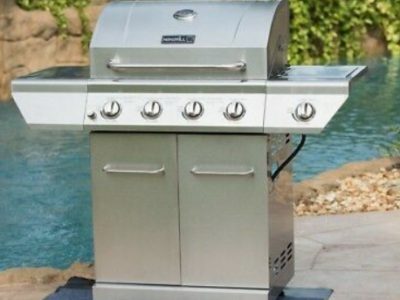 Starting off, we're picking one of the best grills on the market. It has everything you need to cook the perfect spread for your guests. The best part is this feature rich grill is also incredibly affordable. 
How many times do you walk past shiny new stainless steel grills at a houseware or big box store and see a bunch of digits jump off the price tag at you? They look amazing, but do you really want to drop a thousand bucks or more on a grill? I know I don't. So I was glad to stumble upon this little nugget from www.goodhousekeeping.com, which chose the NexGrill 4-Burner Gas Grill as its best value among its awards for the best grills to buy of 2019. Price tag: $299.00 at HomeDepot.com. 
Here is what the experts at Good Housekeeping had to say about it:
With its gleaming stainless steel, the NexGrill 4-Burner Propane Gas Grill with Side Burner is an A+ choice for the price tag. It delivers perfect grill marks, a side burner, and space for 28 burgers. On the side, there's a burner for heating beans or sauce. And best of all: We saw no smoking or flare ups when cooking. 
A Perfect Homegate Grill For Beginners
All of the best BBQ pitmasters start humbly in their backyard. If you're just starting out and really looking to master the basics, we have the perfect grill for you.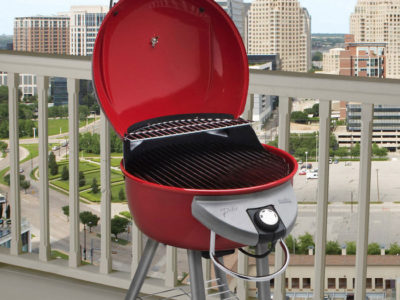 Getting your grill to the tailgate can sometimes be a challenge. They're big, bulky, and just not that easy to pack into the back of your car. But you gotta bring your grill to the game….what's a tailgate without some perfectly seared steaks and juicy burgers?
Good thing for you, Charbroil invented a portable electric grill that solves all of these problems. It's small enough to pack into your car for the tailgate, but packs enough firepower and space to get you the perfect finish on all of your meats.
Some of the other awesome features this tailgating grill brings to the party: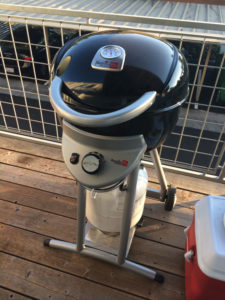 ● Warming rack to toast broad and keep other essential food warm
● Infrared cooking system. Fewer flare-ups and juicier meat. That's something we can all get behind
● Porcelain coated grates, making it easy to close
● Over a year warranty on all parts
Grilling at the game doesn't have to be tough. Just fire up the Charbroil Portable Bistro Electric Grill, and you'll have years and years of tailgates to remember.
Go Big And Stay Home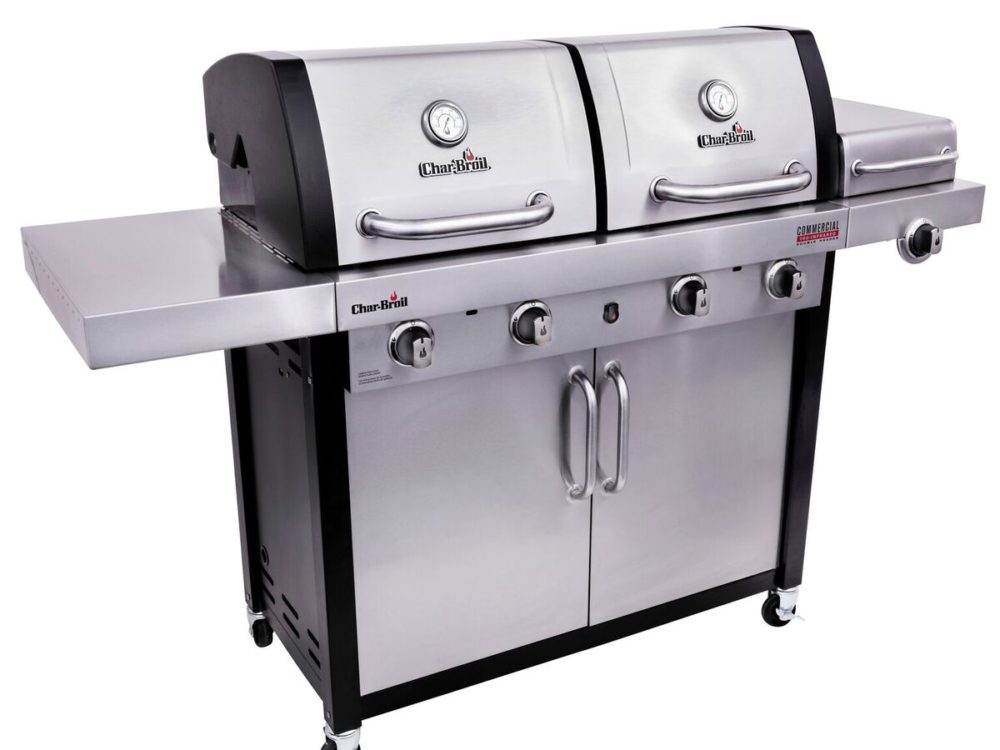 Now if you're already a master griller, there's probably a lot of recipes you'd like to try next. Deciding between these when hosting a homegate can be a challenge. Luckily, with a double header grill, you won't have to make these tough decisions. You can cook multiple things at once.
Char-Broil has been making grills since the late 1940s but never rests on its history. Continuing to stay at the forefront of cutting edge grilling technology comes The Commercial Double Header, which features two cooking zones, so you can cook at two temperatures at once. Genius, right?
Now it's easy to cook fish and steak at once, or to separate meat and vegetables. Or if you're serving guests with food allergies, you avoid issues by cooking things separately. In short, the Double Header is a real problem-solver.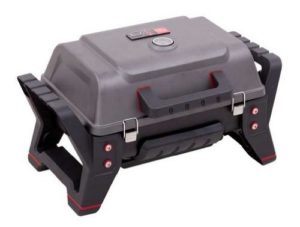 It features the same enduring quality of all Char-Broil's Commercial series grills, featuring TRU-Infrafed technology for even cooking and no flare-ups. Lid-mounted temperature gauges make it easy to monitor the grills' temperature. The Double Header comes with four burners, a stove top and a griddle side burner. And it can also convert from liquid propane to natural gas.
For those looking for TRU-infrared technology to take advantage of for tailgates, Char-broil makes the X200 Portable TRU-Infrared Grill. 
Become A Backyard Pitmaster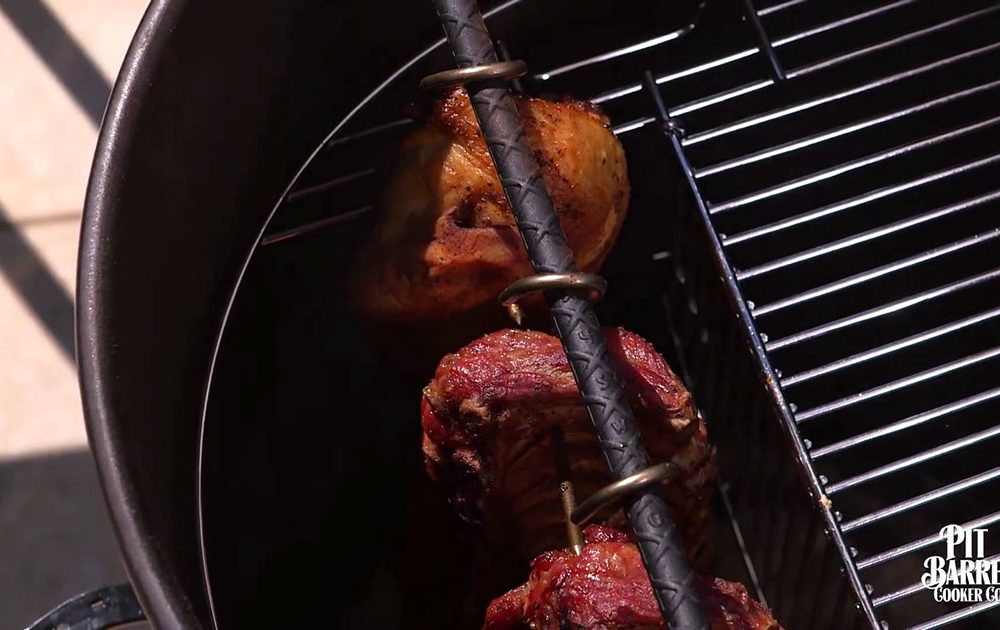 As much as we'd all want one, our HOAs may be against letting us build a full BBQ pit in our backyards. Luckily, you can still cook pit BBQ without having to turn your backyard into a Southern BBQ restaurant.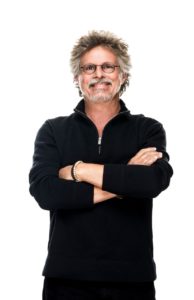 Noah Glanville has turned drum cooking on its ear! Just when you thought all barrel grills were created the same, the U.S. military veteran invented the Pit Barrel Cooker, which is a vertical take on the old horizontal barrel cooking tradition. The former Marine who served in both Iraq and Afghanistan came up with the idea while serving overseas. Here's what he told Barbecue! Bible expert and an old friend of Inside Tailgating, Steven Raichlen.
"We got pretty homesick for American barbecue, so we'd get oil drums—real ones—and burn out the petroleum," Glanville said. "We'd build a fire at the bottom and suspend the meat over it from wire clothes hangers."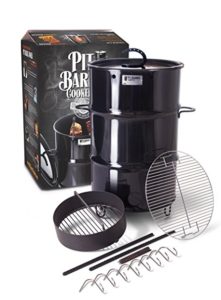 The advantage to cooking with a Pit Barrel Cooker is that it cooks meat from all sides, using its "hook-and-hang" method, and the cylindrical design keeps oxygen flow low so that meat can hang just inches over the coals and not burn.
"The design may seem simple, but it's completely self-regulating," Glanville explained. "We don't have vents or thermostats. Once you light it, it does all the work for you."
The Pit Barrel Cooker retails for $399, which makes it both affordable and simple to use. It also comes in a 14-inch model, known as Pit Barrel Junior, for $229, which is great for packing in the back of the car for your next tailgate. Check out both models and get more information here.
Invest In A Legend
Now there's a lot of debate about what is the best grill on the market. A strong contender that many BBQ fanatics stand by is the Big Green Egg. It works as a grill, an oven, and a smoker, so you can make anything you want.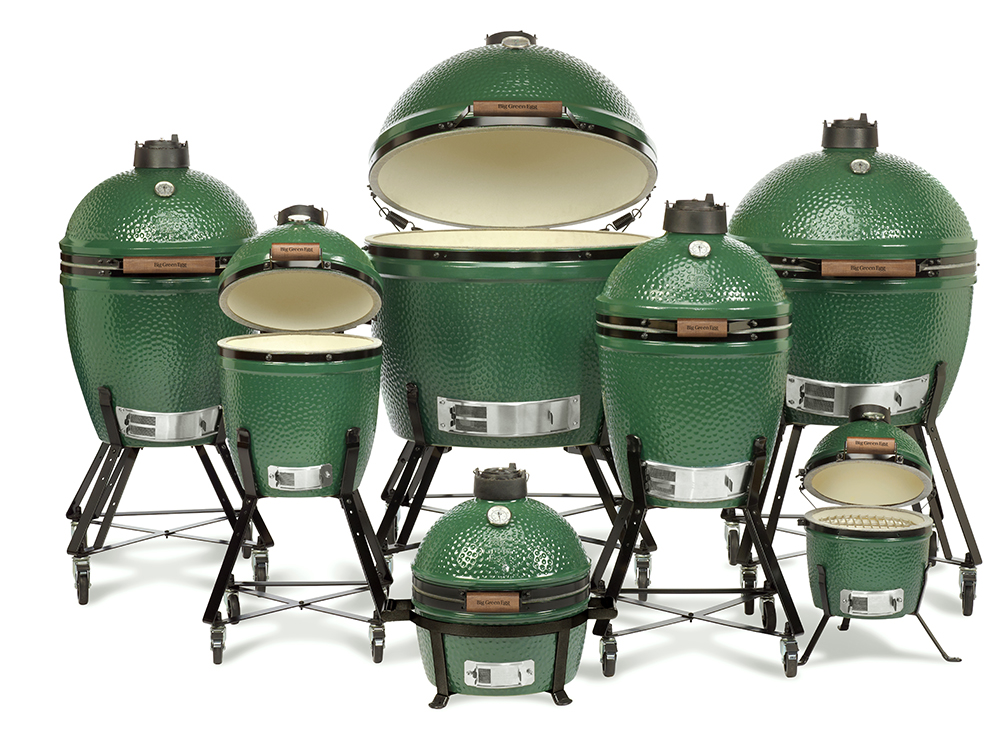 In case you haven't heard, there is a Big Green Egg grill that will fit anyone's grilling needs.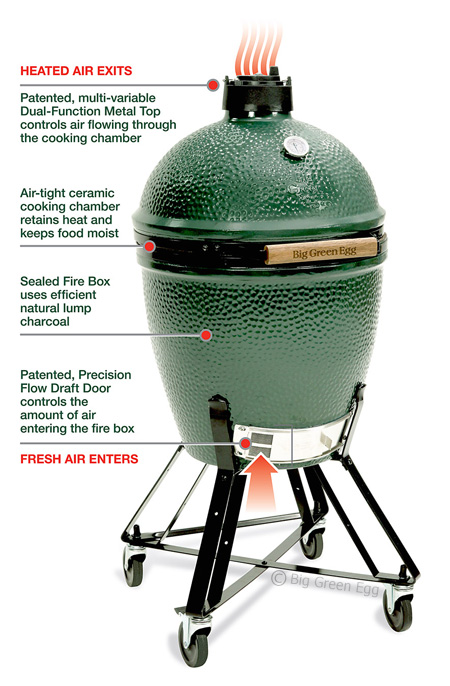 A whole family of Big Green Eggs that will accommodate whatever size grilling project you choose to take on. There are seven different sizes to choose from and all of them produce 'eggs'cellent results.
Whether you are using your Big Green Egg as an oven, smoker, or for grilling your favorite meal; you won't be disappointed in the final product. Truly, the Big Green Egg is the ultimate cooking experience. I am thinking that you may even be able to sneak one of the Big Green Egg Minis into your honey's stocking!!
The Big Green Egg produces improved insulation through its' patented ceramic technologies and controls air flow with a Precision Flow Draft Door. For more information about this time-tested ceramic cooking system please visit and check out biggreenegg.com for retailers and dealers near you.
The are some 'eggs'ceptional 'egg'cessories to choose from as well, so if you're looking to 'eggs'centuate your 'eggs'perience you can do that too.
Gas, Charcoal, Or Perhaps, Wood?
Another popular debate among BBQ lovers is propane or charcoal. People who like propane like the ease of cooking and the clean flavors. Charcoal proponents like the smokey, savory taste of cooking over briquettes. However, may we present another option: Wood pellet grills. There are two wood pellet grills we absolutely love for a homegate.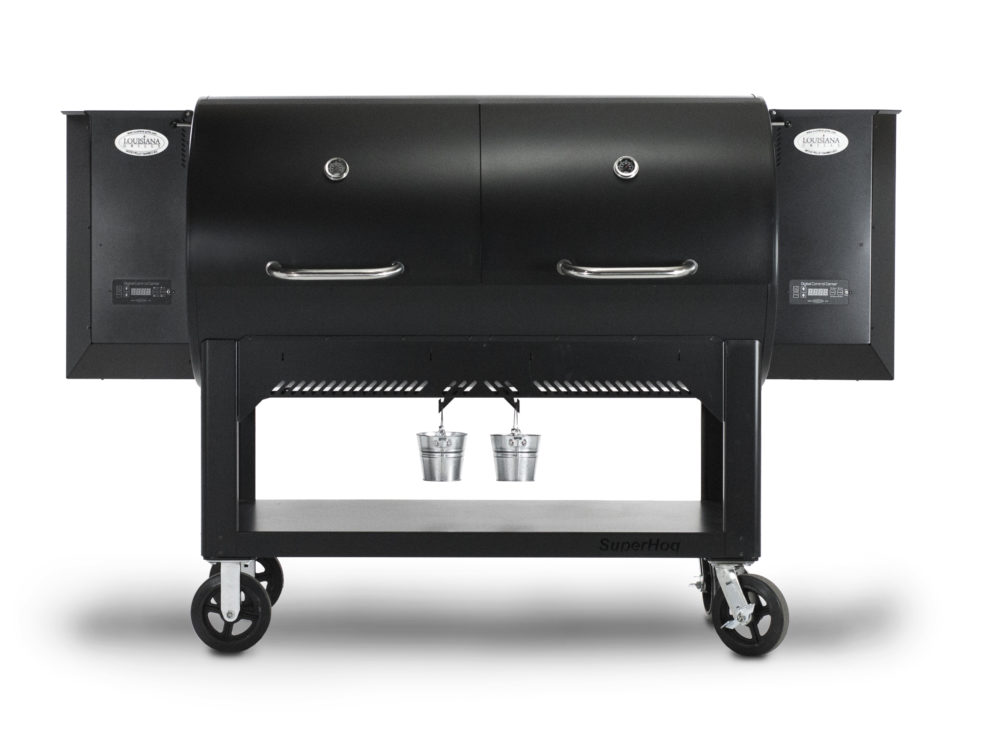 Up first is The Super Hog is the elite wood pellet grill in the Country Smokers line of grills from Louisiana Grills (LG). The Super Hog is super big with just about two of everything – hoods, handles, fire pots, temperature controllers, pellet hoppers, augers, and grease buckets. There is a divider that splits this grill in half to allow for cooking different foods at different temperatures. The divider can be removed for a uniform cooking area of 3,105 square inches. If you have a need to cook around 200 burgers at one time, this grill can do it for you.
LG has developed a proprietary exhaust system with multiple holes on the back instead of a typical chimney stack found on most wood pellet grills. This is LG's way of ensuring even smoking throughout the entire grill. There are three different levels of cooking on stainless steel grates and the top two levels can easily be removed. The Super Hog weighs around 525 pounds and comes with wheels so it can be moved around. The dual digital control centers precisely monitor the temperature between 170 and 600 degrees. Go slow and low on one side and sear away on the other to mix it up.
The Super Hog is a great grill for your next homegate. You can handle just about any size party and cook any style of food with this big boy.  Be bold and wheel this Super Hog onto a trailer and take it to the lots to cook for the masses.  The Super Hog is Super Big and Super Sweet.  For more information, check out Louisiana Grills.
Wood pellets are a great option because they impart a smokey flavor. You can use a variety of different kinds of pellets like applewood, hickory, and pecan to explore a fun variety of flavors.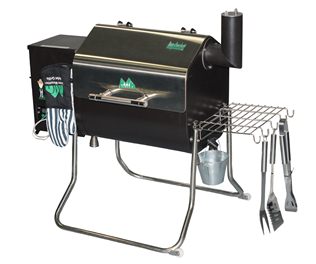 Our second option is The Davy Crockett, from Green Mountain Grills, is worth a look. The King of the Wild Frontier is available to come tailgating. This grill weighs in around 60 pounds and has a 9 pound hopper to hold wood pellets. The cooking surface area is 219 square inches. The folding legs can be used as a handle and allow it easily fit in a trunk or truck. Set it up on the back of a truck, on a table or on the ground.
This small portable grill has a digital temperature controller that ranges from 150 degrees to 550 degrees. It comes with three different ways to plug-in:
AC Adapter to plug into a wall
23 foot 12 volt plug for the car
Alligator clips to attach to a battery
One of the big knocks on wood pellet grills is that indirect heat is not ideal for grilling or cooking.  The Davy Crockett has Open Flame Technology that allows for direct or indirect grilling.  This grill is available for under $350.  Check out Green Mountain Grills for more information.
Deciding between these two can be a tall order, but we know you can do it. 
Hopefully with this guide you'll find the perfect grill for all your homegate needs. Be sure to sign up for our newsletter and follow us on Facebook, Twitter, and Instagram for more tailgating tips, recipes, and fun!
Happy homegating!