As the Pro Football Hall of Fame enshrines well deserved new members, fans get giddy about the kick-off to a new football season.  The Hall of Fame game featuring the Buffalo Bills vs the New York Giants will have two organized tailgate parties before the game.  As with every party these days, there are t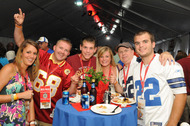 hose that want to be with the ropes (Legends Club VIP Tailgate Party) and those that are just as happy being outside the ropes (Fan Appreciation Tailgate Party).  It is expected that over 2,000 fans will be mingling with current and former players.  There will be thousands more tailgating in the lots outside of the organized parties.  Both organized parties start at a respectable 3 hours before the game at 5:00 PM.
Most likely, the hardcore Bills and Giants Fans in Canton started their tailgating on Thursday.  These fans showed up in full force to honor their own that were being inducted into the Pro Football Hall of Fame (Andre Reed and Michael Strahan).  We are watching for the images that come from all the Hall of Fame tailgating.  Kick off the season in style and let's GET READY FOR SOME FOOTBALL!