Last Updated on 04/14/2021 by Inside Tailgating
At Inside Tailgating, we independently select and write about stuff we love or want to try out and think you will too. As a participant in the Amazon Services LLC Associates Program, and other affiliate advertising programs designed to provide a means for sites to earn advertising fees by advertising and/or linking to their websites, such as Amazon.com, we may receive a commission on sales or other compensation through those links on this page. It is at no additional cost to you, but we gotta pay for our tailgates somehow…
Tailgating is much more than a hobby, it's a lifestyle. How else can you explain that when sports venues are forced to shut down, music festivals cancelled and social gatherings shrunk to 10 guests, people are still finding ways to tailgate? The passion is real, and tailgaters are innovative and adaptable. That being said, the age of technology has allowed tailgating to evolve. Today, you can do all the things you wanted while tailgating, at home- aka: homegating.
How Tailgating Has Evolved
The tailgating lifestyle isn't just for people that are committed sports fans or brought up in a sports-loving family. It is for anyone that lives life to the fullest while enjoying the community and fellowship of friends and family- wherever they may be. People can still follow their sports teams, throw barbecues, beer parties, and indulge in other recreational activities typically associated with tailgating, from the comforts of their own homes, thus, living the homegating lifestyle. That means family and friends can connect in an even more informal and intimate setting, which can be all the more fun.
Homegating takes out the hassle of traveling, traffic and lugging all your tailgate gear for setup. What you're adding is comfort and convenience, no longer being subject to inclement weather or braving public restrooms and port-a-potties, while still finding a great way to escape the daily grind and feel like part of the action. Taking what you love about tailgating and adapting it to your lifestyle to tailgate at home, is a breeze.
Let's shift your mindset to tailgating at home and embracing the homegating lifestyle. Below we provide you a breakdown on all things homegating. Read on to find out 4 great advantages to homegating, 6 ways to homegate like a pro, 5 ways to maximize your next sports viewing party, and an essentials checklist for getting your "grill" on for your next homegate.
Homegating Advantages
In addition to the fact that homegating isn't only seasonal, consider these 4 advantages to embracing the homegating lifestyle:
1. It's easier on the wallet.
The biggest advantage of homegating over tailgating is that you can stay at home and save money. You don't have to spend on tickets, transportation, other amenities and games, etc. All you need is your own grill and a TV subscription.
2. It's lower stress.
When tailgating, you have to worry about scoring tickets, finding parking, the weather, etc. When homegating, you have so much less to worry about and can do as much or as little as you choose to setup.
3. Control over the guest list
You can invite a few neighbors, close relatives, friends or close co-workers over without having to coordinate transportation and tracking people down when it's time to leave.
4. Comfort and ease
The great thing about homegating is that it's in the comfort of your home. Your couch, yard or patio, your TV, and your bathroom, supply the ultimate comfort, not to mention the ability to pause and rewind in case someone distracts at a critical moment.
6 Ways to Homegate Like a Pro
There are countless ways to make a tailgate more fun. The same is true when you're tailgating at home, with just a few adjustments for your homegating lifestyle. Here are 6 of the best ways to homegate like a pro:
Barbeque Away!
The first thing that comes to mind when someone says tailgating is a barbeque- same goes for homegating. Fire up your grill and start preparing the best meats and load up a table with appetizers. Be sure to gather up your crew to grill with and make the experience enjoyable. Barbequing is always more fun with a group, no matter the occasion. Kick things off with some wings and beer. Add a more health-conscious option to the burgers and brats, with shrimp boil skewers or fruit kebabs to mix things up. Nervous about grilling fruit? Check out these tips from Martha Stewart to ease your mind.
Play a Yard Game to Pass the Time
Cornhole is not just for tailgating, and giant yard games are hysterical, whether it's giant Jenga, oversized Yahtzee, or Connect Four with super-sized checkers. It may seem corny, but tailgating is as much about having silly fun as it is about getting together with friends and family. Sports and games are all elements of it; the real point is to make memories. The tailgating games you love are just as fun at home! This post has some great yard game suggestions perfect for homegating.
Make a Photo Booth for Game Day
You can do this easily by just hanging a plain white sheet from the roof of your shed or on a wall. You can DIY a photo booth area with a backdrop and fan paraphernalia, or use a team blanket and order up some fun fan accessories from Fanatics. Hang banners, streamers or pennants, etc. Make it as fun as possible to have a great photo op with your friends and family. Homegating doesn't mean you have to sacrifice displaying all your typical tailgating fan paraphanelia.
Make a Killer Playlist
Ask the family music buff to add something for everyone. Sure, there are some classics that shouldn't be left out under any circumstances, like "Life is a Highway" by Rascal Flatts and "We Are the Champions" by Queen, but the rest of the playlist is up for debate. Make sure you beef up the stereo system with some good outdoor or bluetooth speakers if you're planning to blast music at a barbeque. Tom's Guide provides a great list. Like tailgating, homegating starts before the main event, so you want to set the tone.
Get to Know the Neighbors
Invite your neighbors to your homegating party. Look at it as an opportunity to get to know them better. Or invite your tailgating parking lot neighbors to rekindle some traditional tailgate fun. After all, whether tailgating on location or at home, it is just as much about community as it is about sports to other events.
Set up a Food Bar
Barbequing isn't enough. Make sure you have enough goodies to satisfy everyone's hunger, including some vegetarian or vegan options. Otherwise, you can cook up burgers, bratwursts, hot dogs, wings, etc. Just make sure that there's enough for everyone and set it out for an easy access, serve yourself food bar. The great thing about homegating, is you have access to everything in your kitchen and don't have to worry about forgetting to pack something.
5 Tips for Homegating Sports Fans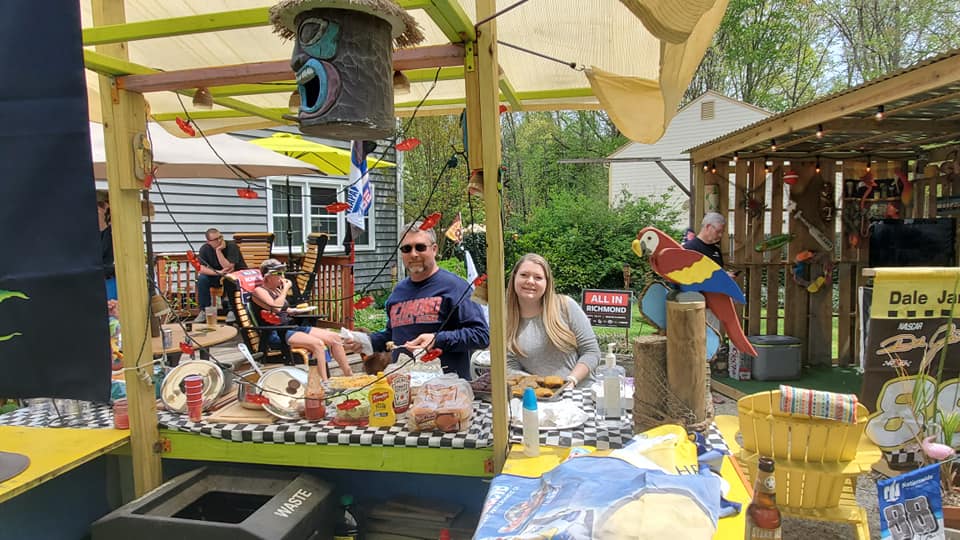 Treat your homegate the same as your tailgate, and know that prep is the key to a relaxing and successful homegating game day.
Get the Sporting Event on TV
What's homegating without the game in 4K on your LED TV? That's one thing which should be non-negotiable when you're throwing a game day homegating party. Make sure that you are subscribed to the channel or streaming service that is presenting the game in the highest quality. Whether it's football, baseball, basketball, or NASCAR, you should have the ultimate experience. If your TV is outdated, Rtings.com has a list of the 6 best 4K TVs for watching sports and Tech Radar has a list of the best TVs for sport worth checking out.
Take the Homegate Outside
Make sure the weather forecast says it's going to be sunny or clear, or even just pleasant. Rain shouldn't dampen your spirits on game day when prepared, and is one of the homegating advantages. Now may be a great time to invest in building your ultimate backyard entertaining space. Seriously Smoked has an excellent in depth article on How to Create the Ultimate Outdoor Kitchen. If you already have a covered area, take the TV outside and hook it up beforehand so that there are no hiccups during the game. To protect the television, make sure it's stable and in a shady area, then take it inside right after the game. Sunbrite has always made great outdoor TV's if you're in the market. Another option would be an outdoor projector and screen. Check out this list of the 4 best projectors for sports watching from Sport & Outdoor HQ.
Repurpose your tailgate setup gear
Go all in on the tailgating at home theme! There's no reason not to utilize all the team themed portable gear you've invested in for tailgating, especially if you're going to be outside and don't have enough seating and tables to accommodate everyone attending. Or use it to create a fun kids table setup and that way you have less worries over something getting ruined if there's a spill. From coolers to koozies, don't save all the fun fan gear for your next venture to the tailgating parking lot. Embrace the idea of utilizing all your portable accessories, and homegating will feel like you're on location in no time.
Serve Great Food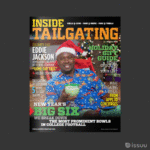 If you're hosting a homegating party, then great food is a pre-requisite. It should be mandatory for everyone to contribute something to the party though, even if it's just chips. Grill up some chicken wings, bratwurst, hot dogs, etc. And of course, what game is perfect without a couple of hamburgers? Food Network Star Chef Eddie Jackson has a great cookbook full of ideas out, called: Game Day Eats: 100 Recipes for Homegating Like a Pro. You can also read our interview with him in Inside Tailgating Magazine.
Stock up on booze
I'm not sure if there could be a worse predicament to find yourself in than running out of alcohol on game or race day. Do not botch your homegate by assuming you have enough. Keep the low-key tailgating at home vibe going and make it super simple with a self-serve beer and wine setup, or start out with a themed mixed drink and then provide the mixers, ice and select liquor options on a designated bar area. The best guests should know to always bring a beverage of choice to share with the group, but there's no harm in requesting they contribute or making it byob, especially if you're providing all the food.
Homegating BBQ Essentials
Here are the absolute essentials that you can't go without when hosting a homegating barbecue:
A Great Grill
You need to have a great grill to prepare a great steak or barbeque dinner. It doesn't matter if it has a lot of miles on it, you can still whip up some great meat on that grill. Just make sure it isn't a fire hazard. If in the market for a new one, check out the review of our Select 6 Portable Grill winner- the Coleman RoadTrip LXE or Good Housekeeping's 2019 choice for Best value Grill, the NexGrill 4-Burner Gas Grill.
Charcoal or Propane
Don't be caught without these necessities at the last minute. What's worse than getting friends or family excited for a barbecue, but you forgot to double check your charcoal supply or propane tank? This may or may not have happened to someone we know… Depending on the type of grill you're working with, there are two simple solutions to this potential problem.
Check out Amazon's best sellers for charcoal and setup your recurring delivery now. There are several propane delivery services available as well, which can vary by location. One to definitely check out however, is Kangaroo Propane– commonly referred to as the Uber of propane. They have a mobile app and same day delivery options. The Spruce Eats has a list of The 6 Best Propane Delivery Services for more suggestions.
Must-Have Accessories
Here are some basic accessories to cook like a pro.
The Best Meat
You can have the best grill and the best fuel, but without the best meat, it will hardly matter. Pick out a good butcher and get what you love from them. Get steaks, ham, bologna, or even some chicken or turkey. Now is a great time to sign up for Omaha Steaks delivery. Our friend, "Grillseeker" Matthew Eads goes more into detail in his post on Quarantine Cooking. We featured Matt in the spring issue of Inside Tailgating Magazine and got a full day of grilling recipes from his cookbook: Grill Seeker: Basic Training for Everyday Cooking. Don't forget to get some veggie burgers and vegan options too, for any of your friends or family that have gone vegan. It Doesn't Taste Like Chicken has a list of 25 Vegan Recipes for the Grill you can try out.
A Standout Recipe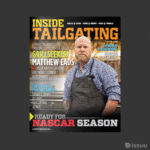 What barbeque is complete without a great recipe that stands out from the typical hamburgers and hot dogs? If you've got young ones around, or just those young at heart, this yummy s'mores inspired recipe (below) from Matthew Eads cookbook, Grill Seeker: Basic Training for Everyday Grilling, makes a tasty addition to any homegate, barbecue or tailgate gathering. Check out our profile on Matt, and the full day meal plan of recipes for the grill, in the Spring issue of Inside Tailgating Magazine.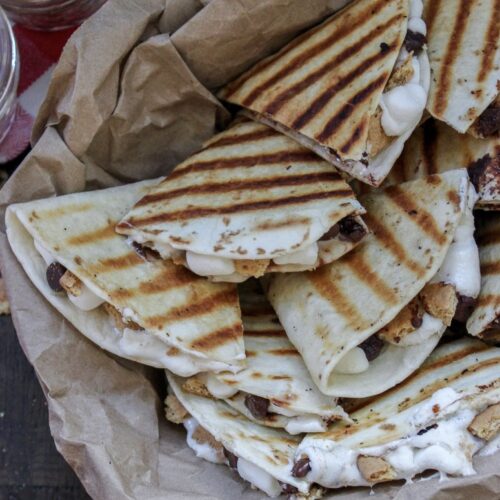 Print Recipe
S'mortillas
A slightly more adult version of the favorite classic s'mores recipe. No need to roast marshmallows over an open fire, while juggling graham crackers and chocolate squares for the ooey, gooey smores you've loved since childhood. Sure to be a crowd-pleasing treat for all ages year-round!
Ingredients
4

large flour tortilla

1

cup

dark chocolate chips

1

cup

crushed graham crackers

2

cups

mini marshmallows
Instructions
Light grill and set for indirect heat, establish temperature at 325° F.

Spread chocolate chips evenly over half of each tortilla.

Sprinkle crushed graham crackers evenly over chocolate.

Place marshmallows on chocolate and fold the other half over, on top of the marshmallows.

Place on grill, close lid and cook for 7 minutes or until marshmallows melt.

Remove, cut each tortilla into three triangle shapes and serve warm.
What's better than a dessert that reminds you of childhood, has ooey gooey chocolate and marshmallow, and can be whipped up on the grill?! Just in case, we've got a ton more recipes as well, including these Top 5 Kid-Friendly Tailgating Recipes.
Safety
Hopefully we don't need to say this, but do NOT grill indoors. There are plenty of electric indoor grill options to try- we've rounded up a few for you here. Allow your grill to cool down completely so that you can safely store it. Don't stuff it into your garage with it still fuming. Also, don't allow anyone without sufficient experience to fool around with it. See more grilling safety tips and this checklist from the National Fire Protection Association and this outline from Real Simple on How to Clean and Maintain Your Gas Grill.
With these tips, shifting from the lots to tailgating at home will be no problem. You're on your way to living the homegating lifestyle!
Check out and share our Amazon storefront for more items we like and recommend: www.amazon.com/shop/insidetailgating
.