Last Updated on 04/14/2021 by Inside Tailgating
If you love grilling at the beach, at tailgates, or at your local park, you're going to freak out about the EZ Grill. Instead of having to lug your portable grill around whenever you want to whip up your world famous steak, just pack the EZ grill in your bag and you'll be able to get that perfect sear. Even better, you're saving the environment with the EZ Grill. It contains 100% natural charcoal dipped in mineral oil, and none of those gross chemicals.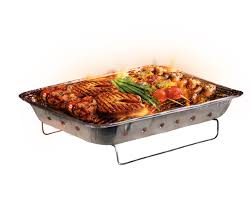 Features of the EZ Grill:
Incredibly portable and easily disposable
Lights with one match
Cooks up to 1.5 hours
Environmentally friendly
Just open it up and you're ready to start grilling!
The EZ Grill is perfect for tailgating when you'd rather just watch your favorite team kick ass instead of cleaning up your grill. Get yours here before football season starts! If you want to see more tailgating essentials, check out this list.
What do you think of the EZ Grill? What other awesome portable grills do you use?