Last Updated on 08/19/2021 by Inside Tailgating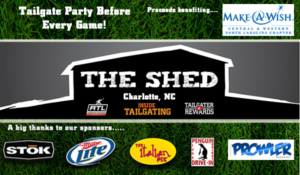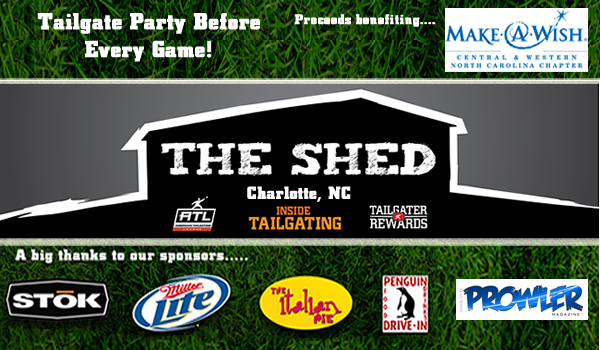 What's up Tailgating fans?!?! Inside Tailgating is back like that really uncomfortable rash. Well, maybe something a bit more appealing than that, but hey…We're baaaack.
Inside Tailgating has moved into some suhweet new digs. We have moved into…The Shed (you can find more pics of The Shed here). The Shed is Charlotte's newest, biggest and best spot to Tailgate. The Shed just had its first weekend of fun and frivolity for the South Carolina vs. ECU game. Let's just say that a good time was had by all. Apparently…what happens at The Shed, stays at The Shed!
The Shed and Inside Tailgating was able to partner with Miller Lite, Make A Wish Foundation, Living Social, food by The Penguin and Italian Pie and Mountain Khakis to put on this fiesta. Both Gamecock fans and Pirate fans made their way to The Shed and the Party was on. Now, we're not sure we should divulge this kind of information, but some massive Flip Cup games exploded out on The Shed's deck. No Worries for them…they were still able to hear the music and the game thanks to The Shed's amazing indoor/outdoor sound system. Heck, they could still see the massive 150" projection screen surrounded by two 58" plasmas. All of The Shed's A/V equipment is being supplied by Muzak…yep that's right…Muzak.
Once again, we had our famous TG-4 Challenge on display. This time though, Stok Grills were giving away a grill to the winner! Angela Laster came out the winner! She was able to squeak by with a score that topped her nearest competitors by just one point! Just one more bag, one more ring in MonkeyBall from David Marshall or Phillip Ferralli. That is all it would have taken to take the Queen from her throne, but it did not happen. Congratulations Angela!
Inside Tailgating and The Shed will be throwing these massive Tailgate functions all season long for every Carolina Panther home game and the remaining two college games held at Bank of America Stadium here in Charlotte. What's that? You want more viewing and party time at The Shed? Let us know and we will customize The Shed to meet your needs…all for a nominal fee of course (wink wink). Do not worry though…Inside Tailgating will take our act on the road again this season. You will get your chance to see us out there on the open road.
Until next time…you can find us here at The Shed! And as always remember…Tailgate Forever!
Don't forget to follow us on our social media pages! Inside Tailgating Fan Page | Inside Tailgating Twitter Page | The Shed Fan Page