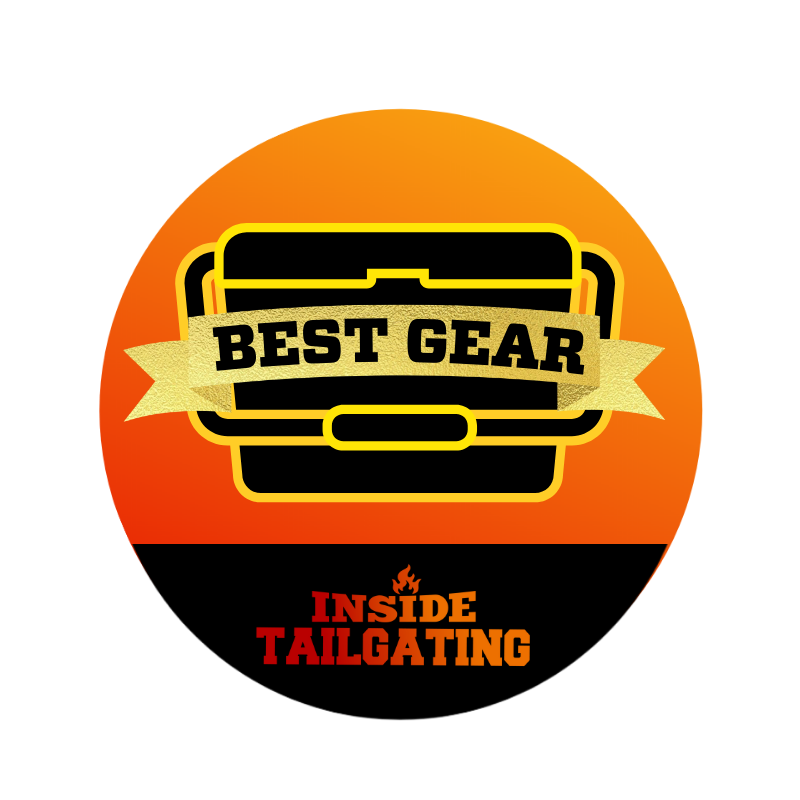 The 2021 Inside Tailgating Best Gear picks for your tailgate summer essentials are here! We've partnered with SHITI Coolers, Duke Cannon, and AllCornhole.com to bring you all of our must-have gear picks in one cost-saving bundle. Get your tailgating summer essentials in one convenient limited edition bundle and #TAILGATESHITI this summer!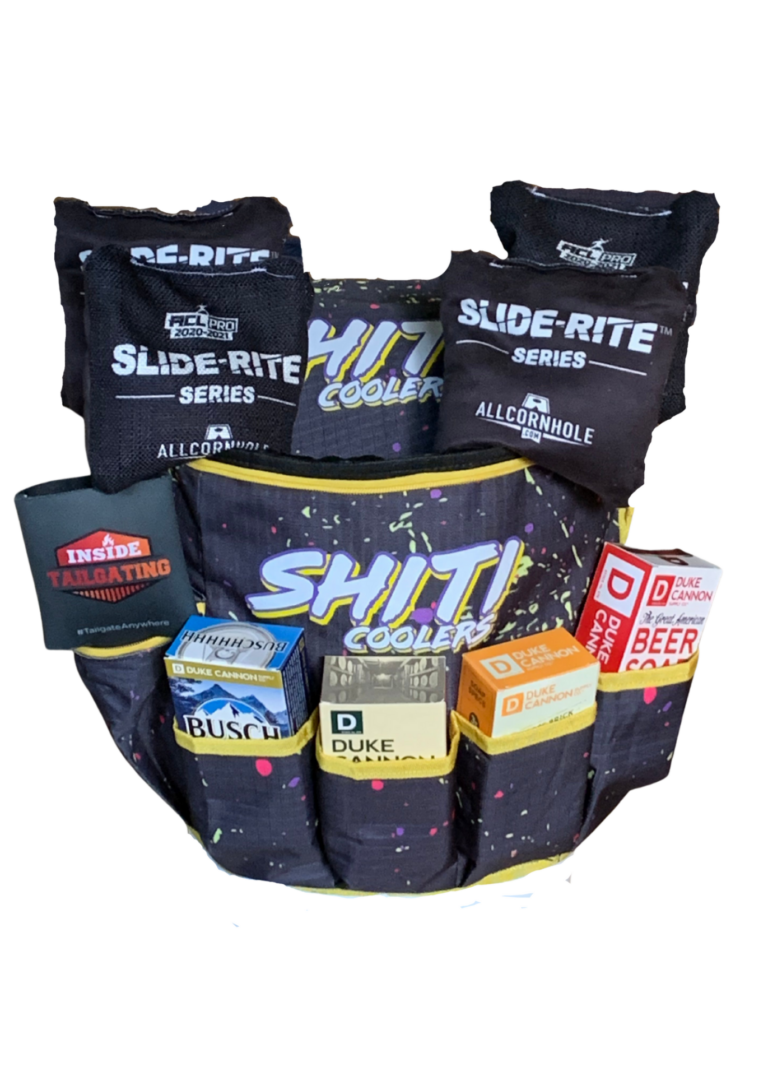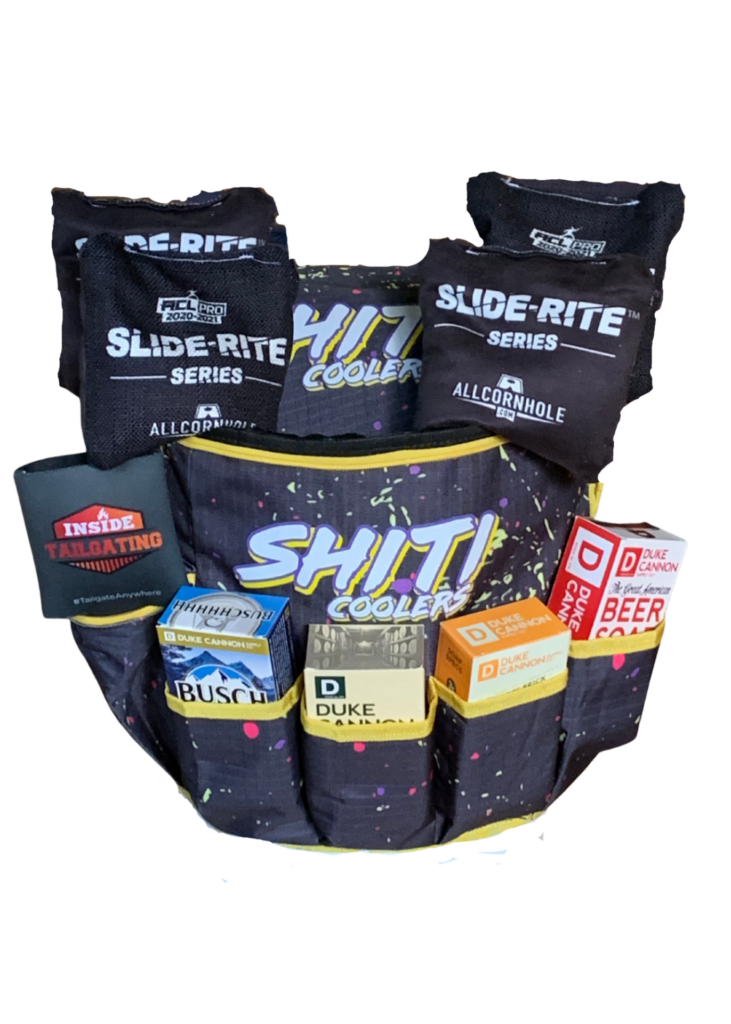 Limited Edition Inside Tailgating SHITI Summer Essentials Bundle

Our first tailgate essentials picks are here! An insulated insert that will turn any 5-gallon bucket into a cooler, boozy soap to keep you smelling party-ready all summer, koozies so your drinking hand doesn't get cold, and 4 cornhole bags used by Pro players as seen on ESPN and CBS Sports.
Take advantage of the discount on these items valued at over $140 curated and packaged exclusively by us for the Inside Tailgating SHITI Summer Essentials Bundle that will enhance your tailgate adventures. Just add truck and bucket!
$99.00
What's included
In addition to 1 regular can and 1 slim can Inside Tailgating koozie, you get these select tailgate summer essentials.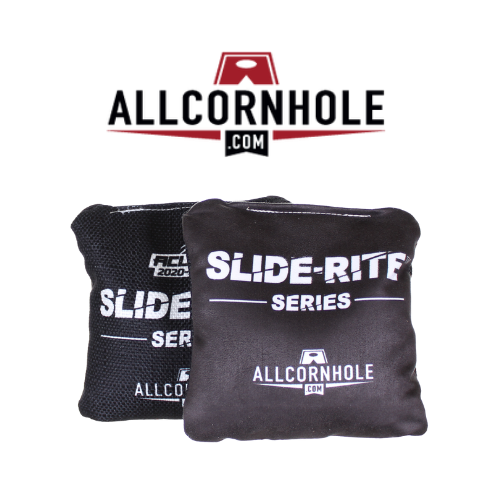 AllCornhole Slide-Rite Series Bags
4 Black or Red Bags
ACL Approved cornhole bags! Perfect Slide under any condition. Tested for months in everything from hot and dry conditions to tropic like humidity. These cornhole bags feel great in your hand right out of the box and feel even better after just a few games.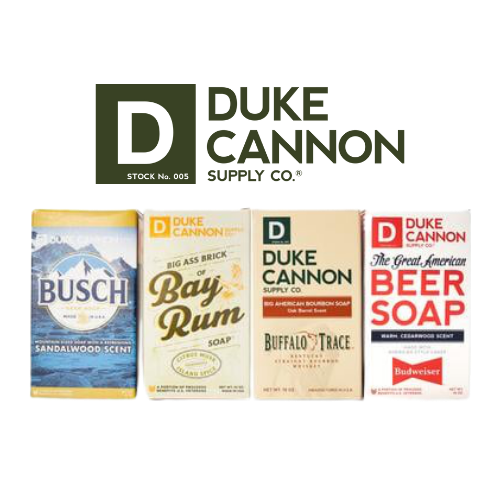 Duke Cannon Beer & Bourbon Soap Bundle
4-pack of BIG ASS Soaps
A perfect item for the gentleman who appreciates a fine drink and a distinguished fragrance. Includes 2 Big Beer Soaps: a sandlawood scented Busch Beer bar and a cedarwood scented Budweiser bar, plus 1 Big American Bourbon Soap, an an oak barrel scented bar and 1 Bay Rum Soap.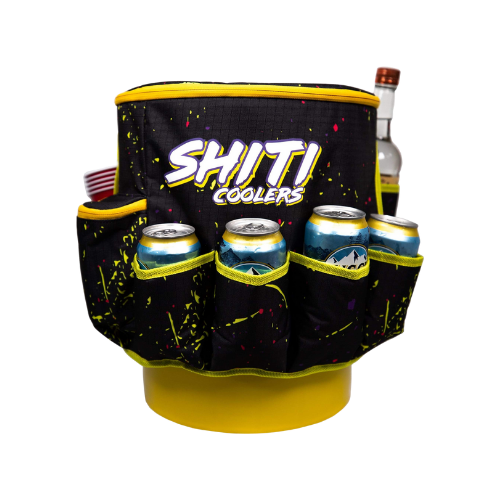 SHITI Coolers Intoxicator Booze Bucket
1 Cooler Insert for 5 Gallon Bucket
An ode to the working man and woman taking its design cues from the masonry tool carriers used by Blue Collar Americans. Features an insulated main compartment with a mesh bottom that transforms into a cooler with the addition of a 5-gallon bucket.
Why AllCornhole Slide-Rite Series Bags are a summer essential
Cornhole is consistently voted as the most popular tailgating game, and as it has become a more legitimate sport with Pro tournaments airing on ESPN, CBS Sports and NBC Sports, the production of the gear is also taken more seriously. AllCornhole cornhole bags, boards and accessories are American Cornhole League approved tournament-ready bags. The Slide-Rite series are great all-around bags perfect for players from beginner to Pro. One side is a proprietary Slide-Rite material for the perfect slide and the other side is standard suede for stick. They are filled with a proprietary resin fill for the perfect fill and weight.
---
Variety
AllCornhole.com has the largest selection of duck cloth and microsuede cornhole bags available online, with many colors to choose from, and a variety of styles: corn filled, weather resistant, RealTree camo, dual sided (aka tournament series) or stick-n-slick…
Made in the USA
They are owned and operated in the U.S.A. with an emphasis on detail, quality and innovation of cornhole products.
Customization
While always coming up with fun new designs, you can customize your products for something truly unique if desired.
Quality
Tested for months in everything from hot and dry conditions to tropic like humidity. All bags are stitched with super strong upholstery thread and come with a 1 year warranty against seam breakage!
Why Duke Cannon's Beer and Bourbon Box is a tailgating summer essential
Duke Cannon hails from a simpler time. A time when the term handyman was redundant. A time when chivalry and patriotism weren't considered old-fashioned. A time when you never put the word salad next to bar. Duke Cannon's purpose is simple: to make superior-quality grooming goods that meet the high standards of hard-working men.
In the history of great duos, the partnership of beer and bourbon is even more important to our way of life than mac n' cheese or fish n' chips. To honor this transcendent pairing, we are obligated to offer the Beer & Bourbon Box.
---
There are 4 Big Ass bars of soap
At 10 oz each, these soaps should easily last you the whole tailgating season and remind you and whomever can smell you, of your fondest tailgating memories. (FYI- they are, cedarwood, sandalwood, oak barrel & island spice scented, not stale beer smelling.)
Tailgating can be hard work
Let's face it guys, you can work up a sweat setting up all the gear and getting your grill on. We'd prefer you clean up with the essence of beer and bourbon in a good way. You never know, somebody might want to taste you- just saying.
Beer is good for your skin
Both the Busch and Budweiser soaps are made with your favorite beers infused which have antioxidants in them that are good for your skin.
No age requirement
You don't have to be 21 to shower with beer or bourbon, these Big Ass Bricks of soap are for all ages.
Why The Intoxicator Booze Bucket is a tailgating summer essential
SHITI Coolers' founders identify themselves as below-average outdoorsmen who started the brand because they just wanted to be able to throw their beer into a cooler that will last generations and go. The Booze Bucket is inspired by the Blue Collar working men and women driving their trucks with masonry tools and paint buckets in the flatbed.
---
Grab and Go
The durable polyester insulated liner, with mesh bottom folds flat when not in use, so is easy to keep in your vehicle at all times. Then you just slide it over a 5 gallon bucket, and voila- instant cooler, just add ice.
Organized
There are eight insulated koozie-type pockets for your cans or bottles around the exterior and a pocket large enough for a wine bottle. Additionally, a zippered exterior pocket and a water-resistant interior pocket under the lid to zip in some essentials or small snacks.
Bottle opener included
It's always a pain when you realize you've brought bottles that aren't twist-offs and you no longer carry an opener on your keychain. Relax, there's a bottle opener attached to your Booze Bucket!
Easy cleanup
We mentioned it's durable, but it's also easier than your standard cooler to cleanup. You can dump out the melted ice, remove the liner and hose off it or the bucket if needed. Go back to work with your bucket and keep your Booze Bucket liner ready for the next impromptu tailgate.
Ready to #TAILGATESHITI?
Grab this Limited Edition Inside Tailgating SHITI Summer Essentials Bundle Now!