It's easy to let summer become all about ice cream cones and cold beers on the back patio. If you struggle to eat enough veggies in the warm weather or have little mouths that seem to constantly demand desserts and greasy treats, these five healthy summer vegetable recipes have your back. They're simple, require few ingredients, and taste outstanding— even to picky eaters!
Here are five healthy summer vegetables recipes
1. Crispy roasted Brussels sprouts
Flavorful, healthy, and browned to perfection— it really doesn't get any better than these!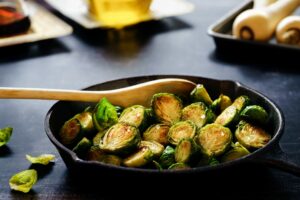 Preheat your oven to 425 degrees Fahrenheit.
Prepare one pound of fresh Brussels sprouts by cutting off the stems (the small, hard, white part at the bottom), and slice each sprout in half lengthwise.
Place the halves and any loose leaves in a single layer in a cast-iron skillet.
Drizzle olive oil over the top (about a tablespoon will do) and use clean hands to massage the oil into the sprouts until they're fairly evenly coated.
Drizzle about a teaspoon of white vinegar over top.
Sprinkle on salt, pepper, and garlic powder to your taste preference.
Bake your sprouts on the center rack of your oven for about 20 minutes, using tongs or a spatula to toss them about once while cooking.

When the insides are lightly browned, and the loose leaves are crispy, you're ready to serve! You'll be shocked by how sweet the leaves become after a bit of caramelization in the oil and vinegar. Who'd have thought? If looking for a veggie a little more bbq flavored, try Stubb's spiced asparagus.
2. Sweet green smoothies
A way to get in your daily greens without having to taste them? Incredible!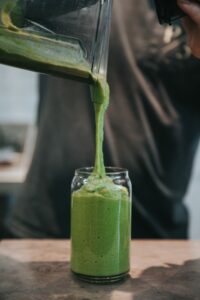 Plop 3/4 cup frozen mango or pineapple into your high-speed blender
Add:

1 cup almond milk,
2 cups packed fresh spinach
1 cup packed fresh kale.

Blend
If your blender has a hard time chopping everything finely, add more milk by the tablespoon until it runs smooth.
Serve it in a pretty glass or Mason jar with a reusable straw! A slice of leftover fruit makes a lovely garnish.
Of the summer vegetable recipes, this is especially helpful when young kids turn up their noses to vegetables, no matter how they're cooked. The sweetness from the mango and pineapple will disguise the veggie taste. If you don't let them see you prepare the smoothie, they won't even know what's in them. Talk about a mom hack!
3. Snackable kale chips
Take your after-dinner snack to the next level by making it out of deliciously healthy greens.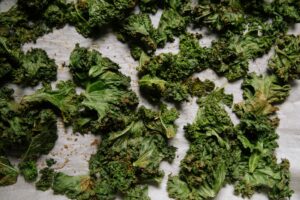 Preheat the oven to 425 degrees Fahrenheit and line a baking sheet with aluminum foil.
Rip one bunch of kale into bite-sized pieces, removing the hard stems, and lay the leaves in a single layer on the tray.
Spray your kale with canola or olive oil baking spray until they're lightly coated.
Sprinkle salt and pepper over top to taste, keeping in mind that the kale will cook down a lot, and you won't want to over-salt.
If you like things spicy, add a few shakes of cayenne pepper. If you want a cheesy taste, sprinkle on a tablespoon or two of nutritional yeast— this natural, vegan seasoning contains protein and is often fortified with crucial vitamin B12!
Bake your kale chips for 15-25 minutes, depending on how crispy you like them.
Toss them with tongs once or twice while cooking to ensure that they cook evenly.

Serve them as a side dish, on-the-go snack, or late-night treat! These also make a great potluck dish for work picnics or neighborhood gatherings.
4. Creamy, protein-packed pesto
Just because it tastes fantastic doesn't mean it's unhealthy!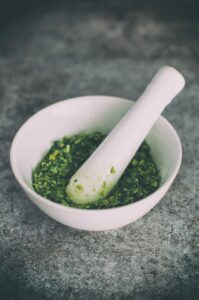 Blend together:

1 cup fresh basil leaves,
1 cup arugula,
1/4 cup olive oil,
1/4 cup water,
1/3 cup pine nuts or walnuts,
3 cloves garlic,
1/4 teaspoon salt, and
1/3 cup parmesan cheese or nutritional yeast.

If necessary, add water one tablespoon at a time until you reach your desired consistency.

Now you can use the pesto in a variety of different ways: it's great in pasta salad and sandwiches, on pizza, drizzled on top of baked and grilled veggies, or even better, mix it in with butter and slather it on your grilled corn. Food Network has 50 Things to Make With Pesto for further inspiration. As an added bonus, kids and picky eaters won't even know they're eating greens! Sneaky!
5. Summery grilled broccoli
We know that even a healthy vegetable like broccoli is more appealing when it's been grilled- right?!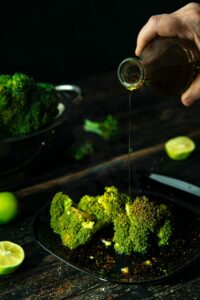 Preheat your outdoor grill to medium heat while you
chop the thick stems off from 2 pounds of broccoli.
Chop the florets in half until you have bite-sized pieces.
Mix your florets together in a bowl with

1/4 cup extra virgin olive oil,
2 tablespoons soy sauce,
1 tablespoon honey or maple syrup,
1/2 teaspoon kosher salt,
1/4 teaspoon ground black pepper.

Grill your broccoli for 8 to 10 minutes, flipping it once in the middle.

If you're looking for a kick, add a few shakes of crushed red pepper flakes before serving. This makes a great side dish on a summer evening! You may also like this charred vegetable salad.
Fill up on these summer vegetable recipes, and you may even surprise yourself with the bonus effects of increased energy, weight loss, healthier skin, and an improved mood. Your family, dinner guests, and friends will have a hard time turning these dishes down, and it's hard to know which part you'll enjoy more— experiencing the taste, or knowing that your loved ones are getting the healthy vegetables they need without any complaints. Get cooking!