We bring together the best in tailgating
Whether you're gathering for a college football tailgate, race day, a summer concert or a backyard barbecue, Inside Tailgating is here to help you crush it.
We've got the goods on tailgate essentials, games and fan apparel; recipes for the best tailgate food and drinks; and the community where you can get pumped, share ideas and show off your setup.
Tailgating isn't just our hobby – it's our lifestyle
We founded Inside Tailgating in 2009 because for us, it's a way of life. Whether you've hosted Jimmy Buffet tailgates for decades or you're a fan who just threw your first NFL homegate this year, we get that it's the experience – and the people you share it with – that make it the stuff of legend.
That's because above all else, we're tailgaters, too. We live and breathe tailgating and homegating 24-7, and our team grinds hard year-round to bring together the best gear, games, recipes and tailgate ideas from across the internet in one reliable resource for you.
We celebrate your setup
We tailgate for a living, but that doesn't mean we're the only experts around here. Inside Tailgating is a community of fiery tastemakers and loyal fans who love the lifestyle and the chance to swap their stories, tips and hacks with others.
We partner with master grillers, gear manufacturers and tailgating tastemakers to bring you winning product reviews, the latest team apparel, game ideas, tailgate menus and more on our website and podcast. And we team up with fans like you to bring it all to life on Facebook, Twitter, Instagram, YouTube, Pinterest and beyond.
Help you make it great
Our editorial team has been covering sports and tailgating for more than 20 years. We do the product research and dig for what's worth knowing so you don't have to.
Looking for easy tailgate ideas? We've got you. The best tailgate food? Obviously. How to make the most of a virtual tailgate (#Because2020)? Yep, we're on that, too.
Whether you're gearing up for a parking lot party before a country music festival or NASCAR race, or hosting an outdoor viewing party, backyard barbecue or indoor tailgate party at home, we're here to help you turn it up and bring the heat.
And keep the fun fired up
The Inside Tailgating community is made of sports fans, music lovers, backyard grillers, foodies and anyone who craves the best in outdoor fun.
Sound like you?
Show us what you've got. Here's how you can #TailgateWithUs on Facebook, Twitter, Instagram, YouTube and Pinterest: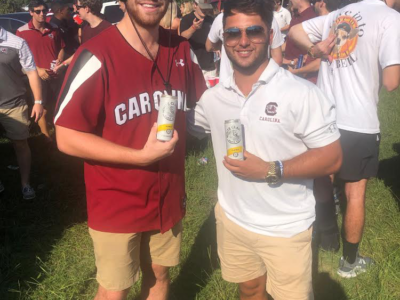 Inside Tailgating is a participant in the Amazon Services LLC Associates Program, an affiliate advertising program designed to provide a means for sites to earn advertising fees by advertising and linking to Amazon.com.