Last Updated on 04/15/2021 by Inside Tailgating
Pork and apples are a classic combination that can be as simple as a side of applesauce next to a breaded and fried chop or as highbrow as a roasted pork loin with brandied apples. At this point in my life, I'm aiming for somewhere in between.
Pork chops are an ideal vessel: they're readily available and won't break the bank. Unfortunately, because they're so lean they tend to dry out and get tough, even with a watchful eye. An easy way to combat this is to brine them before cooking. While I'm sure there's someone in the world that could scientifically explain why brining meat keeps it juicy, I'm not that person. I barely passed Chemistry in 10th grade.
This is what I do know: brine (which at its most basic is a salt water mixture) draws moisture into whatever meat is submerged in it. This is why brining is so popular with Thanksgiving turkeys; it helps the white meat stay moist while the dark meat finishes cooking.
If you get creative with your brine and use a tasty liquid, like a hard apple cider, and a whole bunch of aromatics, those flavors will also get pulled into your meat of choice. In this case, pork chops. I usually would cook these on the grill but since it is pouring outside right now, I'm gonna cook them inside. Anyway, grab some chops, call up some friends, and prove that you can feed them outside of the summer months!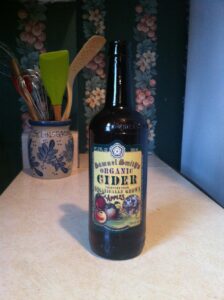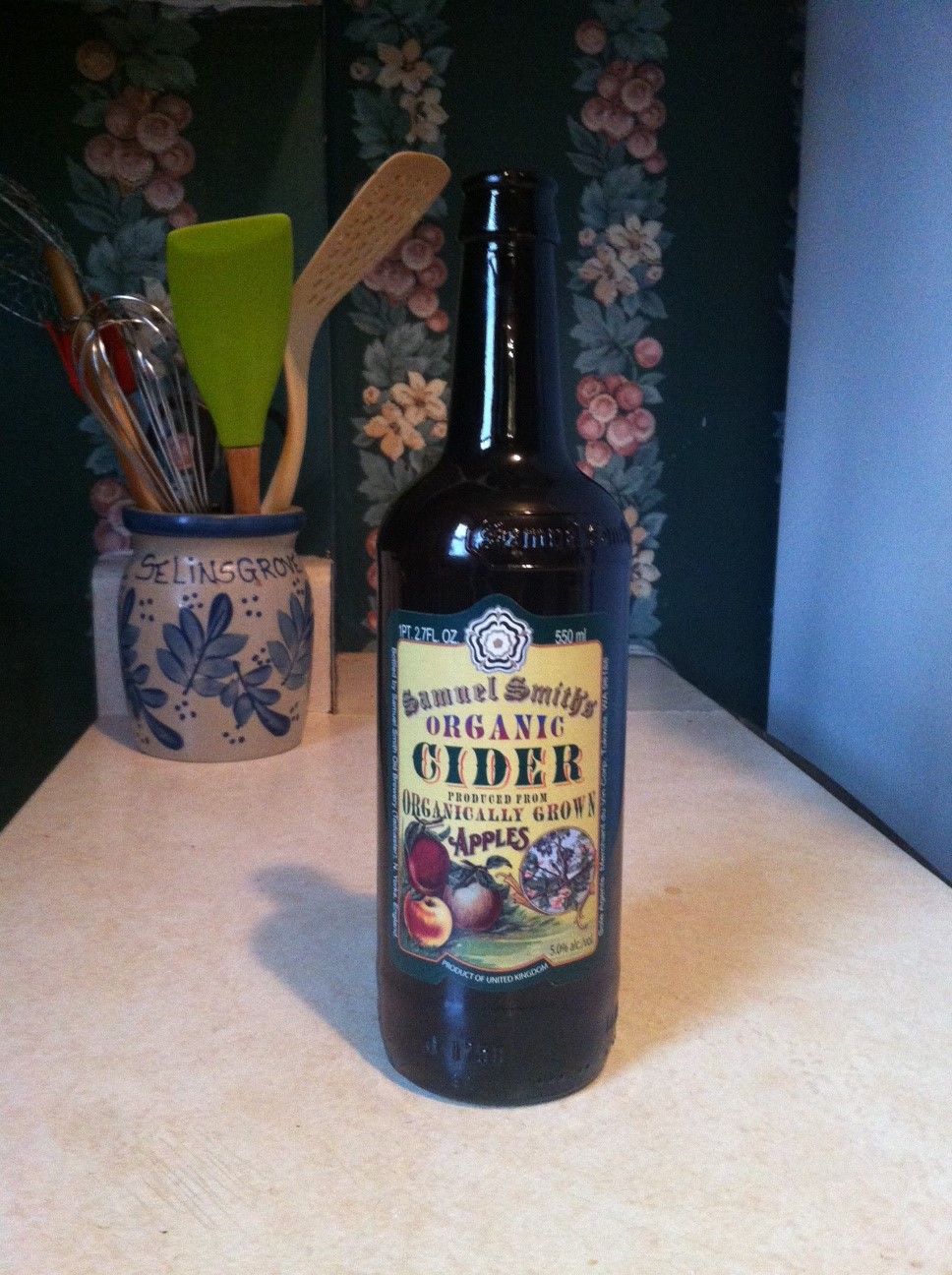 INGREDIENTS:
[unordered_list style="bullet"]
2 thick-cut pork chops*
4 c. hard cider
¼ c. kosher salt
¼ c. sugar
1 Tbsp. whole peppercorns
3 cloves of peeled garlic, halved
1 peeled medium onion, halved
1 bay leaf
2 star anise pods
5 whole cloves
1 cinnamon stick
1 Tbsp. ground ginger *I like bone-in porterhouse chops.
[/unordered_list]
HOW TO DO IT: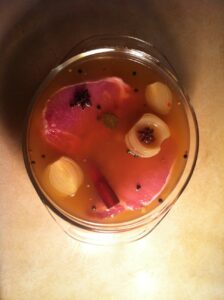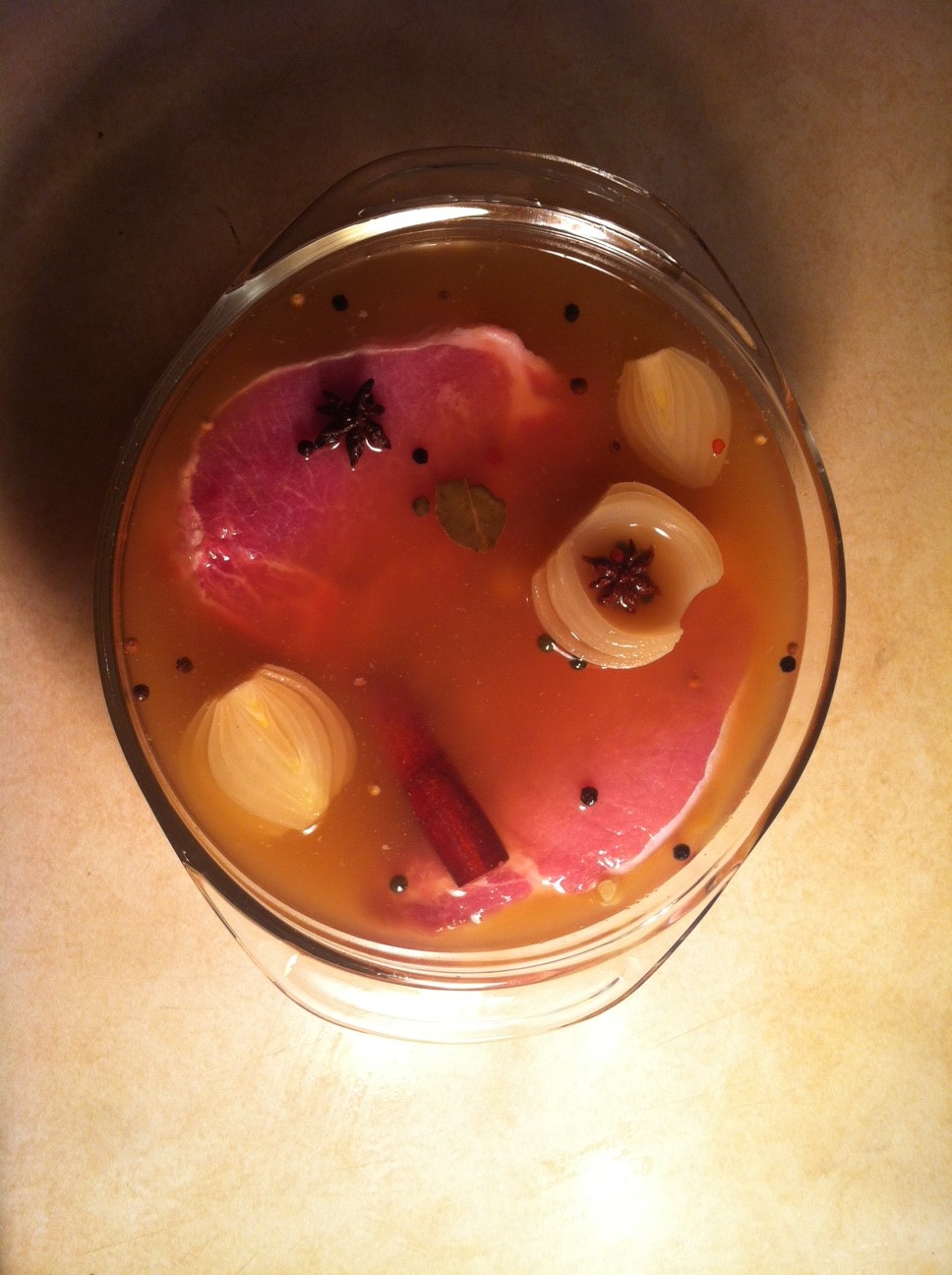 [ordered_list style="decimal"]
Place all ingredients, except for the pork chops, in a large pot on your stove.
Bring contents of pot to a boil, and then reduce heat to medium, stirring occasionally.
Once the salt and sugar have dissolved, turn off the burner. You just made a brine! Whoop whoop!
Stash the uncovered pot on a trivet **in your refrigerator. (The brine needs to cool completely before you submerge the chops in it. Otherwise you're going to end up with sad, boiled pork chops.)
Put your chops in a glass bowl or rectangular pan or in a large, heavy-duty Ziploc bag.
Pour the cooled brine over the pork chops and cover the container with plastic wrap.
Let the brine work its magic for at least 12 hours.
Rinse the chops off under cool running water and pat dry with paper towels.
Cook your hard cider-brined pork chops. I like to sear them a cast-iron pan and then pop the whole thing in the oven to finish cooking them, but grilling works equally well.
Serve with your favorite sides and a bottle of hard cider. You did it, champ!
[/ordered_list]
**What the heck is a trivet? It's that wooden or ceramic thing you put hot serving dishes on so it doesn't melt your table. You could just as easily use a pot holder or a rival team's jersey :).