Last Updated on 04/15/2021 by Inside Tailgating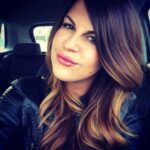 With a little pre-game prep work, this could be a very refreshing and light change of pace from the more traditional tailgating fare. Our friend Nikki Martin from the Food Network put this healthy alternative together during one of her competitions and we definitely think that it is a winner as well!! We are looking forward to many more of Mz. Nikki's 'SuperBowl' spectacular recipes and culinary creations in the upcoming tailgating season. #Thrilla
Join our Inside Tailgating Community For Free Today!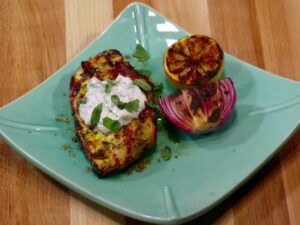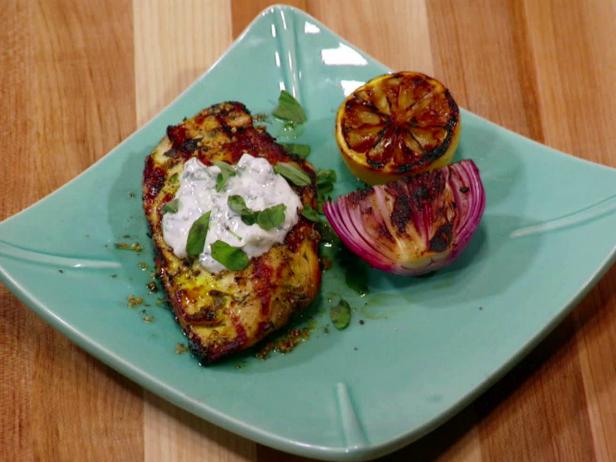 Ingredients
1 teaspoon turmeric
Fine sea salt
1/2 cup Greek yogurt
4 boneless skinless chicken breasts
Vegetables
Olive oil
1 red onion, sliced thickly
1 tomato, halved
1 lemon, halved
Tzatziki
2 cups Greek yogurt
1/4 cup chopped fresh dill
1/4 cup chopped fresh mint
2 lemons, juiced
1 1/2 cucumbers, peeled and chopped
Fine sea salt
Garlic herb oil, for serving
1/2 tablespoon fresh oregano leaves, roughly chopped
Preparation
For the chicken: Blend the turmeric and some salt with the yogurt in a large bowl and add the chicken. Toss to coat and marinate chicken for at least 10 minutes or up to 2 hours (in the fridge).
Preheat a grill or grill pan over medium-high heat. Remove the chicken from the marinade and grill for a few minutes on each side, until cooked through.
For the vegetables: Drizzle olive oil on the onion, tomato and lemon and season with salt. Grill all until a bit charred on each side.
For the tzatziki: Incorporate the yogurt, dill, mint, lemon juice and cucumbers. Season with salt and set aside.
To serve, drizzle the chicken with garlic herb oil and spoon a scoop or two of tzatziki directly on top. Plate each dish with a few pieces of grilled veggies and, before serving, squeeze 1 grilled lemon half over the chicken and sprinkle with oregano.
recipe courtesy of Nikki Martin of Food Network