Last Updated on 08/18/2021 by Inside Tailgating
We admit it, we are a little sentimental here at Inside Tailgating. We love a feel-good story, especially when it involves people gathering around grills to celebrate football, friendships and in this case, weathering storms.
What the people of Florida and Texas have endured the past several weeks, not to mention those living in or visiting the Caribbean, as well as some of my friends in both Georgia and South Carolina, has not been for the faint of heart. But as we read stories like the one I'm about to share, it makes us feel better about the world and it makes me wants my friends in Florida to enjoy the football season that much more. Hey, you don't need power to fire up a grill and serve a great meal in a parking lot to enjoy an afternoon and get away from all the insurance forms and clean-up you have waiting at home.
I loved this story out of www.Jacksonville.com about Jaguars tailgaters enjoying themselves all the more last Sunday in the aftermath of Hurricane Irma. To me, this is what the spirit of tailgating is all about.
"This is a great chance for us to really celebrate the fact that it could have been a lot worse," said Will Inman, one of the Jaguars fans interviewed for the article. "….As bad as it was, this town recovers real well."
We salute you Jaguars fans, and encourage you to keep doing more of the same, at least after the team gets back from England where the Jags' match up with Baltimore in Wembley Stadium this Sunday!
Now it's up to some college fans in Florida to carry on the hospitality this weekend, when the Miami, well, Hurricanes host Toledo Saturday at 3:30 p.m. This is the first game in 21 days for the Hurricanes, who had their second game against Arkansas State cancelled and the following one against FSU rescheduled because of the storms.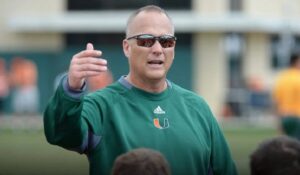 As the Miami Herald reported, Miami coaches are urging the community to get behind their players, who went 10 days without even practicing because many had to help their families board up homes. Then they had to practice in Orlando for six days while their campus was cleaned up. Miami coach Mark Richt took to Twitter to encourage the Miami community to come out and watch them play: "Fully understand the rebuilding after the storm. Hopefully we can brighten your day with how we play."
Or as defensive coordinator Manny Diaz put it to the Herald, "We want Saturday to be an opportunity where everybody in the community can get together and have a great tailgate and get in the stadium and create a great atmosphere and help our guys along."
For the full Miami Herald story, click here.