Last Updated on 01/05/2022 by Inside Tailgating
At Inside Tailgating, we independently select and write about stuff we love or want to try out and think you will too. As a participant in the Amazon Services LLC Associates Program, and other affiliate advertising programs designed to provide a means for sites to earn advertising fees by advertising and/or linking to their websites, such as Amazon.com, we may receive a commission on sales or other compensation through those links on this page. It is at no additional cost to you, but we gotta pay for our tailgates somehow…
One of the most essential pieces of tailgating gear is a portable grill. Most grills are too large and not easily transported for tailgating. However, there are small portable grills that are ideal for any tailgate. Over the years we've found some of the best small portable grills that are ideal for your tailgating needs. Here are our top picks to help you find the best grill for your tailgating needs.
The EZ Grill
The first grill on our list is the EZ Grill. Compact and versatile, this small portable grill is perfect for your tailgating parties and just anytime you want to whip up some of your favorite brats.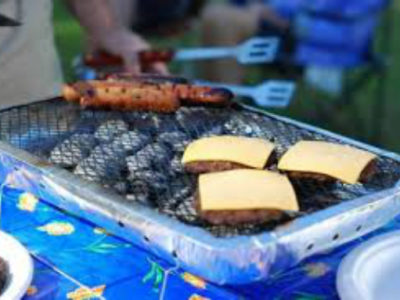 If you love grilling at the beach, at tailgates, or at your local park, you're going to freak out about the EZ Grill. Instead of having to lug your portable grill around whenever you want to whip up your world famous steak, just pack the EZ grill in your bag and you'll be able to get that perfect sear. Even better, you're saving the environment with the EZ Grill. It contains 100% natural charcoal dipped in mineral oil, and none of those gross chemicals.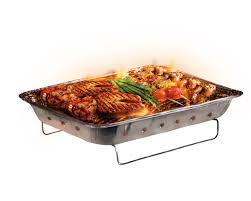 Features of the EZ Grill:
● Incredibly portable and easily disposable
● Lights with one match
● Cooks up to 1.5 hours
● Environmentally friendly
● Just open it up and you're ready to start grilling!
The EZ Grill is perfect for tailgating when you'd rather just watch your favorite team kick ass instead of cleaning up your grill.
What do you think of the EZ Grill? What other awesome portable grills do you use?
Cobb Portable Grill
Next on our list of small portable grills is a very versatile option. The Cobb Portable Grill does more than just grill up your favorite foods, it works as a portable kitchen.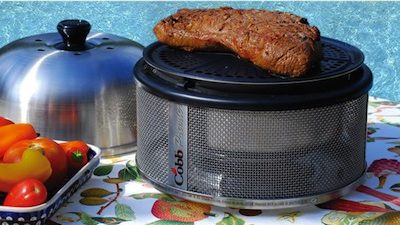 Easily-movable equipment is essential to setting up a tailgate, which is why most pre-game partiers own a portable grill of some sort. And most of these cookers do the job they are designed to do. But what happens when you (gasp) get tired of eating strictly grilled food? You simply step up your pallet to the latest evolution in the grill game — the incredibly versatile Cobb Portable Grill and Cooking System.
Like Hall of Famer Ty Cobb who could hit for average and power, while running, throwing, fielding and starting fights as good as any in his day, the grill Cobb can also do many things well. This device can obviously deliver grilled food, but it can also bake, roast, fry and smoke your pregame meal. Now you can enjoy entire chicken roasts, pizzas, steamed vegetables and freshly made bread all from the same nine-pound contraption.
Although tailgates aren't known for being particularly health-conscious or environmentally friendly, the Cobb prides itself on being both. All the fats flow away from the food and don't leak onto the charcoal where flare-ups and carcinogenic burning can take place. The green-conscious folks love it because it uses only eight charcoal briquettes, making the cooking device "near smokeless."
It's also a safe invention, able to be placed on any surface (even some pasty guy's stomach as shown on their website) because no heat is ever transferred through the base. For more information, connect to Cobb America.com.
The FIREDISC® Portable Grill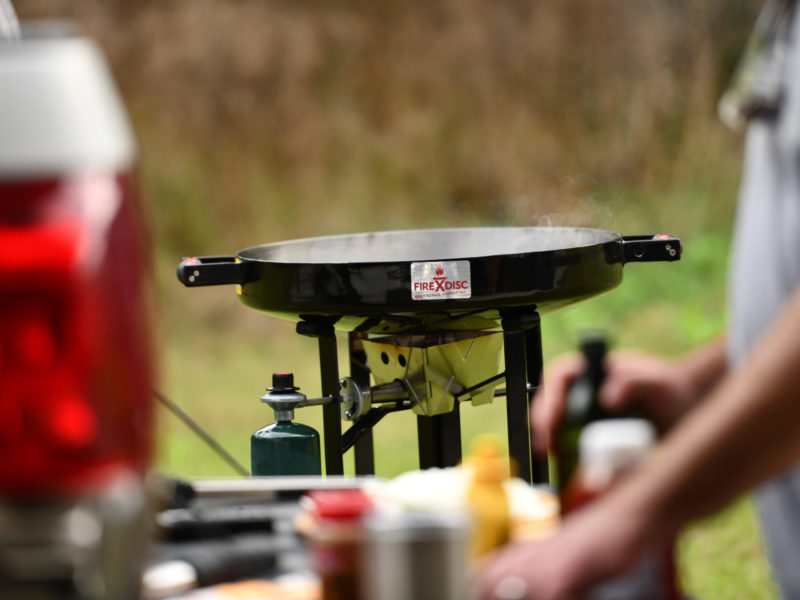 Another truly versatile grill is the FIREDISC®. Compact enough for easy transport, but feature rich enough you'll forget you are grilling on a small portable grill.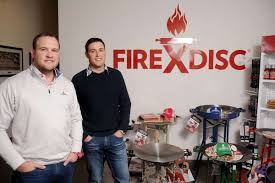 When it comes to outdoor cooking with family and small groups of friends, the backyard grill has been working overtime, and frankly, the rotation of burgers, steaks, and ribs is getting a little tired. The creators of the portable propane cooker, FIREDISC® elevate plow disc cooking, changing how you grill.
Two brothers, Griff and Hunter Jaggard of Houston, Texas, have introduced a tradition known as plow-disc cooking from the American Southwest to the mass market, teaching grill enthusiasts of all skill levels the benefits to cooking on what amounts to an oversized cast iron skillet.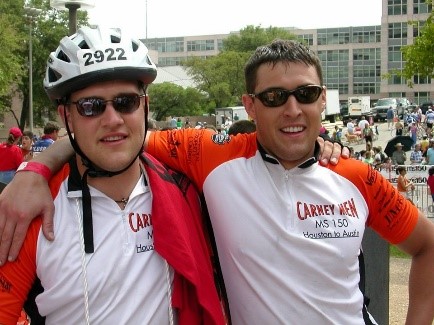 By grilling without grates, you can cook everything from stir fry to mac and cheese while managing an entire meal for a large gathering from one pot. As the FIREDISC® website explains: "Who needs an indoor kitchen when your FIREDISC® can bake, broil, blacken, deep fry, boil, grill, scramble, sauté, sear and steam?"
FIREDISC® customers are serving up everything from beer brats to fried fish, tacos to steak and fries. Inventors Hunter and Griff Jaggard have personally used their disc cooker to pop popcorn for their kids and entertain a tailgate with a five-gallon vat of queso dip.
"We really wanted to get something that allowed you to cook all of the cool stuff you're doing out of your kitchen out at the tailgate," Hunter Jaggard said. "It's really taken off."
FIREDISC® Cookers are now being shipped directly to consumers in 44 different states and available in stores like ACE Hardware and True Value.
Listen to the full interview below:
The O-Grill 3000
We love the O-Grill 3000 not just for its performance and portability, but the fact that it is shaped like a football really won us over.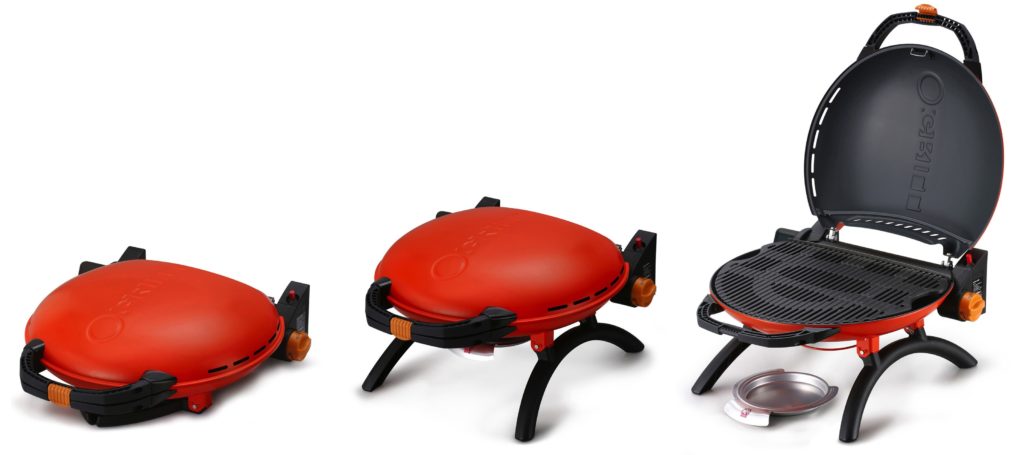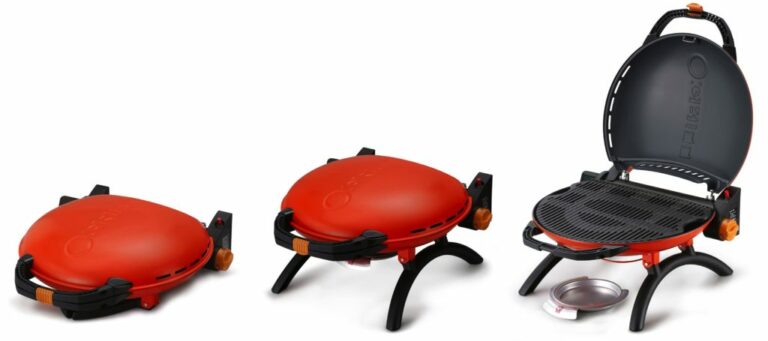 There are several portable grills on the market that function just fine as cooking instruments, but just how portable are they? Some are too heavy, some have wobbly legs and others have an awkward shape that just never seems to fit right when loaded into your vehicle. There is one portable grill available that truly defines the word portable, the O-Grill 3000.
This football-shaped cooker weighs less than 25 pounds and its parts fold up easily with a convenient handle at the top for carrying. And this isn't some wimpy model that only can fit three hot dogs. The 225-square-inch grill area is roomy enough to accommodate food medium-sized crowds and the 9,450 BTU stainless steel burner works pretty quickly if uninvited guests stop by your tailgate. This grill uses standard 14.1-ounce and 17.4-ounce propane gas cylinders, which you have to buy separately.
Other than its tremendous name, there are some really cool features to the O-Grill. A utensil storage case is clamped onto the side, and if your finger food doesn't require knives, forks and spoons, the case can be used for beverage and/or gadget storage without fear of these valuables getting burned. The retractable legs actually move pretty easily and make for a convenient stand without the need for a table top.
The O-Grill comes in six different colors, but LSU fans will be disappointed since yellow and purple aren't available. And if you're worried about greasy hands, you can also purchase an O-Bag carrying case, which works great as long as your buddy Meathead doesn't use the O-Bag as his barf bag.
The Pro-iRoda O-Grill
Finally on our list is probably the most lightweight, portable grill on the market. The Pro-iRoda O Grill may be small but it does almost as much as a large grill.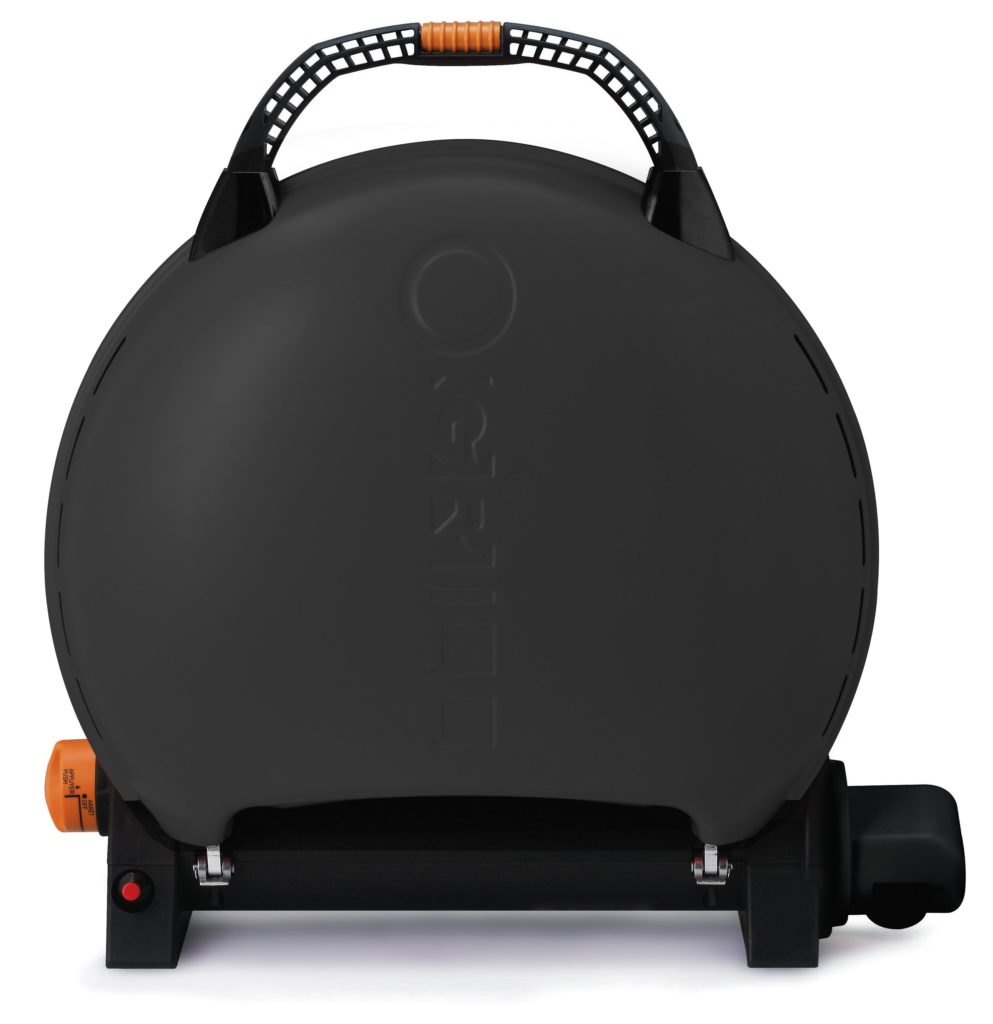 Pro-iRoda makes a butane-powered portable grill that only weighs 24 pounds, so if you need to get to the game and set up your tailgate quickly this is your answer! The O-Grill sets up in 10 seconds, comes in a variety of colors, and has an ergonomically designed handle for super easy transportation. The O-Grill is small but incredibly powerful, with a heat output of 9450 BTU. This beautifully designed LP gas grill sports a clam-shell shaped body, retractable legs, an optional durable cooking light, and a carrying case for easy storage. This is a cordless grill that uses standard propane cylinders, so finding fuel for your O-Grill will be effortless as well. O-Grill is small and incredibly portable, but has plenty of cooking surface to get even the biggest cooking jobs taken care of with ease. The O-Grill has an amazing 225 square inch grilling surface which is definitely both large and efficient. O-Baby!!
Be sure to check out all of Pro-iRoda's butane-powered products at www.pro-iroda.com and get your 'game day gear' ready for the party! $189.95
These small portable grills are perfect for your next tailgate. Each one is light, compact, and offers a variety of features. For more reviews on tailgating gear like portable grills, coolers, and canopies, be sure to follow us on Facebook, Twitter, and Instagram.
Don't forget to shop our Amazon storefront, where we've curated all of our favorite tailgating and homegating grills, tools, accessories, and anything else you could need for the best tailgating experience.