At Inside Tailgating, we independently select and write about stuff we love or want to try out and think you will too. As a participant in the Amazon Services LLC Associates Program, and other affiliate advertising programs designed to provide a means for sites to earn advertising fees by advertising and/or linking to their websites, such as Amazon.com, we may receive a commission on sales or other compensation through those links on this page. It is at no additional cost to you, but we gotta pay for our tailgates somehow…
With the winter tailgate season wrapping up, it's time to look ahead. spring tailgating is fast approaching. Though spring brings warm, sunny weather, it can also bring showers So it's a good idea when setting up your spring tailgates to be prepared in case of rain. To help you and your team stay dry, we've put together a list of the seven best tailgate chairs for spring. These tailgate chairs have all the features you need for a fun and relaxing time at the game, but they'll also keep you dry. Let's dig into it!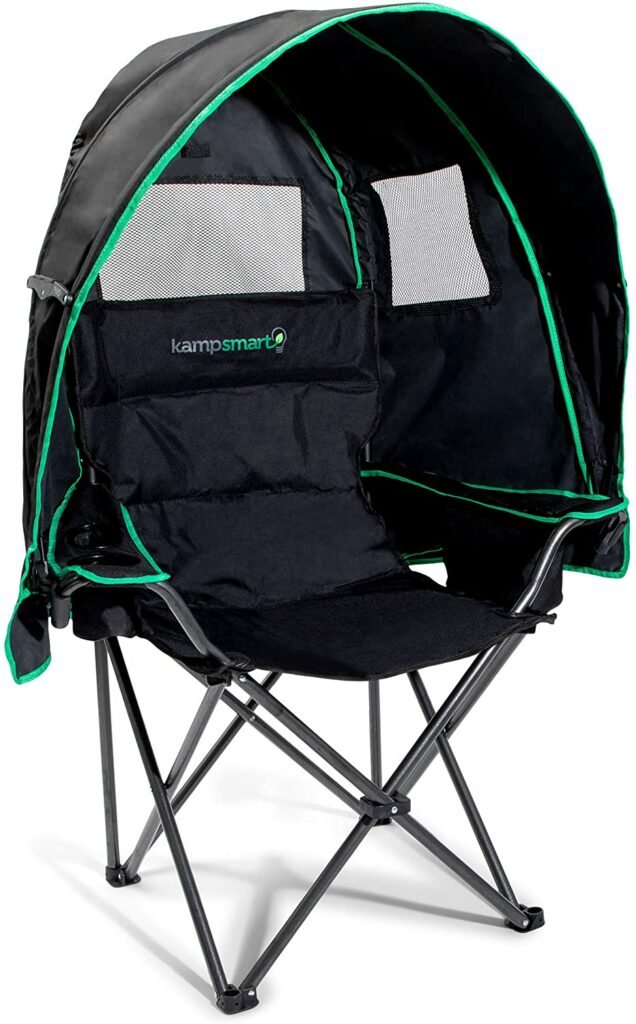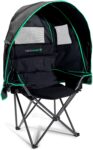 Our first pick for the best tailgate chairs for spring is the folding umbrella chair. This chair is equipped with a canopy that wraps all the way around the chair. This won't just protect you from falling rains but also wind. The chair folds up easily and is super lightweight for portability. It comes with a built-in cooler, a place to hold your cell phone and keys, and the all-important cup holder. This chair has a higher price point than some of the other options. However, it will keep you completely dry if a spring shower hits.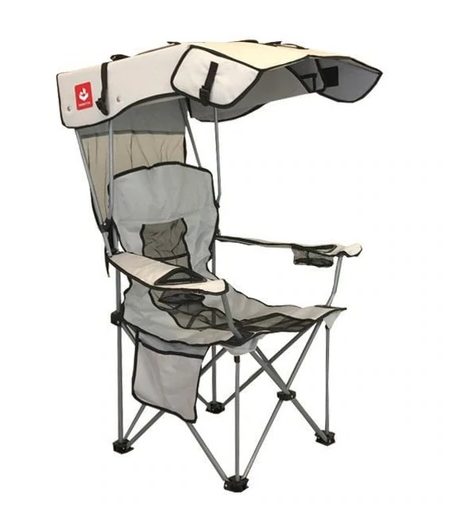 We love the "Tailgate Edition" of the Renneto Canopy Chair. Why wouldn't we? It's the ideal chair for any tailgate. This chair has it all. It has a 400 lb capacity with tons of headroom between you and the canopy. It also has a footstool that packs up neatly in the backpack pockets and padded, breathable seats for the ultimate in comfort. It also has oversized cup holders and tons of storage. It's one of the best tailgate chairs on the market overall, but it's also ideal in the spring. The large canopy has eaves that help keep you dry in the rain.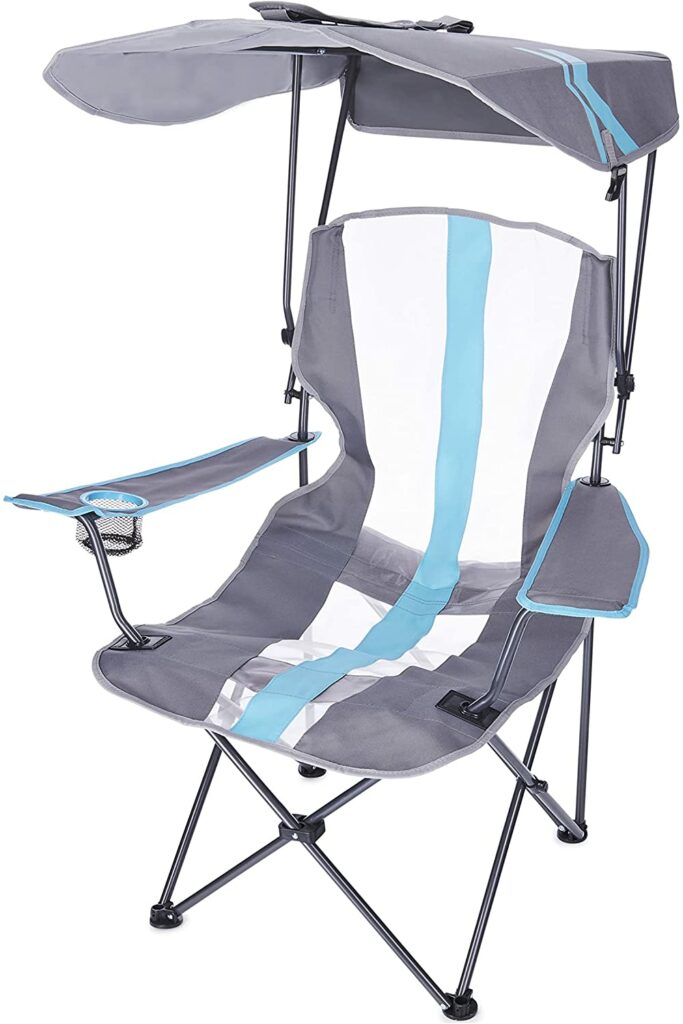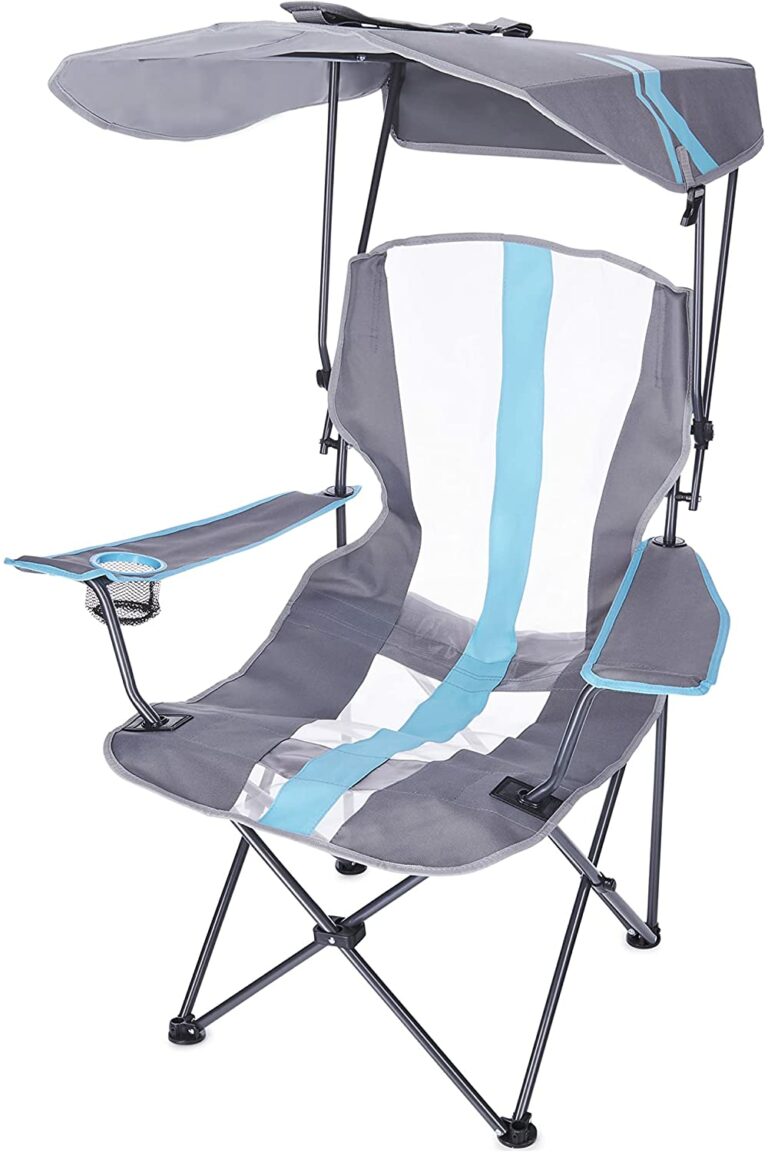 The Kelsyus Original Canopy Chair was designed to protect you from harmful UV rays. However, the canopy is also waterproof and offers great protection if you are ever caught in a storm. The lightweight chair folds up neatly into a shoulder bag, which will help you navigate even the largest tailgating crowd. It has a mesh seat for breathability and an armrest cupholder. Not only will this chair protect you from the rain, but it's also really easy to clean after a rainstorm. It has a wipeable surface that dries quickly. You won't have to worry about it developing a funky smell after getting wet.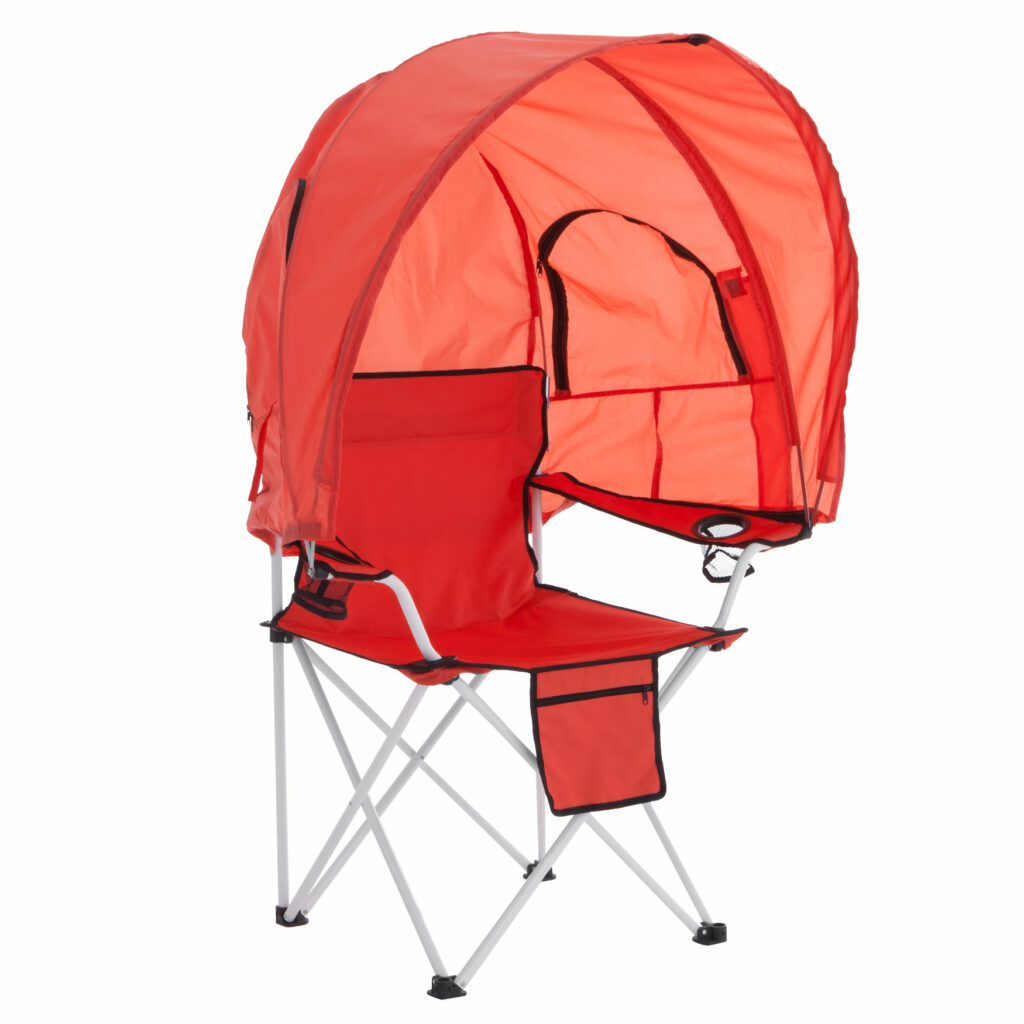 Another canopy umbrella chair variety, but designed for any sized tailgater. This canopy chair has a wrap-around umbrella that will protect you from both the rain and the wind. It has two cup holders and under the seat storage. It also comes in four different colors to help you rep your favorite team. The canopy also has windows that can help let the breeze through on warmer days. This is a perfect option for year-round tailgating needs, but it is definitely one of the best tailgate chairs for spring.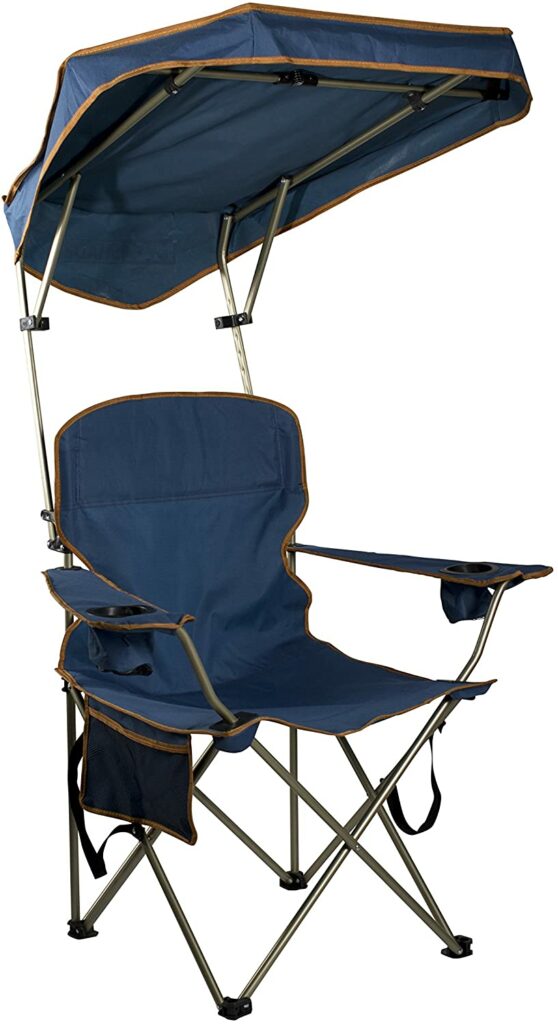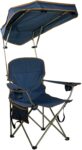 We love the Quik Shade Max Chair because it is only 9 lbs and folds up into a shoulder bag. It's perfect for carrying across a large stadium parking lot. However, it's made with a sturdy steel frame that supports up to 500 pounds. The chair is also very comfortable with an arched back and breathable fabric. The chair is equipped with a large canopy with eaves that will protect you from both the bright sun and spring rains. It also has two mesh cup holders so you can have a beer and a water. Very responsible.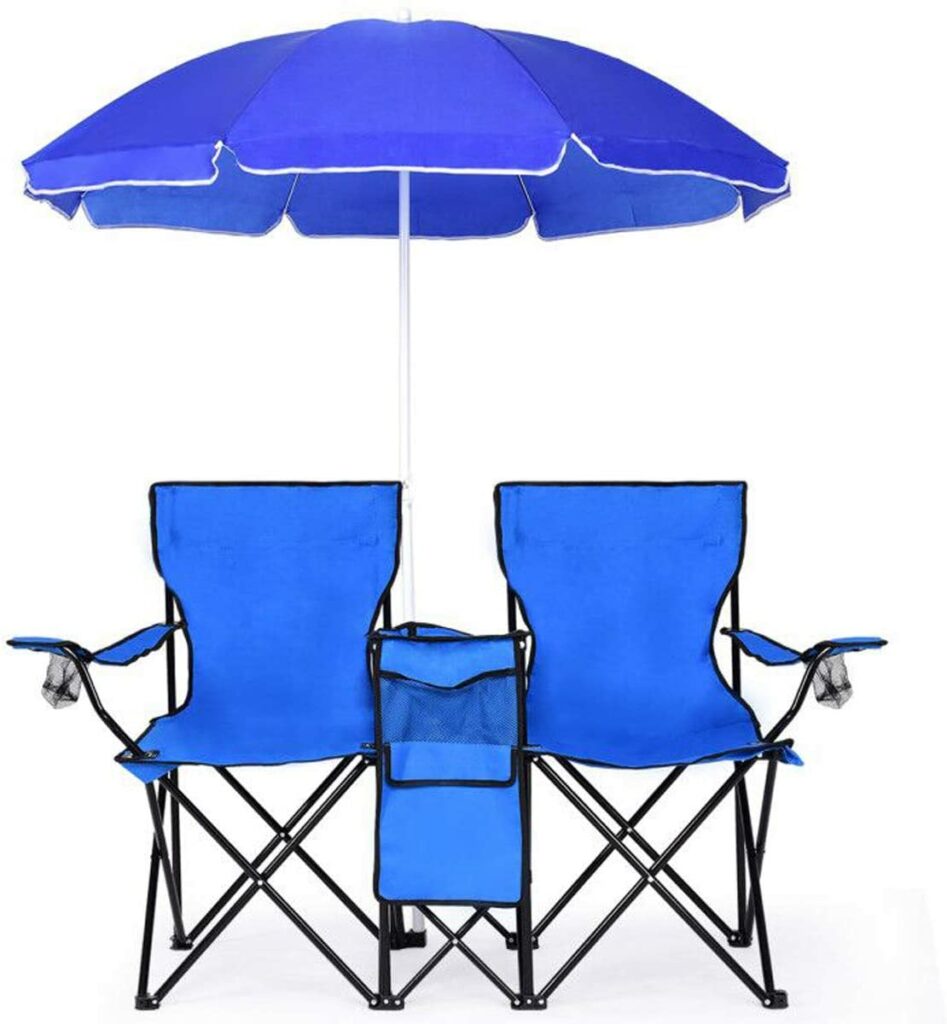 Next up on our best tailgating chairs list are the GoPlus double folding picnic. These tailgating chairs are a little bit different than the other picks because they have a full umbrella. The umbrella will protect you both from the hot beating sun and the spring rains. These chairs seat two people comfortably. The set has a built-in center table that also doubles as a cooler, so it's perfect for piling on your favorite tailgating snacks. It's also easy to set up and disassemble and is very lightweight.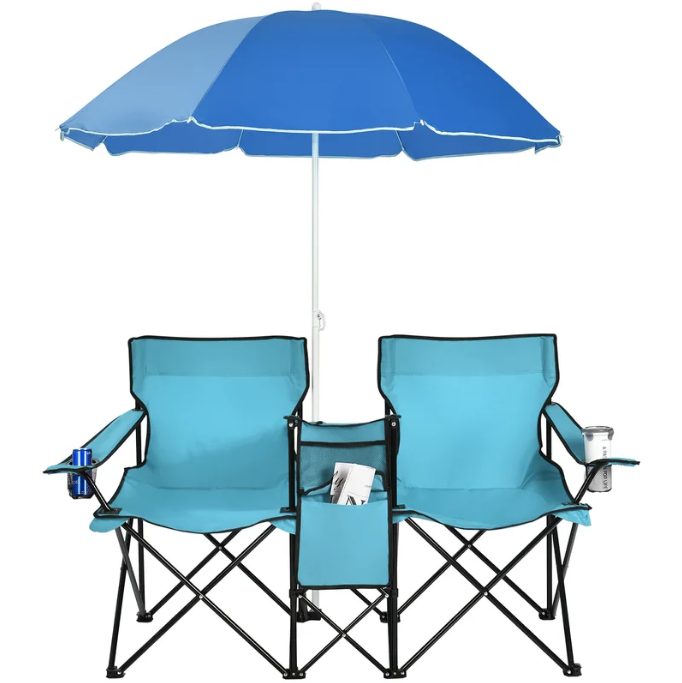 Another two-person chair set with an umbrella is these portable folding picnic chairs. These chairs feature a height-adjustable umbrella perfect for keeping you dry during spring rains. The umbrella is also removable for days when the spring weather is perfect. The chairs are equipped with a cooler bag, drink holders, and a center storage area. The chairs are also made with an anti-rust steel frame that will stay in great shape no matter how much rain hits you.
A Couple Other Options
Now if you're anything like us and you already have the best tailgate chairs, we have some other options to keep you dry. First is the Ozark Trail Regular Umbrella With Universal Clamp. This umbrella simply clips onto the frame of any tailgating chair. It's lightweight, portable, and easy to take tailgating. The other option is the EasyGo 2-Person Sport Pod. This pod fits around two chairs just like a tent. It has a window so you can still see in and out, but plenty of protection from even the hardest rains. This is also a great option for social distancing during COVID-19. Both of these options can be used with your existing tailgating chairs.
Nothing will ruin a spring tailgate faster than being rained out. However, tailgaters are pretty hardcore, we're not afraid of a little rain. With some preparation and picking the best tailgate chair, we'll be able to keep the party going.
For more gear ideas, be sure to follow us on Facebook, Twitter, Instagram and check out our Amazon Storefront. Our tailgating pros scour the internet to bring the coolest tailgating products to you. We'll help you gear up for all your seasonal tailgates.
See you at the game!