Last Updated on 04/15/2021 by Inside Tailgating
A problem that you may have (I know I definitely have it!) while tailgating is that after you finish grilling those perfect hot dogs and burgers, it's tough to balance your plate while eating and holding your cold beer at the same time. For me, I know I'd love a place to sit and actually eat, but seating for eating at tailgates doesn't just fold right out of your car. Actually, now it does.
Pick up one of these wooden folding picnic tables, and you'll have a super comfortable and easy way to sit, relax, and eat your delicious BBQ at the tailgate.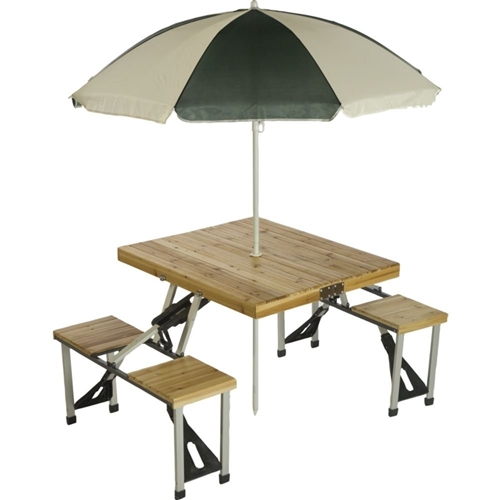 Features
Table folds up neatly into an easy to carry briefcase
Lightweight aluminum frame
Includes an umbrella (perfect for those sweltering Saturdays and Sundays!)
Finding the right gear for your tailgate is tough, but once you do, it will make a HUGE difference. This folding picnic table should be the first item on your list towards becoming the tailgating king.