How the NASCAR Camping Experience Transcends the Track
Growing up, I never considered myself a race fan.
Did my dad take me to a local track every now again to watch beat-up late models turn laps in a cloud of dust? Absolutely.
Did I have a decent collection of toy cars that featured a Terry Labonte "Frosted Flakes" machine and the Rusty Wallace "blue deuce?" You're damn right.
But despite what was likely my father's best efforts, the sport never took a hold of me. I was into stick-and-ball sports. I'd rather toss a baseball with my buddies than watch 40 cars turn left for three hours.
The appeal, well, was lost on young Travis. But a recent camping trip to Atlanta Motor Speedway showed me the racetrack is about far more than those 40 cars driving 400 miles in four hours.
It all started with stepping out of my comfort zone.
As you can judge from my quick background, this trip down I-85 from Charlotte to Atlanta was a bit out of character for me. Again, I'm not a racing guy. My wife is a gal from Boston who can still barely wrap her mind around the word "y'all" — much less NASCAR culture. And my 14-month-old son, though pretty quick on his own two feet now, shivers at the sound of a power drill.
My father, however, believes anything with four wheels and a motor should be on a track. He's at a different local track every weekend and makes regular trips to big NASCAR events in Bristol, Talladega, Richmond, Darlington, you name it. If his truck can make the trip, he's there.
As you can start to piece together by now, this trip was an opportunity to spend time together as a family after a year that robbed us of so much of it. Typically the thought of four days in a camper with this crew would drive me to the bottle. But a year of lost time for myself, my son and his grandfather can make you do unusual things in the name of family.
(*In dramatic movie-trailer voice*) And this is our story.
Day 1: NASCAR Camping Experience at Atlanta Motor Speedway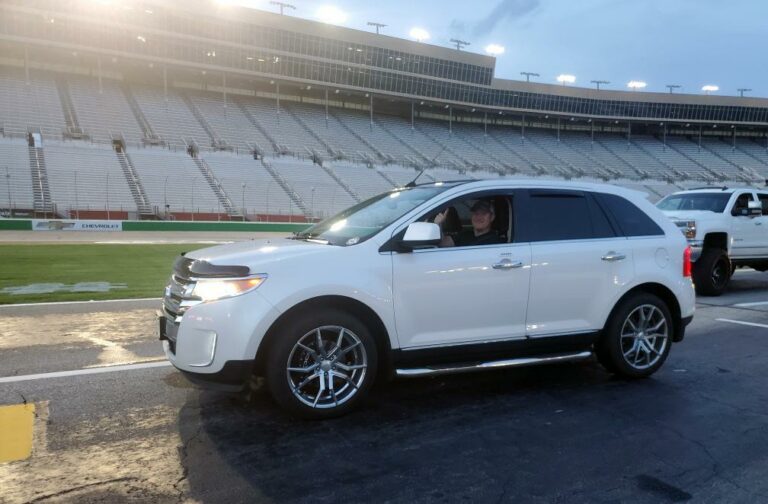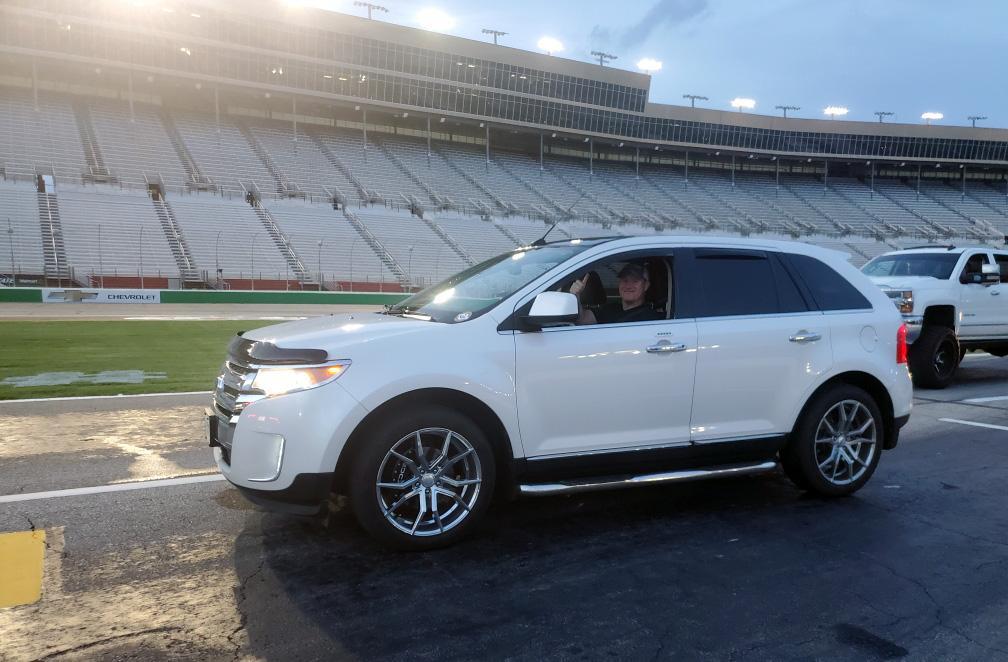 Friday: Slow Start, Fast Finish
Anyone who has ever had an infant knows it's virtually impossible to leave the house on time.
Despite our best efforts to pack the car and our boy for a 10 a.m. departure, we missed the mark by about 45 minutes. I worried that would put us deep in the teeth of Atlanta metro traffic, but the real menace of the trip was a band of brutal storms that rocked much of Georgia.
This led to a detour through rinky-dink towns and narrow, unfamiliar roads. An unnerving start to the weekend, but once we made the turn on Tara Place, saw the front stretch grandstands, caught a glimpse of the early arrival campers, and pulled alongside our home for the weekend, the ball of stress in my gut turned into a sense of accomplishment and excitement for the rest of the trip.
After unloading the car and taking in the view of the iconic track from our spot on the back straightaway, the next order of business was the Pit Boss Camper Appreciation Party, featuring NASCAR Xfinity Series driver Jeb Burton.
The event, held at The Gathering Place at AMS, was an undeniable hit as families enjoyed fresh-grilled burgers along with the new cornhole and bocce ball courts. There were even a few happy pups in the enclosed dog park. It took only moments to recognize the sense of community.
After snagging our dinner, my dad and I found a seat at a picnic table with a local Georgia family who wasted no time teasing my dad for his New York Yankees hat. The man, woman, and their 20-something-year-old daughter fired a few shots before admitting it was OK since he was a Mets fan.
My dad absorbed the blows, returned fire with a quick jab about the father's ZZ Top-esque beard, and reminded everyone about the less-than-ideal state of their beloved Atlanta Braves.
Conversation eventually turned to racing, how long the family has attended races at AMS, and favorite drivers. The family's daughter was a loud, proud fan of Cole Custer, driver of the No. 41 Dixie Vodka car. Apparently, we weren't the only folks to hear her stories about meeting Custer and getting a picture with his car the previous year.
A representative for Custer's team and Dixie Vodka, which was a sponsor of the event that night, walked over to the young lady, told her she heard she was a big fan of Custer, handed her a business card, told her to email her and said she would send her an autographed piece of memorabilia to thank her for being a supporter.
Such a cool moment. Something you don't see in other sports. An example of what makes this sport different, accessible, relatable, kind, appreciative. (Make sure to tell Custer and Dixie Vodka they're super cool on social media.)
Speaking of accessible, I may have jumped back into the burger line to beef up my dinner.
Back at the camper, we watched everything from station wagons to lifted trucks, to RVs to Corvettes zipping around the AMS tri-oval. Turns out, for the low-low price of a $50 donation to the Atlanta Chapter of Speedway Children's Charities, you could take a three-lap spin on the AMS pavement.
Myself, a largely risk-averse individual, was perfectly happy watching other folks scoot around the loop. But my dad couldn't find $50 bucks quick enough before convincing me to take our family-friendly mom-mobile onto the 24-degree banking.
So with the track lights on, windows down, and the Golden Earring classic "Radar Love" blaring through my stereo, we jumped onto the track and quickly realized I ain't cut out to run with the big boys.
Maybe it was the fact I had a child's safety seat in the back (without the kid, don't worry), or maybe I've seen the crash scene in "Talladega Nights" one too many times, but topping out at 90 mph was about all I could handle. My wife took a video from our campsite, but I'm too afraid to share that footage and subject myself to internet scorn.
I'll say this, though — it gets your blood pumping.
Day 2: NASCAR Camping Experience at Atlanta Motor Speedway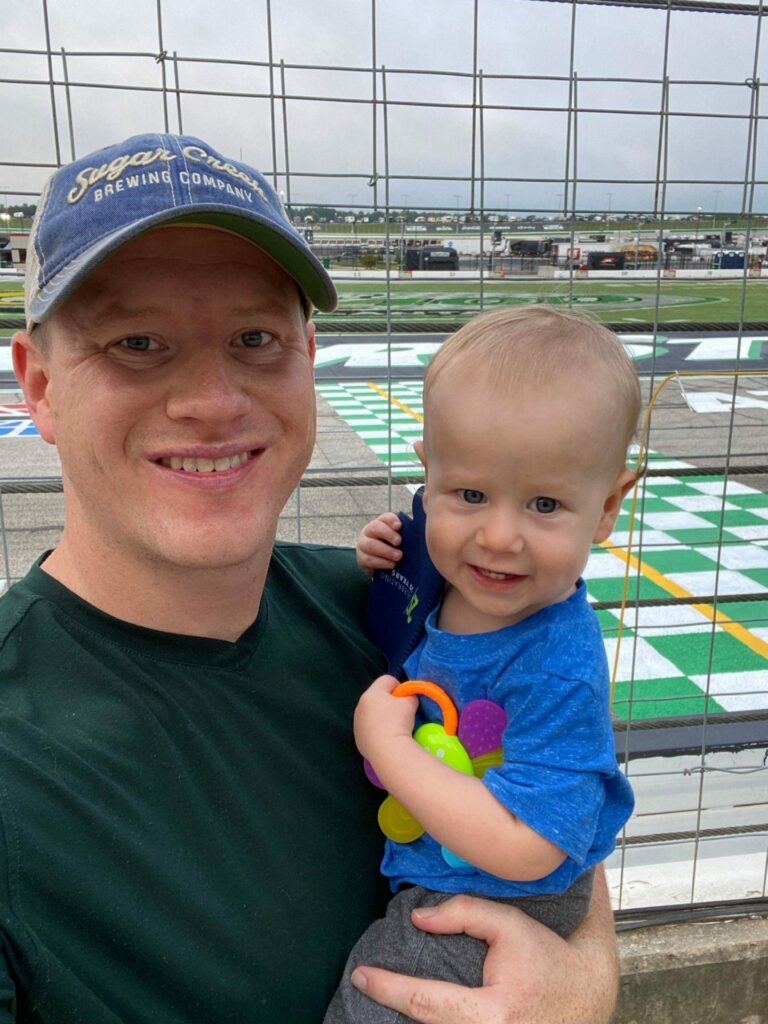 Saturday: Green Flag Drops
As action-packed as Friday night was, Saturday morning was equally still.
The little one, as expected, had a tough first night in the new space. I threw in the towel around 6:30 a.m. and decided to show mercy on the rest of the family by taking him on an early walk.
I strapped Ben in his stroller and set out for a counterclockwise loop around the outside of the track. We took it slow, watched the sun come up over turns three and four, listened to the hum of the generators from the infield campers and checked out the start/finish line.
Honestly, it was some of the most enjoyable time I've had with my son. Just the two of us, taking a long walk with no distractions. Stopping every hundred yards to take it all in. It's hard to explain, but it was great.
OK, enough dad sap. After the morning walk we turned on tailgate mode.
I took advantage of the killer partnership between the track and Walmart to have my groceries delivered to the track for no additional charge. Pick-up was a breeze and an absolute lifesaver. Definitely a value-ad to the NASCAR camping experience.
With groceries in hand, I got to work on sausage and eggs for breakfast, while my wife got a jump on burger patties for lunch. By now, the vibe was getting stronger in our lot as more campers rolled in, flags were raised and grills were fired up for race day.
After grilling lunch, my dad and I made another solo trip, this time to the Fan Zone outside of the front stretch grandstands, to check out everything from kid-friendly electric car racing to giant lawn mowers. Somewhere in there we took a turn on virtual racing simulators that further proved my inability to master AMS. My dad actually did pretty well in the simulator and made sure to rub it in.
I hit a few memorabilia trucks and went back to our camper with fresh gear for the crew before the Credit Karma Money 250 NASCAR Xfinity race started.
Once the green flag dropped, I was reminded how unbelievably loud these cars are. It makes the experience great for someone like me, but somewhat worrisome for a 14-month-old who refuses to wear his specially designed headphones.
Luckily, our campsite on the backstretch was perfect for seeing the track and avoiding some noise and the mid-July Atlanta heat inside of the camper. Add in the live radio coverage and it was actually pretty awesome.
Kyle Busch took the win Saturday in questionable fashion, but it made for colorful reactions from fans in attendance.
For my dad, one race wasn't enough. He found out Senoia Raceway, only 20 miles away, was having an event of its own that night, so he took off to see a new place. Meanwhile, I took another walking lap around our lot to see the elaborate NASCAR camping setups of our fellow campers. I'm talking about inflatable pools, mobile bars, meat smoking stations, and jumbo fire pits.
Some folks know how to camp the right way.
Day 3: NASCAR Camping Experience at Atlanta Motor Speedway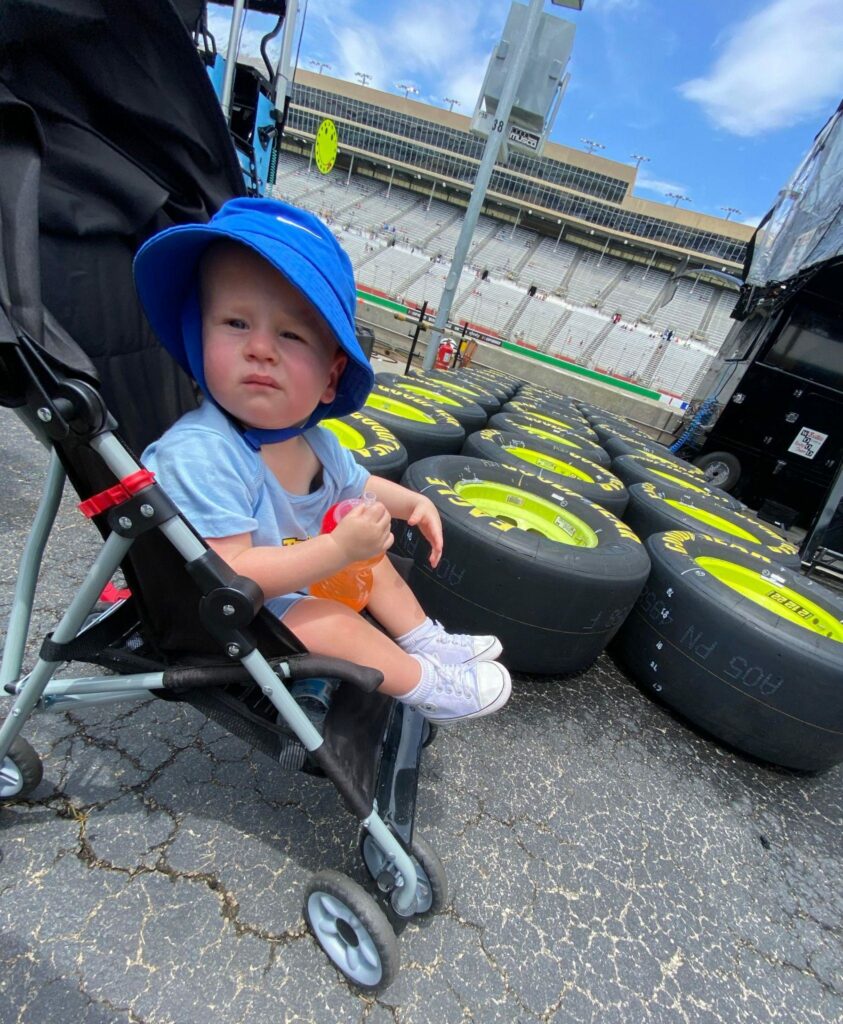 Sunday: Behind the Scenes
My wonderful wife tried to take the early wake-up walk, but I jumped out of my bunk before her and the baby got too far. Much like Saturday, it was a perfect morning to watch the haulers roll into the infield.
I wasn't surprised to notice a different buzz in the air. With the big-money teams and high-profile drivers on display later in the afternoon, the sense of anticipation was different.
I was lucky enough to surprise the family with VIP passes for the afternoon. My dad is a regular in the pits at local tracks, strolling through, checking out cars, and striking up a conversation with anyone willing to talk. But he'd never been in a NASCAR garage area, so it meant something to me to get him that shot.
It didn't take long to get a few "whoa" moments once we walked into the garage area. We walked right by legendary owner Richard Childress, who was way overdressed for the Atlanta heat. Then NASCAR superstar Joey Logano nearly ran over my wife while carrying a plate of food to his trailer.
Another example of the type of access fans simply never get in any other sport without forking over thousands of dollars.
Once we made it to pit road, my dad did what he does best and snagged the ear of two members of Ryan Newman's pit crew. Newman has been my dad's favorite driver for more than a decade, so it was great to see him spend even the shortest amount of time with the crew guys while they prepared the stall.
We snapped some pics, watched a few cars get pushed out onto pit road, and lined up for the race before my son became the center of attention, toddling around victory lane. He let out a few solid yelps to the drivers and gave everyone a good laugh when he took a picture with a group of young ladies wearing far less than Richard Childress.
From there, the heat spiked a bit, some dark clouds rolled in and the green flag crept up on us. The wife and I took the baby back to the campsite before things got too wild and left my dad behind pit road to enjoy the start of the race.
Those dark clouds never brought rain to the track, but instead provided the canopy of cloud cover Saturday desperately needed. Now I could enjoy the race outside with a cold beer and no fear of sunburn or spontaneous combustion.
My dad eventually joined me on the railing near our camper. The noise level of the cars made conversation tough, but that was alright with us. The occasional, aggressive point to a battle for position on the track was all we needed.
The race wasn't full of intrigue if I'm being honest. The star of the show was a clump of asphalt that flew off the track and red-flagged the race for maybe 30 minutes. But the race served its purpose for me. It was a chance to stand still and just enjoy what was in front of me for a few hours.
Once Kurt Busch (the older brother of Saturday's winner) took the Quaker State 400 title, the rest of the night was about soaking in the final hours of the trip and finding conversation.
I decided to take a twilight stroll of our lot to see if there was anything particularly interesting going on when an older gentleman with a half-empty plastic cup and a smile asked me how I was doing.
This guy had one of the better NASCAR camping setups around. A monstrous maroon motorhome with a separate trailer that was converted into a bar. I told him I was having a great day and complimented his spread.
The man, who introduced himself as Eddie, thanked me for the kind words and told me to come take a closer look. He showed me the trailer was actually one-half bar and one-half kitchen. This is where he prepped the pile of Boston butt sitting on the counter.
Eddie told me to scoop myself a bowl and take some to the family, but I felt too welcomed to just run away with a helping of smoked meats. I wanted to know more about Eddie, so the reporter instincts kicked in.
Eddie told me he was from Darlington, South Carolina, and raced in the Busch Series (now the Xfinity Series) in the early 1990s. He even battled Jeff Gordon a few times before Gordon took the Cup Series by storm.
The more Eddie talked the more I wished my dad was there to hear the stories. So I asked Eddie his last name. Goodson.
I asked him not to move then sped back to my camper with pulled pork in hand. About 10 minutes later I was back at Eddie's motorhome with my dad, who hardly knew what he was in for.
For 45 minutes I just stood and listened as Eddie told my dad about his full racing history spanning nearly three decades and a dozen states. Each story and name-drop sprouted a new branch of discussion.
This type of conversation, I believe, is my dad's favorite part of racing. The stories. The connections. It was unreal to be a spectator as the two of them went around and around.
We learned Eddie came from a family of drivers. Brothers, fathers, cousins all sat behind the wheel of a race car. It's part of his DNA. But he decided he was done with the sport after his short stint in the Busch Series.
He said his motorhome is what helped bring him back to racing as he traveled to NASCAR events around the southeast. Now he occasionally sponsors Xfinity Series driver Jeremy Clements, slapping the R.E. Goodson Construction sponsor on the side of a race car the way he did his own for so many years.
It was maybe the 17th darting glance from Eddie's wife that got him to slow his trip down memory lane and rejoin the people he came to the track with. We were happy to let him go and thanked him for his time, though I think he may have enjoyed our company even more than we did his.
5 Takeaways: NASCAR Camping at Atlanta Motor Speedway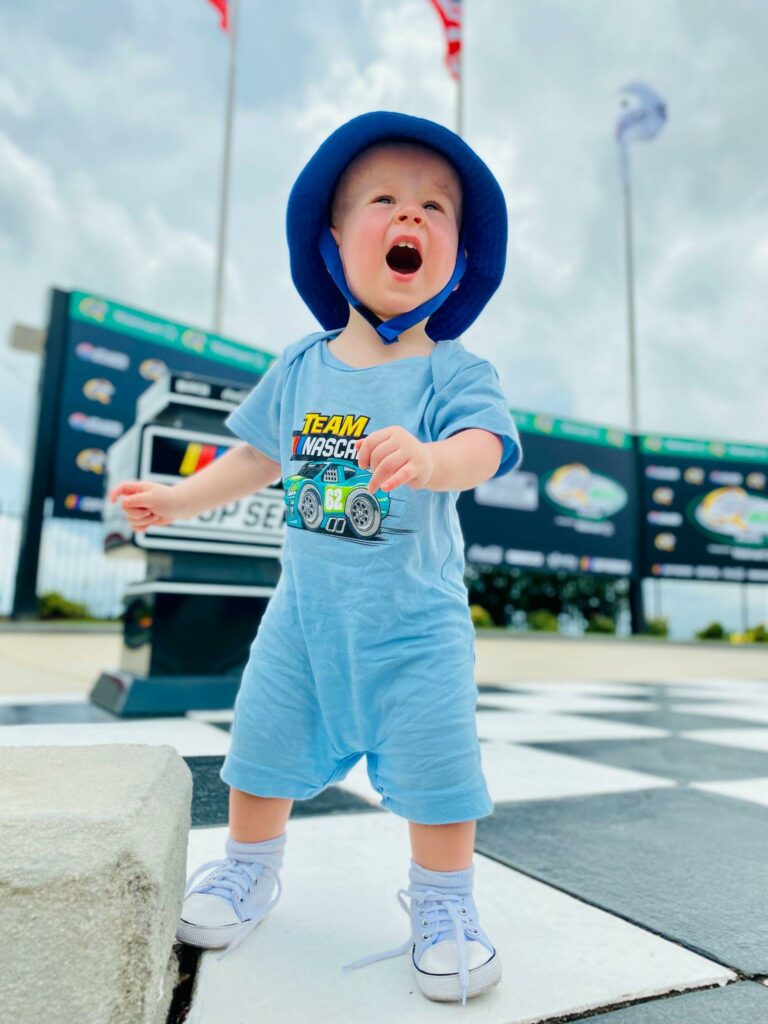 The next morning we packed up, shipped out, and bid farewell to a sleepy Atlanta Motor Speedway that gave us three great days, two dozen new memories, and about 100 awesome pictures.
On the five-hour ride home and in the days since I've had a lot of time to think about the NASCAR camping experience and what made it so unique. It boiled down to a few key takeaways:
It's not a race weekend that includes camping, but a camping trip that features some great racing.

My family camped in one of two trackside terrace lots, but there are also tent lots, pop-up lots, full hook-up lots, and infield lots. Atlanta Motor Speedway has made a great effort to encourage a remarkable camping trip with unique amenities (dog park, cornhole courts, bocce ball).
I was amazed at how I felt like it was less of a racetrack surrounded by campsites, but instead more of a campground with a racetrack plopped in the middle where campers could enjoy daily entertainment. And this happens all year, all over the country.
With a full race season of 36 NASCAR Cup events and other national and regional series and other local events, there are approximately 100,000 camping sites across all race tracks including NASCAR owned, SMI and independent racetracks.

The accessibility to the stars and the service from track staff is unparalleled.

I come at this as someone who has attended and covered Super Bowls, major golf tournaments, international soccer matches and countless other events. Nowhere can you get the run of all there is to see the way you can during a race weekend.
Having a VIP badge hanging from your neck is not required for much of it because the track staff bends over backward to answer questions and make sure you know where you're going. Maybe it's southern hospitality, or maybe it's just the vibe and attitude that takes over the track for four days. Regardless, it's remarkable to spend time around a professional sporting event/arena and feel like your presence is genuinely wanted and encouraged — not dismissed.

You simply won't find nicer people.

You know that feeling you get when you walk into Chick-fil-A and you just know the employees there will treat you nicely? Exactly. Well, that's everyone at the track. The only difference is there isn't chicken on the line.
In all seriousness, everyone from track volunteers, campers, fans, to police officers were beyond pleasant. I got the sense everyone was somewhere they wanted to be at every moment, especially after the tenuous 18 months prior, for the sport and country as a whole.

To maximize the experience you need to start early and stay organized (to a point).

I'm a natural stickler for order when it comes to family vacations, so I found myself itching to get moving throughout the weekend. But the fact is, there's a lot to see on any given day at the track. take too much time hanging out at the campsite in the morning, and you may be forced to rush through the fan zone or miss the prime action in the garage area before the cars are rolled onto pit road.
The next time I make the weekend trek to Atlanta Motor Speedway or any track, I'm making sure I see what I want to see as early as possible and stress-free.

The full NASCAR camping experience may not be ideal for super young kids (ages 3 and younger).

I know the pictures of my son littering this story are precious, and I'm happy we had him along for the ride, but I suggest parents of babies/toddlers think twice (or at least mentally prepare) before bringing your tot to the track.
The sun is hot. The cars are loud. And kids of a certain age won't keep ear protection or hats on, stay off hot pavement or really listen to any general commands. Not to mention, their sleep still dictates a lot of your life.
It wasn't unbearable, by any means, but I think the whole crew will enjoy the experience when we do it again in a few years.
And that's it. A much-needed weekend to remember, without question. Maybe it's the transformation of fatherhood, but the tailgating experience has become about more than the number of beers I can guzzle or the people I can torch in cornhole. Instead, in the moments between the beers and burgers, I find myself having a greater appreciation for the time with family and friends and take full advantage of the time we have together.
If the last 18 months have taught us anything, it's that we can't take that time for granted.
If you consider yourself a race fan, tailgater, camper, or family man/woman — you have to experience an immersive NASCAR camping weekend. The action on the track is enough to capture your attention for an afternoon, but the time with family and complete strangers will leave a lasting impression.
Check out more NASCAR camping info and plan your own trip. Make sure to share and tag us on social!
*Special thanks to NASCAR's Brent Gambill and Steph Harris for facilitating such an unforgettable trip.