On February 20, the greatest racers in NASCAR square off at the Daytona International Speedway in Daytona Beach, Florida. Racing a 500 miles track, this is the most important race of the season. Racers could not only take home the prestigious Harley J. Earl trophy and a purse with millions of dollars. With so much at stake, the Daytona 500 is not a race you wanna miss, even if you're not really a NASCAR fan. If you're anything like us, any big sports event is a great excuse to tailgate at home.
The Daytona 500 is a blast to watch on a screen because it gives you a full view of the track. It's a great event for a tailgate at home party. If you're like us and thinking about hosting a tailgate at home for the Daytona 500, here are some tips that will take you to victory lane.
Invite Your Pit Crew
The race starts at 2:30 pm EST on Sunday, February 20, 2022. You can watch it on Fox Sports and the race tends to last around four hours. It's a good idea to have everyone arrive a little early for the pregame show and leave a little extra space at the end in case the race needs to add more laps.
To plan your Daytona 500 tailgate party, start by inviting your pit crew. You can shoot them an email or a text with the details. However, if you want to make your tailgate at home party extra special, you can also order these custom race car party invites. They look like a ticket to a race. Make sure to include an RSVP for an accurate headcount on the day of the race.
Set Up Your Stadium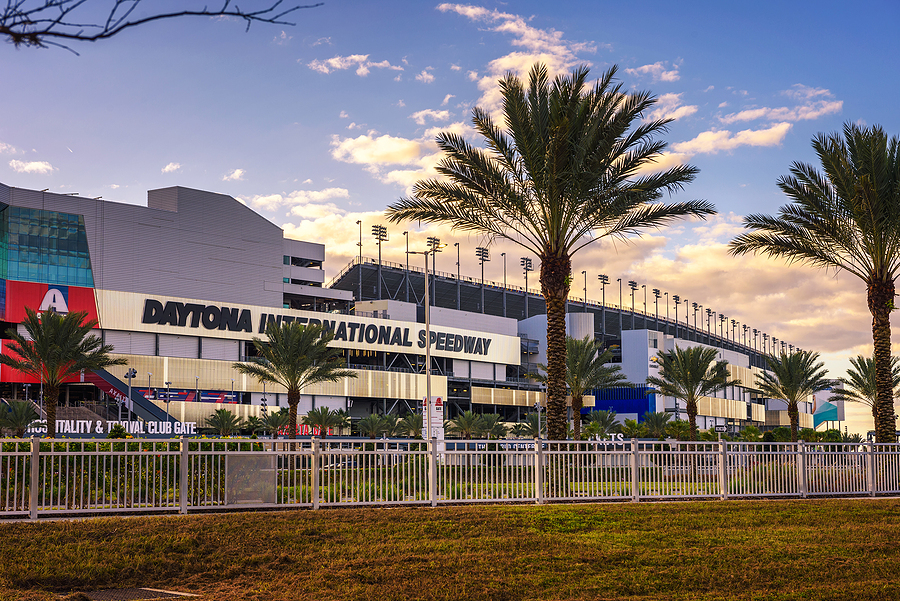 Once you have the final count of attendees for your tailgate at home party, you can begin setting up your space. First, you want to make sure you have a large viewing screen like a large flatscreen or a projector. Then make sure you have plenty of seating where everyone can see the screen. If you need to add any seating, you can always use your tailgate chairs. You can also bring in chairs from other rooms. Next, think about the flow. You'll want to set up the food and drink station in a place where people don't have to crawl over each other when they need to grab another beer.
Decorate Your Racetrack
Next, create a race day atmosphere with some NASCAR decor. There are so many fun decoration ideas. We love this traffic light lamp for your end tables and these funky tire pillows to decorate your seating area. We also love these GoodYear tire coasters to protect your coffee table. You can't go wrong hanging some black and white checkered flag banners.
This checkered flag set comes with a mat for your entryway that looks like the starting line. For wall decor, these vintage tin auto-themed signs are fun and can be hung anywhere. We also love these framed aerial prints of the Daytona and Talladega raceways. You can also greet your guests at the front door with these race car welcome banners. There are a ton of great decorations for the tailgate at home parties.
Planning A Refueling Station
NASCAR is known for some really iconic foods. Hot dogs are a staple. They are layered with tons of toppings like minced onions, jalapeños, and pimento cheese. They are also layered on top of burgers. You can check out NASCAR's menu here for ideas on how to serve your hotdogs. We also have a few ideas for delicious NASCAR snacks and a full menu for a NASCAR tailgate at home.
You'll also want to grab a case of Busch, the official beer of NASCAR. If you're looking for something stronger to serve your pit crew, grab a bottle of STILLHOUSE Spirits Black Bourbon. Packaged like an old oil can, this barrel-aged bourbon isn't just the official bourbon of NASCAR, it's also very tasty. To serve your hot dogs and Busch, we love this set of disposable race-themed partyware. We also love this pit stop party set that has race day signs for your food station. Grab a NASCAR-themed tablecloth and you'll be ready to go!
Challenge Your Team To A Race
Next, you'll want to plan some fun tailgating games for your crew to keep them entertained during any downtime or commercials. The classics like cornhole, ladder toss, and Kan Jam are always a great option for any tailgate. There are also some fun NASCAR branded tailgating games like:
● NASCAR Tumble Tower (Giant Jenga)
If you have a larger backyard, consider getting the NASCAR Bottle Bash game. Played similarly to frisbees golf, your goal is to knock a beer bottle off a stake with a frisbee. If you are playing with adults, you can also make this a fun drinking game. Whoever's bottle gets knocked off, has to take a drink.
If you're looking for something to keep the kids entertained, consider Play Monster Ultra Dash Race Game. This is a game designed to get your kids racing similar to red light green light only handheld. It has three game modes to keep them entertained for hours (and of course, burn up some of their energy).
The Daytona 500 is the perfect event for a tailgate at home. It's an engaging race to watch even for people who don't really get into NASCAR races. With these pro tips, you'll be able to host an unforgettable homegate for race fans and non-fans alike. If you'd like more ideas for your NASCAR tailgate party, the pit crew at Inside Tailgating has you covered.
Be sure to follow us on Facebook, Twitter, Instagram and check out our Amazon Storefront as we feature tons of recipes, games, and decor ideas for any tailgate. Let us know in the comments how your party went and we'll see you at the races!