Did you know that Talladega is coming up on April 25, 2021? If not, it's a good thing you came here, or you could've missed it. Many people are choosing to stay home to watch games, races, or matches on TV. All that means is that you get to plan the perfect homegating party and there won't be any lines for the bathroom! Plus all the tailgating snacks you can eat without having to wait.
At Inside Tailgating, we independently select and write about stuff we love or want to try out and think you will too. As a participant in the Amazon Services LLC Associates Program, and other affiliate advertising programs designed to provide a means for sites to earn advertising fees by advertising and/or linking to their websites, such as Amazon.com, we may receive a commission on sales or other compensation through those links on this page. It is at no additional cost to you, but we gotta pay for our tailgates somehow…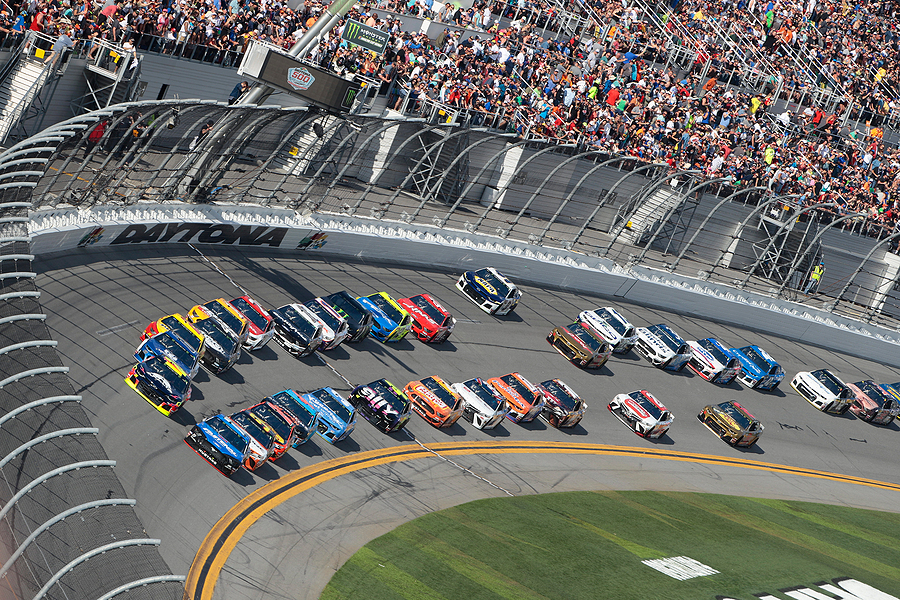 Tailgating and homegating are perfect outdoor activities to safely gather and remain socially distanced. Haven't heard of a homegate? Well, it is a tailgate party that you throw at home. There is no time to waste with Talladega coming up and all the NASCAR events, it is time to start planning.
The last thing you need is for race day to arrive, only to discover that you forgot something. Some of the tailgate essentials that will be necessary include but are not limited to:
Tables And Chairs
Coolers
Tailgating Games
CLICK HERE to check out Fanatics for all your fan apparel and gift needs. They have everything from jackets to keep you toasty while grilling for the game, to can holders to keep your beer cold while you scream at your TV.


Don't forget the food or drinks. Speaking of tailgating snacks, we have some tasty suggestions that we believe you and your guests will love. We apologize beforehand if this article makes your mouth start watering. We're also sorry if your tummy begins grumbling because of it. However, just imagine how good these tailgating snacks will taste come April the 25th.
Would you like to hear about them? Then stick around.
5 NASCAR Tailgating Snacks To Try
1. Candied Bacon
This candied bacon recipe only has two ingredients. It's easy to whip up and is sure to make everyone ooh and aah. The sweet in combination with savory, is just oh so good!! You may need to make two or three racks in order to keep those race fans happy.
Candied Bacon
Equipment
Two oven safe wire racks

Baking sheets
Ingredients
12

Strips Of Thin-Cut Bacon

1/4

Cup

Light Brown Sugar
Instructions
Preheat your oven to 375 degrees Fahrenheit.

Line two baking sheets with foil.

Place two oven-safe wire racks on the baking sheets.

Lay the bacon strips out on the racks.

Sprinkle the bacon with brown sugar. We like to use about 1 teaspoon of brown sugar on each bacon strip.

Then pop the baking sheets in the oven and set the timer for 20-25 minutes.
It's a good idea to check the candied bacon around 18 minutes, though, because some strips can cook faster than others. When the brown sugar melts and the pieces turn deep brown, they are done.
You should allow these tailgating snacks to cool for a bit before serving them. That will ensure you and your guests don't get burned. After the cooling process occurs, it is time for NASCAR fans to enjoy the candied bacon.
2. Race Day Dip
Don't fret if candied bacon isn't the right choice for you. Perhaps this race day dip will be a better fit. It is a hot dip that should take you about 35 minutes to create. This multi-layer dip is perfect to snack on while watching your favorite drivers circling the track at home. Use this recipe to keep your hunger and that of your guests satisfied on race day. Are you ready to get started? Okay, here we go.
Race Day Dip
This is a rendition of a Race Day Dip from AllRecipes.
Ingredients
8

Oz

Cream Cheese

14

Oz

Jar Pizza Sauce

2

Cups

Shredded Mozzarella Cheese

4

Oz

Canned Diced Green Chile Peppers

6

Oz

Sliced Black Olives

1

Jalapeno Pepper, Sliced

12

Oz

Chopped/Sliced Pepperoni
Instructions
Preheat the oven to 325 degrees F (165 degrees C).

Spread the cream cheese in a layer in a 9 inch square baking dish. Spread a layer of pizza sauce over the cream cheese, followed by layers of shredded cheese, green chilies, black olives, jalapeños, and pepperoni.

Bake for 25 minutes in the preheated oven, until heated throughout.
3. Fully Loaded Deviled Eggs
It takes a total of about 1 hour to make this recipe, which yields 12 deviled egg halves. These tailgating snacks are finger foods worth the effort, though. They taste absolutely delightful and will keep homegate guests coming back for more. This recipe has more ingredients than the other two.
Fully Loaded Deviled Eggs
This is The Cookie Rookie's rendition of A Loaded Deviled Egg Recipe.
Ingredients
6

Large Eggs

1/4

Cup

Sour Cream

3

Strips Bacon, Cooked

2

Tbsp

Chopped Chives

Kosher Salt

Ground Black Pepper
Instructions
Place eggs in a single layer, in the bottom, of a large saucepan. Cover the eggs by 1-inch of water and bring the water to a rolling boil. Place the lid on the pan, turn the heat to low and boil 1 more minute. Turn off the heat and let the eggs sit in the water 11 minutes. Again, test 1 egg for doneness. *Note: If you cook eggs too long, a green rim will appear around the yolk. The eggs would still be edible, but not as tender and pretty. When eggs are cooked, transfer them to the ice water, crack the eggshells, return to the ice water and let the eggs cool 5 minutes (the water will seep under the shell making them easier to peel). Peel the eggs and set aside.

Cut the cooked eggs in half crosswise and place the yolks in a medium-size bowl. Trim a very thin slice off the bottom of each half of the egg whites so they can sit flat. Set aside.

To the bowl with the egg yolks, add sour cream, 2/3rd crisped bacon, 1-tablespoon chopped chives and 2 tablespoons cheddar cheese. Salt & pepper to taste. Mix until well combined and fill each egg white with the yolk mixture. Top with reserved bacon, chives, cheddar cheese and drizzle with sour cream.
4. Sticky Chicken Wings
No homegate is complete without the perfect chicken wing recipe. Most people stick to hot wings or barbecue wings. We prefer sticky wings! These chicken wings mix the perfect taste of sweet and savory. It is lip smacking good and will leave your guests coming back for more.
Sticky Chicken Wings
Equipment
Stockpot

Long wooden spoon
Ingredients
2

Lbs

Frozen Chicken Wings

1

Lb

Brown Sugar

16

Oz

Cooking Sherry

1 1/2

Cup

Soy Sauce
Instructions
Heat the stockpot on the stove over medium heat.

Add in the 1 pound of brown sugar and 16 oz of cooking sherry.

Stir until brown sugar dissolves.

Add in 1 1/2 cups of soy sauce, then stir.

Once the brown sugar and liquids are combined, add in the frozen chicken wings. Then stir.

Let the stockpot sit (uncovered) for 90 minutes total. But be sure to stir every 10 to 15 minutes making sure to pull the bottom layer of chicken wings to the top so they cook evenly.
5. Berry Delicious Fruit Salad
Every great party needs to have some sort of a healthy element. So many heavy snacks need to be followed up with something fresh and light. This mixture of pineapple, berries, oranges, and melon from the Foodie Crush, will help brighten your plate and leave you feeling refreshed.
Berry Delicious Fruit Salad
Ingredients
3

Cups

Melon, Cut Into Chunks

2

Cups

Pineapple, Cut Into Chunks

3

Oranges

(2 of them peeled and sliced into chunks and 1 orange juiced)

1

Pint Raspberries

1

Pint Strawberries, Sliced

1

Pint Blackberries

1

Pint Blueberries

1

Cup

Seedless Grapes

1/4

Cup

Honey

1

Lime, Juiced

1/3

Cup

Chopped Mint Leaves
Instructions
Toss fruit together in a large bowl.

Whisk the orange juice with the honey and lime juice. Pour over the fruit and toss with the mint leaves.

Whisk the orange juice with the honey and lime juice. Pour over the fruit and toss with the mint leaves.
Dazzle and amaze the entire pit crew at your homegate with these awesome tasty treats. You can't go wrong with any of these tailgating snacks. Recreate these recipes and let the fun begin. Don't forget to like, follow, share and tag us on social media when showcasing your tailgate eats or setup!