One of the biggest tournaments in tennis is almost here! The French Open, also known as the Roland-Garros in France, starts on Sunday, May 22, and runs until June 5. Last year, Serbian player Novak Djokovic beat Stefanos Tsitsipas in men's singles. Barbora Krejčíková from Czechoslovakia defeated Anastasia Pavlyuchenkova of Russia in the women's singles for the title.
While Nicholas Major and Pierre-Hugues Herbert and Katerina Siniakova and Barbora Krejčíková won the men's and women's doubles respectively and Desirae Krawczyk and Joe Salisbury won the mixed doubles. It was an exciting year and this year is looking to serve up just as much fun. It's a whole week of tennis with the best players in the world which means a whole week of tailgating snacks to make.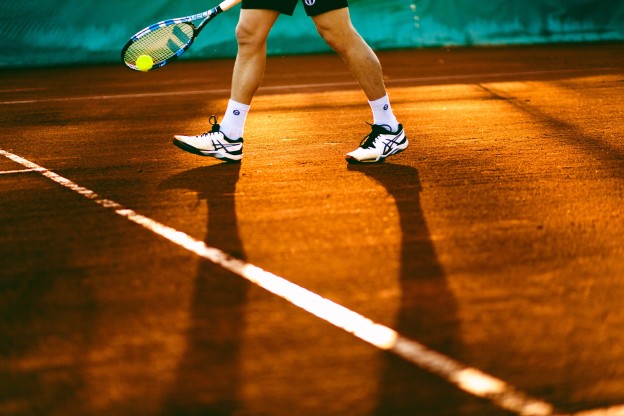 To help you get inspired for what to make, we put together a collection of tennis-theme tailgating snacks to help. These snacks will keep you fueled up for the entire week. Here's what to make:
TENNIS TEAM SALSA
Ingredients
2

Cups

Shredded Mexican Blend Cheese

1

Cup

Chopped Tomato

4

Oz

Can Diced Green Chilies, drained

2 1/4

Oz

Can Sliced Black Olives, drained

1/2

Cup

Chopped Green Onion

1/4

Cup

Italian Salad Dressing

Chopped Cilantro, to garnish

Tortilla Chips
Instructions
Mix all but salad dressing and cilantro in a glass bowl.

Pour dressing over mixed ingredients and blend well.

Garnish with cilantro if desired.

Serve with tortilla chips immediately.
Everyone loves a good homemade salsa. Served up with chips, it's an easy snack that you can munch on all week. This salsa recipe has a twist, it uses Italian dressing. Though it's unconventional, it has a great flavor. We also recommend dipping veggies in it if you run out of chips.
Alain Ducasse's Gougères
Ingredients
1/2

Cup

Water

1/2

Cup

Milk

1

Stick

Unsalted Butter

Pinch

Coarse Salt

1

Cup

All-Purpose Flour

4

Large

Eggs

3 1/2

Oz

Shredded Gruyere Cheese

Freshly Ground Pepper

Freshly Ground Nutmeg
Instructions
Preheat the oven to 400°. Line 2 baking sheets with parchment paper. In a medium saucepan, combine the water, milk, butter and salt and bring to a boil. Add the flour and stir it in with a wooden spoon until a smooth dough forms; stir over low heat until it dries out and pulls away from the pan, about 2 minutes.

Scrape the dough into a bowl; let cool for 1 minute. Beat the eggs into the dough, 1 at a time, beating thoroughly between each one. Add the cheese and a pinch each of pepper and nutmeg.

Transfer the dough to a pastry bag fitted with a 1/2-inch round tip and pipe tablespoon-size mounds onto the baking sheets, 2 inches apart. Sprinkle with cheese and bake for 22 minutes, or until puffed and golden brown. Serve hot, or let cool and refrigerate or freeze. Reheat in a 350° oven until piping hot.
We like to think about Gougeres as the French version of a Cheddar Bay Biscuit. Made with cheese mixed into the dough, they are heavenly. Just like cheese biscuits they can be eaten on their own or served with any of your favorite dips. You can also use any kind of cheese you like. This gougère recipe uses cheddar and chipotle and they are dipped in a creamy cilantro lime dip. If you're feeling extra ambitious, you can use them as slider buns.
Croque Monsieur Sliders
Ingredients
12

Hawaiian Sweet Rolls

12

Slices

Deli Ham

6

Slices

Swiss Cheese
Sauce
1

Tbsp

Butter

1

Tbsp

All Purpose Flour

1

Cup

Milk

Salt

1

Tbsp

Dijon Mustard
To Finish
1

Tbsp

Butter

2

Cloves

Garlic, finely minced
Instructions
Preheat oven to 375˚F/190˚C.

Slice the rolls in half. Fold one slice of ham and one slice of cheese and place on the bottom bun.

To make the sauce, melt butter in a small saucepan and stir in the flour. Cook 1-2 minutes on low heat, do NOT brown. Add milk and whisk to remove lumps. Sauce will thicken fully as it reaches a low boil.

Add dijon mustard and salt to taste. Spread the sauce over the ham and cheese then put the tops on.

Bake 8 minutes until lightly browned and melty. Melt butter and garlic in the microwave, brush over the top of sliders
Speaking of sliders, why not make France's most famous sandwich a slider. A Croque Monsieur is essentially a ham and cheese sandwich fried with garlic and mustard. It's a perfect option to make a slider. If you want to make them Croque Madame sliders, just add some fried eggs. You could also do a pan with half and half.
French Onion Cups
Ingredients
3

Tbsp

Canola Oil

2

Lbs

Sweet Onions, thinly sliced

1

Tsp

Salt

1

Tsp

Granulated Sugar

1/2

Tsp

Black Pepper

2

Tbsp

Dry Sherry

1

Tbsp

Chopped Flat Leaf Parsley

1

Tbsp

Chopped Fresh Thyme Leaves

8

Oz

Gruyere Cheese, shredded

2

Pkg

Frozen Mini Phyllo Pastry Shells

1

Tbsp

Chopped Fresh Chives
Instructions
Heat oil in a large skillet over medium. Add onions, salt, sugar, and pepper; cook, stirring often, for 5 minutes. Reduce heat to medium-low; cook, stirring often, until onions are golden brown and very tender, about 25 minutes. Stir in sherry, parsley, and thyme; cook, stirring often, until fragrant, about 1 minute. Remove from heat. Stir in 1 3/4 cups of the cheese; set aside.

Preheat oven to 350°F. Place phyllo shells on a baking sheet, and fill each with about 1 tablespoon of the onion mixture; top each cup with some of the remaining cheese. Bake in preheated oven until cheese is melted, about 10 minutes. Place on a serving platter, and sprinkle with chives. Serve hot.
French onion soup is absolutely amazing tailgating snacks. However, it's not really a snack, but these French onion cups are. This recipe takes all the flavors of a savory-sweet French onion soup and makes it into snackable mini pies. No muss, no fuss, but most importantly no mess. Easy to serve and eat, but hard to compete on flavor!
French Fry Bar
Ingredients
For Wedge Fries
6

Large

Potatoes, cut into wedges

6

Tbsp

Olive Oil

Kosher Salt and Pepper
For The Sweet Potato Fries
2

Lb

Sweet Potatoes

2

Tbsp

Olive Oil

1/4

Tsp

Maldon Salt

2

Cloves

Garlic, minced
For Guacamole
3

Ripe Hass Avocados

1/2

Lemon, juiced

1/2

Lime, juiced

1/3

Cup

Finely Chopped Red Onion

3

Tbsp

Freshly Chopped Chives

2

Tsp

Finely Chopped Jalapeno

Salt and Pepper
Additional Toppings
1

Cup

Raw Corn

1

Cup

Sour Cream

1

Cup

Salsa

1

Cup

Pico De Gallo

1

Cup

Black Beans

Sliced Jalapeno

4

Cups

Shredded Cheese
Instructions
For Wedge Fries
Place potato wedges, 3 tablespoons of olive oil and salt and pepper in a resealable bag and shake to combine. Transfer potatoes a Silpat-lined baking sheet and evenly spread out the wedges. Transfer to the oven and bake for 30–35 minutes, flipping once, until evenly baked and golden brown. (Note: After 10 minutes, slide the pan of sweet potato fries into the oven and let both fries bake together for the remaining 20–30 minutes.)

Whisk remaining olive oil and chopped garlic in a large bowl. Add mixture to the hot fries and toss to combine. Taste and season with extra salt and pepper as needed, and toss to coat.
For Sweet Potatoes
Rinse and dry the sweet potatoes. Cut unpeeled potatoes lengthwise into slices 1/2 inch (12 mm) thick, and then cut each slice into batons about 1/4 inch (6 mm) wide and 3 inches (7.5 cm) long.

Place the potatoes on a baking sheet. Drizzle with the olive oil, sprinkle with 1/4 teaspoon salt, and toss to coat. Spread the potatoes out evenly. Roast at 450ºF, stirring with a spatula halfway through, until the potatoes are tender and browned on the edges, 20–25 minutes.
Guacamole
Cut avocados in half lengthwise. Remove the pits and discard. Remove the avocado from the skin and place the avocado flesh into a bowl. Add lemon juice, lime juice, red onion, chives, jalapeño, salt and pepper. Mash with a fork until half smooth and creamy. Taste and add more salt and pepper if desired.
French Fry Bar
Place additional toppings on the table along with the fries and guacamole. Pick the potato of your choice, top with cheese, and melt. Once cheese is melted, add desired toppings and enjoy responsibly, i.e. try your best to limit consumption to less than 5 pounds of fries per person.
French fries are always a great snack. However, if you want to take them to the next level for your tennis tailgate party, try making a fry bar. Your favorite type of fries are served with an array of dipping sauces. The dipping sauces can be anything from ketchup and mayo to what our friends at The Pioneer Woman made, a Mexican-themed toppings selection. This will also provide a lot of variety, so you don't feel like you are snacking on the same thing all week.
Bake Brie En Croute
Ingredients
17

Oz

Frozen Puff Pastry

8

Oz

Brie Cheese, round

1/8

Cup

Toasted Almond, slices

1/4

Cup

Raspberry Preserves
Instructions
Preheat oven to 425. Lightly grease cookie sheet. Roll puff pastry out slightly. Place cheese wheel on top (leave rind on).

Place preserves on top of cheese. Place almonds on top of preserves. Bundle Puff Pastry up and around the cheese. Bake for 20-25 minutes. Let cool for five minutes.
Baked brie is one of those things that is so simple, but it's always so impressive. Wrapped in premade puff pastry, brie and jam are baked into they are warm and gooey. Served with fruit, crackers, and bread, it's a good idea to make more than one because it goes fast!
Mini Quiche 4 Ways
Ingredients
Mini Bacon Quiche
3

Oz

Swiss Cheese, grated

3

Slices

Bacon, fried and crumbled

2

Tbsp

Green Onion, sliced
Mini Ham And Cheese Quiche
3

Oz

Swiss Cheese, grated

1/4

Cup

Ham, cubed
Mini Spinach Quiche
3

Oz

Swiss Cheese, grated

4

Cups

Spinach, wilted

1

Tbsp

Red Bell Pepper, cubed
Mini Mushroom Quiche
2

Tbsp

Mushrooms, finely chopped

3

Oz

Swiss Cheese, grated
Instructions
Prepare The Crusts
Let the pie crusts stand at room temperature for 15 to 20 minutes. Preheat the oven to 375 degrees. Spray 48 miniature muffin cups with non-stick cooking spray.

Open and unfold one pie crust, then press out any fold lines. With a 2-½ inch biscuit cutter, cut out 12 rounds. Repeat with remaining 3 pie crusts.

In the prepared mini muffin tins, press 1 round of pie crust into the bottom and up the sides of the cup. In a 4-cup measuring cup, combine the eggs, milk, and the salt. Whisk well. Set aside.
Mini Bacon Quiche
In 12 of the mini muffin cups, add 1 tablespoon of cheese. Evenly divide the chopped bacon among the 12 cups, using about ½ teaspoon bacon in each. Top with a couple slices of green onion.
Mini Ham And Cheese Quiche
In 12 of the mini muffin cups, add 1 tablespoon of cheese. Evenly divide the chopped ham among the 12 cups, using about ½ teaspoon ham in each.
Mini Spinach Quiche
In 12 of the mini muffin cups, add 1 tablespoon of cheese. Evenly divide the wilted spinach among the 12 cups, using about about ½ teaspoon spinach in each. Evenly divide the chopped red pepper among the mini muffin cups.
Mini Mushroom Quiche
In 12 of the mini muffin cups, add 1 tablespoon of cheese. Evenly divide the chopped mushroom among the 12 cups, using about ½ teaspoon mushroom in each.
Finish And Bake
Pour egg mixture into each of the 48 cups, filling to within ¼ inch of the top. Bake at 375 degrees until golden brown, about 25 to 30 minutes. Cool slightly and serve warm.
We love a flexible recipe because you don't always have everything on hand. This recipe uses basic mini quiche recipes and then adds a variety of different ingredients for fun flavors. Mini quiches are perfect tailgating snacks. They are easy to make, easy to eat, and tasty!
Ratatouille Bruschetta
Ingredients
2

Lbs

Eggplant

2

Lbs

Zucchini

1 1/2

Lbs

Vine Ripe Garden Tomatoes

1 1/2

Lbs

Plum Tomatoes

3

Tbsp

Salt

1

Cup

Extra Virgin Olive Oil

1

Large

Red Onion

4

Large

Garlic Cloves

2

Lbs

Mixed Bell Peppers, diced into one inch pieces

1

Tbsp

Fresh Thyme

1

Tsp

Salt

1/2

Tsp

Ground Black Pepper

Zest from Half Lemon

2

Tbsp

Tomato Paste

1

Tsp

Balsamic Vinegar

20

Large

Basil Leaves

1

Loaf Italian Bread

1

Large

Garlic Clove

Grated Parmesan
Instructions
Lay out three sheet pans with racks placed in each. Peel and slice the eggplant into one-inch thick slices. Lay out on one of the sheet pans. Do not peel the zucchini but slice as you did for the eggplant. Dice all tomatoes into large one-inch dice and lay out on the third sheet pan.

Use one tablespoon of salt for each sheet pan. Sprinkle salt on both sides of the eggplant and zucchini. Sprinkle the last tablespoon over the tomatoes. Let all three pans sit for two hours turning every 30 minutes in a stacked formation as shown with tomatoes on top to press out additional liquid.

After two hours, rinse salt from eggplant and zucchini and dry with paper towels and set aside. Transfer the tomatoes to a strainer over a bowl to collect more water until you are ready to use. No need to rinse off salt. Discard all liquid collected from the three vegetables.

Take the now dried eggplant and dice into one-inch cubes. Do the same for the zucchini. In a very large skillet or sauté pan (ours was 12" across and 3" deep), heat two tablespoons of the olive oil over high heat until just shy of smoking. Add half the eggplant and sauté for 6-8 minutes until lightly browned.

Remove to a large bowl and add two more tablespoons of the oil. Once hot, add the second half of the eggplant and once cooked, remove to the same bowl. Add two more tablespoons of oil and add half the zucchini and cook for about four minutes until browned.

Remove to the same bowl as the eggplant and add two more tablespoons of oil to the pan. Cook the second half of the zucchini and add to the bowl. Add two more tablespoons of the oil and once hot, add all of the bell peppers.

Cook for eight minutes stirring around with a wooden spoon. Remove to the same bowl as the other vegetables. Add two more tablespoons of the oil and reduce the heat to medium high. Once hot, add the red onions and sauté for five minutes then add the garlic.

Cook for one more minute then add the drained tomatoes along with the fresh thyme, salt, pepper and lemon zest and cook over medium high for five minutes. Add tomato paste, balsamic vinegar and the entire bowl of the cooked vegetables. Gently stir, cover and cook over medium low for 20 minutes. Occasionally stir gently to make sure it doesn't stick. After 20 minutes, remove lid and remove from heat.

Stack the 20 basil leaves and with a knife, slice into thin ribbons and add to the mixture. Slice the bread and oil both sides then broil or grill and rub with a little raw garlic. To serve, top each grilled bread slice with a few spoons of the ratatouille, drizzle a little olive oil over the top and finish with some grated Parmesan cheese.
Thanks to Disney, Ratatouille is probably France's most known dish. This blend of beautiful garden vegetables also makes a perfect topping for bruschetta. This tailgating appetizer is hearty, healthy, and delicious. It will be a hit at your tennis homegate.
Tennis Ball Cookies
Ingredients
For Cookies
1

Cup

Butter, softened

3/4

Cup

Sugar

1

Egg

1

Tsp

Vanilla Extract

2

Cups

Flour

1/2

Tsp

Baking Soda

1/4

Tsp

Salt
Royal Icing
1 1/2

Tsp

Meringue Powder

3

Tsp

Warm Water

1/2

Tsp

Corn Syrup

2

Cup

Powdered Sugar
Instructions
Cookies
In a stand mixer, cream together butter and sugar. Add egg and vanilla. Combine flour, baking soda, and salt. (Confession – I don't mix this in a separate bowl.)

Add flour to butter and sugar mixture. Mix well. Divide dough in half. Set one half aside. On a lightly floured surface, roll out half the dough.

Cut into perfect circles and place on a cookie sheet lined with parchment paper. Cook at 350 degrees for 8 to 10 minutes.
Royal Icing
Combine meringue powder and warm water until dissolved. Beat for about 1 minute. Add powdered sugar and corn syrup. Mix at medium speed for about five minutes. Remove a small amount of royal icing to a small bowl and add a little bit of water – drop by drop – until it's the consistency you want. Don't try to get all the royal icing to the same consistency at the same time.
Icing The Cookies
We rolled out enough dough to make almost three dozen tennis balls. We cut out the dough into circles and used the side of a butter knife to make light indents in the dough to guide us with our white lines later when our icing was done. To make the icing, I kept some icing white for the tennis ball lines and tinted the rest of the royal icing with lemon yellow and kelly green gel colors from Wilton. Use a tiny bit at a time until it's perfect.

When our coloring was perfect, I started by filling in the white lines first.

Next, I did a thin outline around the outside of the cookie with the green icing and then flooded the interior portion. My kids love to ice cookies and I let them. Perfection isn't the goal. They will look great, I promise!
These impressive-looking cookies are simple enough for anyone to make. You simply baked round sugar cookies. Then you decorate with bright green and white frosting. Our favorite part about this recipe is it uses a no-chill sugar cookie dough. Though you could always use Pillsbury too to cut down on time.
Tennis Cupcakes
Ingredients
1

Box

Duncan Hines Moist Deluxe Golden Yellow Cake Mix

3

Eggs

1

Cup

Water

1/3

Cup

Vegetable Oil

1

Tub

Duncan Hines Creamy Home Style Vanilla Frosting

Yellow and Blue Food Coloring

1

Bag

Coconut Shreds
Instructions
Bake cupcakes according to package directions. Remove from oven and set aside to cool.

While cupcakes are baking, prepare the frosting. Add a few drops of yellow food colouring plus one drop of blue food colouring. Mix. Adjust amount of colouring to the amount of frosting used.

Add coconut shavings to frosting for texture, decorate cupcakes and SERVE!
If cookies aren't your thing, consider making these tennis ball cupcakes. You can use any of your favorite cake recipes to make them. Decorating them is also very easy, even children can help! You simply mix food coloring, frosting, and coconut to make the ball and then add the lines with icing. So easy!
Tennis Cake
Ingredients
For Cake
12

Oz

Red Glace Cherries

225g

Pineapple in natural juice

12

Oz

Ready To Eat Dried Apricots, chopped

3 1/2

Oz

Almonds, roughly chopped

12

Oz

Sultanas

2

Lemons

9

Oz

Unsalted Butter, softened

9

Oz

Caster Sugar

5

Large

Free Range Eggs, lighlty beaten

9

Oz

Self-Raising Flour

2 1/2

Oz

Ground Almonds
Almond Paste
9

Oz

Ground Almond

5 1/2

Oz

Caster Sugar

5 1/2

Oz

Icing Sugar

1

Egg

1

Tsp

Almond Essence
Royal Icing
3

Egg Whites

1Lb 8Oz

Icing Sugar, sifted

Gel Food Coloring
Fondant
4

Leaves Gelatine

4

Tbsp

Liquid Glucose

1 1/2

Tsp

Glycerine

1Lb 2oz

Icing Sugar

Gel Food Coloring in mint green
Instructions
Preheat the oven to 160C/140C Fan/Gas 3. Grease a 23x15cm/9x6in rectangular cake tin. Line the base and sides with a double layer of baking parchment.

Put the cherries in a sieve and rinse under running water then drain well. Dry the pineapple and cherries very thoroughly using kitchen paper.

Place all the fruits and nuts in a bowl with the lemon zest and gently mix together.

In a separate bowl, cream the butter and sugar together until pale and fluffy. Beat in the eggs one at a time, with a spoonful of flour to prevent the mixture curdling. Fold in the remaining flour and ground almonds. Lightly fold in the fruit and nuts then pour the mixture into the prepared cake tin. Level the surface.

Bake for 2 hours, or until golden-brown and a skewer inserted into the centre of the cake comes out clean. Cover the cake loosely with aluminum foil after 1 hour to prevent the top becoming too dark.

Leave to cool in the tin for 15 minutes then turn out, peel off the parchment and finish cooling on a wire rack.

For the almond paste, mix the ground almonds, caster sugar and icing sugar in a bowl. Stir in the egg and almond essence. Knead in the bowl to form a stiff paste but don't over-knead as this will make the paste oily. Wrap in cling film and set aside.

For the royal icing, whisk the egg whites in a large bowl until they become frothy. Mix in the sifted icing sugar a tablespoonful at a time. You can do this with a hand-held electric whisk but keep the speed low. Beat the icing until it is very stiff and white and stands up in peaks. Cover the surface of the icing with cling film.

For the fondant, place the gelatine, 2 tablespoons water, glucose and glycerine in a bowl set over a pan of gently simmering water and heat until the gelatine has dissolved (do not allow the water to boil or the gelatine to get too hot). Remove from the heat.

Sieve half of the icing sugar into a large bowl. Make a well in the centre, add the gelatine mixture and using a wooden spoon mix together. Sieve the remaining sugar onto the work surface and tip the mixture onto it. Knead together until the fondant is smooth and pliable. Reserve a thumb size piece of the white fondant and wrap in clingfilm. Little by little, add mint green food colouring to the remaining fondant and knead to a pale pistachio green colour. Wrap in clingfilm to prevent it drying out.

Roll out the almond paste on a work surface lightly dusted with icing sugar, to a rectangle slightly larger than the cake. Neatly cut out a 23x15cm/9x6in rectangle and place on silicon sheet dusted with icing sugar (this will enable you to slip the almond paste on top of the cake, once the cake has cooled).

Roll out the green fondant on a surface lightly dusted with icing sugar, to a rectangle slightly larger than the cake. Neatly cut out a 23x15cm/9x6in rectangle and carefully place on top of the almond paste.

Divide the royal icing equally between 3 bowls. Colour one bowl pale dusky pink and colour the second bowl a light gold colour, using the autumn leaf colouring. Leave the third bowl white.

Spoon most of the white royal icing into a piping bag fitted with a number 3 writing nozzle. Pipe the outline of a tennis court on top of the green fondant, leaving a 2cm/¾in gap around the edge.

On a sheet of greaseproof paper or a silicon mat, pipe the outline of 2 small tennis rackets (approx. 5cm/2½in long) and a tennis net about 12x3cm/4½x1¼in (it should be the same width as the court you piped onto the cake). Spoon the remaining white icing into a piping bag fitted with a number 2 plain nozzle and pipe the strings of the tennis racket within the tennis racket outline and the strings of the net within the outline of the net. Leave to dry until you can peel them off the paper.

Spoon the pink icing into a piping bag fitted with the number 8 star nozzle and spoon the gold icing into a piping bag fitted with the number 7 star nozzle. Using the pink and the gold icing, pipe a decorative border around the edge of the fondant.

When the cake has cooled, gently lift the decorative iced layer of almond paste and fondant onto the cake.

Pipe a line of white icing across the middle of the tennis court. Peel the net off the greaseproof paper and stick it on the line of icing, so it stands up on top of the cake. Lay the iced tennis rackets on either end of the court and finally roll a small tennis ball from the reserved fondant.
If you'd like to do something a little more challenging, why not make this tennis court cake? Decorated to look like a court, it even has a tennis net in the center. This recipe is for a more advanced baker, but there are some videos that you can follow along with to learn how to make it.
Tennis Ball Spinach Cakes
Ingredients
Batter
3

Pieces

Eggs

1

Tsp

Vanilla Extract

200

Ml

Maple Syrup

75

g

Fresh Spinach

187.5

Ml

Coconut Oil

30

Ml

Lemon Juice

312

g

Flour

12

g

Baking Powder

1/4

Tsp

Baking Soda

1/4

Tsp

Salt

125

Ml

Coconut Milk
Frosting
1.25

Tbsp

Cornstarch

125

Ml

Coconut Milk

30

Ml

Maple Syrup

1

Tsp

Vanilla Extract
Instructions
Preheat oven to 175C/350F. Prepare a 9×13 baking pan. Line with parchment paper and brush with coconut oil. Puree spinach, lemon juice, maple syrup, vanilla extract, and coconut oil in a blender.

Beat eggs in a bowl. Whisk in spinach puree mixture. Whisk gluten-free flour, baking powder, baking soda and salt in a separate bowl. Sift the flour mixture into the wet ingredients. Mix well.

Pour this batter into the prepared baking pan. Bake for 25 miutes. Let cool then break the cake into a coarse crumb. Put in the food processor together with the coconut milk and pulse until smooth.

Form into balls and refrigerate for at least an hour to set. Make the frosting. Combine all ingredients in a saucepan and set over low heat, whisking continuously until thick. Allow frosting to cool then transfer into a piping bag with a fine tip.

Pipe tennis ball lines onto each cake ball.
If you want something sweet but a little healthier, try these spinach cakes. Though spinach is an unusual ingredient for a sweet, the mild flavor is a perfect match with maple syrup. Using healthy ingredients that are shaped into a tennis ball, they are a cute and guilt-free way to enjoy dessert at the french open.
These tailgating snacks should help you get through the whole week of French Open matches. For more tasty tailgating recipes and snack ideas, check out our food section. Our team at Inside Tailgating scours the internet looking for the tastiest things to make at your tailgate. Also if you have any favorite tailgating snacks for the French Open, let us know in the comments! We'd love to try your favorites too! Until next time, we hope your tailgate party is a game, set, match! Be sure to follow us on Facebook, and Twitter, Instagram.