They say the early bird catches the best parking spot at the stadium. If you're an early bird tailgater, you'll need some fuel to power up your party. The best way to start any fun day is with a big breakfast. However, the last thing any of us wants to do on game day is wake up even earlier to make breakfast. Instead, we have an easier and tastier idea! Make-ahead, portable breakfasts are the perfect way to power up when you are on the go. Here are our favorite breakfast tailgate food recipes that you can make the night before to feed a hungry crowd on the go.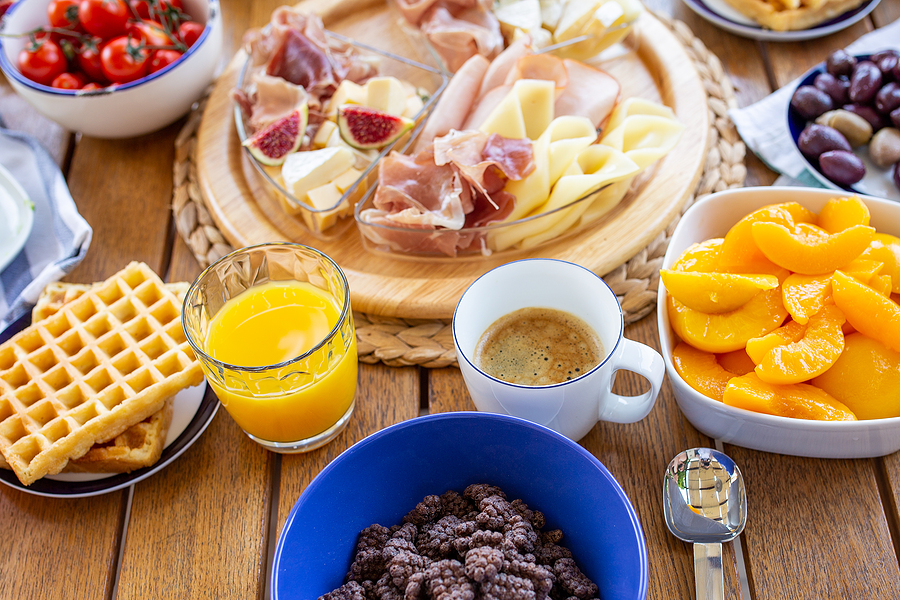 Breakfast Pizza
Ingredients
Homemade Pizza Dough
1

Packet

Active Dry Yeast

1

Cup

Warm Water

1

Tsp

Sugar

2 1/2

Cups

All-Purpose Flour

1/2

Tsp

Salt

1

Tbsp

Olive Oil
Toppings
1 1/2

Tbsp

Olive Oil, divided

6

Slices

Bacon

5

Large

Eggs

2

Tbsp

Water

1

Cup

Mozzarella Cheese, shredded or cubed
Instructions
Homemade Pizza Dough
Combine dry yeast, sugar and warm water. Let it sit for 10 minutes.

When the yeast mixture is foamy, add it to the flour, together with salt and oil.

Beat and knead until the dough is soft and elastic (8-10 minutes by hand).

Place the dough in a greased mixing bowl.

Cover and let it rise for 30 minutes or until doubled in size. (While the dough is rising, it's time to get other ingredients ready.)
Make The Pizza
Cook the Bacon: Add bacon to a hot pan/skillet and cook until slightly crisp. Once cooked, place on a paper towel-lined plate. Chop the bacon into 1/2-inch pieces and set aside. (Note that the bacon will bake more in the oven, so slightly undercooked is ok.)

Scrambled Eggs: Whisk eggs and water and beat until fluffy. In a nonstick skillet/pan, heat 1/2 tablespoon oil over medium heat. Pour in the egg mixture. As eggs begin to set, use a spatula to pull the cooked outer edges in towards the center of the eggs. Uncooked eggs will flow to the area you just pulled back. Continue to pull and fold eggs until no liquid egg remains. DO NOT stir constantly. Remove and set aside.

Bake the Pizza: preheat the oven to 475°F (246°C).

Stretch the dough by gently flattening the dough ball into a 12-inch (30cm) circle on a non-stick pizza pan or skillet. (If yours is not non-stick, add parchment paper to prevent sticking).

Use a fork to poke holes across the surface of the dough. Brush 1 tablespoon oil evenly over the dough.

Add mozzarella cheese on top of the surface. Sprinkle scrambled eggs and bacon bits evenly on top.

Bake until the cheese is melted and the crust is golden brown, 12 to 15 minutes. (You'll know it's ready when the cheese is bubbling and the crust is turning golden.)

Remove from the oven. Serve by itself or with some salsa or sour cream.
Pizza for breakfast? Yes, please! This delicious recipe only takes 15 minutes. This recipe has you make the dough from scratch, but you can save even more time buying pre-made pizza dough. The recipe tops the pizza with bacon, eggs, and cheese but you can easily modify it for any of your favorite toppings. Once it's cooked, you can wrap it up in foil and throw it in the fridge for the next day. If you're really in a crunch, you can also make it a few weeks ahead of time.
Breakfast Egg Cups
Ingredients
1

Cup

Broccoli Florets

1/2

Cup

Red Bell Pepper, diced

1/4

Cup

Crumbled Feta Cheese

6

Large

Eggs

4

Large

Egg Whites

Salt and Pepper, to taste
Instructions
Place broccoli, peppers, and feta cheese into muffin cups that have been coated with cooking spray.

In a measuring cup, beat eggs until smooth. Season with salt and pepper.

Pour the beaten eggs into each muffin cup until the egg mixture reaches three-quarters of the way to the top

Bake for 20 to 25 minutes, until the egg muffin cups are set. Let cool for a few minutes, and then remove them from the pan and enjoy immediately, or let cool completely and refrigerate or freeze for later.
Breakfast egg cups are huge in the keto world because they are super easy to make and are packed with protein and nutritious veggies. Thus they are also the perfect breakfast tailgate food. You essentially mix up a scramble of eggs and your favorite ingredients. Then bake them in the oven in a muffin tin. What you end up with are delicious, portable egg cups. Toss these in a ziplock and they're ready to go when you're ready to go.
Breakfast Burrito
Ingredients
8

Oz

Cheddar

1

Yellow Onion

1

Bell Pepper

2

Tbsp

Butter, divided

2

Pinches

Salt and Pepper

1

Lb

Cooked Ham

12

Large

Eggs

8

Large

Flour Tortillas
Instructions
Begin by preparing all of the filling ingredients for the breakfast burritos. Shred the cheddar, if not purchased pre-shredded.

Dice the onion and bell pepper. Add the onion and bell pepper to a large skillet with ½ Tbsp butter and sauté over medium heat until the onions are soft and translucent (about 5 minutes). Season the bell pepper and onion with a pinch of salt and pepper. Transfer the bell pepper and onion to a bowl.

Dice the ham, then add it to the skillet with another ½ Tbp butter. Sauté the ham over medium heat until it is browned (about 5 minutes). Transfer the ham to a separate bowl and clean the skillet.

Crack 12 eggs into a bowl and lightly whisk. Add the last tablespoon butter to the skillet and heat over medium. Once the skillet is hot, spread the butter to coat the surface, then pour in the whisked eggs.

Push the eggs in toward the center of the skillet as they set on the bottom, until most of the eggs have set, but the eggs still look moist. Do not over cook the eggs or they'll become dry. Season the eggs with a pinch of salt and pepper.

To assemble the burritos, add a scoop of scrambled eggs to the middle of each tortilla, then top with a scoop of cooked bell pepper and onion, a handful of cheese, and some of the cooked ham.

To roll the burritos, first fold the tortilla up from the bottom, then fold in the sides, and then finish rolling the burrito up until it has closed. Wrap each burrito in parchment paper using the same folding and rolling method (bottom up, sides in, finish rolling up). Label each burrito on the parchment paper or on masking tape

Transfer the wrapped burritos to freezer bags, label and date the bags, then place in the freezer.
There are really amazing breakfast burrito recipes out there but we love this one because it is freezer-friendly. That means you can batch a whole season's worth of breakfast burritos if you'd like. Breakfast burritos are great because the tortilla makes it easy to eat with your hands and wrapped in foil, they are mess-free. They're easy to pack and take to the stadium or eat on your way in the car.
Breakfast Quesadilla
Ingredients
4

Flour Tortilla

1

Cup

Shredded Cheese, such as cheddar or monterey jack

1

Cup

Chopped Frittata or Scrambled Eggs

Mexican Hot Sauce (optional)
Instructions
Place a large frying pan or griddle over medium heat. Meanwhile, assemble the quesadillas.

Stack the tortillas on a microwave-safe plate and cover with a damp paper towel. Microwave until soft and pliable, about 30 seconds.

Place the tortillas on a work surface. Divide the eggs onto the tortillas, spreading into an even layer but leaving a 1 1/2-inch border. Sprinkle with hot sauce, if using. Divide the cheese over the eggs.

To fold the quesadillas, fold the top of the tortilla down over the filling to the center. Holding that piece down and working clockwise, continue folding the rest of the tortilla towards the middle until the filling is completely covered (you will have about 5 folds). Carefully flip the quesadilla over and repeat with the remaining tortillas.

Place the quesadillas, folded-side down, in the heated pan or griddle, as many as will fit in a single layer. Cook until browned and the cheese is melted, 3 to 4 minutes on each side. Repeat as needed until all the quesadillas are cooked. If not serving immediately, let cool completely and wrap each quesadilla tightly in foil. Refrigerate or freeze in a resealable plastic bag.
Breakfast burritos are an excellent portable breakfast tailgate food option, but so are breakfast quesadillas. Cheesy, warm, and filling, these are ideal on cool mornings. Make them ahead of time, wrap them in foil, and toss them on your tailgate grill at the stadium. Also, don't be afraid to experiment with fillings. Load them up with chicken, veggies, and multiple kinds of cheese to take them to the next level.
Breakfast Casserole
Ingredients
4

Cups

Cubes Of Crusty Bread

1

Tsp

Olive Oil

1

Lb

Ground Pork Sausage, casings removed

1

Tsp

Dried Rosemary or Italian Seasoning, optional

1/2

Medium

Onion, diced

2

Garlic Cloves

2

Cups

Diced Bell Peppers

1

Cup

Sliced Mushrooms

1

Cup

Roughly Chopped Fresh Spinach

12

Large

Eggs

1/4

Tsp

Salt

1/8

Tsp

Ground Black Pepper

2/3

Cup

Milk or Half And Half

1

Cup

Shredded Cheddar Cheese

Green Onion/Chopped Parsley, optional
Instructions
Grease a 9×13-inch or any 3–4-quart oven-safe dish. Arrange bread cubes in an even layer in bottom of pan.

Heat olive oil in a large skillet over medium heat. Add sausage and rosemary/Italian seasoning, if using, and break up the sausage into bite-size pieces with a wooden spoon or rubber spatula as it begins to cook. Add the onion, garlic, peppers, mushrooms, and spinach and cook until everything has slightly softened and sausage is mostly cooked through, about 5–6 minutes.

Remove sausage and vegetable mixture from heat and spread in an even layer on top of bread.

Whisk the eggs, salt, pepper, milk, and cheese together. Evenly pour over sausage/vegetable mixture. Add another sprinkle of salt and pepper on top.

Cover casserole with plastic wrap or aluminum foil and refrigerate for at least 30 minutes and up to 24 hours. (When ready to bake, allow to sit at room temperature for 10–15 minutes as oven preheats.)

Preheat the oven to 375°F (191°C). Bake the casserole, uncovered, until the top is golden, edges are crisp, and a toothpick inserted in the center comes out clean, about 40–45 minutes.

Cool for 10 minutes, then slice and serve.

Leftovers keep well in the refrigerator for up to 5 days. Reheat in the microwave to your liking.
If you're feeding a whole team, a breakfast casserole is the way to go. You can make a ton of food for little effort and expense. Just grab a casserole dish and fill it with ingredients. When it's done baking, cover it and stick it in the fridge. At the game, you throw it on your tailgating grill and reheat it. This breakfast tailgate food recipe is really delicious served with grilled toast.
Breakfast Sandwiches
Ingredients
6

Large

Eggs

Salt and Pepper, to taste

6

English Muffins, split and toasted

6

Slices Of Cheese

6

Slices Of Canadian Bacon
Instructions
Preheat the oven to 350. Spray a jumbo muffin tin (or six individual ramekins) with cooking spray. Crack an egg into each well of the muffin tin. Break the yolk gently with a fork, then sprinkle with salt and pepper.

Bake 15-20 minutes, or until the whites are set and the eggs only jiggle slightly when shaken. Remove from oven and let cool slightly.

To assemble the sandwiches, layer canadian bacon, egg, and a slice of cheese on an english muffin. Wrap in parchment paper and seal with tape. Refrigerate or freeze until ready to use.

When ready to eat, heat in the microwave for 30 seconds for a refrigerated sandwich, or 1 minute for a frozen sandwich. Remove parchment paper and enjoy.
Another grab-and-go option is a breakfast sandwich. You can use English muffins, bagels, or biscuits. The eggs are cooked in a breakfast tin to keep the sandwich from becoming soggy. Then all you have to do is top with cheese, ham, bacon, and any of your other breakfast favorites. You can warm these up in the microwave and enjoy them on the drive, or put them in a dutch oven to heat them up on your tailgating grill.
Overnight Oats
Ingredients
Base
1/2

Cup

Old Fashioned Rolled Oats

1/2

Cup

Milk

1/4

Cup

Non-Fat Greek Yogurt

1

Tbsp

Chia Seeds

1

Tbsp

Sweetener Honey or Maple Syrup

1/4

Tsp

Vanilla Extract
Peanut Butter & Jelly
1

Tbsp

Strawberry Jam

1

Tbsp

Creamy Peanut Butter

1/4

Cup

Diced Strawberries

2

Tbsp

Peanuts, crushed
Apple Pie
1/4

Cup

Diced Apples

1

Tbsp

Pecans, chopped

2

Tsp

Maple Syrup

1/4

Tsp

Cinnamon
Banana Nutella
1/2

Banana, sliced

1

Tbsp

Nutella

1

Tbsp

Hazelnuts, crushed

1

Tbsp

Chocolate Chips
Almond Joy
1/4

Cup

Shredded Coconut

1

Tbsp

Almonds, chopped

1

Tbsp

Chocolate Chips

2

Tsp

Maple Syrup
Instructions
Place all ingredients into a large glass container and mix until combined.

Cover the glass container with a lid or plastic wrap. Place in the refrigerator for at least 2 hours or overnight. Toppings can be added the night before or immediately before serving.

Uncover and enjoy from the glass container the next day. Thin with a little more milk or water, if desired.
Overnight oats have become really popular in recent years because they are easy to make, super nutritious, and taste delicious. Overnight oats can be eaten warm or cool depending on your taste preferences. You can put any of your favorite fruits, nuts, seeds, and spreads to flavor them up. If you're really creative you can make them in your team colors (for example you could do blueberries and pineapples for the LA Rams or poppy seeds and peaches for the Cincinnati Bengals). Make them in mason jars with lids and bring them to the game. Such a simple breakfast tailgate food!
French Toast Sticks
Ingredients
12

Slices Thick Sliced Bread

6

Large

Eggs

1/2

Cup

Half and Half

1

Tbsp

Vanilla

3/4

Cup

Sugar, divided

1 1/2

Tsp

Cinnamon, divided

1/2

Cup

All-Purpose Flour

1/4

Cup

Butter, melted

3

Cups

Panko Bread Crumbs

Powdered Sugar, optional

Warm Maple Syrup
Instructions
Cut each slice of bread into 3 strips.

In a pie plate or medium bowl whisk together eggs, half n half and vanilla. Then add ¼ cup of the sugar, ½ tsp of the cinnamon, and flour. Whisk until creamy and smooth with very few lumps if any. Then while whisking, add melted butter in a skinny stream and whisk to combine while pouring. Then whisk 5 seconds longer until well combined.

In another pie plate mix using a fork to combine panko bread crumbs, remaining ½ cup of the sugar and remaining 1 tsp of cinnamon.

Dip each bread strip first into the egg batter, getting both sides, then lay into the crumb mixture, turning to coat both sides. You may need to sprinkle the mixture as well to make sure each piece is well-coated.

Preheat oven to 400 degrees. Place french toast sticks after dipping and battering on a lightly greased parchment lined baking sheet one inch apart.

Bake for 8-10 minutes or until golden brown on the edges.

Let cool 2 minutes, then serve with a sprinkling of powdered sugar and a little maple syrup for dipping.
In the mood for something a little sweeter? Try these make-ahead French Toast sticks. We love that they can be frozen, so you can make big batches for the season. Just make sure to bring plenty of dips. They are perfect to serve with maple syrup, peanut butter, chocolate sauce, whipped cream, or jam. Kids especially love french toast sticks because they are easy to eat. Parents love them because they don't make a mess. It's a win-win.
Apple Hand Pies
Ingredients
Homemade Pie Crust

3

Medium

Apples, peeled and diced into small bite size pieces

1/3

Cup

Granulated Sugar

2

Tbsp

Unsalted Butter

1

Tsp

Ground Cinnamon

1/4

Tsp

Ground Nutmeg

1/4

Tsp

Ground Allspice

1

Large

Egg, beaten with 1 Tbsp Milk
Instructions
The crust: Prepare my pie crust recipe through step 5. The dough must chill for 2 hours in the refrigerator. You can make pie dough ahead, see instructions below.

The filling: Combine the diced apples, granulated sugar, butter, cinnamon, nutmeg, and allspice together in a medium saucepan or skillet over low-medium heat. While occasionally stirring, bring to a simmer. Allow to simmer for 2 minutes. Remove from heat and allow to cool uncovered at room temperature for 30 minutes. You can make filling ahead, see instructions below.

Roll out the pie dough: See my video above as a visual guide for the next few steps. On a lightly floured work surface, roll out one of the discs of chilled dough (keep the other one in the refrigerator). Turn the dough about a quarter turn after every few rolls. At any sign of sticking, sprinkle some flour underneath then keep rolling. Roll out until it's about 12 inches in diameter and about 1/8th – 1/4th inch thick. Using your cookie cutter, cut into circles. Re-roll any scraps and cut into circles. Place cut circles in the refrigerator to keep cold. The colder the shaped dough, the easier it is to work with. Repeat with 2nd pie dough and refrigerate cut circles for at least 15 minutes before filling the hand pies.

Meanwhile, preheat oven to 375°F (191°C). Line two large baking sheets with parchment paper or silicone baking mats.

Fill the hand pies: Arrange half of the circles about 3 inches apart on prepared baking sheets. These are the bottom crusts. Using a sharp knife, cut slits into the remaining circles. These are the top crusts. The slits act as vents so that steam can escape as the hand pies bake. Place about 2 Tablespoons of filling in the center of each bottom crust. (Or however much fits while leaving the edges bare.) Place top crust on top. Press your fingers all around the edges to seal, then crimp with a fork. If the hand pies lost some shape, use your hands to form a round circle again. It's OK if some filling juice is leaking out. Lightly brush the top of the pie crust with egg wash mixture. Sprinkle with coarse sugar, if desired.

At this point the hand pies can be baked, but if they don't feel cool to touch anymore, freeze for 10 minutes before baking. The colder they are going into the oven, the better they'll hold their shape.

Bake for about 28-32 minutes or until they're golden brown on top and around the edges. Rotate pans halfway through baking. Remove from the oven and allow the hand pies to cool on the baking sheets for 5 minutes, then transfer to a wire rack to cool until ready to handle. You can serve warm or at room temperature. If desired, serve with a drizzle of warm salted caramel.
Many people think about pie as a dessert, but first thing in the morning on a cool Fall day at the stadium? With a cup of hot coffee, they are the best breakfast. You can make the crust from scratch or buy it pre-made to save time. Then fill with your favorite pie filling and spice. This recipe uses classic apple pie filling which is ideal for autumn but feel free to mix it up! They are mess-free and can be easily warmed up on your tailgating grill.
Pancake Casserole
Ingredients
Pancakes
Canola Oil

2 1/2

Cups

Flour

4

Tbsp

Sugar

1

Tsp

Salt

2

Tsp

Baking Soda

2

Tsp

Baking Powder

2

Eggs, separated

8

Tbsp

Butter, melted and cooled

2

Cup

Buttermilk

1/2

Cup

Milk
For Casserole
4

Eggs

1

Cup

Milk

1

Cup

Cream

1

Tsp

Vanilla

2

Tsp

Sugar

1

Cup

Flour

1

Cup

Oats

1/2

Cup

Chopped Pecans

3/4

Cup

Brown Sugar

1/2

Tsp

Salt

1

Tsp

Cinnamon

8

Tbsp

Butter, melted
Instructions
Pankcakes
Heat a griddle over medium heat and cover with a thin layer of neutral oil. In a medium bowl, whisk together flour, sugar, salt, soda, and baking powder.

In another medium bowl, lightly beat the egg yolks, then whisk in the butter, buttermilk, and milk.

Add the buttermilk mixture to the dry mixture and stir gently until barely combined.

Add lightly beaten egg whites to the mixture and gently stir until a thick, lumpy bumpy batter forms. Stop before the batter smooths out. Lumpy batter is good!

Drop quarter cups of batter onto the preheated pan. Cook until bubbles start to appear on the exposed surface of the pancake. When bubbles appear, flip pancake and cook for an additional 2-3 minutes or until browned. Remove to a wire rack and allow to cool. Repeat with remaining batter.
Casserole
Grease a 9 x 13 inch casserole dish. Cut the pancakes in half (you should have around 20), and layer them cut side down in the pancake dish.

In a large bowl whisk together the eggs, milk, cream, vanilla, and sugar. Pour evenly over the pancakes.

Cover with saran wrap and refrigerate pancakes overnight.

In the morning, preheat the oven to 350 degrees. Whisk together the flour, oats, pecans (optional), brown sugar, salt, and cinnamon. Pour the melted butter over top and stir. Use your fingers to work the mixture until crumbs form. (Note: You can do this step the night before, and store it in a bowl in the refrigerator if you prefer.) Pour the crumbs evenly over the top and bake for 45-50 minutes or until the crumbs are browned and center is set.
Who doesn't love a big stack of pancakes in the morning? Unfortunately, trying to bring a tower of pancakes to the stadium is a mess. However, an overnight pancake casserole is perfect. It's decadent and can be topped with any of your favorite pancake toppings like fruit, chocolate, or syrup. Like many of the other recipes, it can easily feed a crowd for less and can be reheated on the tailgate grill.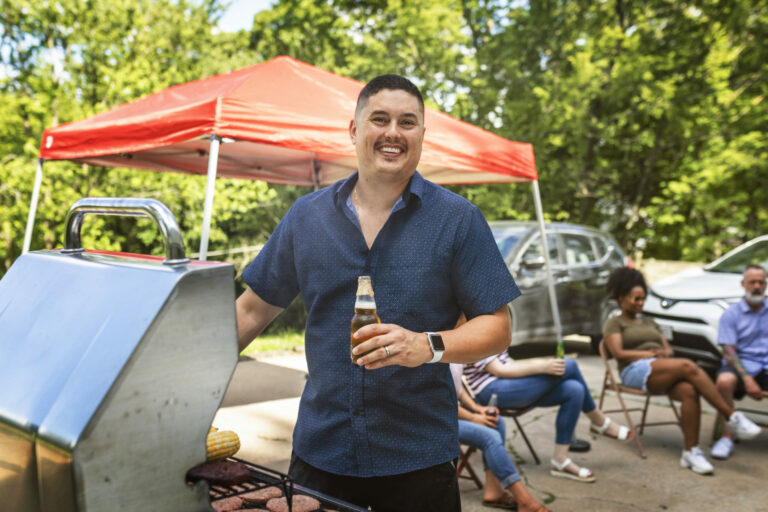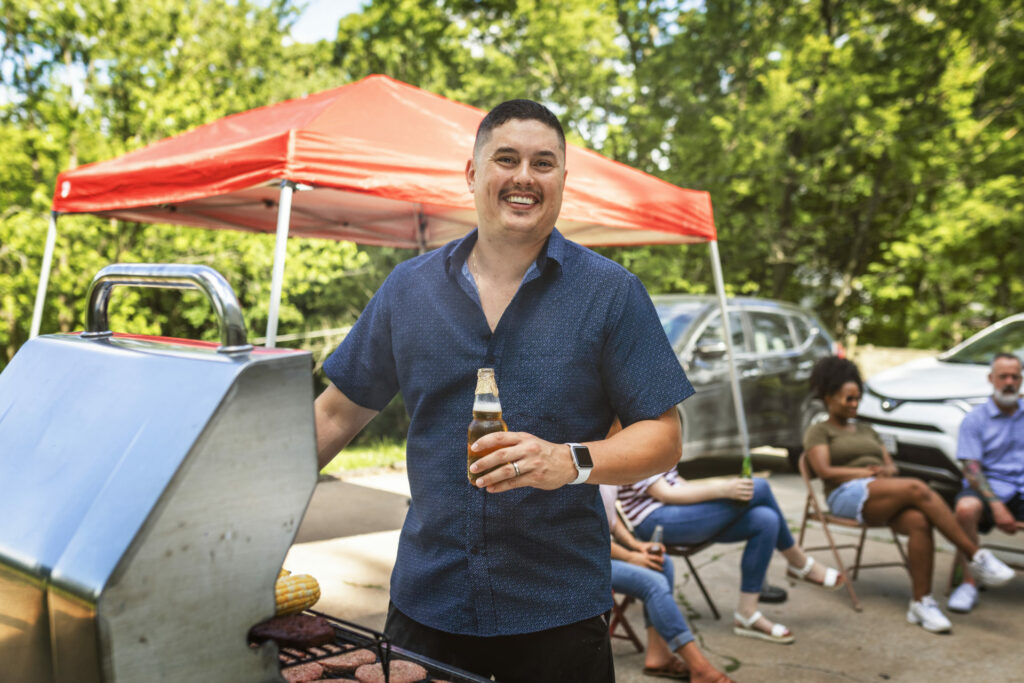 These make-ahead breakfast tailgate food recipes will make sure that you don't skip the most important meal of the day. For more tailgating food and recipe ideas, check out the Food section of our website and follow us on Facebook, Twitter, and Instagram. At Inside Tailgating, our tailgating pros scour the internet to bring you the best east for your next tailgating or homegating party.