As the old saying goes "The early bird gets the worm." If you're a regular tailgater, you know the perks of showing up early. You get to hang out with your friends, meet other fans, and support your team. However, sometimes getting to the game early means you're going to have a long day. What's more important on a long day than fueling up so you have the energy to enjoy the whole game? The best way to do this is with a big, delicious breakfast. Rather than eating and heading out to the lot, we've found 12 different tailgating snacks and meal recipes perfect for your next tailgate.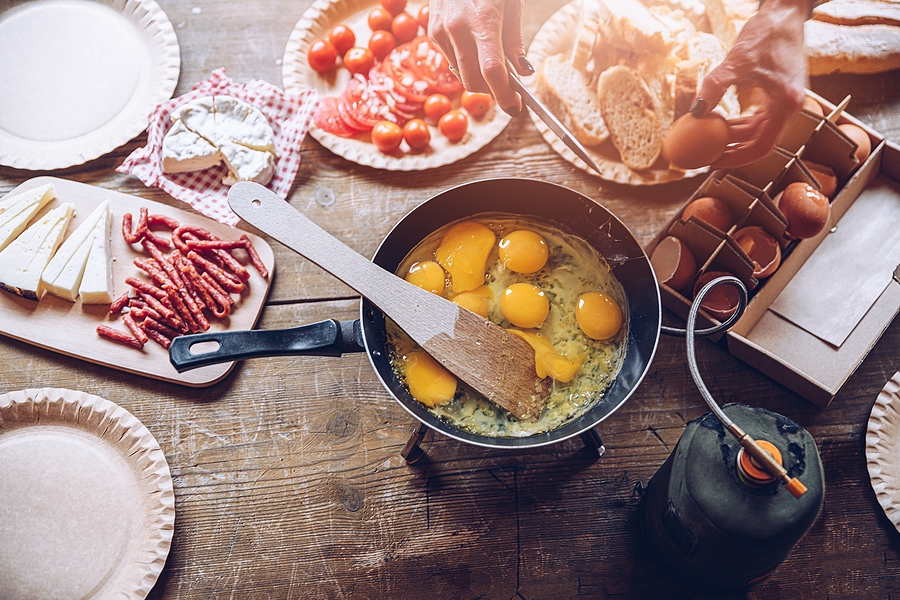 1. Eggs On The Grill
First, we figured we'd share the easiest way to make eggs on the grill.
Eggs on the Grill
Instructions
Preheat an outdoor grill for medium high heat.

Coat all holes of a muffin pan with cooking spray and crack an egg into each hole.

Place on grill and grill over medium high heat for 2 minutes, or to desired doneness.
This is a great option if you are cooking up breakfast or simply want to make protein-rich tailgating snacks. You put the eggs in and any toppings like cheese, spices, or crunchy bacon and throw them right on the grill. They are perfect for breakfast muffins or just as a low carb snack.
2. Breakfast Sliders
Sliders are one of the most popular tailgating snacks. So we figured it would be a great option for breakfast.
Grilled Ham, Egg and Cheese Breakfast Sandwiches
Ingredients
10

Large Eggs

4

Scallions, finely chopped

12

Pack

Pull-Apart Dinner Rolls

2

Tbsp

Unsalted Butter, at room temperature

6

Slices

American Cheese

4

Slices

Deli Ham, finely chopped

Kosher Salt

Hot Sauce
Instructions
Preheat a grill to medium heat.

Place two 2-foot pieces of nonstick aluminum foil next to each other so the long sides are just touching. Pinch the edges together and then fold them over several times to seal and form one large piece of foil. Line a rimmed baking sheet with the foil and set aside.

Crack the eggs into a large bowl and whisk well. Add the scallions, 1 teaspoon salt and 2 tablespoons water and whisk to combine.

Split the whole pack of attached dinner rolls in half horizontally using a serrated knife. Set aside.

Put the prepared baking sheet on the grill and add 1 tablespoon of the butter. Cover the grill and let the butter melt, about 3 minutes. Spread the butter all over the baking sheet using a pastry brush and then pour on the egg mixture. Place the attached roll halves cut-side down and side by side on top of the eggs and cover the grill. Cook until the eggs are completely set, about 10 minutes.

Meanwhile, butter another baking sheet with the remaining 1 tablespoon butter. Using heatproof mitts, top the rolls with this baking sheet and invert the whole thing onto the grill. Remove the top baking sheet and peel back the foil. Top half the eggs with the cheese and the other half with the ham. Cover the grill and cook until the cheese is melted, about 5 minutes. Using a large metal hamburger spatula, flip the bottom half of the rolls onto the other half, so the rolls are top-side up. Serve with hot sauce.
There are tons of amazing recipes for breakfast sliders. We love this one from The Food Network because it's simple, flexible, and was designed for tailgating. These are so good, you may even want to serve them for dinner!
3. Grilled Breakfast Pizza
If there was a Hall of Fame for tailgating snacks, pizza would surely be inducted as one of the greatest tailgating foods of all time. Pizza is incredibly versatile and super delicious.
Grilled Breakfast Pizza
Ingredients
1/4

Cup

Olive Oil

1

Lb

Refrigerated Pizza Dough, at room temperature

8

Oz

Bulk Breakfast Sausage

2

Bell Peppers (1 red, 1 green), chopped

1

Small

Onion, chopped

2

Cups

Frozen Shredded Hash Browns, thawed and squeezed dry

3/4

Tsp

Kosher Salt

2

Cups

Shredded Mozzarella Cheese

6

Large

Eggs

Black Pepper, to taste

Chopped Fresh Chives, for topping
Instructions
Preheat a grill to medium high. Brush an upside-down sheet pan with 2 tablespoons olive oil. Shape the pizza dough into an 11-by-14-inch rectangle and place on the oiled side of the pan.

Heat 1 tablespoon olive oil in a large cast-iron skillet on the grill. Add the sausage and cook, breaking up the meat into pieces and stirring occasionally, until no longer pink, 4 to 5 minutes. Use a slotted spoon to remove to a plate. Add the bell peppers and onion to the skillet and cook, stirring, until the vegetables soften, 3 to 4 minutes. Add the remaining 1 tablespoon olive oil, the hash browns, 1/2 teaspoon salt and a few grinds of pepper. Cook, stirring, until the hash browns soften and start turning light golden brown, 2 to 3 minutes. Add the hash brown-vegetable mixture to the plate with the sausage. Remove the skillet from the grill.

Carefully slide the dough off the pan and onto the grill. Cook, uncovered, until bubbles start to form on top and the bottom is marked, 3 to 4 minutes. Use a large spatula to flip the dough, marked-side up, onto the upside-down sheet pan.

Sprinkle the mozzarella all over the dough, leaving a 1/2-inch border. Top evenly with the hash brown–vegetable mixture and sausage. With the back of a large spoon, make 6 small wells in the toppings and carefully crack an egg into each well. Slide the pizza off the pan and back onto the grill. Cover and cook until the cheese is melted and the egg whites are set but the yolks are still runny, about 12 minutes.

Remove the pizza to a cutting board. Season the eggs with the remaining 1/4 teaspoon salt and a few grinds of pepper. Garnish with chives.
When we found this recipe for a grilled breakfast pizza, we knew we had to share. You simply assemble the pizza and slide it right on the grill for cooking. You could probably even make this ahead of time and just throw it on the grill once you're at the game.
4. Breakfast Burrito
Another Hall of Fame inductee would be a burrito. Burritos are the ultimate tailgating food because they are not only delicious and filling, they are portable.
The Ultimate Breakfast Burrito
Eggs, chorizo, hashbrowns… what more do we need to say?
Equipment
large skillet

medium skillet

spatula

slotted spoon

small bowl

Measuring spoons
Ingredients
2

tbsp

butter

1

cup

hashbrown potatoes – either shredded or cubed works best

½

cup

cooked chorizo

or regular breakfast sausage or 2 slices of cooked bacon

8

eggs

1/3

cup

heavy cream

or milk

pinch

of chili powder

pinch

of black pepper

½

tsp

of salt

¼

cup

chopped sweet yellow or white onion

¼

cup

finely chopped green or red bell pepper

1 4.5

oz

can of diced green chile peppers

drained

6 10

inch

flour tortillas
Instructions
In a medium nonstick skillet, melt the 1 tablespoon butter over medium heat. Stir in hash browns. Spread in an even layer; press down lightly with spatula. Cook for 6 to 7 minutes or until golden brown on the bottom.

Turn hash browns over with a spatula. Cook for 6 to 8 minutes more or until golden brown and crisp (turn potatoes as necessary for even browning).

Stir in chorizo; heat through. Set aside; keep warm.

In a small bowl, whisk together eggs, heavy cream, salt , pepper and chili powder.

In a large skillet, melt the remaining 1 tablespoon butter over medium heat; add onion and bell pepper. Cook over medium heat until vegetables are tender.

Pour in egg mixture. Cook over medium heat, and stir with a spatula until eggs are scrambled to your liking. Remove from heat.

Place each tortilla in the microwave briefly to heat up (unless making ahead to heat up later).

Divide potato mixture evenly among tortillas, placing just below the center of each tortilla. Using a slotted spoon, top each with some of the egg mixture.

Top with chilies, cheese, salsa, hot sauce and pickled red onion.

For each tortilla, fold bottom edge up and over the filling. Fold opposite sides in. Roll up from bottom. Wrap each burrito in aluminum foil.

Tailgate reheating options: place the burritos in a Crock Pot set at 200 degrees and let burritos warm through before serving. They can also be put on the top rack of a low-heat grill in the aluminum foil to heat through as well.

Serve with sour cream, guacamole and extra salsa and hot sauce.
The tortilla contains any mess and the shape is perfect for holding in one hand with a beer in the other. It's easy to make and will give you the energy you need for the day. The steak and eggs breakfast burrito on the grill from Vindulge is also an awesome tailgating breakfast.
5. Grilled Spinach, Gruyere, And Roasted Red Pepper Frittata
Now if you want to go a little healthier, we get it. It's super easy to get carried away when all the food at the tailgate is so tasty.
Grilled Frittata
Ingredients
1

Three Cheese Semolina Cut into 1" slices

10

Eggs

1

Pinch of Kosher Salt

1

Pinch of Ground Black Pepper

2

Tsp

Chopped Oregano

1/2

Cup

Shredded Gruyere Cheese

2 1/2

Tbsp

Olive Oil

1

Large

Red Bell Pepper (cored, seeded, sliced 1/4" strips)

1 1/2

Firmly Packed Baby Spinach
Instructions
In a large bowl, whisk together the eggs and lightly season with salt and pepper.

Fold in the 2 teaspoons of oregano and the 1/2 cup cheese. Set aside.

Put cast iron skillet on the grill over medium heat.

Add 2 tablespoons of olive oil and add the bell pepper, stirring occasionally until tender, 8 to 10 minutes.

Add the spinach, stirring occasionally, until wilted (about 2 minutes).

Add the egg mixture to the skillet stirring to evenly distribute with vegetables.

Cover the grill and let the eggs and vegetables cook for 4-6 minutes checking over 2 minutes to ensure the top does not burn (place foil on top of skillet if eggs start to brown too quickly).

While the frittata is cooking, grill the bread slices and place one slice on each plate.

Slide the frittata onto a cutting board and garnish with oregano and cheese.

Slice and serve 1 piece on top of each slice of bread.
We love this frittata as a low carb, high protein, and nutritional breakfast. It's made right on the grill in your favorite cast iron and is really tasty. If you're watching your waistline, this recipe is a must.
6. Breakfast Foil Packs
If you're going to be cooking tailgating snacks all day, it may be a tall order to add breakfast. However, these breakfast foil packs are so simple and filling they take no time at all.
Breakfast Foil Packs
Ingredients
6

Large

Eggs

1/2

Cup

Milk

1

Lb

Refrigerated Hash Browns (thawed if frozen)

1

Cup

Chopped Ham

2

Cup

Shredded Cheddar

Butter, for foil

Chopped Chives

Salt and Pepper, to taste
Instructions
In a large resealable plastic bag, crack eggs, add milk, and season with salt and pepper. Stir in hash browns, ham, and cheese.

Butter four squares of aluminum foil and divide mixture among foil. Fold tightly and seal.

Place packets over campfire or grill and cook until eggs are cooked and hash browns tender and crispy, about 10 minutes.

Garnish with chives and serve.
Simply make a packet out of aluminum foil and fill with the ingredients. You can make these the night before and just throw them on the grill in the morning. Best part is there's no clean up. You simply fold up the foil packs and toss into the recycling bin.
7. Grilled Popover Pancakes
Now if your tailgating grill has a griddle, you can easily whip up a batch of pancakes. However, it's a little tricky making pancakes on a standard grill plate. That does not mean you can't make pancakes.
Popover Pancakes
Ingredients
4

Large

Eggs

1/2

Cup

Unsalted Butter, melted

1

Cup

Milk

1

Cup

All-Purpose Flour

1

Dash

Nutmeg

2

Your Favorite Berries

Powdered Sugar
Instructions
Preheat grill to 425F. Divide melted butter evenly between 2 aluminum pie tins and swirl around to coat the tins well.

In a large bowl, whisk together milk, flour, eggs, and nutmeg, leaving batter slightly lumpy.

Divide batter evenly between the 2 greased pie tins, then place each pie tin in on the grill. Grill uncovered for 12-14 minutes, or until golden brown and fluffy.

Carefully remove pie tins from grill and slide pancakes onto two plates. Top with berries and powdered sugar and serve immediately.
Popover pancakes are made as one big one in a cast iron skillet. They are essentially baked on the grill. You can then cut them up and serve with your favorite toppings.
8. Tailgate French Toast Sticks
Dippable french toast sticks are a perfect tailgating food. They are made on the grill, can be prepared ahead of time, and eaten with your hands.
Tailgate French Toast Sticks
Ingredients
1

Loaf

Thick Sliced Bread

3

Eggs

2

Cups

Milk

6

Tbsp

Cinnamon

2

Tbsp

Vanilla Extract

1

Tsp

Salt

Oil to fry
Instructions
Open the bread and cut each slice into 4 sticks.

Allow the bread to sit out uncovered for several hours, stale bread is perfect for French Toast.

Mix Milk, Eggs, Cinnamon, Vanilla, and Salt in a large bowl with a whisk.

Dip bread sticks into milk and egg mix as you are ready to fry them.

Fry for 2-4 min each side, until the toast is a crispy golden brown color.

Allow to cool on a paper towel, and serve dusted with cinnamon sugar or syrup.
Plus, who doesn't love French toast? These are perfect tailgating snacks or as a side to a more savory dish like a breakfast slider.
9. Banana Foster French Toast On The Grill
Now if you want to take your tailgating French toast game up a notch, we've also got you covered.
Banana Foster French Toast
Ingredients
French Toast
1/2

Cup

Milk

1

Tsp

Ground Cinnamon

1/2

Tsp

Ground Nutmeg

6

Slices

Thick Cut Bread
Bananas Foster Topping
2

Bananas, ripe

1/2

Cup

Brown Sugar

4

Tbsp

Butter, salted

3

Tbsp

Dark Rum

2

Tbsp

Banana Liqueur

1/4

Cup

Pecan Halves, unsalted

1/2

Tsp

Ground Cinnamon
Instructions
Frech Toast
Preheat the grill to medium heat. If using a griddle or skillet, place on grill to preheat as well.

Mix egg, milk, cinnamon, nutmeg together until well combined

Dip both sides of bread into the egg mixture and place on a lightly oiled griddle or skillet. May also place directly on the grill grates (If putting directly on grate, carefully spray with grill spray or oil grate beforehand with a paper towel and tongs).

Cook until the egg is set and lightly brown on both sides.

After the french toast is cooked, cover to hold warm until bananas are finished.
Bananas Foster Topping
Cut bananas into slices, and have all ingredients prepped and alongside the grill ready to use.

Heat skillet over medium heat. Add butter, cinnamon, and brown sugar to the pan.

Stir until sugar dissolves.

Add bananas to the pan. Cook until softened and start to brown lightly. Add pecans if desired

Pull pan off heat, slowly add the rum

Cook for about 10 seconds until rum is warmed then ignite with a long match or grill lighter (at the edge of the pan). If for some reason it does not ignite, carefully return the pan to the grill and cook for a minute or two until the alcohol burns off.

Bananas are finished once the flames go out. Spoon over French toast.
Bananas foster complete with the crowd pleasing flambe, can be made right on your grill. This is definitely a recipe for a more skilled grillmaster, but will for sure be a hit with all your guests.
10. Grilled Breakfast Charcuterie Board
Charcuterie boards are really popular right now.
Epic Grilled Breakfast Charcuterie Board
Ingredients
24

Crostini or Crackers

Olive Oil

Sea Salt

2

Packages

Uncured Bavarian Bratwurst

8

Soft Boiled Eggs, halved

12

Strips

Bacon, cooked

3

Large

Tomatoes, grilled

1

Large

Cucumber, thinly sliced

2-4

Oz

Salami Slices

12

Slices

Cheese, different varieties

Mozzarella Cheese Balls, small

Butter

Lemon-pear Marmalade

Peach Bellini Jam

Raspberry Jam

1

Triple

Cream Brie

1

Pint

Raspberries

1

Pint

Blackberries
Instructions
Make your own crostini by slicing a baguette and spraying with olive oil on both sides. Sprinkle lightly with Sea salt on one side. In a hot oven, toast each side for about 1 minute.

Grill the bratwurst and cook the bacon. Make sure the eggs are pre-cooked, peeled and cooled in the fridge.

Grill the tomato slices by spraying with olive oil and placing on the grill for a couple minutes on each side. (Optional to use fresh tomatoes without grilling them.)

Prepare a large board with a tray or plate for the center (for the meat and the eggs).

Place the butter and jellies in small bowls.

Arrange the remaining ingredients on the board. Serve right away when the hot meat is added! ENJOY!
They feed a large crowd, ensure everyone gets what they want, and are easy for the host to put together. So why not make a breakfast charcuterie board? Even better, why not make one on your tailgating grill?
11. Blended Mimosas
Once you've designed your breakfast menu, there's only one thing left. You'll need to make some delicious breakfast cocktails.
Blended Mimosas
Ingredients
1

Cup

Orange Juice

1

Cup

Dry Champagne

10

Cubes

Ice
Instructions
We love a mimosa, but since it's summertime, we figured why not make it blended? Use your margarita machine, add ice, champagne, and orange juice and voila, the perfect blended mimosa.
12. Build Your Own Bloody Mary Bar
If bloody marys are more your breakfast cocktail of course, we've got you covered. Rather than just simply whipping up some bloody marys using mix and a stick of celery, make a bloody mary bar.
Bloody Mary Bar
Ingredients
1

Pitcher

Bloody Mary Mix

6

Dill Pickle Spears

1/2

Cup

Marinated Artichoke Hearts

1/2

Cup

Olives stuffed with Pimentos, Garlic, or Blue Cheese

1/3

Cup

Pickled Jalapeños

1/3

Cup

Pickled Mushrooms

1/3

Cup

Giardiniera

1/3

Cup

Roasted Red Peppers

2

Oz

Beef Jerky

6-8

Slices

Cooked Bacon or Candied Bacon

4

Oz

Cheddar and Pepper Jack Cheese, cubed

6-8

Cooked Shrimp

6-8

Pepperocini Peppers

1

Lemon, cut into wedges

1

Lime, cut into wedges

6

Celery Stalks

Small Jar of Horseradish

Toothpicks or Skewers
Instructions
Put pickles, artichoke hearts, mushrooms, olives, jalapenos, giardiniera, beef jerky, bacon, pepperoncini, horseradish and shrimp into individual small bowls, plates, jars or other vessels (this keeps their flavors and juices separate from each other and allows for a less messy Bloody Mary Bar and easier clean up!)

Place pitcher or carafe of Bloody Mary mix on one end of the counter or next to the board if you're building the Bloody Mary bar on a board. Place glasses and liquor (gin, vodka or tequila are three great options) on the counter top or in the upper corner of the board or next to the board.

Arrange the bowls and small plates of garnishes on the counter or flat surface.

Add cubed cheese, celery stalks and lemon and lime wedges to the Bloody Mary Bar spread.

Place toothpicks and skewers on the counter.

Let guests build their own Bloody Mary and snack skewers by selecting their favorite garnishes and adding them directly to their cocktails or toothpicks and skewers.
A bloody mary bar has all the fun ingredients to tailor your bloody mary to your tastes. They're fun and they make it easy for the host. They can just set up and get back to the grill.
If your team has an early kickoff, that doesn't mean you can have a fun tailgate. If you get there early, whip up some breakfast, and make a few morning cocktails, you'll still have a blast.
For more recipes to make at your next tailgate, be sure to sign up for our newsletter and follow us on Facebook, Twitter, and Instagram. We've got recipes for every time of day no matter your tastes.