The most fun week in baseball is almost here! The MLB All-Star Game, the Midsummer Classic, is coming on July 19th and we're super excited for this year. If you wanna join in the fun, here's the full schedule. It's gonna be a fun week watching celebrities, pro baseball players, and some of baseball's biggest legends compete. It's also a great excuse to hold a tailgate party! If you're thinking about hosting an MLB All-Star Tailgate, here are some tailgate party ideas to get you started.
1. Stream The Games Live
First, you want to make sure that you can tune in to all the action. The games will be live on Fox and ESPN. If you don't have cable and just use streaming platforms, it is difficult to know how to watch the games live. Check out how to watch here. Now that you're prepared to watch the games, let's get into the more exciting options for hosting the party.
2. Make Some Homemade Baseball Stadium Favorites
There are must-have foods for any baseball game. But, creating stadium favorites at home can be a challenge. These homemade recipes can bring the stadium feel to your living room.
Chicago-Style Hot Dog
Ingredients
All Beef Hot Dogs

Poppy Seed Hot Dog Buns

Yellow Mustard

Sweet Green Pickle Relish

Chopped Onion

Tomato Wedges

Pickle Spear

Sport Peppers

Celery Salt
Instructions
Bring a pot of water to a boil over high heat. Reduce heat to low, place hot dog in water, and cook until warmed through, about 5 minutes. Remove hot dog from water and set aside.

Place a steamer basket into the pot and steam poppy seed bun until warm, about 2 minutes.

Place hot dog in steamed bun. Pile on toppings in this order: mustard, relish, onion, tomato, pickle, peppers, and celery salt. The tomato wedges should be nestled between hot dog and top of bun on one side. Place pickle between hot dog and bottom of bun on the other side. Don't even think about ketchup!
A mouth-watering classic comes from the Windy City, the Chicago-Style Hot Dog. The classic all-beef frank and poppy-seed bun isn't complete without the mile-high toppings of choice. This recipe includes condiments, pickle spears, onions, and potatoes. Don't be afraid to add a few more favorites like sliced jalapenos, sauerkraut, and spicy dijon mustard to add a personal touch.
Beer-Cooked Bratwurst
Ingredients
4

Good Quality Bratwurst

2

Tsp

Olive Oil

3

Brown Onions, peeled and sliced thinly

1

TBSP

Butter

2/3

Cup

Beer

Crusty Bread Rolls And Mustard, to serve
Instructions
Heat a heavy based frying pan over a medium low heat.

Prick the bratwurst once each, and place the oil into the pan, followed by the sausages. Cook until golden brown.

Shuffle the brats off to one side of the pan, and add the butter, followed quickly by the onions. Stir them around to coat them in the butter, and then shuffle the sausages in and around the onions.

Cook until the onions are soft and beginning to darken and brown.

Add the beer to the pan, and cook gently for about 10 minutes, or until the beer has cooked away.

Serve the brats hot from the pan, stuffed into crusty bread rolls and slathered with hot mustard.
Bratwursts have many options now available. From the classic pork to cheese-stuffed beef, you can elevate the taste of any bratwurst by cooking it with a beer, or cider, there are many options to create your pairing. With the toppings, keep it simple with some caramelized onions and dijon mustard. This classic dish will have you thinking you're at the game.
CARNE ASADA FRIES
Ingredients
1

Bag Frozen Fries

1

Tbsp

Olive Oil

4

Oz

Top Sirloin Or Fast Fry Steaks (about 1/2 inch thick)

2

Tsp

Chili Powder

1/2

Tsp

Salt And Pepper

1/2

Cup

Cheddar Cheese, grated

1

Fresh Jalapeno Pepper, sliced

1/4

Cup

Sour Cream

1/3

Cup

Cilantro, chopped
Pico De Gallo
3

Vine Or Plum Tomatoes, chopped

1

Small Yellow Onion, diced

1

Tbsp

Lime Juice

1/4

Cup

Chopped Fresh Cilantro

1/2

Tsp

Salt
Guacamole
2

Avocados, mashed

1-2

Tbsp

Lime Juice

1

Small Red Onion, diced

1

Clove Garlic, minced

1/2

Tsp

Salt
Instructions
Preheat oven to 450 F. Bake fries according to package directions (usually 10-12 minutes per side). Meanwhile, mix up pico de gallo and guacamole (ignore if you are using store bought versions of either).

Add olive oil to a large skillet over med-high heat. Season steak with chili powder and salt and pepper. Cook for 2-3 minutes on each side, then remove from heat and cut into 1/2-inch cubes.

Remove fries from oven and top with cheese, then bake for 5 minutes or until cheese is melted. Divide among 6 plates and top with steak, pico de gallo, guacamole, jalapenos, sour cream and cilantro. Serve and enjoy!
Baseball comfort foods are always a home run. The crispy fries lightly salted only get better with tender carne asada covering them. Let your guests add cheese, sour cream, guacamole, pico de gallo, and jalapenos to complete the dish. Better make a double batch as this crowd favorite goes quick!
Hot Pretzels With Sweet Mustard And Cheese Sauce
Ingredients
Homemade Soft Pretzels
1 1/2

Cup

Warm Water (110 to 115 degrees)

1

Tbsp

Sugar

2

Tsp

Kosher Salt

1

Pkg

Active Dry Yeast

22

Oz

All-Purpose Flour, approximately 4 1/2 cups

2

Oz

Unsalted Butter, melted

Vegetable Oil, to grease the pan

10

Cups

Water

2/3

Cups

Baking Soda

1

Large Egg Yolk beaten with 1 tbsp water

Pretzel Salt
Sweet Mustard Sauce
1/4

Cup

Mayo

1/4

Cup

Dijon Mustard

3

Tbsp

Packed Light Brown Sugar

1/2

Tsp

Cider Vinegar
Cheese Sauce
2

Tbsp

Unsalted Butter

2

Tbsp

All-Purpose Flour

1

Cup

Whole Milk

8

Oz

Extra Sharp Cheddar Cheese, shredded from a block

Kosher Salt
Instructions
Pretzels
Combine the warm water, sugar and kosher salt in the bowl of a stand mixer. Sprinkle the active yeast on top. Allow to sit for 5 minutes or until the mixture begins to foam. Add the flour and melted butter. With the dough hook attachment, mix on low speed until well combined. Change to medium speed, kneading until the dough is smooth and pulls away from the sides of the bowl, ~4 to 5 minutes. Remove the dough from the bowl, clean it and then oil it well with vegetable oil. Return the dough to the bowl. Cover with plastic wrap and sit in a warm place for ~ 50 to 55 minutes or until doubled in size.

Preheat the oven to 450F. Line 2 half-sheet pans with parchment paper. Lightly brush with the vegetable oil. Set aside.

Bring the 10 cups of water and baking soda to a rolling boil in an 8-quart saucepan.

In the meantime, turn the dough out onto a slightly oiled work surface and divide into 8 equal pieces. It's easiest to do this with a scale, about 4.5 oz per ball. Roll out each piece of dough into a 24-inch rope. Make a U-shape with the rope, holding the ends of the rope, cross them over each other and press onto the bottom of the U to make a pretzel shape. Place onto the prepared pans.

Place the pretzels into the boiling water, 1 at a time, for 30 seconds. Remove them from the water using a large flat spatula. Return to the half sheet pans, brush the top of each pretzel with the beaten egg yolk and water mixture. Sprinkle with the pretzel salt (or Kosher or coarse- just not table salt) . Bake until dark golden brown in color, ~ 12 to 14 minutes. Transfer to a cooling rack for at least 5 minutes before serving.
Sweet Mustard Sauce
Whisk all four ingredients in a small bowl. Cover and refrigerate. I made half of this recipe since I had 2 sauces.
Cheese Sauce
In a small saucepan, melt the butter on medium heat. Whisk in the flour. Whisking constantly, cook for 30 seconds.

Slowly whisk in the milk until completely smooth. Stirring constantly, bring the white sauce to a simmer over med-low heat until thickened, ~ 3-5 minutes. Remove the pan from the heat and stir in the cheese until completely melted. Taste and add a pinch of salt if needed. Serve warm.

Leftovers can be reheated in the microwave on medium, 30 seconds at a time. You may need to thin the sauce with a bit more milk.
A warm pretzel with a dipping cheese sauce and sweet mustard is one of the reasons people love going to the stadium to watch the game. This easy recipe is suitable for people of any cooking skill level or you can purchase pretzels, depending on your comfort level.
3. Serve Your Dishes In Style
The tastiest tailgate dishes deserve to be served on the coolest dishware. One of the simplest baseball tailgate party ideas is to get themed serving ware for all the different dishes. Here are some of our favorites that will bring the All-Star Game spirit to your tailgate.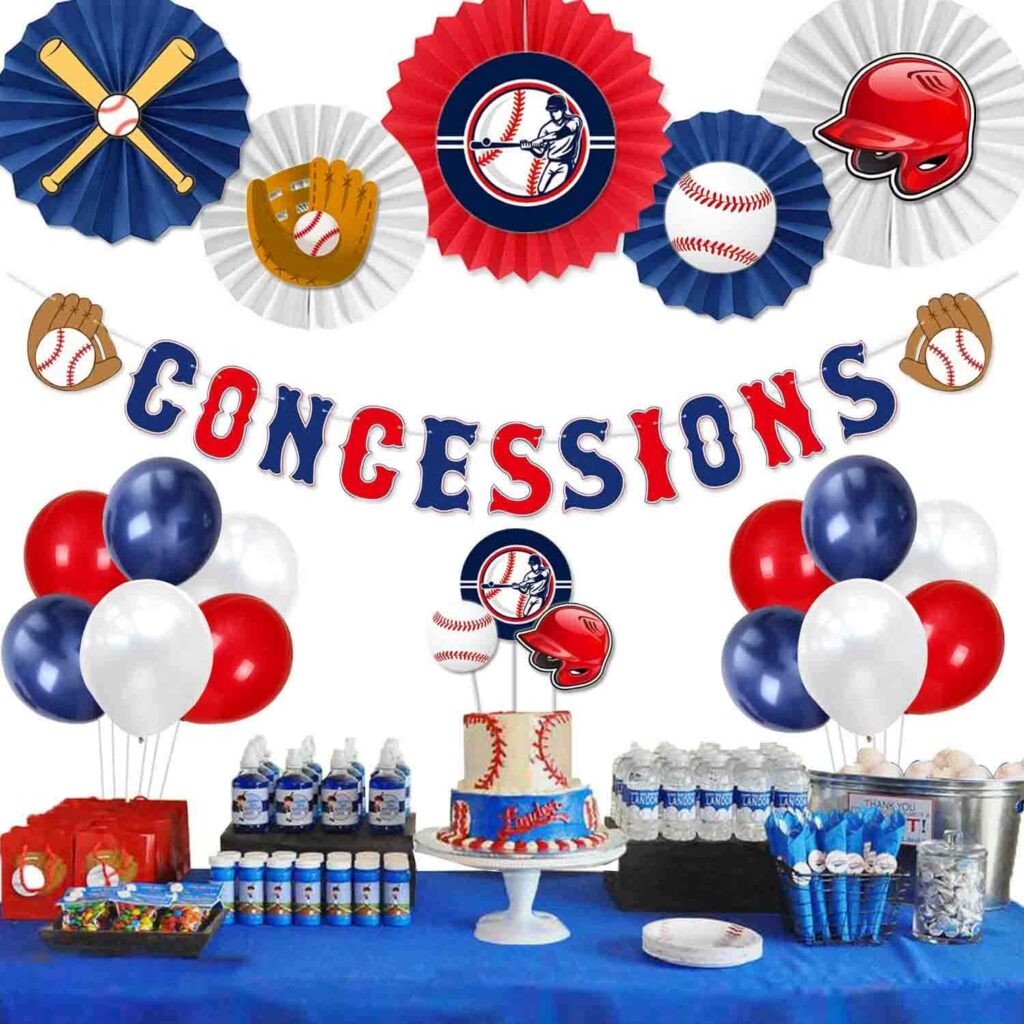 This disposable set will make clean-up easy. It comes with everything you need including cups, plates, and silverware. It also has streamers, wall decor, and a sign to help direct people to the food station. Easy to put up and easy to take down. We love easy.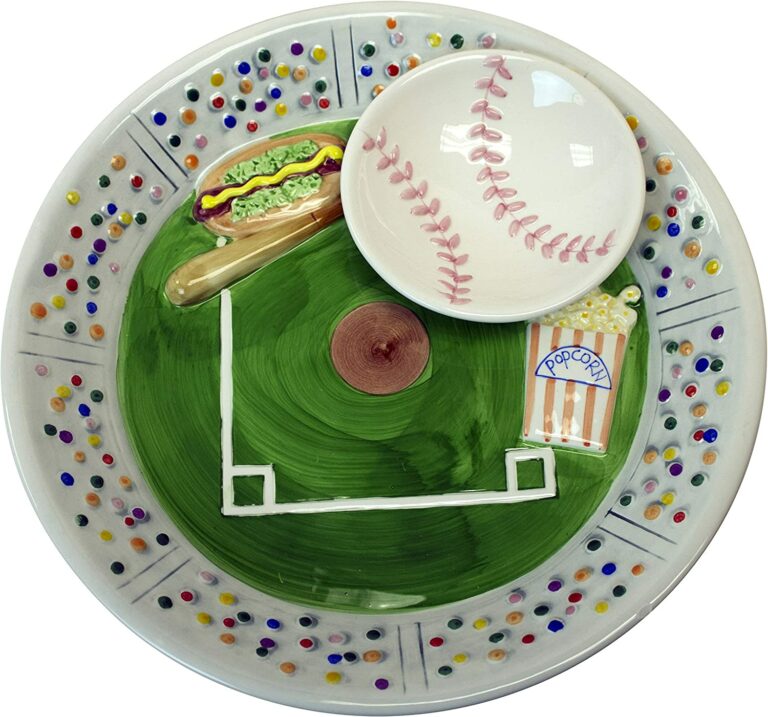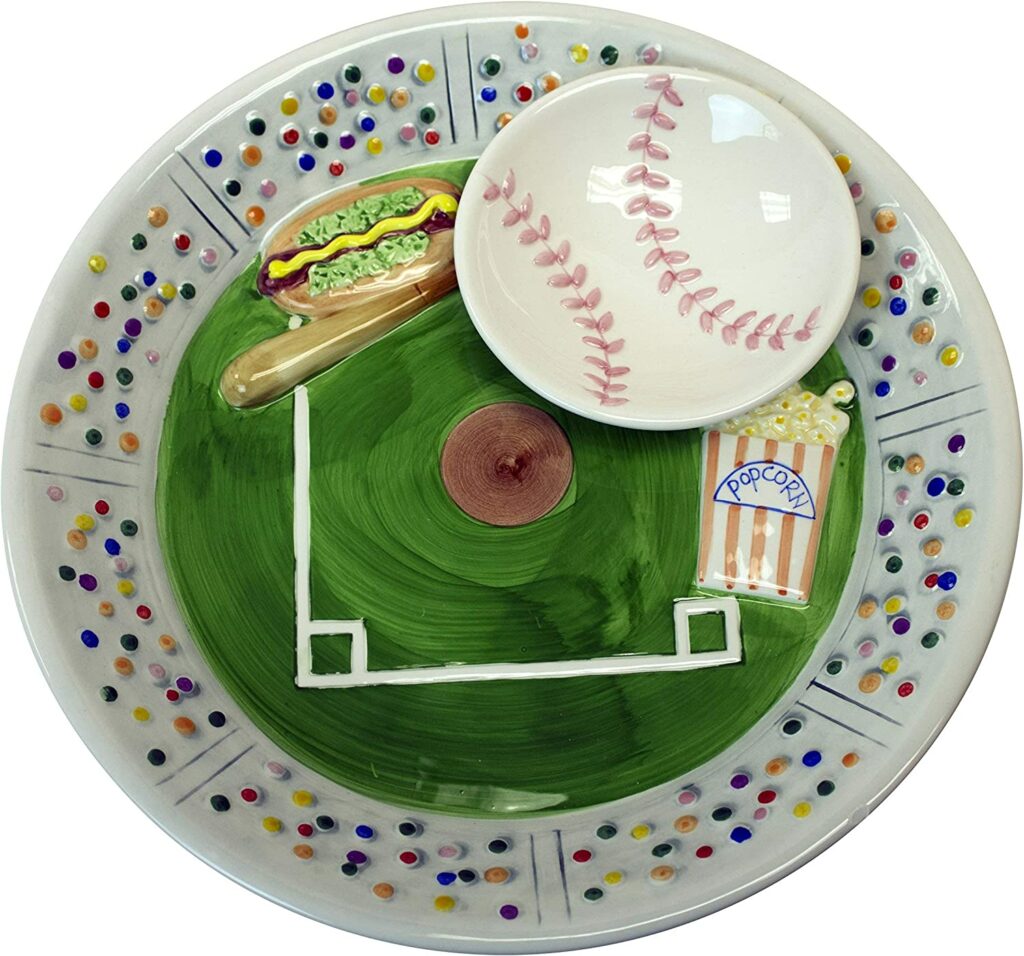 Chips and dips are standard tailgate party fare. Whether you like a classic Lays with French onion dip, tortilla chips, and salsa, or a secret recipe you make every game, this dish is the perfect way to serve it. If for some reason you aren't serving chips and ships, this is still a great set because it can be used in two pieces.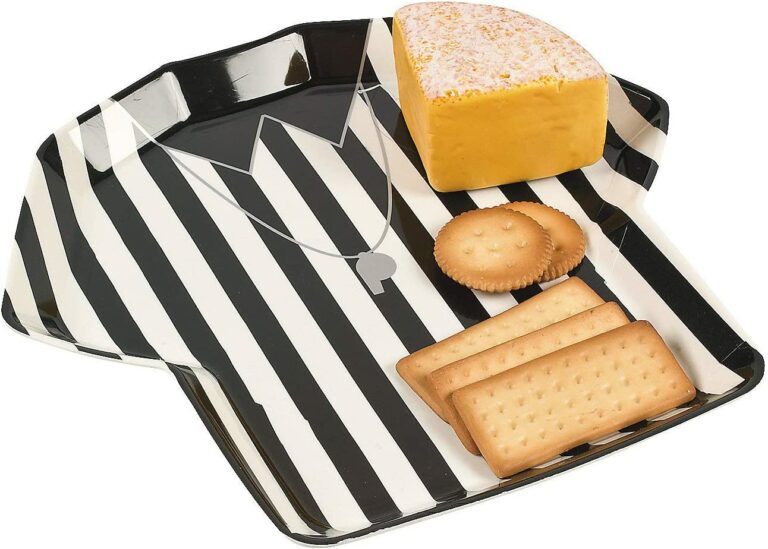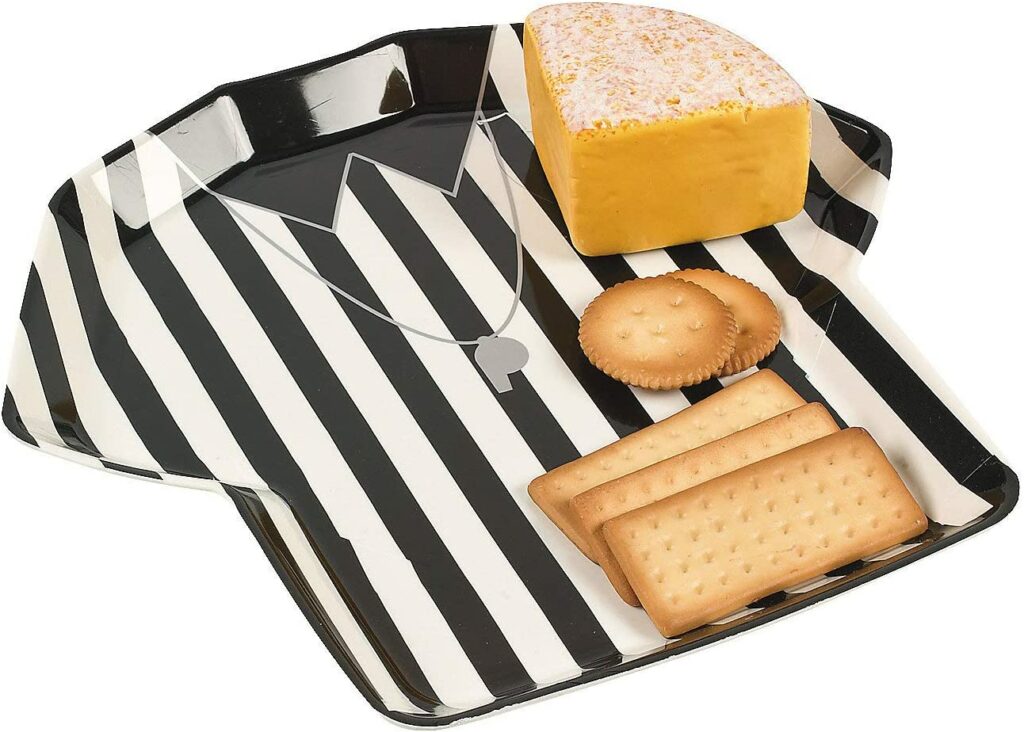 Another fun serving platter is this referee shirt tray. This is ideal for serving appetizers like jalapeno poppers, chicken wings, or sliders. If you bought a couple, they'd also make fun snack plates for your tailgate guests.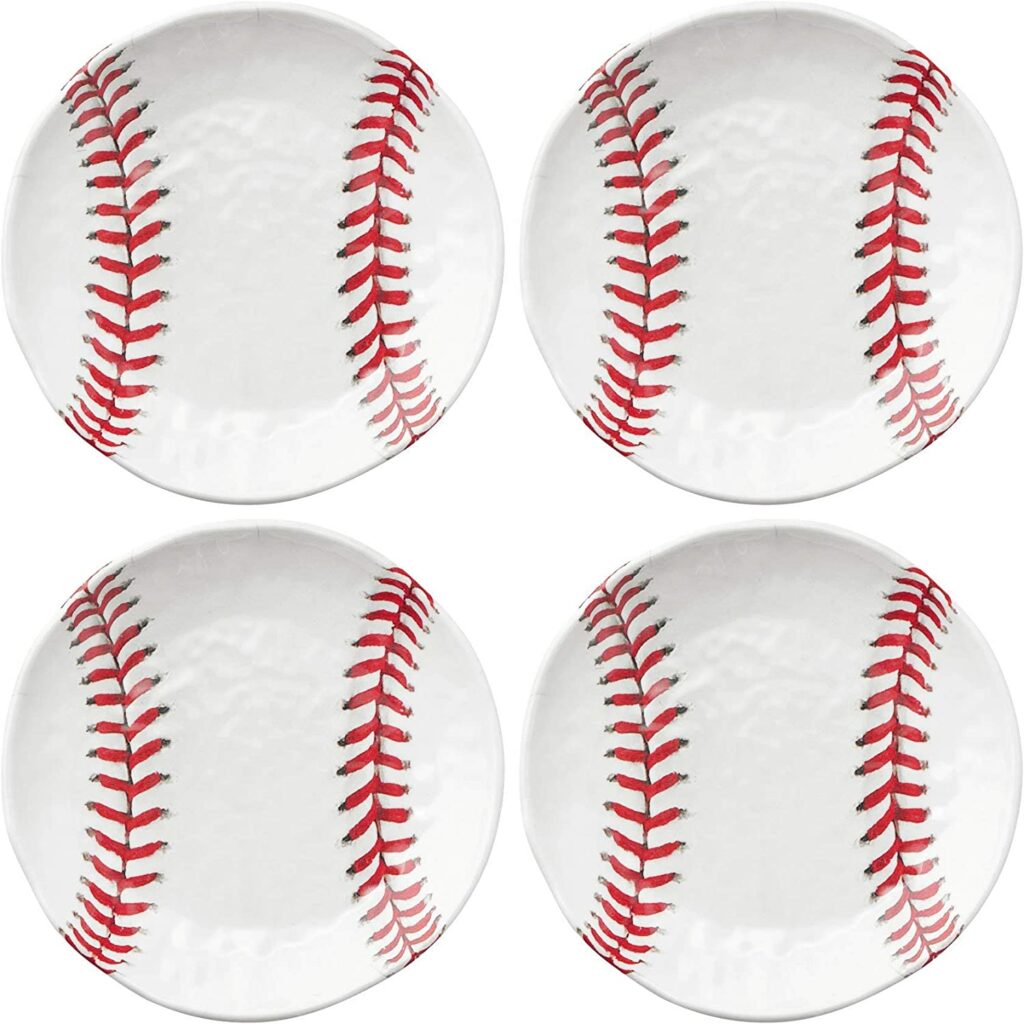 Melamine plates are great for tailgating. They're easy to clean and tough to break. That's why we love these baseball-shaped melamine plates. They bring all the spirit of the game, without any headaches. They're also a great size to load up on all your favorite snacks.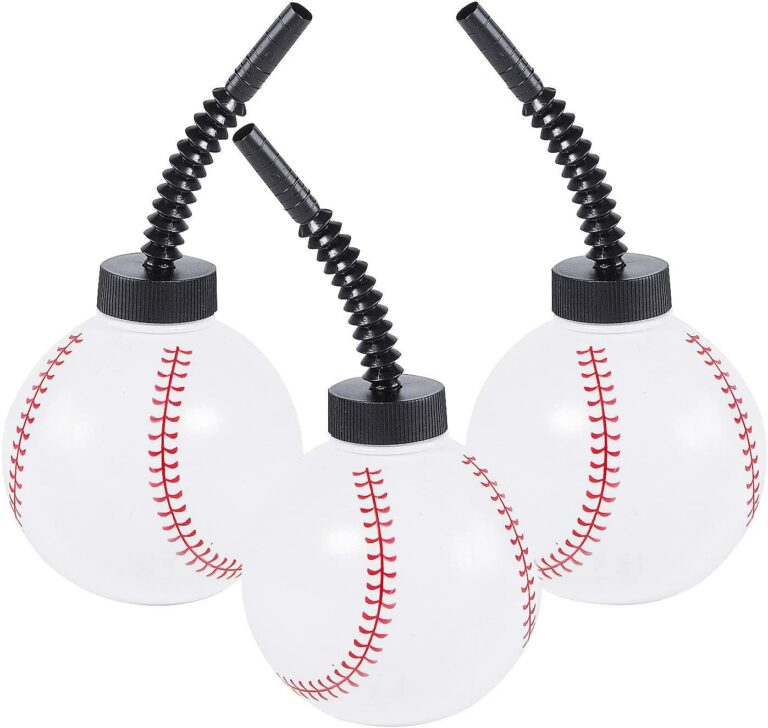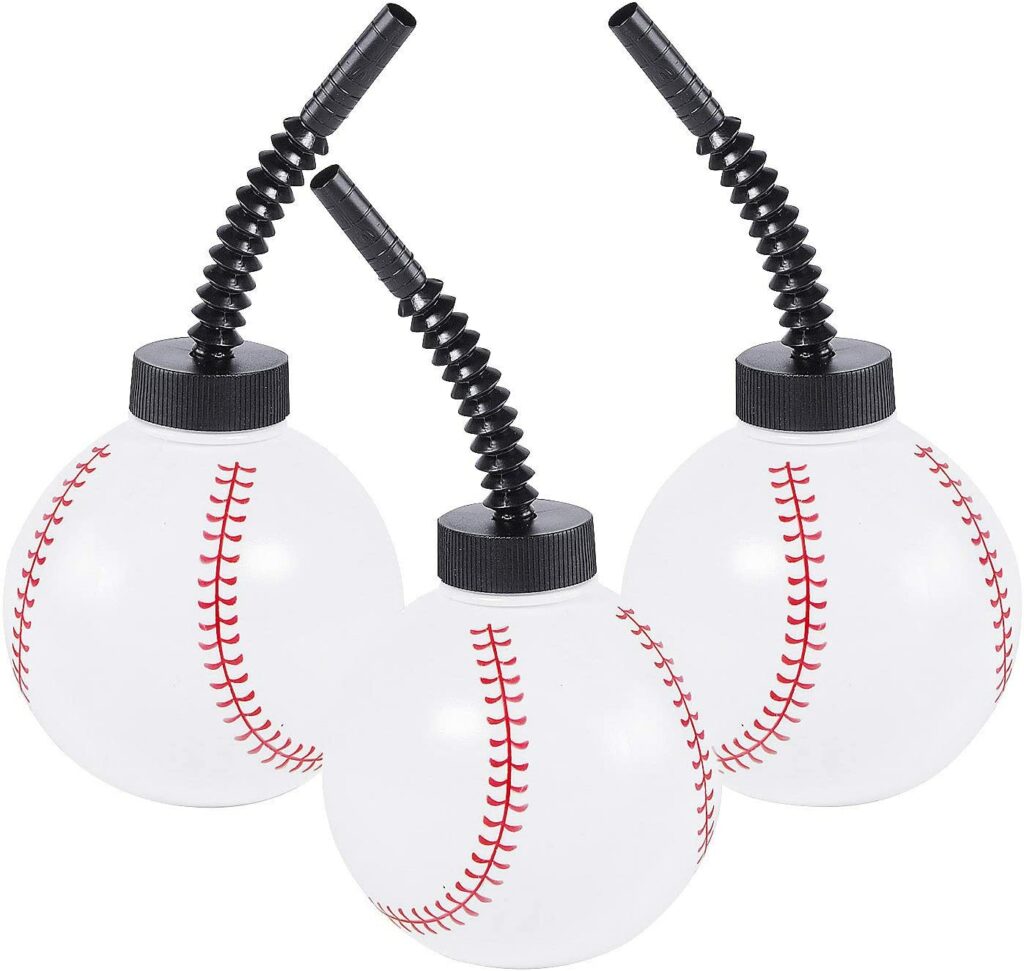 These are arguably more for the tailgating kids, but we had to include them. These cups are round baseballs with a flexi-straw. They are great to give to kids to help avoid spills. They'd also be great for tipsy adults to help avoid spills. Cute, portable, and baseball-themed. What's not to love?
4. Compete To Go Pro With These Backyard Games
Do you have what it takes to make it to the MLB? Give your skills a test with some baseball-themed backyard games. Perfect for the pregame and any downtime, these games will test all of your baseball skills.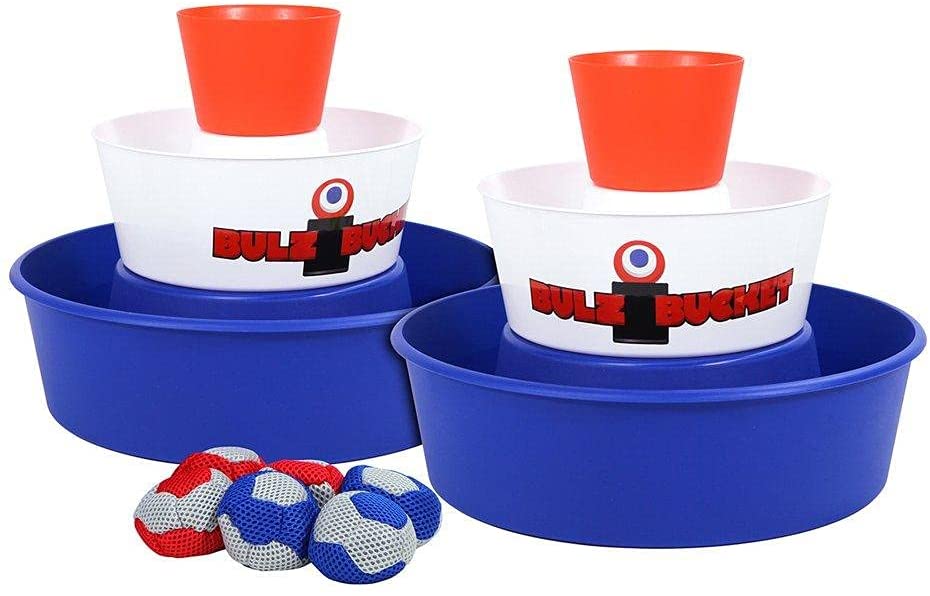 Bulz-i-Bucket is a game that tests your ability to throw. It works a little bit like cornhole where you face off with another player. You'll toss the baseball-shaped sandbags into the buckets for different points. The one with the most points wins.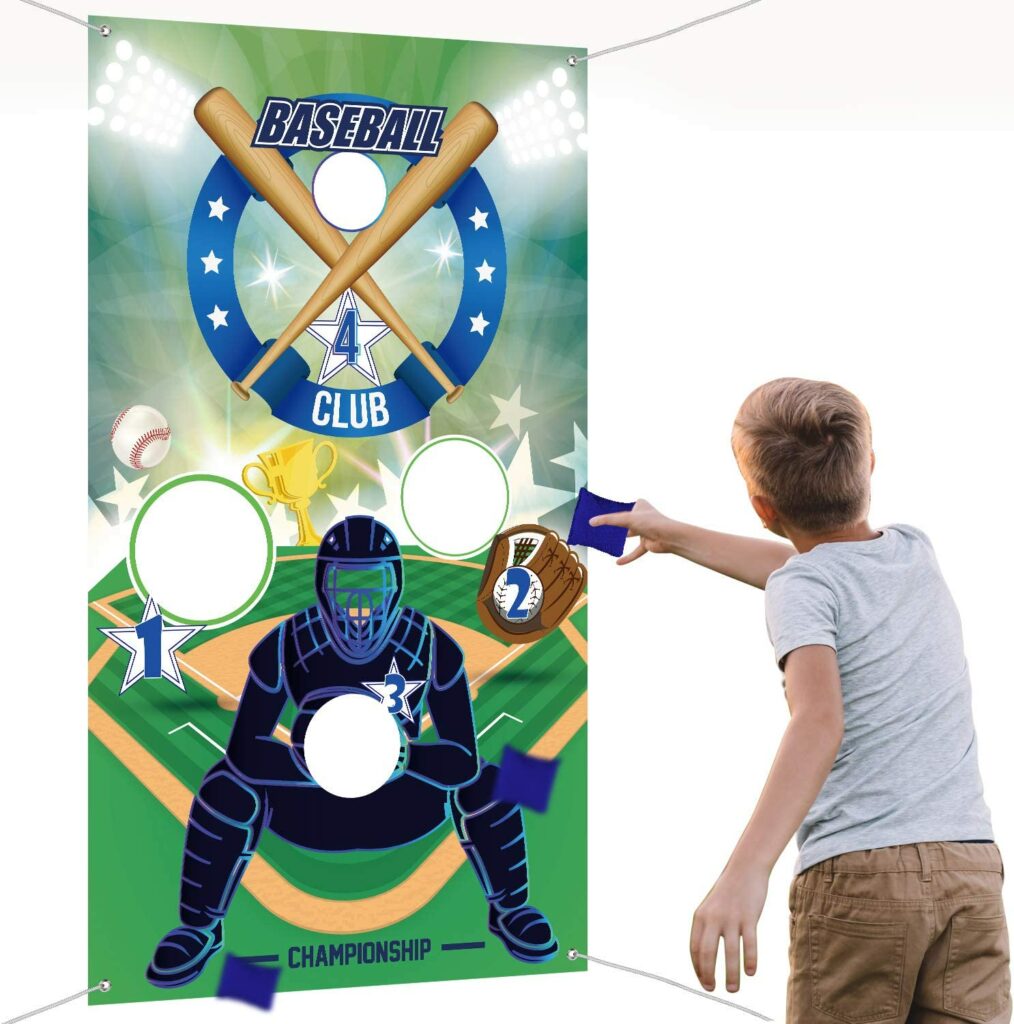 If you really want to test your pitching skills, grab a baseball toss. Baseball toss works like football toss but instead, you use a baseball. You can team up or play one-on-one–the choice is yours. Either way, the winner could be drafted as the next all-star pitcher.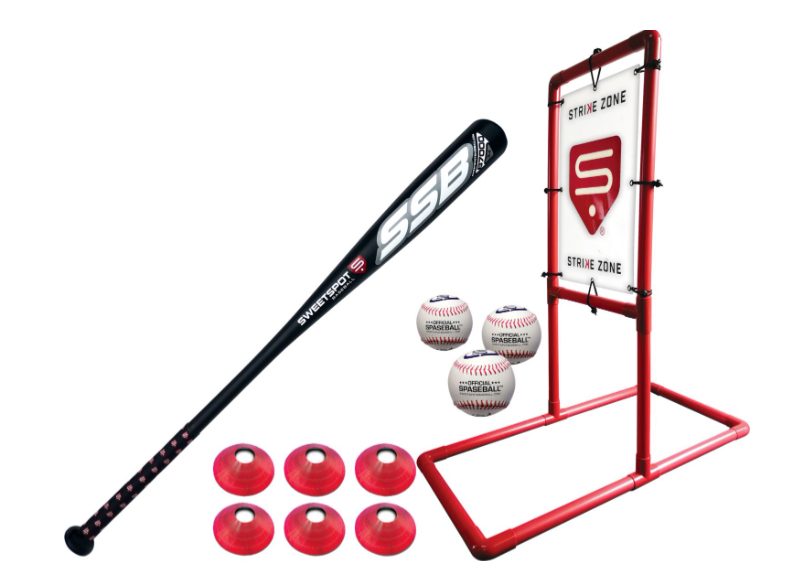 If you're not really a pitcher, but definitely a grand slam hitter, then the Sweet Spot is the perfect backyard game for you. You'll need a bit of space, so keep this one at the back of the lot or in a larger backyard. You'll take turns hitting and see who is the best batter in your tailgating league.
These tailgate party ideas will help you and your tailgating team have even more fun at the MLB All-Stars games. For more tailgate party ideas, check out the "Tips" section of our website.
Be sure to follow us on Facebook, Twitter, Instagram and check out our Amazon Storefront as we feature tons of recipes, games, and decor ideas for any tailgate.
Are you watching the MLB All-Stars Games? Let us know in the comments!