Last Updated on 01/05/2022 by Inside Tailgating
Those of us who take tailgating to another level and treat it as a lifestyle know we need tailgate and homegate accessories. The question is, "Which ones are must-haves?" Answers will probably vary depending on who is asked, but we're going to focus on the very best tailgating equipment today. Then, you'll be able to see for yourself what's essential and what's not.
If any of the best tailgating equipment suits your fancy, pick the products up to enhance gatherings for game or race days, festivals, and more. They could take your tailgate or homegate endeavors to whole new levels. Doesn't that sound nice? There's only one way to find out, though, and that's by giving them a try. Let's see what this list of best tailgating equipment includes.
Hang N Out Tailgating Trash Cans Make Cleanup A Snap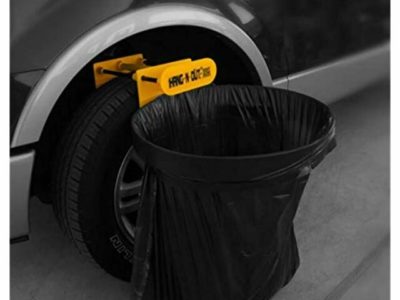 First up, what's the worst part about tailgating? We know there aren't many things, but how about the cleanup? That can be a drag, right? There's the picking up the litter that got strewn about, as well as packing everything up and putting it away. The activities can be tedious and time-consuming, but not anymore, at least not for tailgaters with these products.
Trash bags might be the last thing you think about when packing up for a tailgate, but Hang N Out shows you exactly why they shouldn't be an afterthought. Attach a trash bag holder to your truck, car or SUV tire and the cleanup will take care of itself!! When it comes time to pack up and head into the stadium you will be so far ahead of the game your friends at other tailgates will wonder how you packed up so fast.
And for those who prefer tailgating under tents and canopies, there's the Hang N Out Too. Both are affordable, priced from $36 to $38, easy to use and available at Amazon.com. It's great for using at the beach, camping or any outdoor gathering.
Cover Up With Coleman Canopy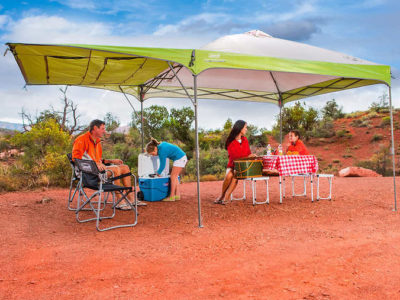 The sun can definitely be a problem while tailgating, particularly if there isn't any shade around. That is why the Coleman 10×10 instant canopy tent is in this master guide. It allows tailgaters to make their own shade, avoid the sun's rays, and keep sunburns at bay. Now that's a winning combination.
I was shopping with my family at Costco a month or so before our summer beach trip when I saw this portable Coleman 10×10 instant canopy tent with a swing wall on sale. We were about to take our twin toddlers to the beach for the first time, one of whom has really fair skin, and I knew having a tent on the beach could be a lifesaver. We decided to give it a try, and I'm happy to report it was a huge hit with our family! Now I have it packed up and ready to pull out again in time for tailgating college football games this fall.
BEACH READY
This Coleman canopy changed the way we spent time on the beach as an entire extended family. Not only did my sons get to stay on the beach for long stretches without Mama worrying like crazy about sun exposure, it provided shade for five or six adults.
The swing wall – which you can fold down to protect from wind and weather, or keep up to shield from sun – gave you that much more coverage. Really hot days in direct sunlight became downright pleasant as we spent time relaxing on the beach in the shade. It felt so good that our boys didn't want to stray far either, which added to the fun for parents!
TRANSPORTING
It did take some effort to get it down to the beach, but by the end of the first day we figured out how to make the transportation and setup easy. The canopy folds up into an easy carrying case so we just put the case on a wagon to pull down to the beach, and we brought a group of two or three adults to set it up. Same with breakdown.
Four people was ideal and made it easy to manage; it's easy enough to do with a large family going down to the beach. (The same will be true for tailgate parties.) Each of the four people take one of the corner poles and either crank it up or break it down, and in a matter of less than a minute the tent was up or down. Drive a couple of stakes in the ground (or out) and the process was all but over.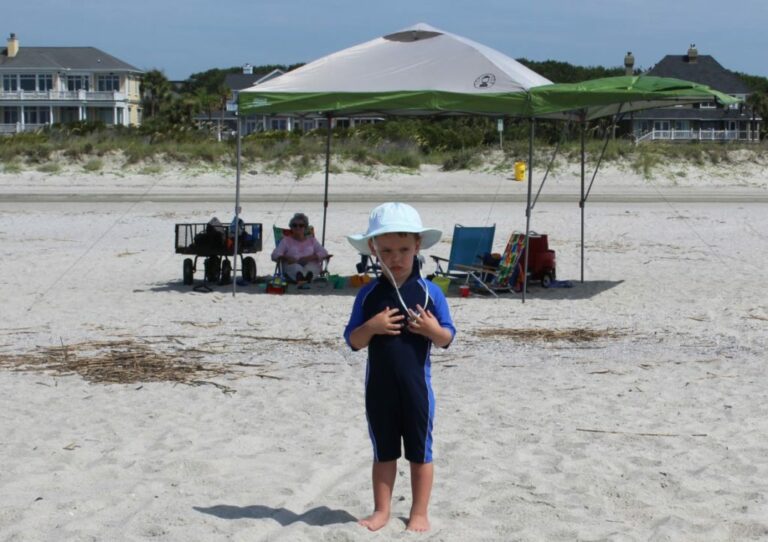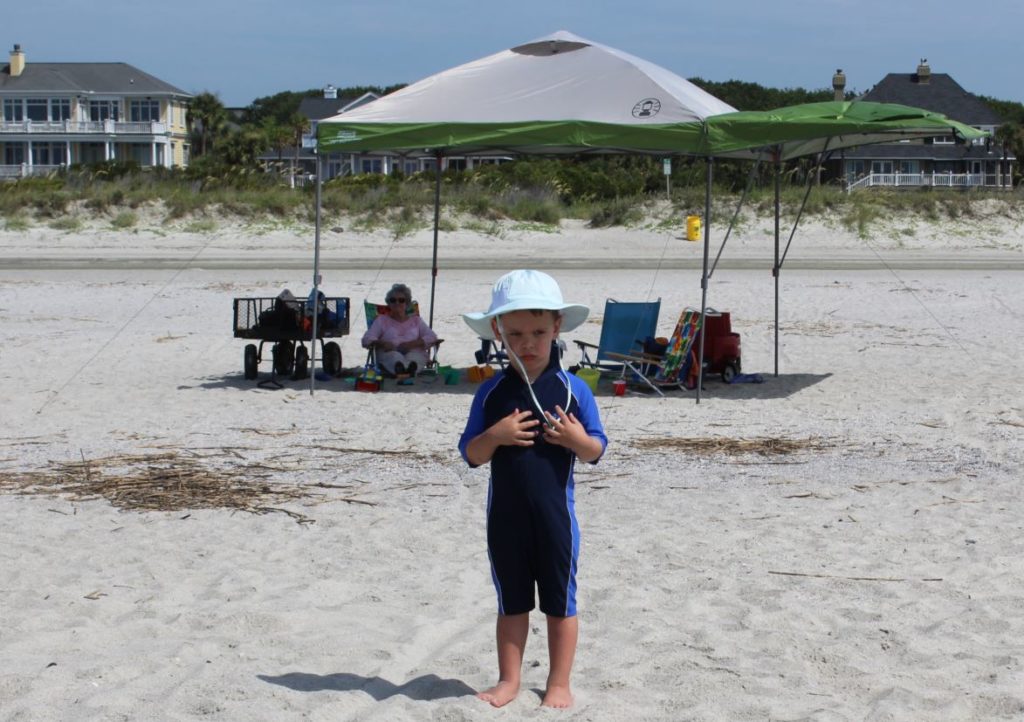 FAMILY FRIENDLY
Different members of our family kept commenting that the tent was our best money spent in a long time. It retails on Costco online for $159.99. We got it in store on sale for closer to $100. Either way, it was well worth it! And with a brand like Coleman we know it's high quality and built to last. I can envision using it for tailgates and beach trips for years! And no, I was not compensated to write about this tent. This is a sheer honest-to-goodness recommendation.
"Party Barge" Beverage Tubs Had Us At Hello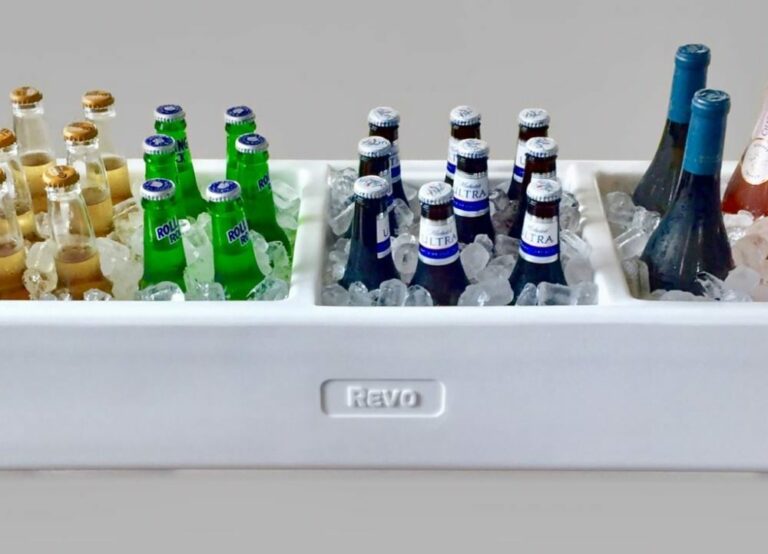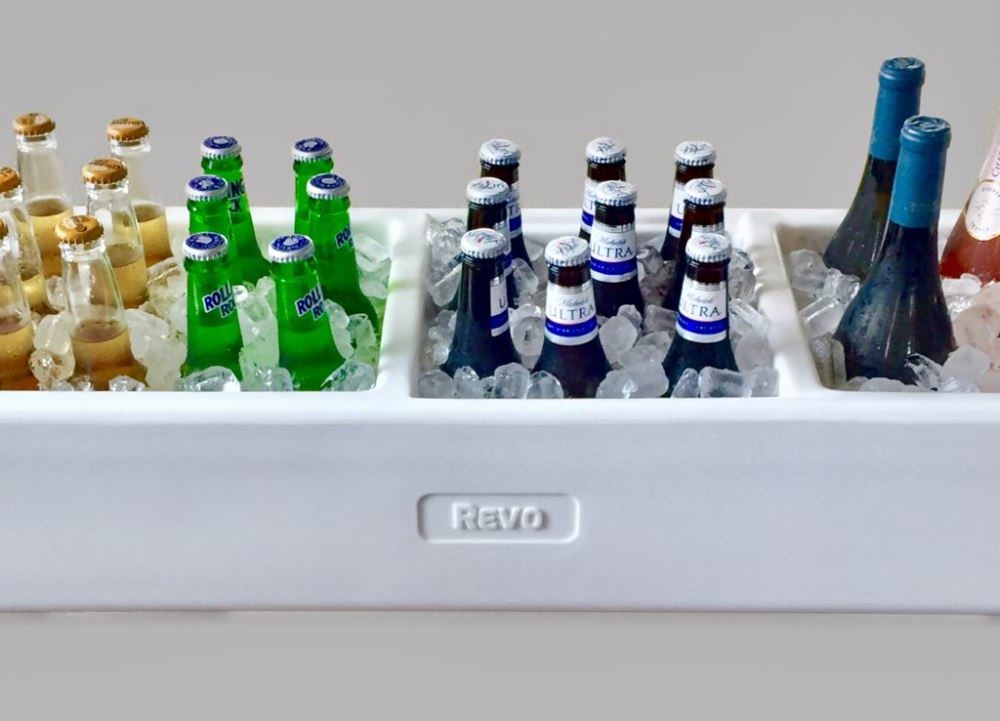 Homegates/tailgates and coolers go hand in hand. The devices are needed to keep beverages and foods nice and cold or warm. However, calling this product just a cooler would be an insult, so we won't. Instead, we'll call it what it is, a Party Barge.
First off, let's get this straight: this product is made by Revo Coolers, but it's way more than a cooler! The Revo Party Barge is a trend-setter, a problem-solver, and a tailgate slam dunk. And its name? Too good. The Party Barge is an insulated beverage tub and mobile bar that you can plant in the middle of a party and watch your guests flock to it. You can ice beer and wine in it, serve food from it, and sit back and marvel at the simplicity of it all.
As many as six insulated compartments give you the versatility to serve hot and cold items right next to each other, so the Party Barge is great for serving hotdogs and beer to the guys on game night or salad and wine to the ladies on girls' night. Or just want mass storage for beverages at your tailgate? Done. It weighs only 14 pounds and is 44 inches long, which makes it easy to pack in the back of the car. If it's a night game, throw in some LED light-up ice cubes from Revo and liven up your tailgate even more.
Amp Up Super Bowl Party With These Speakers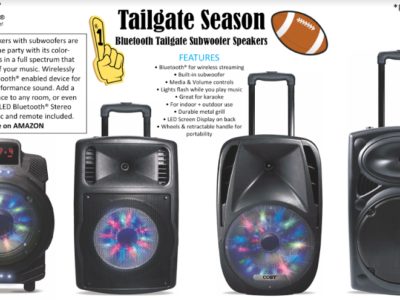 Can you imagine attending a tailgate for the Superbowl, National Championship, or something else and not being able to hear the game? Wouldn't that be terrible? That's why you need this piece of best tailgating equipment. It will ensure that nobody, not you, your friends, or anyone else, misses any sounds.
Super Bowl week is finally here, and you've got six more days to prep for your big party. We've got an idea for a way you can "amp" it up big time – with Coby Mobile Tailgate Subwoofer Bluetooth Speakers! Then once your party is over, you can pack them up and bring them out again for your next tailgating season. You can turn any tailgate scene into an instant party, whether next up for you is NASCAR here in a few weeks, spring training, or spring football.
These indoor/outdoor speakers with built-in subwoofers allow you to connect your streaming music via Bluetooth – no cords, no fuss! – and they have cool multi-colored LED lights that flicker to the beat of the music. Seriously?! Plus, they come complete with wheels and a handle (think carry-on suitcase) which makes taking them on the go super easy.
We're giving these bad boys a thumbs up – anything with "tailgate" in the name gets our attention to begin with. Here are a couple of ways to order them online and still get them in time for Sunday night's game through Amazon or Walmart.
Tailgate N Go Makes Packing For The Game Easy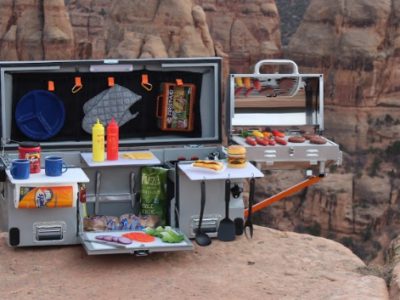 Does the thought of packing for a tailgate make you cringe? If so, you shouldn't feel alone because you aren't the only one. Some tailgaters enjoy the process, but many of us hate it. Does that category fit you to a tee? Yes, then you're in the right place learning about this best tailgating equipment.
A father-and-daughter duo from Colorado has created a way to make packing for – and enjoying – tailgating simple: the Tailgate N Go. Taylor Johnson told Inside Tailgating that she was unpacking cooking supplies on a camping trip to Leon Lake from about six different bags, when her dad asked her, "Where is your chuck box?"
"Chuck box?" she asked." Yeah, the box with all your supplies conveniently in one place," her father explained. From that conversation, the idea for the Tailgate N Go was born. Now six prototypes later they have created the ultimate outdoor kitchen that puts all your cooking necessities in one convenient portable box. It's the perfect companion for tailgating or your next outdoor adventure!
In its base form, the Tailgate N Go is a storage container that allows you to keep cooking utensils and supplies organized, neat and tidy. But then by adding some custom attachments, you can transform a Tailgate N Go into a walk-up kitchenette. The attachments include custom cutting boards, a grill, stove, sink, cooler, and condiment stations – everything a grill master might need. The attachments can be moved around to four different locations on the Tailgate N Go, allowing you to design the cooking station that works best for you.
And when it's time to go, the Tailgate N Go will fold back up and slide easily into the bed of a truck. You can either serve from the Tailgate N Go right off the back of your tailgate or add a swing-out hitch to give you access to both sides. To find out more, go to www.tailgatengo.com.
TOC Box Makes TV-Watching At Tailgates Easy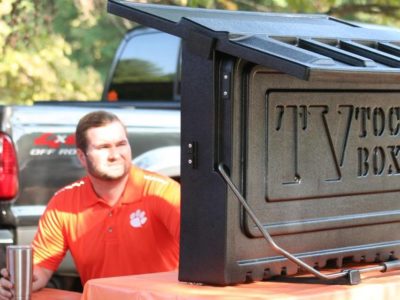 What is a common concern of tailgate hosts? That something is going to happen to their TVs during the events, that's what. Maybe a guest will spill beer on the device, or perhaps a football comes out of nowhere and knocks it from its stand, leaving it shattered and broken. That's why we're discussing the TOC box, and it's time to learn about it.
Some of the best tailgating product ideas come from dedicated tailgaters themselves. They know exactly what you need to make your tailgate a destination for your friends. That's exactly how Theron Pickens came up with his idea for the TV TOC Box – a television outdoor carrier.
Pickens is a Clemson fan who saw a need for something to keep TVs protected and safe at tailgates.
"We attend a lot of the tailgates from Clemson, and just from past experience we knew about the difficulties of having your TV there," Pickens told the Fort Mill Times. "You can drop your TV, or your TV falls. We were just looking for a way to protect your TV."
Pickens, a retired civil engineer, was just awarded a $200,000 grant to increase production and get the word out, as detailed in an article by The State newspaper.
The TV TOC Box, which retails for $299.99 can be used to carry and protect televisions that are up to 43 inches in size. The waterproof carrying case converts to a base, cover and outer frame for the television, which is mounted inside.
These must-have accessories are some of the best tailgating equipment on the market. They'll help you take your tailgates to the next level for you and your friends to enjoy. So, go ahead, get one or more of these products and let the good times roll.