Last Updated on 01/05/2022 by Inside Tailgating
Tailgating pros know the vehicle you choose to tailgate with is everything. Not a vehicle designed for tailgating? That's the real dream. So if you are looking to get a new tailgating vehicle, we've got you covered. We've collected a master list of great tailgating vehicles to check out. Hopefully you'll find the perfect one for your team!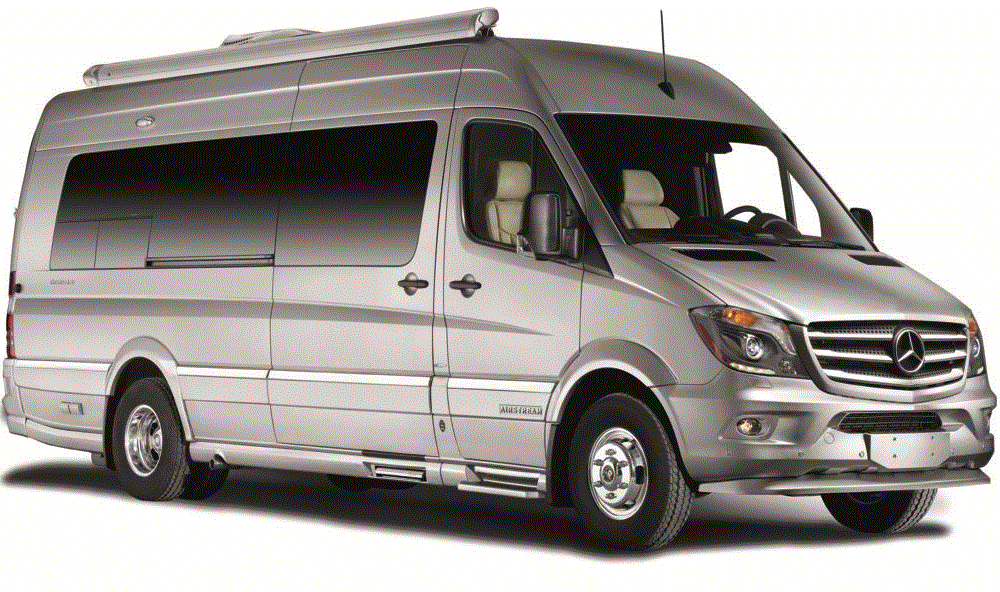 The Best RV For Tailgating
When it comes to tailgating, RVs just make sense. They are fully equipped with everything you need from a kitchen to a bathroom to even a place to get out of the heat. 
Each year the tailgating pros here at Inside Tailgating choose a "Tailgating RV" top ten list for our readers – for everybody from serious buyers hoping to narrow down their RV hunt to those who just want to do a little internet window shopping.
Drum …..Roll…..Please.
The No. 1 choice is the Airstream Interstate Lounge EXT….It packs a lot of punch as an eight-passenger vehicle that drives like a van, but offers so much more. Here's our take on why it's No. 1.
Truthfully, any one of the vehicles listed in the Tailgating RV Top 5 could be number 1 in any given year. It all comes down to personal preferences and budget. What makes the Class B LOUNGE  Number 1? It balances size, luxury, space and features in a vehicle that can fit into any tailgating lot, driveway or downtown parking lot.
The maneuverability and flexibility make it the top choice for the bulk of the tailgating community. This vehicle is like flying first class with 8 of your closest friends. When you arrive at your final destination you may not want to leave. It is a stadium's worst nightmare. Multiple TVs, Kitchen, Bathroom, and a large automatic awning allow you to always tailgate in style and comfort wherever you go. You may just want to live in the LOUNGE  and sell your house. airstream.com
Five Of The Coolest Tailgating Vehicles We've Ever Seen
One thing you can say about seasoned tailgaters is we are really creative. There's no better place to see this creativity than in our tailgating vehicles.
Cruising the parking lots at last weekend's Carolina Panthers home opener against the 49ers at Bank of America Stadium, I got a glimpse of some pretty innovative tailgating vehicles – whether it was the "Panther Party" going on from the back of an converted ambulance painted Panther blue or the tailgating taxi I saw. Who needs a yellow cab? Electric blue is the way to go. It got me to thinking about just how many crazy and innovative tailgating vehicles there are cruising lots around the country. So here's our list of the top 5 coolest sets of wheels.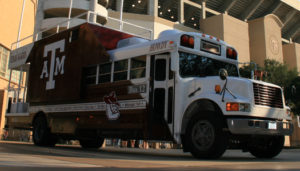 5. The standard school bus. Who needs an RV when you can reminisce about grade school while chowing down on chicken in the back of a converted school bus? No AC needed. That would ruin the effect. Bonus points to those who add a sun porch like this one for some Texas A & M fans.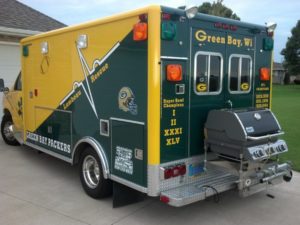 4. Ambulance. Kudos to the Carolina Panthers fans who planted this seed in my head. But for the sake of geographic variety, I'm going to feature this sweet ride from some Green Bay Packers fans, complete with hitch-mounted Weber grill.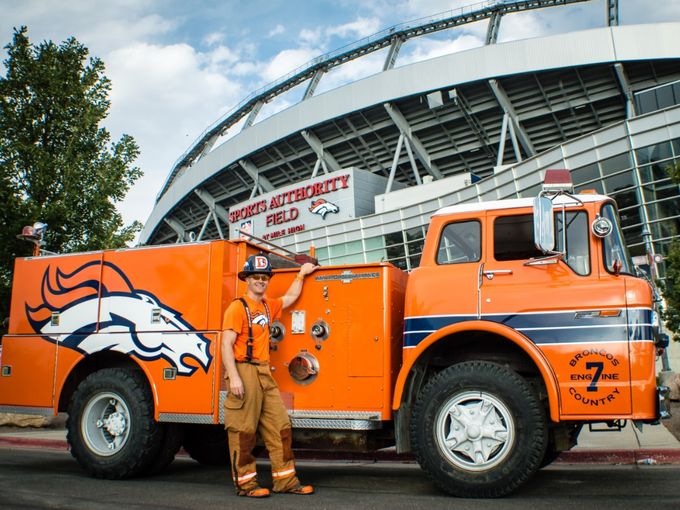 3. Firetruck. For the 3-year-old kid in all of us, this Denver Broncos fan and Fort Collins firefighter captured our fascination with fire trucks while giving his buddies in Denver the coolest tailgate hangout around. The only downside? He isn't driving it to the Southeast and hosing down all the football fans still waiting for fall to arrive. It's hot!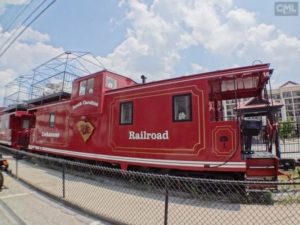 2. Caboose. Sorry, Clemson, this list would not be complete without mention of the South Carolina Cockaboose phenomenon, the brainchild of developer Ed Robinsonwho converted two dozen cabooses into tailgating lore back in 1990.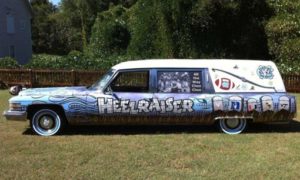 1. Hearse. Sure it's morbid, and a little creepy, but if you can pull off driving a hearse into your team's tailgating lot, ala Ecto-1 from the movie Ghostbusters, you've got some serious personality. That goes for you too, John Snipes, the University of North Carolina fan who drove the UNC "Heelraiser."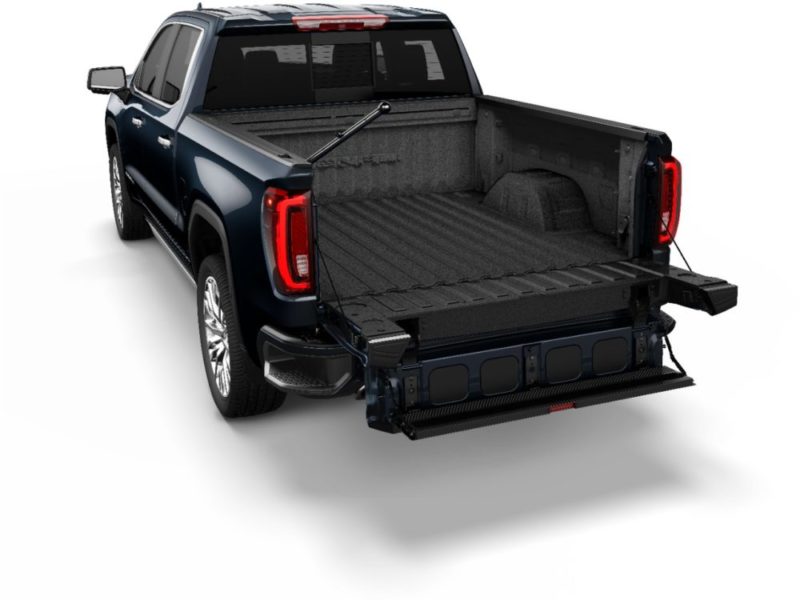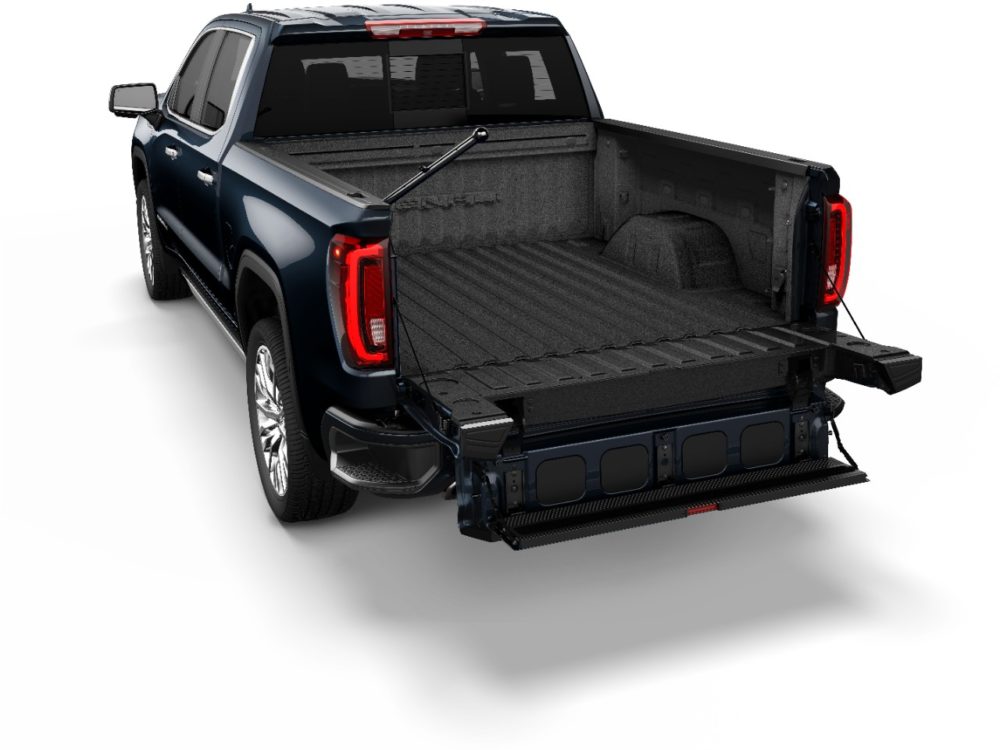 The GMC Sierra: The Ultimate Truck For Tailgating Pros
We're also on the lookout for the perfect vehicle that works for both your daily commute and as a tailgating vehicle. We definitely found a great one!
Pickup trucks and tailgating were already the perfect match, but GMC has taken it to a new level. When a team of GMC engineers designed the new 2019 GMC Sierra with a MultiPro tailgate – the most versatile of its kind on the market – they were playing right into the hands of men and women who love to use their truck for …..tailgating!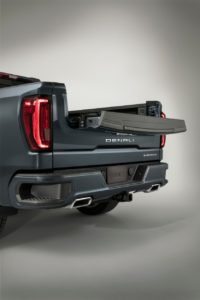 The MultiPro tailgate can be used in six different configurations, which give owners not only easier and better access to what they're hauling but creative and useful ways to use the tailgate surface at the next NASCAR race, music festival or football game.
The tailgate folds down into a step that is nearly the full width of the truck bed, so owners can climb up for easy access to loading and unloading gear or just fold the step down and use the tailgate panel as a bench for sitting and socializing with guests. The step can support up to 375 pounds and the bench is spacious enough for two adults to sit comfortably.
The tailgate will also fold down into a ready-made work – or serving – surface – in the configuration GMC calls "Inner Gate with Load Stop." Why bring an extra table when you can fold down the tailgate and rest drinks and a tray of burgers right there on the back of your truck?
The tailgate comes with a 120-volt power outlet, which is great for setting up a TV for the pregame show. The truck also has a cool new accessory, available at an additional cost: a Kicker Audio system that can be installed in the inner gate panel. The 100-watt system includes water proof speakers, two four-inch coaxial drivers, a compact amplifier and Bluetooth connectivity.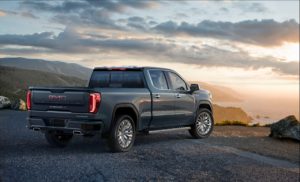 The speakers run on a low-energy draw which is independent of the truck's audio system, so owners can play music for hours without leaving the motor running.
"When our team identified the possibility of the MultiPro tailgate, we seized on the opportunity to bring more purposeful innovation to our owner experience," said GMC spokesman Fred Ligouri.
GMC is proud of its new design, which is obvious in its TV ads that launched during the NFL playoffs. "The Anthem" ad features competing truck owners dismantling and carrying their tailgates toward a mountain where a GMC Sierra owner tall in the back of his truck, having climbed up its convenient step. "The tailgate to end all tailgates," is its slogan.
The MultiPro tailgate comes standard in the 2019 GMC Sierra in the Denalit, AT4 and SLT trims and on the GMC Sierra, both in the light and heavy duty models.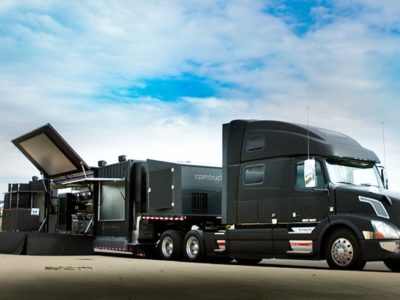 Check Out The Ultimate Tailgating Vehicle: T.R.U.C.K
When we dream of our ideal tailgating vehicle, we're not afraid to dream big. We imagine a vehicle that is fully souped and ready to hit the road for any game.
There is no better time to give our Inside Tailgating website readers a glimpse at T.R.U.C.K. – the ultimate tailgating vehicle which we featured in our Fall/Winter magazine. This is an 18-wheel truck that transforms into two competition kitchens worthy of any prime time Food Network show. It's versatile enough to use at a food festival, a once-in-a-lifetime wedding, or one heck of a Super Bowl tailgate.
Whether this is your first tailgating vehicle or you're looking to upgrade your current ride, we're sure you'll find some great inspiration here. For more tips from our tailgating pros, sign up for our newsletter and follow us on Facebook, Twitter, and Instagram. We offer tons of great advice, tips, and product recommendations to help you become a master tailgater.