Last Updated on 07/08/2021 by Inside Tailgating
This article appeared in the fall edition of Inside Tailgating magazine. You can access the magazine in its entirety for free by registering here.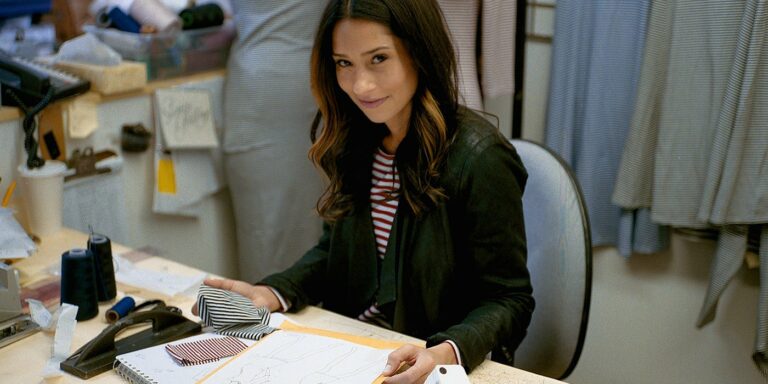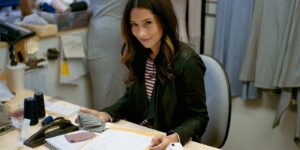 Kristin Celano (left) is a self-taught fashion designer, entrepreneur and most importantly, a Florida Gator. Those three passions inspired the Sarasota, Fla. native and now transplant New Yorker to create a fashion line geared toward women who want to dress for their favorite sporting events without feeling frumpy.
Celano has managed to do the unimaginable – bring fashion to the field, by creating high quality but wearable clothes that work on game day, date night or into the work week. The looks are based on your favorite team's colors, not on gaudy logos, so you can wear one of JaneHudson's swing dresses or T-shirt dresses to the game and everybody will know who you're pulling for, but you can put on a cardigan and heels and slip seamlessly into a night out. To check out sports team-inspired color combinations you won't find at the department store and with the designer look you won't find at a fan apparel store, go to www.JaneHudson.us.
The name JaneHudson is inspired by the apartment where Celano lived at the intersection of Jane Street and Hudson Street in New York's West Village, when she decided to launch her own brand in 2016. "JaneHudson sits at the intersection of spirit and style," reads her website, harkening back to her background in media and marketing.
Celano spoke to Inside Tailgating's Carroll Walton recently about how she came up with the idea for her line and about the need she's working to fill for female fans who want higher fashion in tailgating lots and in the stands.
Q. How did you get the idea for this fashion line?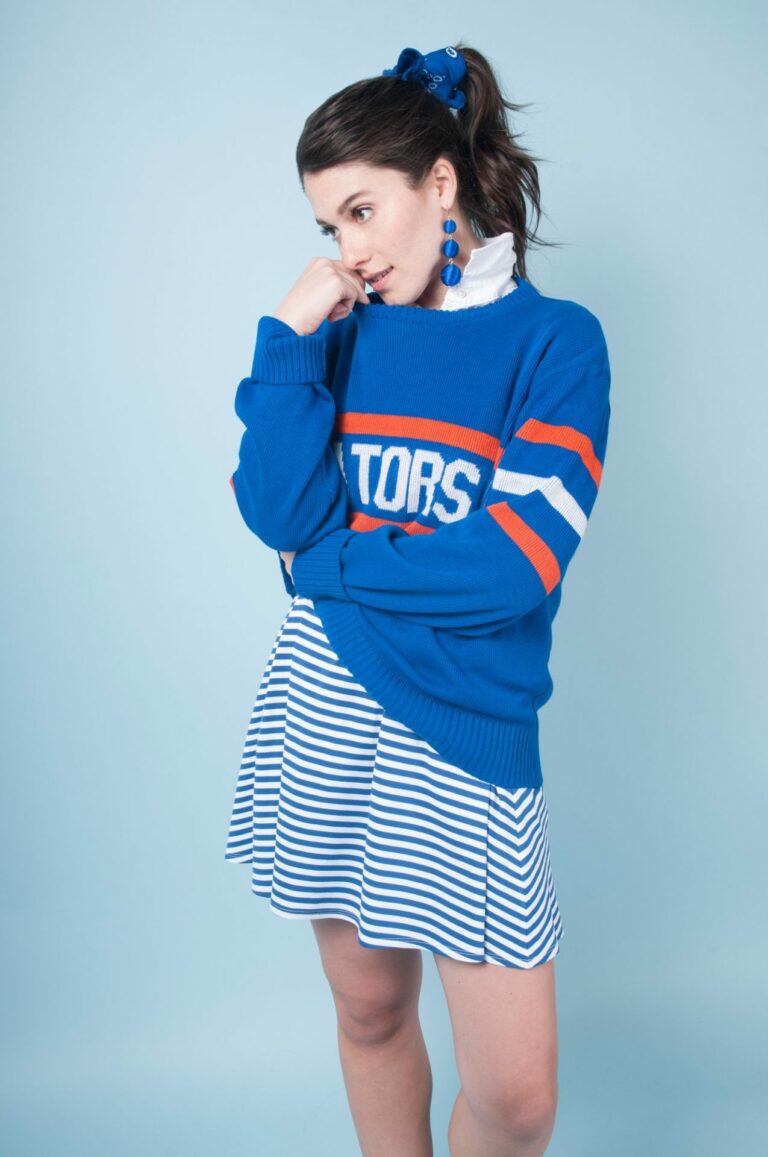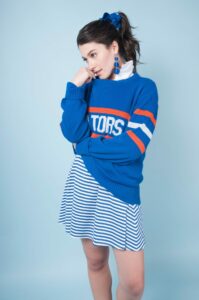 A. I went to the University of Florida, and that's where this whole idea started. At these universities, you start building that loyalty and sense of camaraderie and sense of being aligned with a team and school and colors and spirit. When you graduate, it's not something that leaves you. You're an alum for the rest of your life. That's what you find joy in and what you support. For me, my experience was such a positive exciting experience that it carried into after I graduated. Every year my girlfriends and I would always descend on Gainesville. We would choose a weekend, and we would spend the money on plane tickets and hotel and the game tickets. Where I found myself struggling – and also after informal polling of friends and family, found that other women that are fans did as well – was finding looks that were, in our case, orange and blue. That's a pretty tough colorway. If (the Gators) were navy and red, I'm not sure I'd be here right now.
Q. When did you graduate?
A. I graduated from Florida in 2004. Florida was really good right after I left. That's when we had the (quarterback Tim) Tebow years. I did have one year of (Steve) Spurrier (as coach) which was great. They won two national championships (in 2007 and 2009) after I left. I moved south to Tampa, Fla. for two or three years, and then I moved up to New York. I've been in New York for a little over 10 years now. It was one of those "I'll move up here for a few years and then I'll move back down south." I'm a Southerner at heart but have stuck around. I met my husband. This is where we are now. Basically I started a career in marketing and digital communications and branding and worked at large digital companies like AOL and Yahoo and Gill Group. I built a decent career for myself here and then really had this feeling in the back of my mind, kind of an itch, like there's something I want to do for myself, but it's got to be a really good idea and I wonder what this looks like.
Q. So that itch became fashion for sports fans?
A. For years I would run into the same struggle of how do I support my team. How do I do it if I'm in New York and I have to go to dinner afterwards but I don't want to wear a logo T or a jersey? How can I elevate this, but still look like I'm a Gator fan when I'm supporting the Gators that day? I did a bunch of competitive research and realized no one was doing this in an elevated way. I polled more family and friends and then decided to go for it. I worked tirelessly at night and on weekends and early in the morning having my day job and brought it as far as I could where I was producing stuff, all self-taught and basically got it as far off the ground as possible. I resigned from my career on a Monday and then I launched JaneHudson officially on a Friday. I've made a million mistakes, but I've also learned a ton. We produce everything in the garment district in New York, which is really cool.
Q. So did people in the fashion industry scoff at your idea?
A. I've gotten taken seriously for the most part. Living in New York is really unique because you have a lot of New England schools where there is not this whole idea of this tailgate experience or this game day experience like we have in the south. (A lot of people here are) more professionally sports driven, which is fine because we talk about a spirit color story on purpose so that does parlay into professional sports, but really the collegiate is the bread and butter and where our focus is. I think people who get it are like "That's genius!" which is great to hear. Now I've just got to amplify what we're doing so many people get that awareness to keep propelling us forward.
Q. It can be challenging to find fan apparel that is feminine and has a flattering fit. Have you identified a need there?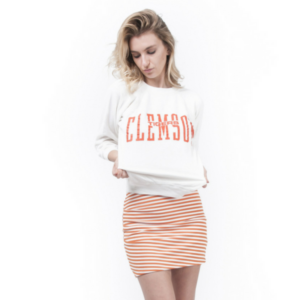 A. Yes, absolutely. I think the fit is super important. It took us a long time to get the right fit so it can fit a lot of different body styles. We use amazing fabrics that are all made in the USA. That don't pill, shrink or fade. It's something you can wear season after season, so it's a better product overall which is really nice. I went to a national collegiate store's convention in April this year and spoke with a lot of these buyers first hand. They're all understanding now that women are actually looking for stuff that isn't overly emblematic, that doesn't have a giant logo on it, and they're starting to tailor what they carry in their storefronts to meet this kind of demand. So it's happening and they're realizing it which is fantastic for us. But the options have been historically so limited when it comes to your team colors. We're about to launch purple and gold for LSU, or purple in general, which is great. We have the bright orange which is going to cover Tennessee and Clemson. We're really trying to cater to these different universities that have these massive alumni networks and undergrads and give them options to elevate what they want to wear to the games.
Q. You sell clothing based on those color combinations but on your website you also have some cool vintage pieces with more subtle logos. Was your idea always to sell a mix of both?
A. I was actually sourcing a lot of really cool vintage sweatshirts and pullovers and scarves for my different photo shoots. I wanted to drive home, "Look, you style it this way, you're going to a game. You style it this way, you can go out on date night on a Saturday night." I was getting a lot of feedback from customers saying, "I want to buy the entire look." (So now) they can buy a JaneHudson piece and this one of a kind vintage piece and get 20 percent off.
Q. Speaking of cost, customers who spent $72 to $125 on one of your dresses isn't going to want to just wear them to four football games a year. Was that part of your motivation in creating such versatile pieces?
A. 100 percent. It was a very thoughtful price point because it's an expensive fabric but it is something that's more versatile and will last you longer than the other stuff in the market. Everything I was seeing in the category just wasn't made of quality stuff. For me personally, if I was going to embark on this, I had to be so proud of the end product. It took me two years to source the fabric. Each time I thought I found it, I would create a sample and wear it to work one day just to test it out. It would pill after the first wear. I thought, "I can't sell this. This isn't my fabric." It had to be season after season. I still wear some of my samples I created three, four years ago. They don't pill, shrink or fade because it's a really nice fabric quality. It's actually the same fabric quality as Eileen Fisher and Mara Hoffman, which are the really elevated brands.
Q. Are the styles you chose targeting the girl in the South? Something the girl in Minnesota can layer? How do you decide which shapes to use? Who are you dressing?
A. I have customers at every age range. I have customers who trend younger that are current college students, and I've sold dresses to women in their 70s. We have swing styles which go sometimes trend a little older because it's not all that form-fitted. It's got a nice deep pocket to it. It's very comfortable. It's easy to throw on and go. My focus right now is that Southern area: Florida and Georgia and Tennessee and Texas and Louisiana and Mississippi because they do have those warmer climates year round. We're working now on creating more options for cooler weather states, but everything is meant to be layered where you need it and how you want to style it dependent on the weather.
Q. How has the response been?
A. The response has been really great. It's funny I was reading something to my husband last night that I got through our customer service channel. The woman said, "I'm trying to get an orange skirt, but my husband so kindly pointed out to me that it looks like it's a Texas orange and not a Tennessee orange. I just can't commit this faux pas at the games, and he's very concerned about it. I absolutely love your line, so I need you to help me navigate what color and what you think I should order." It's great when I read that stuff. It makes me so happy because this is what we're looking to do and solve.