Last Updated on 04/15/2021 by Inside Tailgating
The 2016 Sports Licensing and Tailgate Show featured some old and a lot of new faces to Inside Tailgating. It addition to the Show, it was a great week-end to be in Vegas where Cam Newton Dabs were generously given out at the sportsbook on NFL Championship Sunday. Those Dabs may have been performed by the artist formerly known as LilBig, but those details cannot be confirmed at this time – apologies to our new friend CJ that dropped 5 Dimes on the Cards – he could have invented a new tailgate product with that money! How Unfortunate!
Equally unfortunate, was the number of non licensed tailgating related products at the show. The tailgating portion was definitely smaller and less emphasized than in years past. However, the first time entrepreneurs that did the show up were passionate and excited to share their ideas and new products to anyone that would listen. We listened to many and enjoyed what they had to offer. In honor of CJ and in hoping that good Tailgate Show karma comes around for everyone, we narrowed the list down to five initial non licensed products to highlight in our first review of SLTS 2016.
1 – Bistro Bar: www.bistro-bar.com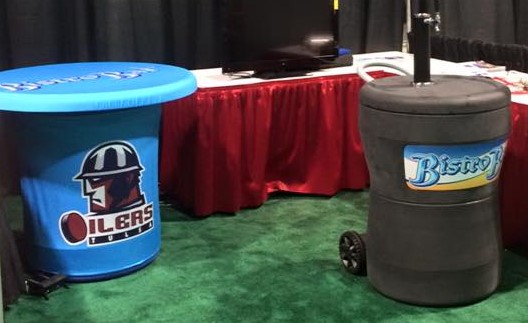 The Bistro Bar is a mobile draft beer delivery system, or in our terms, a cross between a Kegerator and a Keg Bucket. There are several different attributes that make this Bistro Bar a potential big win the market where tailgaters are constantly trying to figure ways to improve upon tapping kegs in the lots. One favorite feature is the foot pedal option that allows you to pump with your feet rather than your hands. Does anyone have any awkward keg pumping moments or accidents to share? Tell us or them or both. We will go into more detail about the product and these guys in the future. Check them out at www.bistro-bar.com
2 – Big Kat Buggy: www.bigkatbuggy.com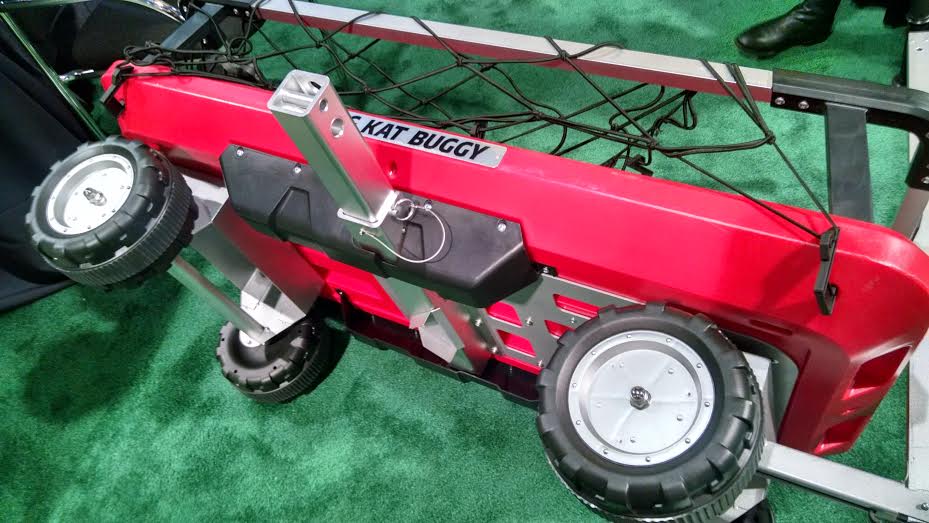 While the kids little red wagon always seems like a great idea the night before when trying to figure out how to hall of the items to the tailgate party location, that experience usually ends with accident somewhere along the way. Now the Big Kat Buggy can come to the rescue to prevent some epic tailgate fails. It has all terrain wheels, cargo net and umbrella / flag pole holder to help you stay organized and prevent accidents – dumb people riding in it after beers excluded. Best of all, it attaches to your hitch. This makes it a much more functional cargo carrier for your tailgating needs. Check out Big Kat Buggy for more information.
3 – Sporthole Games: www.sportholegames.com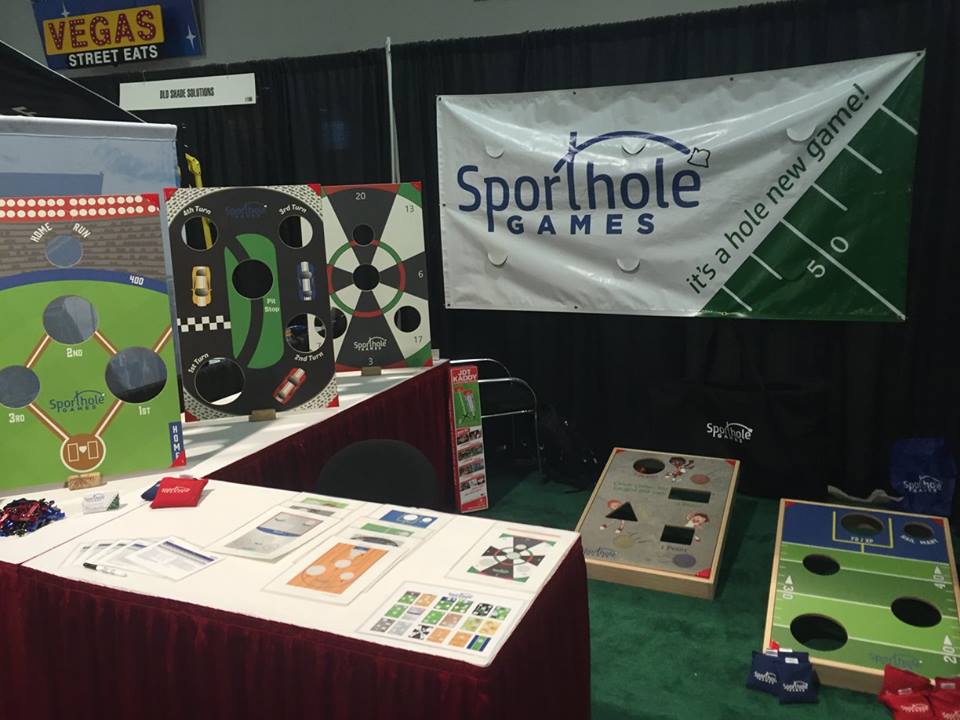 To say that cornhole dominates games played at tailgates would be an understatement. However, variety is the spice of life and there is never a shortage of cool ideas each year on new tailgating games. If you are someone that likes to play a lot of different games but does't want to pack them all, then a Sporthole Games system might be just right for you. It is a tailgate size (3′ x 2′) cornhole board frame with panel inserts that are based on sports recreational sports. All game variations are played with the bean bags and the boards can flip over to provide two different games per board. Visit the Sporthole Games website to find the versions you want to play.
4 – DoubleUp: www.doubleupcancooler.com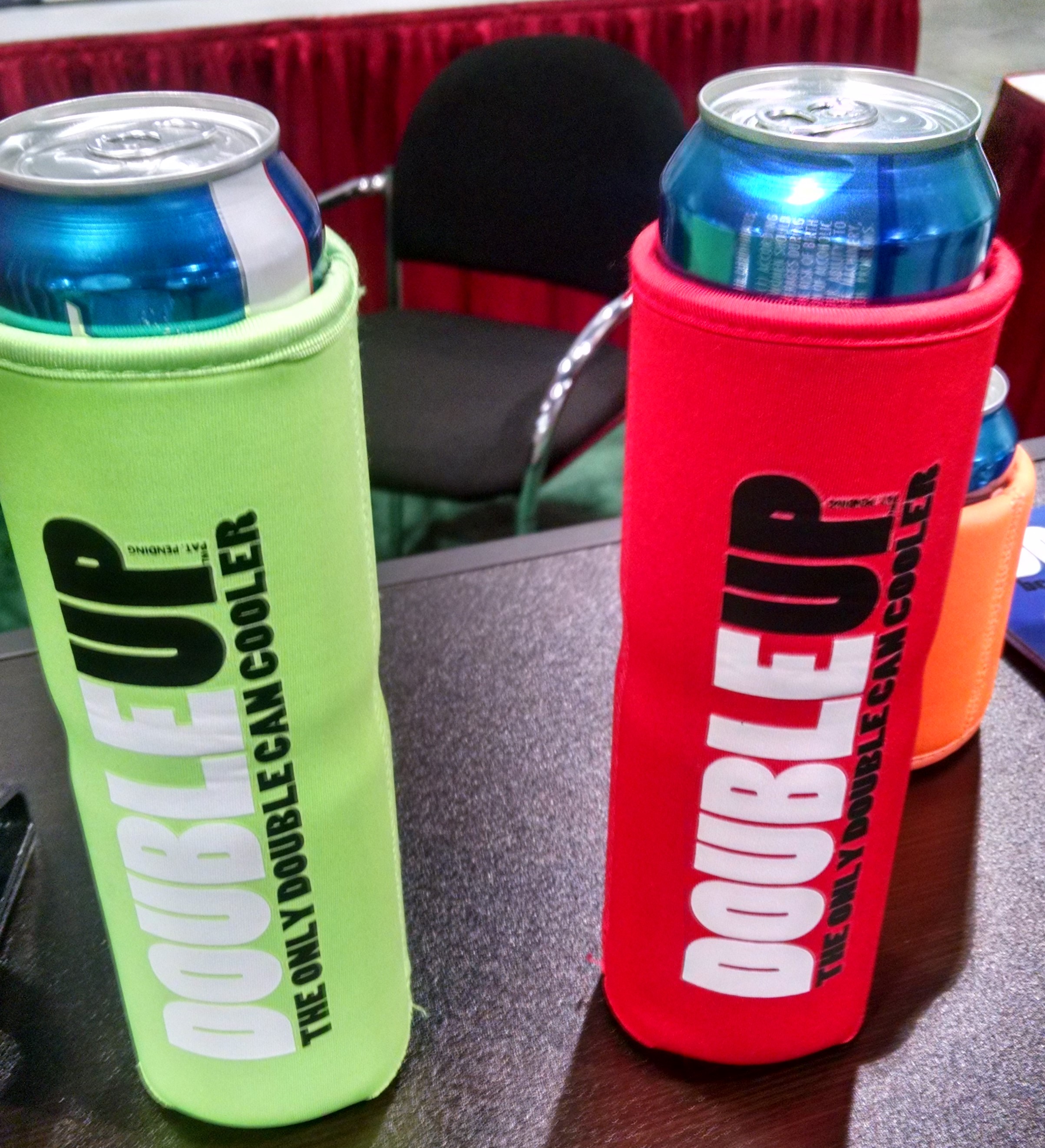 What is better than having a beer at a tailgate? Being able to have two beers at a tailgate without having to go back to the cooler or ask a friend to throw you one. The DoubleUp Can Cooler is simple and beautiful. There is not much explanation needed. Just go get one at DoubleUp website.
5 – Hang N Out: www.hangnout.com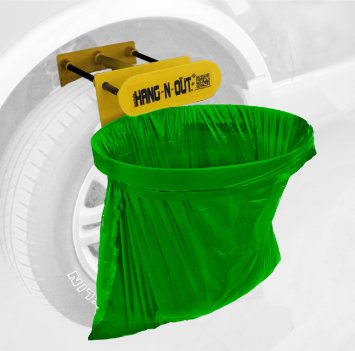 When everyone is hanging out tailgating they are usually generating a lot of trash. Using the Hang N Out over the tire trash system will allow your tailgate hangouts to be more enjoyable. Trash is never a fun item to deal with at tailgates and this system will allow you to put your trash collection area in somewhere that is convenient yet not unsightly. They have unveiled a system that will allow you to attach it to a tent pole as well.
Want to know about some more items that were unveiled at the show? Let us know if you want to hear about the licensed fashion coming your way for 2016 or more cool products that can help you tailgate better! We will have a full spread of items from the show in the next issue of Inside Tailgating Magazine.