Tennis isn't a sport that people normally think about tailgating. However, many courts do allow and encourage tailgating among fans. One of the biggest tennis tournaments of the year is about to happen. Wimbledon is slated to start on June 28th. Although many of us won't be making it across the pond to London where Wimbledon happens, we can host a great homegate or tailgate at our next local tennis tournament. Here are some tailgating party ideas that are perfect for tennis tailgating whether out at the courts or at home.
1. Fry Up Some Fish And Chips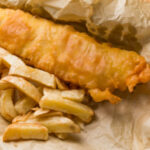 Print Recipe
British Fish and Chips
Ingredients
1

Cup

All-Purpose Flour

1

Tsp

Baking Powder

1

Tsp

Salt

1 1/4

Cups

Light Beer *Very cold

Extra Flour For Dredging, chilled

1 1/2

Lbs

Fresh Cod, Haddock, or Halibut

Oil For Frying

4

Large

Russet Potatoes

Salt For Sprinkling

Quality British Malt Vinegar
Instructions
For the Chips: Heat the oven to 200 F.

Heat the oil in a deep fryer or a large heavy pan or Dutch oven until the temperature reaches over high heat until it reaches 325 degrees F (I use this instant read thermometer).

Thoroughly drain the sliced potatoes and blot them with paper towels to remove excess water. Once the oil is 325 F carefully fry the potatoes in small batches to avoid overcrowding and fry for 2-3 minutes until pale and softened. Use a slotted spoon to remove them from the oil and let them cool to room temperature.

Increase the temperature to 375 degrees F. Carefully add the fries again, frying in small batches, until they are golden brown and crispy, another 2-3 minutes. Remove with a slotted spoon, place them on a baking sheet or roasting rack, sprinkle with salt while they're still very hot, and place them in the warmed oven while you're frying the fish.

For the Fish: Combine the flour, baking powder and salt in a large flat bowl. Pour in the cold beer and whisk until smooth (use the batter immediately, do not let it rest for a while). In another large flat bowl add some extra flour for dredging.

Blot the fish with paper towels to remove excess moisture. Thoroughly dredge all sides of the fish in the flour and shake off the excess.

Dip the fish into the beer batter to thoroughly coat all sides, allowing some of the excess batter to drip off (but not too much!)

For Frying the Fish: You can either use a deep fryer or you can use a medium-sized skillet and fill it with oil to a depth of about an inch.

Heat the oil to between 350 F and 375 F, using a candy thermometer. Carefully drop the fish into the oil.

Fry the fish in the deep fryer for 5-8 minutes or until nicely golden. If using a frying pan fry the fish for about 2 minutes on each side or until nicely golden. Remove the fish with a slotted spoon, letting the oil drop off, then place the fried fish on paper towels for a few seconds and serve immediately. (If you wait too long to serve the batter will lose its crispiness.)

Serve with the chips, a sprinkling of quality British malt vinegar and if desired a serving of authentic British Mushy Peas (click link for recipe). Though not traditional in the UK, you can also eat the fish with the BEST Homemade Tartar Sauce.
Fish and chips is a staple food at most British events. It's no different at Wimbledon. Fish and chips is essentially a batter fried white fish like cod served with a side of thick cut french fries. There's a ton of great recipes online for fish and chips like this one from The Daring Gourmet that's rated five stars. However, you can fry up your fish in a beer batter, with cajun seasoning, or however you like to make your fish. Just make sure you serve it up with plenty of malt vinegar and tartar sauce to keep it authentic.
2. Make Some Tea Sandwiches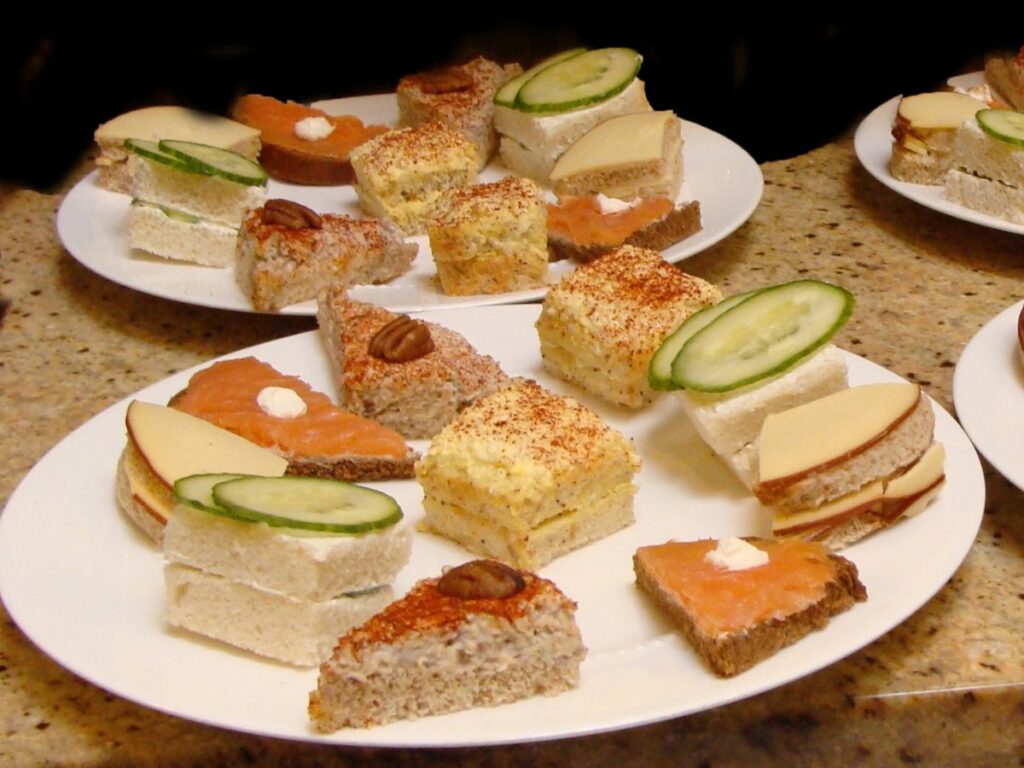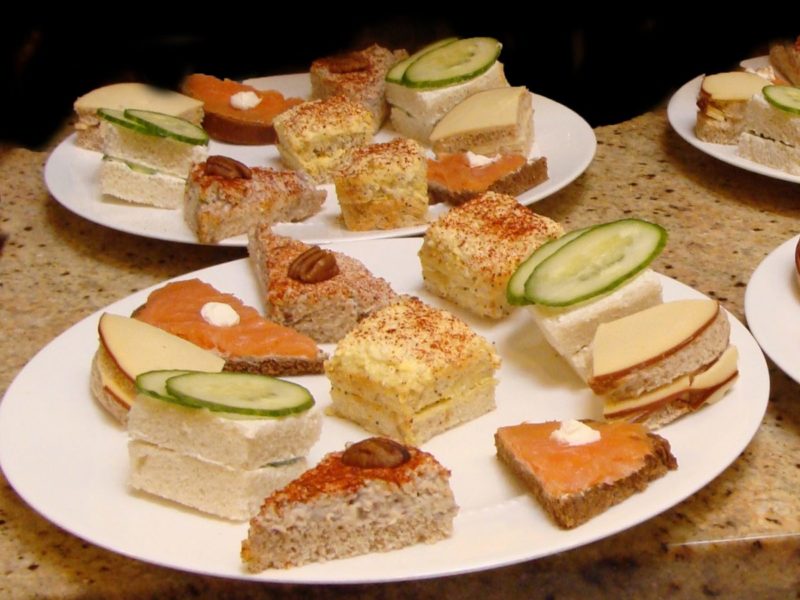 Tea sandwiches are a classic fare served at Wimbledon. You can make traditional tea sandwiches like these great options from Food Network. These sandwiches are lighter and are great to serve as appetizers. However, if you're looking for something heartier to feed your crowd, you can also make sliders or cut up a favorite sub. We recommend just having a variety of delicious sandwiches to meet everyone's tastes.
3. Serve Strawberries And Cream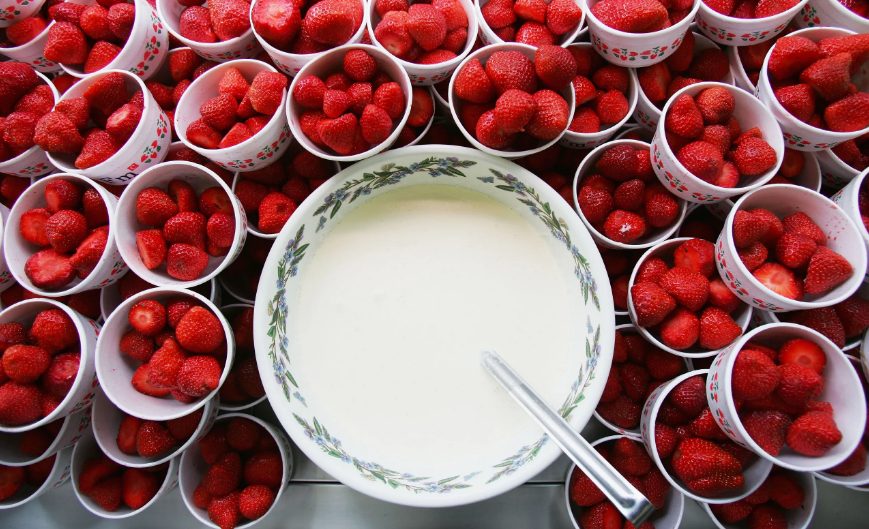 Perhaps the most classic food served at Wimbledon is strawberries. Wimbledon happens at peak strawberry season, so for decades this has been the most famous Wimbledon food. In fact, they've been serving strawberries and cream from the Hugh Lowe Farm in Kent for over 200 years. When you're out shopping for your tennis tailgate, grab a couple of packs of fresh strawberries to serve in the traditional style.
4. Bake Some Tennis Cupcakes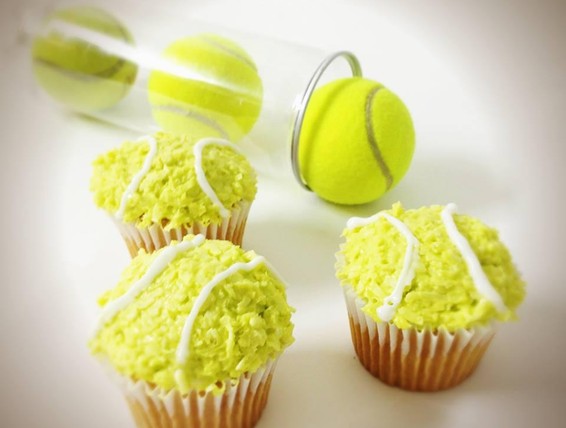 Don't just stop at strawberries and cream for dessert, whip up some tennis cupcakes. These tasty cupcakes are so adorable they look just like fluffy tennis balls. They're super easy to make too. They use box cake mix, jarred frosting, food coloring, and shredded coconut. If cake pops are more your style, we also love these sports ball cake pops from Betty Crocker. You can make this recipe for any sport, but the tennis ball design is perfect for Wimbledon.
5. Whip Up A Pimm's Cup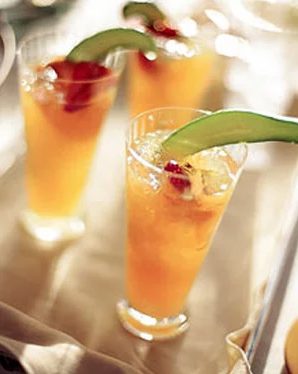 For drinks, the most important option you have is a Pimm's Cup. Pimm's Cups are synonymous with Wimbledon. They are a refreshing drink that is perfect to help beat the summer heat. Made with Pimm's No. 1, sparkling lemonade, and a mix of mint and fruits, it's a tasty cocktail that's easy to make and very refreshing. If you want to make things even easier, you can batch it ahead of time. This Pimm's Cup Pitcher recipe is perfect to save you some time and make sure there's plenty for everyone.
6. Taste Test British Beer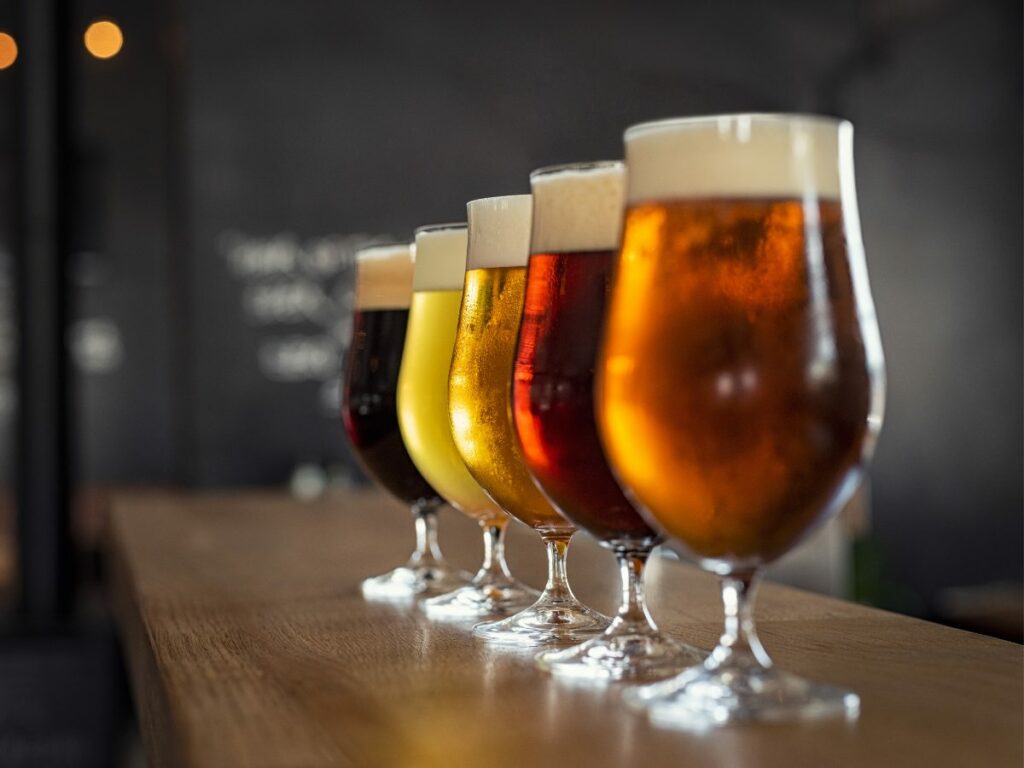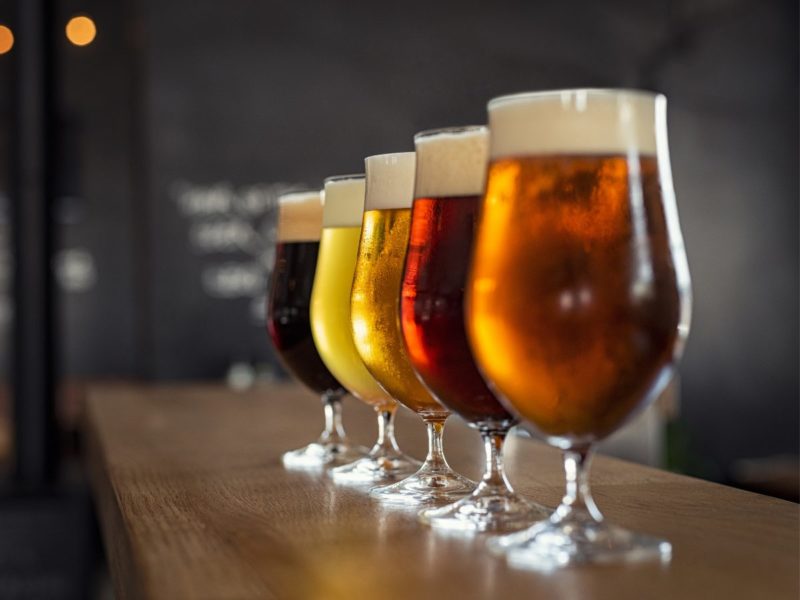 There are so many incredible British beers that are perfect for any tailgate. No matter if you like an ale, a bitter, or a stout, there's a perfect pint for you. To get you started here's a great list of some of the must-try British beers that will be perfect for serving at your Wimbledon tailgate. Serving up a great pint of beer will ensure your guests feel like they are in London at a pub watching the match live.
7. Plan A Game Of Beer Pong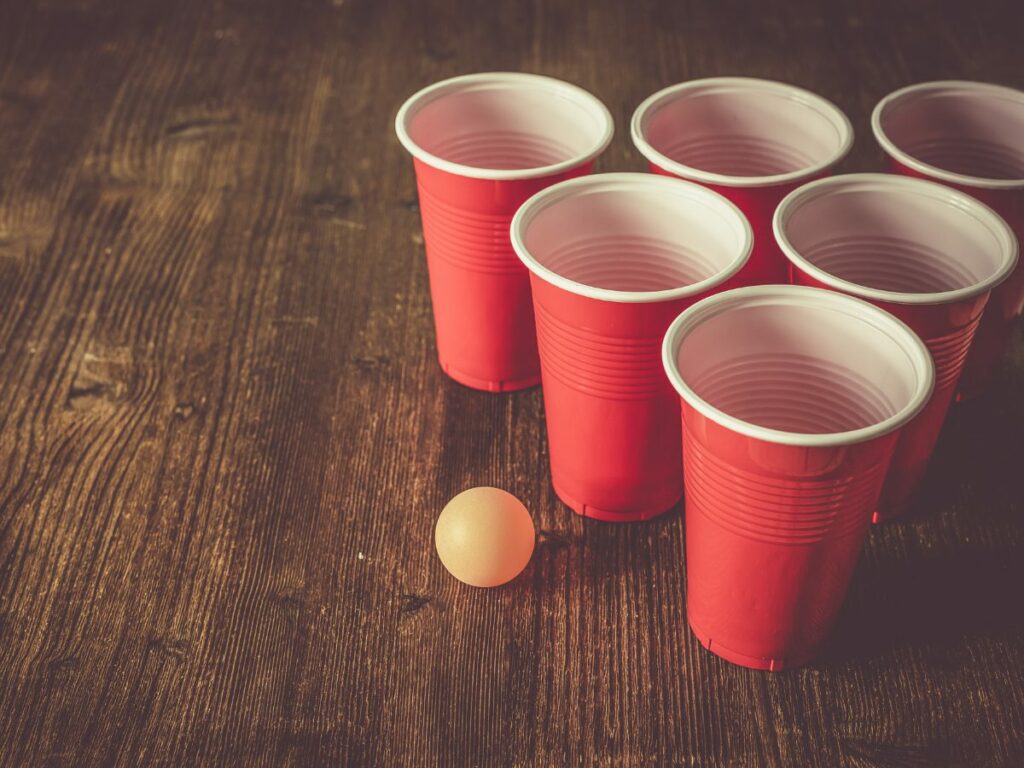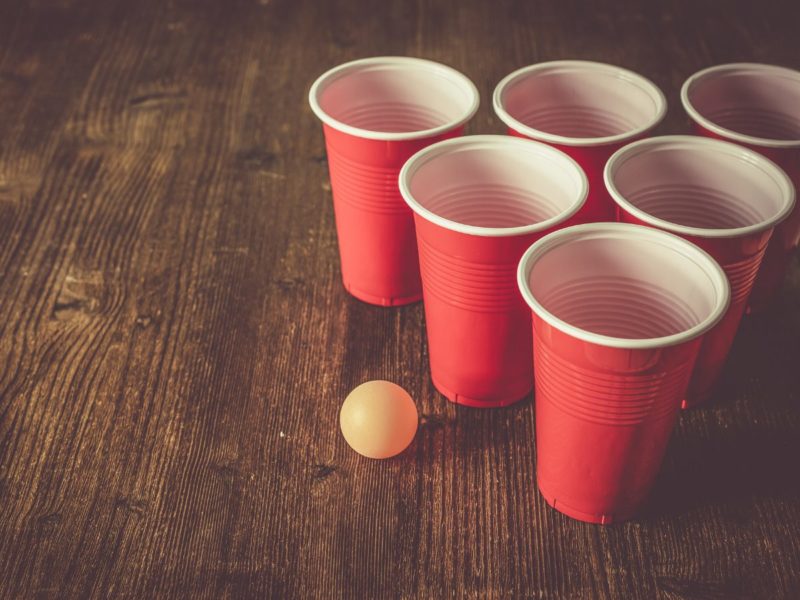 Once you've picked out your selection of British beers, make sure to play beer pong. Not just any beer pong, play table tennis beer pong. Table tennis beer pong is played the same way and with the same equipment as beer pong, but you will just need to pick up some rackets. You can use ping pong rackets or classic tennis rackets. Instead of tossing the ball, you'll try to hit them with the racket. If you're fortunate enough to live near a tennis court, you can try playing tennis beer pong. If it's a public court, you just might want to check on the park's rules about alcohol first.
8. Set Up A Swingball Set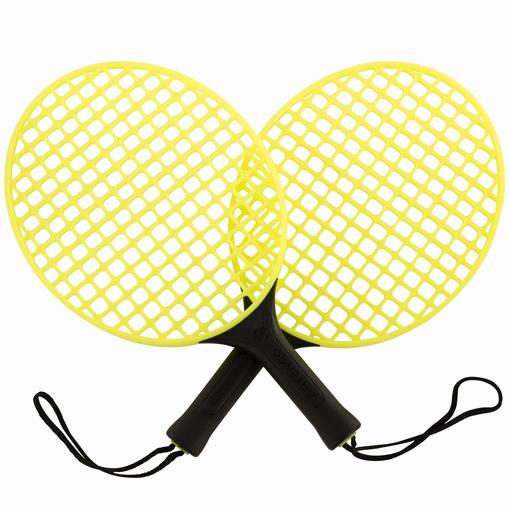 Not all of us have the space to put a tennis court in our backyards. However, we can still have our guests show off their tennis skills. This swingball set works just like tetherball but instead of an attached volleyball, it's a tennis ball. It doesn't take up too much space and all you need to play are a set of tennis rackets. It's easy to hold a backyard competition and see who among your friends would make it to the championship game.
9. Decorate With Tennis Themed-Decor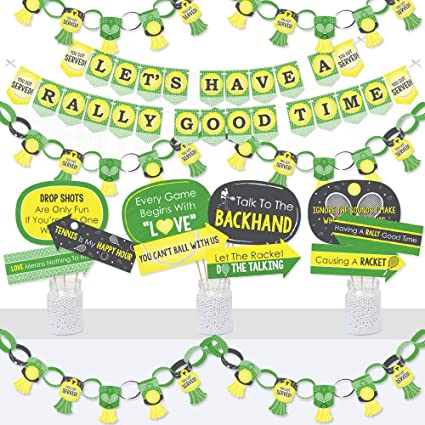 Finally, one of the most fun tennis tailgating party ideas is to set up some decorations. There's a ton of great tennis-themed decor. You can start by decorating your dining table with a tennis themed tablecloth and tennis dinnerware, utensils, and plates. You can also get some serving platters like this tennis racket serving tray that would be perfect for your strawberries and cream. There's also some great decor that you can put around your house like this festive tennis pennant banner, these cute tennis ball yard signs, or this awesome vintage "Tennis Knowledge" poster. There's also options like this tennis-themed party kit that can make decorating even easier.
Though we don't always think about tailgating for tennis matches, it can be a lot of fun. These are just some of the tennis tailgating party ideas that can help you host a great event for your friends and family. For more tailgating ideas straight to your inbox regularly, sign up for our newsletter. Be sure to follow us on Facebook, Twitter, and Instagram for new tailgating tips, recipes, and game ideas that can help you create a memorable time. Share your tailgating and homegating fun in comments below or tag us on social!