Americans aren't the only ones who love a good tailgating party. In fact, every year during the Tour De France, Europeans gather from all over the country to tailgate. This tailgate is known as "The Caravan" and follows the racers. If you're a fan of The Tour de France, why not take a cue from our friends across the pond and host your own Caravan. Here is how to get started.
The History Of The Tour De France
For those of us that are new to the Tour de France, it has a really interesting history. The race began in 1903 and has continued to grow ever since. Competitive cyclists come from all over the world to compete. The race takes place over 23 days and has 21 stages each a day long. The total race is about 2300 kilometers. The results of each stage are cumulatively added up to determine the winner.
Riders earn a place at each stage of the race. Those are added together and divided by the number of races. It's a really fun race to watch because of the scoring system. Sometimes riders will start way behind and then over time become front runners. This is a really handy guide to understanding the race, some important strategies to look for, and how to watch it.
How Did The Caravan Start?
The Caravan began around 1930. Initially, all the racers had different sponsors. However, the organizers shifted to have the racers represent their home countries. This left sponsors to find creative ways to advertise. They started setting up advertisements, booths, and food stations where fans would gather every day. As the race takes place over 2300 km, they would follow the racers like a caravan. After time, fans began to also follow the racers as a caravan. From that grew an impressive tailgating culture.
The Caravan exploded in popularity in the 1960s before it was easy to watch the televised version of the race. Now, not only do people gather to tailgate at different stretches along the race, many people caravan in their cars. There is a procession that leads the vehicles and some ride behind. The Caravan also developed overtime as cars became more popular and traffic heavier. The Caravan is not just a show of support but it is also a way to protect the riders.
Who Participates In The Caravan?
There's a lot of people that do the Caravan every year. There's functional people like police escorts, press, and team mechanics. There's also people who bring supplies for the racers like water, food, and medical support. Then of course there are the fans! Here is a really helpful guide to all the different types of people that participate in the caravan. There's so many participants in The Caravan now that it is also referred to as "The Largest Parade In The World."
What Do People Do At The Caravan?
For people not working in support of the race, the Caravan is very similar to a tailgating party in the US. People gather to watch the race, they make food, and they have drinks. Advertisers will throw things to the gathered fans. They often throw things like foam hands, Tour de France apparel, and snacks. People cheer on their favorite riders and bond over a shared love of the sport. It's known that almost half of the people who attend the race, come out just for the fun of The Caravan.
How To Host Your Own Tour de France Caravan
You don't have to fly all the way to France to join The Caravan. You can host your own tailgating party at home. Here are some ideas to help you host your own Tour de France tailgate:
Set Up A Feed Zone
Though the riders of the Tour de France stick to a strict diet that gives them energy to complete the race, spectators can enjoy things that are a little more indulgent. Here are some Tour de France recipes to consider:
Bike Pizza: We love this idea. All you do is lay out two pizzas and some breadsticks and you have a bicycle. If you want to just order pizza, you could keep the theme with this bicycle shaped pizza cutter.
Bicycle Fruit Salad: This simple DIY has you cover a bicycle shaped foam cut out with your favorite fruits.
Decorated Bicycle Cookies: There's a lot of great bicycle cookie recipes but we love this instructional video that shows how to decorate them.
Bicycle Cupcakes: These are easy. Just whip up your favorite cupcake recipe and add these bicycle toppers or these adorable bicycle cupcake cups.
French Favorites: The French have a lot of great cuisine options that will make for a beautiful tailgating spread.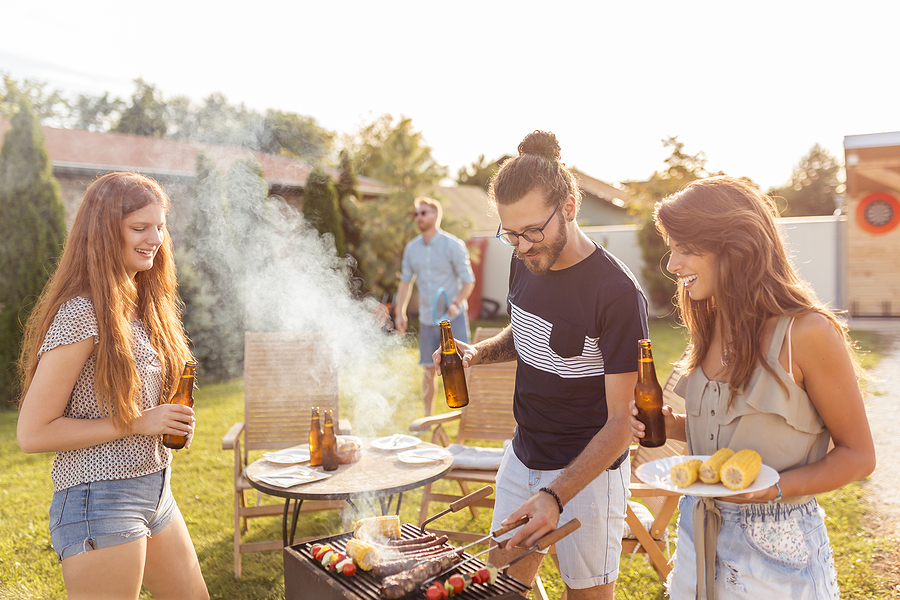 Host A "Tour de Backyard"
If you have a bicycle, you can host your own race. Simply set up a race stage in your driveway or in the street. Then grab a timer and see who can race the distance in time. You can even have them multiple times and tally the scores at the end of the day.
Hang Some Bicycle Decor: There's a lot of great bicycle themed decor that can put your guests in the spirit of the race. We love these banners off Etsy. These props are great for setting up a Tour de France photo booth. We also love the idea of this bike pinata.
Serve French Drinks: You can stack your cooler with French beer and wine. There's also this fun wine called "Le Bicyclette" that's perfect for the tailgate. If you are feeling like being a bartender, you can also whip up these tasty French cocktails.
Although joining the Caravan is a long flight, you can still host your own mini-Caravan for your friends. So grab your friends and let us know in the comments or tag us on social media on how your Caravan went.
Be sure to sign up for our newsletter and follow us on Facebook, Twitter, and Instagram for more tailgating tips, recipes, and fun!