Baseball season is just kicking off and there is no better time to start planning a tailgate. Both the College World Series and the Women's College World Series are set to start in the next few weeks. Despite the accommodations made for COVID-19, the MLB is back and better than ever, with an exciting development. This year the roster size of 26 players went into effect and double headers will be played as two seven-inning games. So it's a perfect time to start planning your baseball tailgate.
We've collected a variety of tips from tailgating pros over the years to help you plan your next tailgate party. We have some great recipes for food and drinks and helpful tips to ensure that your tailgate is a homerun.
Tips For Baseball Tailgating Pros
Normally people think about tailgating as a football-only kind of event. But, we try really hard here to expand tailgating to pretty much anywhere. It is tough to get as worked up about baseball since there are 81 home games to cover. Here are some ideas followed by a fruity, summer cocktail to get you motivated for some good baseball tailgating fun.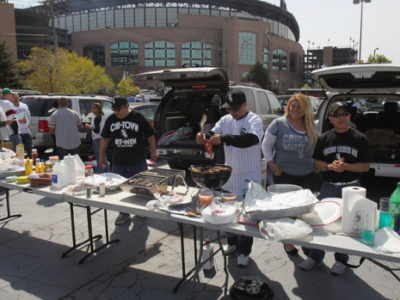 BASEBALL TAILGATING TIPS
Pick the best, most interesting game on the schedule.

Find the most interesting game to go to.
Probably make it a weekend game.

We like to get creative with food and drinks at our tailgate party.

This is America's Pastime, so at least have the basic hot dogs and burgers available.

Have baseball-themed games.

Bring a cornhole set that is painted with a baseball motif.
Bring a baseball and a few gloves.

And finally, bring plenty of sunscreen.

The football tailgates are often in less warm times so you may not need sun protection. But partying in Arlington, Texas before a Rangers game in mid-July cries out for skin protection.
GET BASEBALL TAILGATING-READY WITH THIS TEQUILA BAY BREEZE RECIPE
Tequila Bay Breeze
Simple, sippable, summer in a glass! Whip up this fruity tequila cocktail in three easy steps to top off any relaxing summer night.
Ingredients
1

part Sauza® 901® Tequila

1

part pineapple juice

1

part cranberry juice

Pineapple spear optional
Instructions
Combine all ingredients and stir well.

Serve over ice in highball glass.

Garnish with pineapple spear.
We've got more baseball tailgating tips and recipes for you to try out, including this aptly named baseball steak recipe from Rob Hawkins at Char-Broil.
If you are homegating, these tips work as well.
The Best Baseball Steak: Go Pro with These 5 Tips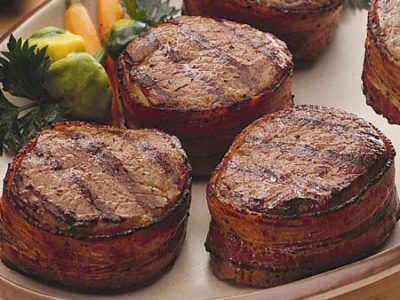 When we think of baseball food, we tend to think of hot dogs, peanuts, and crackerjacks. Now these classic ballpark foods are great for munching during the game. However, during the tailgate there's a ton of great options to feed your hungry team. We love serving tailgating favorites like nachos, wings, and sliders. However, nothing beats a baseball steak. Baseball steak will feed your hungry crowd and is a perfect option to whip up on your portable grill.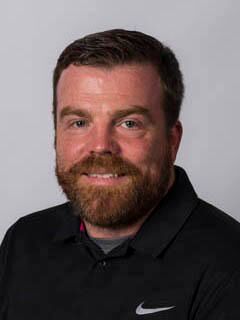 For a few tips on the best way to prepare a baseball steak, we turned to Rob Hawkins, Product Manager at Char-Broil, experts in grilling and in grills (www.charbroil.com).
1. Get your steak to room temperature. If you place a cold steak on the grill, the exterior may cook or burn before the interior hits the desired temperature.
2. Apply an even coat of vegetable or canola oil on both sides of the steak to ensure that your steak doesn't stick to your cooking grates.
3. The most nerve-wracking aspect of cooking a steak is knowing when it's done. Take the guesswork out and invest in a digital thermometer. For a rarer steak, the internal temperature as measured in the middle of the steak is 125°F. For medium rare, aim for 130-135°F and well done 155°F.
4. Let it rest. Never cut into a steak that's hot off the grill. Pull it off the heat, tent with foil and let it rest for about 8 minutes. While it rests, the steak's fibers will relax, and the juices will redistribute back to the center.
5. For the baseball steak, which should be about 2 inches thick, it will continue to rise in temperature even when off the grill. We recommend pulling it off five degrees before your desired target internal temperature.
For more on how to take your baseball steak to the next level, check out our friend's over at Steak University.
Serve this steak with your favorite sides and your guests will think they play for the Los Angeles Angels because their taste buds will be in heaven.
The 5 Best Baseball Cocktails for MLB SeasonMix Up Some Delicious Cocktails
If you're a Major League Baseball (MLB) fan, then you need no introduction to these baseball cocktails – you know what to do to celebrate the season. In the past, fans used to celebrate in person with the best baseball cocktails and stadium food, but if you plan on celebrating within the comforts of your home, read on.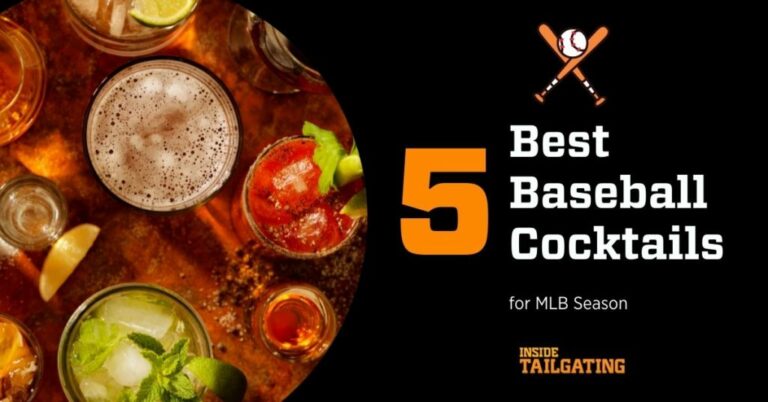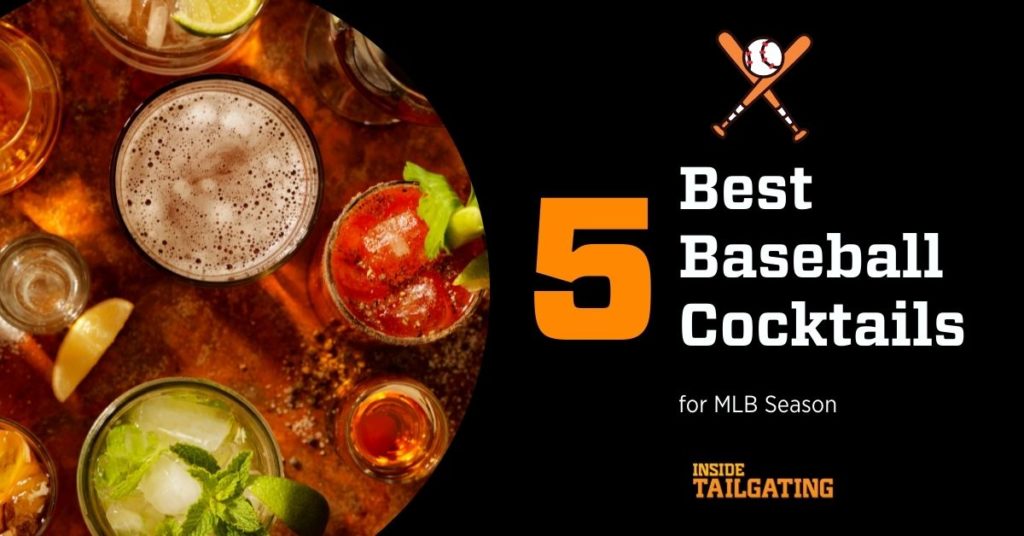 In this post, we'll take you through the very best baseball cocktails that you can create on your own at home to enjoy this season with friends and family. By the end of this post, we hope you'll be inspired and encouraged to try and make one or more baseball cocktails to start the new season at home in the grandest possible manner. So, without further ado, let's get right into it!
1. Hellfire: The first entry on our list is known as Hellfire and this one sure does pack a punch.
Hellfire
Ingredients
1

Oz

Spiced rum

Lime Quarter

1

Oz

Ginger Beer

2

Dashes

Tabasco Sauce

Pilsner (chilled)
Instructions
To bring this fan-favorite to life, first get a pint glass and all the necessary ingredients ready. Next, squeeze that lime quarter for getting all that juicy lemony goodness out into the pint glass. Once you've squeezed out all the juice, throw a few ice cubes into the pint glass, depending on how cold you want the cocktail to be. Next, add the ginger beer, rum, and Tabasco sauce. Once the glass is full, top the drinks with the chilled Pilsner. Finish the preparation by giving the glass a nice, gentle stir.
2. Beggar's Banquet Baseball Cocktails: If you're a fan of bourbon, then you certainly must try making one of these famous baseball cocktails. It's a beer-based cocktail that MLB fans are sure to love and appreciate. The best thing about this beer-tail is that most of the ingredients needed to make it are probably already in your kitchen. From a taste perspective, this is one of the more complex mixed drinks on this list, owing to the presence of maple syrup and bourbon. This is regarded as one of the best MLB fan game day drinks.
Beggar's Banquet Baseball Cocktails
Ingredients
2

Oz

Bourbon

3/4

Oz

Maple Syrup

1/2

Oz

Fresh Lemon Juice

5

Oz

Lager (chilled)

Orange Wheel, garnish
Instructions
Once you've got all the ingredients ready, get a rocks glass and add the lemon juice, maple syrup, and of course, the bourbon. Next, put in those ice cubes and then top the glass off with the chilled lager. Once all the ingredients are in, gently stir the contents to mix them well. Finish making the baseball cocktail by adding the orange wheel as garnish.
3. Cooperstown Cocktail: The Cooperstown Cocktail is considered to be one of the classic Major League mixed drinks. It dates back to the pre-Prohibition days when it was created for the very first time at the Waldorf-Astoria. It was created to pay tribute and homage to the famous names in sports from Philadelphia.
Cooperstown Cocktail
Ingredients
1 1/2

Oz

Tanqueray Gin

3/4

Oz

Martini & Rossi Rosso Vermouth

3/4

Oz

Noilly Prat Original Dry Vermouth

2

Dashes

Orange Bitters

2

Mint Leaves

Mint Spring, garnish
Instructions
First, get a mixing glass and add in all the ingredients mentioned above. Once all the ingredients are in, add as many ice cubes as you'd like depending on how cold you'd like your baseball cocktails to be. Stir gently and well so that the ingredients mix well. Next, strain the concoction into a cocktail glass. Finish the cocktail by garnishing with some mint spring. However, the addition of mint spring is completely optional.
4. Golden Glove: The fourth player on our list is known as the Golden Glove and this is a drink that originated in Cuba. It first featured in the recipe booklet called 'Bar La Florida', which was published by the owner of Havana's Floridita bar way back in 1935. Even though Cuban cocktails such as Mojito and Daiquiri have become famous all over the world, this one has managed to stay in the shadows. However, don't underestimate these baseball cocktails, they're surprisingly strong and really refreshing too.
Golden Glove Baseball Cocktails
Ingredients
2

Oz

White Rum

1

Tsp

Cointreau

1

Tsp

Sugar

Half Wheel Lime, garnishing
Instructions
The first step involves adding the Cointreau, white rum, sugar, and lime juice into a shaker. Add as many ice cubes as desired and then shake the shaker until the liquid is properly chilled. Next, take a rocks glass and add some fresh crushed ice. Complete making the baseball cocktail by straining the mixture in the shaker into the glass. The final step involves garnishing with half a wheel of lime.
5. Boilermaker: This has to be one of the simplest MLB game day drinks and we've saved the easiest for last. It gained fandom among factory workers during the early part of the 19th century. Legend has it that the factory workers would end their day by sipping on this now-famous baseball cocktail to soothe their frayed nerves after working all day.
Boilermaker
Ingredients
8

Oz

Beer

1

Oz

Whiskey (rye or bourbon)
Instructions
First, get a shot glass and pour the whiskey into it. Next, get a pint glass and fill up half of it with the beer. Next, drop the contents of the shot glass into the pint glass, and that's it, you're done!
So, now that you know 5 of the best baseball cocktails, we hope that you're feeling inspired to try them out at home when the brand new season gets going. Along with these cocktails, don't forget to try your hand at creating the most famous baseball cocktails of all.
These tips will have you hosting a baseball tailgate like the tailgating pros. For more ideas for your next tailgate, make sure to sign up for our newsletter and follow us on Facebook, Twitter, and Instagram. If you have tailgating ideas you want us to try, comment your tips below or tag us on your social media.