Last Updated on 04/15/2021 by Inside Tailgating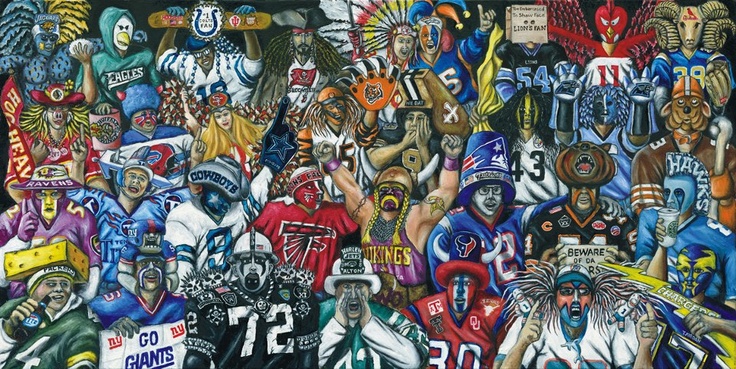 How many times have you seen someone dress up in a jersey and call it a Halloween costume? Seriously, that may be worth a mini pack of Milk Duds or a warm beer and that is about it. If you want to bring home the candy, put some punch into your costume by following the lead of a SuperFan. We have put together 5 NFL SuperFan Themes that will hopefully get you the attention you are seeking.
1. The Basic – Fireman Ed and The Barrel Man from the Denver Broncos show everyone how to keep it simple but still stand out in the crowd. Their attitudes and cheers are not included, you have to develop those on your own. How hard can it be to add a customized fireman's helmet or add suspenders to a team trash can and rock it out for Halloween? (pay no attention to that thing next to Fireman Ed unless that is your style)
2. Star Wars – Logo up a Darth Vader costume or a Storm Trooper that look like one of these Bronco Vader or Bengal Trooper SuperFans. Make sure your team has the image and street cred to pull off one of these costumes.
3. Bone It Up Ladies – Women can always take the easy way out by being a cheerleader. We definitely can't hate on the cheerleader choice, but wouldn't it be a lot more fun to create your own look like the Bone Lady. Take your team colors, create a wicked wild headdress and put Bone It or another phrase on a skin tight top. Now go paint the town your favorite team color.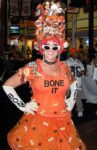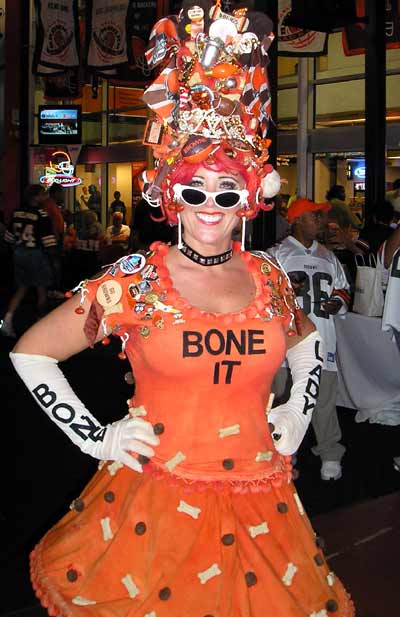 4. Couples Only – Mr. Seahawk and Mrs. Seahawk share their passion for each other and the Seahawks. They wear matching color jerseys, matching wigs and paint each others faces…ain't that sweet! Turn your Halloween costume party into a couples bonding experience…that may make some people puke with jealousy, but it's all good!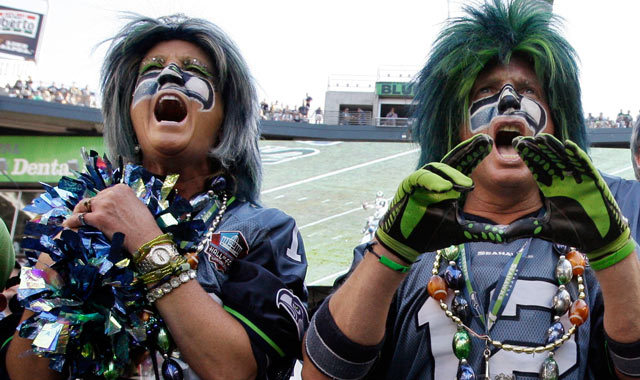 5. The More the Merrier – If you are going out as group, take a page from Raider Nation, the Hogettes (now retired) or Viking World Order. If you are a part of Raider Nation, you just know what to do, make the illest Silver and Black get up you can imagine. The Hogettes entertained us for 30 years and made it acceptable for a group of men to wear dresses, wigs and pig noses…not necessarily in that order. Get your crew together and come up with your own look that reps your team!
Some Bonus looks: The ring hats are a popular choice, but you have to bling it out like the Lions SuperFan. If you are a Cheesehead, go the extra mile and Frozen Tundra it up. The ColtsStrong SuperFan makes us think about the Raider Nation but a little less intimidating. Last but not least is Pumpkin head…coming soon to a horror movie or stadium near you! HAPPY HALLOWEEN!!!
Join the Inside Tailgating Community For Free Today!