With the NBA playoffs in full court, it's a great time to host a homegate. Homegates are a fun way to get together to watch all the games without having to travel around the country for the action. There's a ton of things you can do for your friends and family to have an awesome time. Here are 6 ideas that will be nothing but net.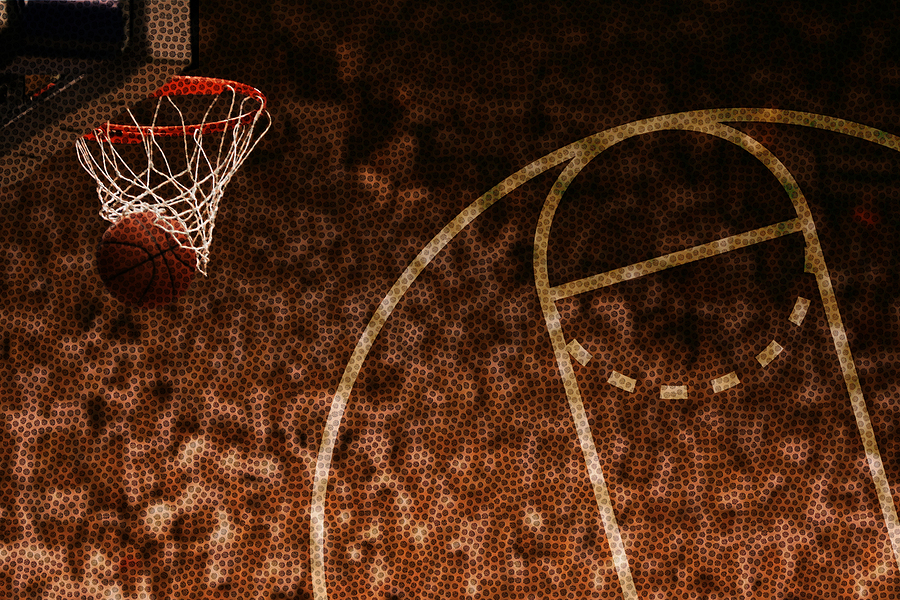 1. Run The Bracket
It can be hard for everyone to get the time to watch every game of the playoffs. A great way to catch them up is to host a bracket. A bracket tracks the winners and the losers of each match, showing who is progressing forward. You can make a bracket very easily, you just need a poster board and a marker.
You can find the up to date bracket on the NBA website here. This will make sure that you are accurately tracking the playoffs. Once you've built out your bracket, hang it somewhere prominent where people can gather around and discuss the games, their theories, and engage in a little team rivalry.
2. Set Up Courtside Seats
Next you'll want to make sure that you set up a viewing area. You want a place where all your guests can sit comfortably during the game. That may require doing a little rearranging of your furniture or adding extra seating. Another idea is to make sure that there are places to view the game anywhere people gather.
So if you have the food spread out in your dining room and a bar set up in your kitchen, make sure to have some way to view the games. There's nothing worse than getting up to grab another beer and missing a game changing play. Having multiple viewing stations will prevent this from happening to your guests.
3. Take It To The Back Court
When you homegate, your backyard is another room of your home. There's a ton of things you can do in the backyard that will make you feel more like you are all tailgating at the game. You can set up an area to watch the game, a place to make and serve food, and an area with fun games.
We love doing our full tailgating setup in the backyard. It's a perfect way to use all our favorite gear. There's also a ton of great outdoor games you can play together. Here are some ideas:
● Cornhole: We love these boards from All Cornhole because they are made to professional regulation standards.
● Basketball: If you have a basketball hoop, you can play a game of HORSE or have a free throw competition with your guests.
● Basketball Arcade Games: Basketball arcade games are perfect when you don't have the space for a basketball hoop.
● Ball Spin Competition: If you love the Globetrotters, this is a great option. You simply see who can spin a basketball on their finger for the longest.
● Table Basketball: If you have limited space, you can also play a tabletop basketball game.
These games will get people in a competitive mood and ready for the playoffs.
4. Layout A Baller Spread
What is a homegate without an incredible food spread. There's a ton of great recipes for homegating, but we picked out some of our favorites for tailgating the NBA playoffs. Check out some of these great recipes:
Basketball Bean Dip: Similar to the classic seven layer dip, this recipe looks just like a basketball.
Basketball Bean Dip
Ingredients
1/2

Cup

Crushed Tortilla Chips

1/2

Cup

Shredded Lettuce

1/2

Cup

Chopped Onion

1

Cup

Prepared Guacamole

1

Can

Diced Tomatoes, drained

1

Can

Refried Beans or Refried Black Beans

2

Tbsp

Taco Seasoning

1/2

Cup

Low-Fat Sour Cream

3/4

Cup

Shredded Cheddar Cheese

Sliced Olives

Tortilla Chips (for dipping)
Instructions
Using a Chinet® Classic White® Dinner Plate, place crushed tortilla chips on the bottom. Layer shredded lettuce, chopped onion, drained tomatoes and guacamole. In a small mixing bowl, mix the refried beans, taco seasoning and the sour cream together.

Spread on top of the guacamole with a spatula. Sprinkle cheese on top of the bean mixture. Arrange sliced olives to make the lines of the basketball.
Basketball Cheese Ball Recipe
Ingredients
8

Oz

Cream Cheese

1/2

Cup

Spicy Jalapeño Cream Cheese Spread

8

Oz

Shredded Sharp Cheddar Cheese

1/2

Cup

Grated Parmesan Cheese

1/2

Cup

Classic Ranch Dressing

2

Green Onions, Chopped

3

Oz

Real Bacon Bits

8

Red Pepper Strips
Instructions
Beat all ingredients except bacon bits, peppers and parsley with mixer until blended. Refrigerate several hours.

Form into basketball shape on platter. Coat with bacon bits. Add pepper strips for the stitching.

Tip 1 – To soften Neufchatel Cheese, place completely unwrapped package of cheese in microwaveable bowl. Microwave on HIGH 10 sec. or just until softened.

Tip 2 – This cheese spread can be shaped to resemble a football, basketball or baseball to match any sports occasion.
Basketball Pizza Snacks
Ingredients
1

Tube

Refrigerated Pizza Crust

3

Mozzarella Cheese Sticks

12-24

Pepperoni Slices

1

Jar

Pizza Sauce

1

Black or Blue Food Coloring Pen

1

Tbsp

Butter

Orange Food Coloring (2 drops red, 4 drops yellow)
Instructions
Preheat oven to 400 degrees F and spray your cake pop pan on both sides. Spread pizza crust on a work surface. Using a 3-inch round cutter, cut 12 circles of dough. Cut mozzarella sticks into 1-inch pieces. Place one or two pepperoni slices on each circle of dough and add mozzarella pieces on top. Pinch the dough closed around the cheese and pepperoni. Place the dough balls in the bottom half of the cake pop pan. Attach the top of the pan and secure shut. Bake for 15 minutes. Allow pan to cool for 5 minutes before opening. If some of the pizza balls have ridges in the center, trim them off with a pair of scissors. Using a black/ blue food coloring pen, draw basketball lines on the pizza balls. Add orange food coloring to 1 tablespoon of butter and mix well. Add more food coloring to achieve desired color. Brush the tinted butter on the pizza balls, wiping off any excess with a paper towel.
Slam Dunk Board: Basically a charcuterie board with some snacking favorites. It's perfect for setting out in front of the game for easy snacking.
Basketball Turkey Burger
Ingredients
16

Oz

Jennie-O Lean Ground Turkey

2

Chipotle Chilies, finely chopped

1/3

Cup

Finely Chopped Cilantro

4

Garlic Cloves, minced

3

Mozzarella String Cheese Sticks

1/2

Cup

Low-Fat Blue Cheese Dressing

1

Cup

Shredded Carrot

1

Cup

Thinly Sliced Celery Sticks

6

Small Bibb Lettuce Leaves

6

Reduced-Calorie Whole Grain Buns
Instructions
In large bowl, combine turkey, chilies, cilantro and garlic. Mix until combined.

Divide meat mixture into 6 (½-inch thick) patties. Spray non-stick skillet with cooking spray. Place patties in skillet over medium-high heat. Cover.

Cook 18 minutes, turning 2 to 3 times and until internal temperature reaches 165°F. as measured by a meat thermometer.

Always cook to well-done.

Separate strings from cheese. Decorate hot patties with cheese strings to resemble basketballs.

In small bowl, combine dressing, carrot and celery.

Arrange mixture on bun bottom bun; add patties and bun top.
Slam Dunk Snack Board
Ingredients
3.9

Oz

Box Chocolate Fudge Instant Pudding Mix

1/2

Cup

Creamy Peanut Butter

1

Cup

Reese's Pieces, divided

1

Cup

Reese's Peanut Butter Cups Minis

17

Oz

Bag Black And White Drizzlecorn Popcorn

2

Cups

Baked Cheese Snack Crackers

2

Cups

Cheese Balls

2

Cups

Honey Graham Sticks

2

Cups

Pretzel Snaps
Instructions
Prepare instant pudding mix according to box directions. Stir in 1/2 cup creamy peanut butter.

Transfer peanut butter chocolate pudding dip to a round bowl that you can place in the center of a round board with enough room around it for the other snacks. I used a 4.5-inch round bowl in the middle of a 15-inch round board. Fill the bowl completely to the edge with the pudding dip. Place in the refrigerator for 10 minutes while you gather all of the other snacks.

Remove the pudding dip from the refrigerator and decorate with Reese's Pieces to look like a basketball. Put bowl of dip in the middle of the serving board. Place remaining snacks around the bowl.

Start by dividing the popcorn on either side of the dip bowl. Sprinkle the popcorn with the Reese's Peanut Butter Cups Minis and remaining Reese's Pieces that you didn't use to make the basketball design on the dip.

Put the big baked cheese crackers and honey graham sticks between the popcorn mixes on one side of the dip bowl and the pretzels snaps and cheese balls between the popcorn mixes on the other side of the dip bowl.
Slam Dunk Basketball Cookies
Ingredients
12

Oz

Wilton Orange Candy Melts

1/4

Cup

Black Candy Melts

1

Pkg

Chocolate Sandwich Cookies

Small Sandwich Bag

Scissors
Instructions
In a microwave safe bowl heat the orange Wilton candy melts stirring every 30 seconds until melted. Let cool 2-3 minutes before dipping your cookies.

Dip the cookies one at a time in the chocolate covering both sides. Lift out with a fork and lay on a cookie sheet or wax paper (see photos).

Once all the cookies are dipped, let set in the fridge for 15-20 minutes.

Once the cookies are set, melt the ¼ C. black candy melts in a microwave safe bowl, again stirring every 30 second until melted. Let cool 3-4 minutes.

Once the black chocolate is cool enough scoop it into the small sandwich bag and using the scissors, snip the end making a small hole (you do not want it too large otherwise the chocolate will drip everywhere).

Using the sandwich bag, pipe the first 3 basketball lines onto the cookies. Repeat with all cookies. Once all cookies have 3 lines, place back into the fridge for another 5-10 minutes to let set.

Finally, add the third line across your cookies to complete the basketball transformation. Let set for at least 30 minutes (15-20 in the fridge) before serving.
Notes
*One 12 oz. Bag of orange candy melts makes approximately 20 basketballs.
*Store in an airtight container for several weeks.
Recipe From 2 Wired 2 Tired
These recipes will make a delicious and memorable spread for all your friends and family.
5. Make A Shot Clock
When you are setting up your bar, make sure to have all the favorites: Soda, beer, liquor, and mixers. However, if you'd like to go a little crazy, you can set up a "shot clock." Similar to beer pong, you will compete to get a ball in a hoop.
If you miss, you take a shot. There's a couple of great options to set this up. This tabletop basketball shot game is set up for one-on-one competitions. So you can run your own playoffs to see who makes it to the final. There's also this option that has multiple shots for group play. If shots are not your thing, you can use beer instead. If kids are playing, you can use soda or juice.
6. Decorate Your Zone
Finally, you'll want to decorate your home for the game. There's so many great decorations available for basketball homegating. Here is a list of some of our favorite products that can help you create a basketball-themed homegate:
● Fitted Basketball Table Cover: Fits over a round table to transform it into a basketball or this rectangular cover. This is perfect for dining or setting up your spread.
● Basketball Tableware: Everything you need to serve your guests with less clean up at the end of the night.
● Basketball Decorating Kit: Everything you need to dress up your buffet table including banners and signage.
● Basketball Paper Lanterns: Hanging lanterns that look just like basketballs are great to hang around your home.
● Indoor Basketball Hoop: SImply mount and practice your jump shots!
All of these ideas will help you set up the perfect basketball tailgate party for the NBA playoffs. For more ways to make your homegate special, sign up for our newsletter and follow us on Facebook, Twitter, and Instagram. Also share your tailgating and homegating ideas in the comments below or tag us on social media!