Last Updated on 01/05/2022 by Inside Tailgating
At Inside Tailgating, we independently select and write about stuff we love or want to try out and think you will too. As a participant in the Amazon Services LLC Associates Program, and other affiliate advertising programs designed to provide a means for sites to earn advertising fees by advertising and/or linking to their websites, such as Amazon.com, we may receive a commission on sales or other compensation through those links on this page. It is at no additional cost to you, but we gotta pay for our tailgates somehow…
The last year and a half have really taught us that homegating can be as fun as tailgating. With tailgating back this year, many of us are still looking for fun ways to homegate for away games or just as an excuse to get together. With football tailgating season finally here, we've decided we'd help you plan the most fun homegate by showcasing some of our favorite backyard homegating games beyond cornhole. These homegating games come from across the country and help inspire some healthy competition among the guests at your homegate. Let's get ready to play!
CupCheck
Inside Tailgating caught up with CupCheck CEO and retired MLB pitcher Kevin Jepsen to learn more about his new yard game, its origin, the struggles of getting the product to market and the countless memories it has created for the CupCheck family and anyone else lucky enough to play.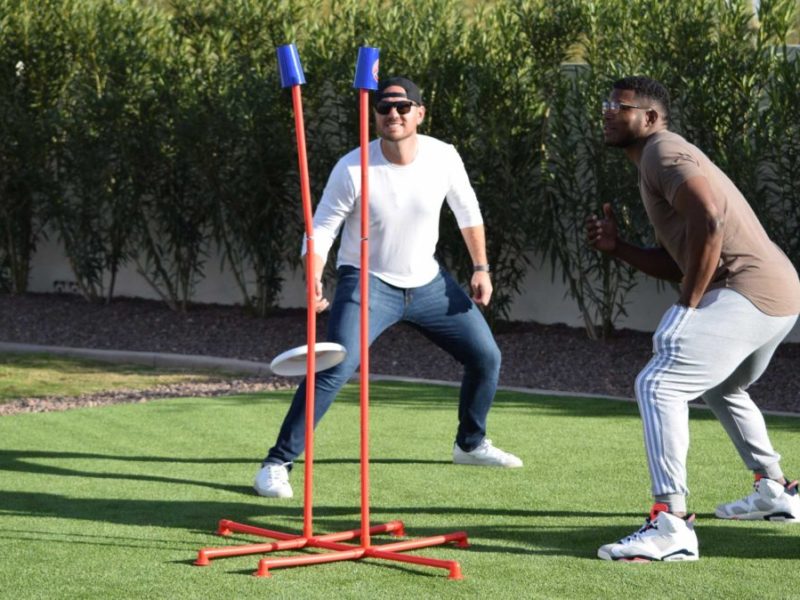 Watch our full interview with Jepsen in the video below and read along to learn about CupCheck and what makes it one of Inside Tailgating's favorite games of 2021.
VIDEO INTERVIEW WITH FORMER MLB PLAYER AND CUPCHECK CEO KEVIN JEPSEN:
INTRODUCING CUPCHECK
For avid tailgaters and yard game enthusiasts, the rush of a narrow victory in the race to 21 points in a cornhole match is tough to beat on a day when the sun is warm and the beer is cold. But those same players understand the games we play are about far more than wins and losses. They're about camaraderie, friendship and creating memories to share for tailgates to come.
For Kevin Jepsen, a retired pitcher who spent a decade in the majors, that itch for competition and community is scratched by CupCheck, the game he perfected with his closest friends and teammates.
CupCheck is a beautiful blend of simplicity, portability, action and strategy. Four plastic poles hold one cup each and teams of two try to split the poles with a plastic disc or, at worst, knock a cup of its perch and onto the ground to score points. The duo not tossing the disc plays defense and tries to keeps its cups from hitting the ground.
'IT JUST BECAME SOMETHING WE DID'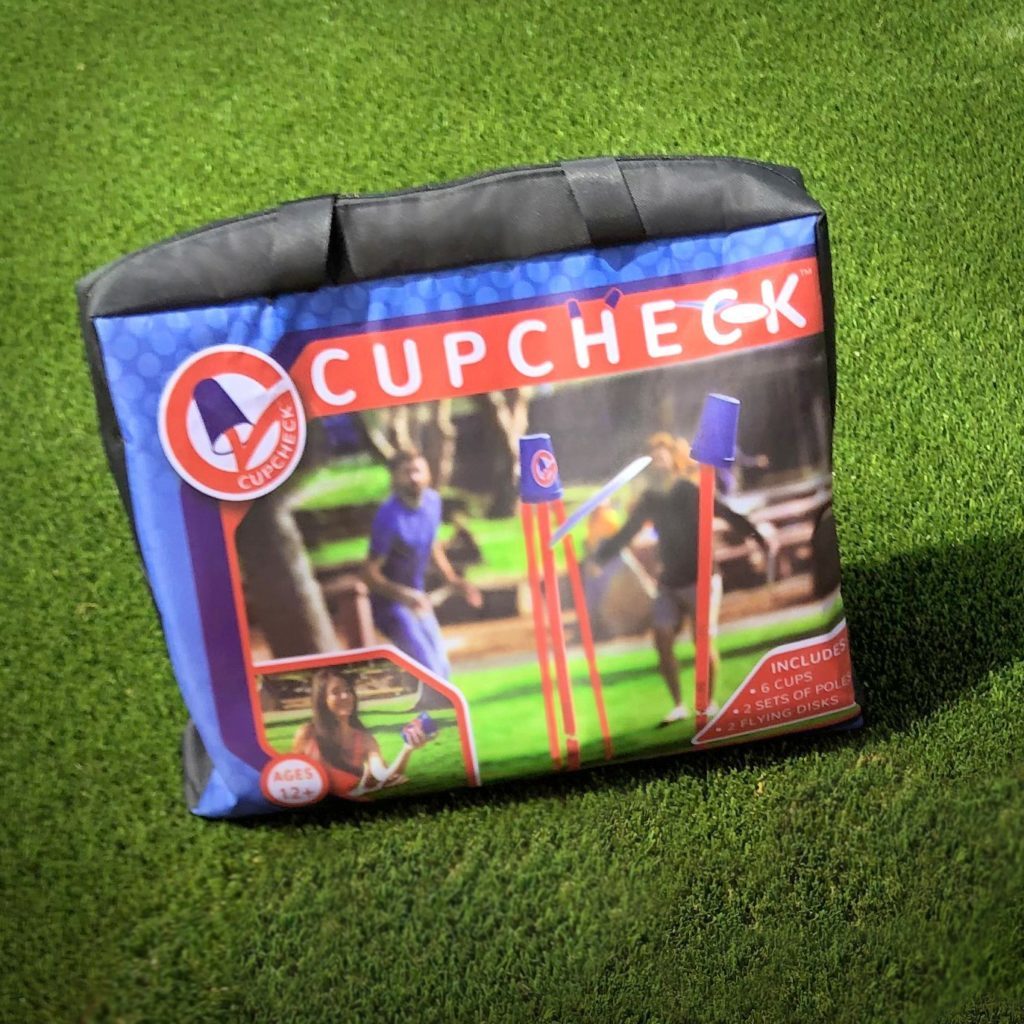 As with any product, CupCheck wasn't always nicely packaged and branded. Jepsen was introduced to an early version of the game in 2016 on an off-day between games. He and Tampa Bay Rays teammates Matt Andriese and Curt Casali took a trip to Los Angeles beach, and his agent brought along four PVC pipes, stuck them in the sand, put cups on each pole and broke out a disc. It wasn't exactly love at first sight.
"There was no name for it. It was just something that had been floating around," Jepsen told Inside Tailgating. "At first we said we don't want to play this thing. Let's just throw the football around. But he finally talked us in to playing it and it was awesome.
"We were making up rules as we went because it wasn't a game we'd ever played. Nobody knew what it was. It just became something we did."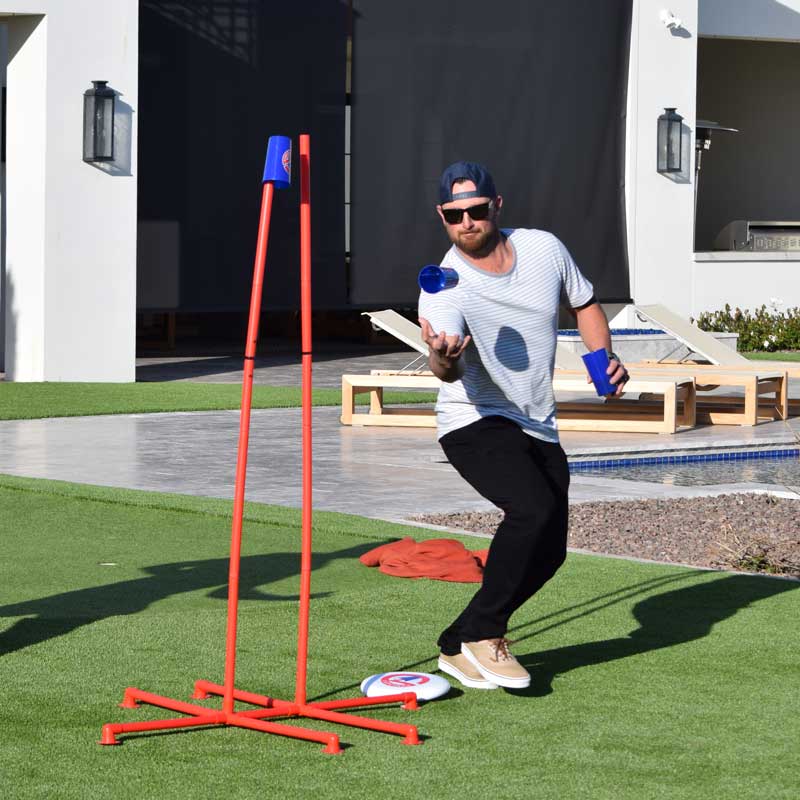 'WE SHOULD SEE IF WE CAN MAKE THIS THING'
That next summer, Jepsen and his friends decided to take this mystery game out of the sand and on a road trip to Phoenix for a NASCAR event. After a bit of novice handyman rigging with 2x4s and cinderblocks, the next iteration of what would become CupCheck earned some serious attention at the track.
Jepsen said race fans flocked to the game in the infield and, after some initial questions, fell in love with a game that had no real name and no real rules. It was just fun.
"We knew we loved to play this thing, but it definitely catches peoples eye," Jepsen said. "So I don't know if it was because we were a couple days into camping out at NASCAR or what, but we got this idea of, hey, we should see if we can make this thing."
So there it was. Less than a year after scoffing at this game on the beach, Jepsen, Andriese and Casali were suddenly professional baseball players and amateur entrepenuaers. They quickly found out the latter was just as hard the former.
Jepsen said it took years of meetings with lawyers, designers and manufactures just to get CupCheck of the ground and in to production.
"All of us involved, we'd need made anything," Jepsen said. "We were able to just meet different people along the line from our inner circle knowing a buddy of a buddy type deal."
Thanks to the hard work of Jepsen, his buddies and his buddies' buddies, CupCheck launched in the spring of 2019. The CupCheck crew, which now included big-name guys like Evan Longoria and Yasiel Puig, expected orders to pour in followed closely by cash and national fanfare. But Jepsen noted: "That didn't happen. It doesn't work that way."
Jepsen and the team, however, stuck with the project because slow sales wasn't the first problem they dealt with since that day drunken weekend at Phoenix Raceway when they decided to take their little game to the masses.
"We could have pulled the plug multiple times, but we had faith in our product and knew we had something that people love to play," Jepsen said. "That pushed us through."
'PEOPLE JUST GOT STIR CRAZY AND NEEDED SOMETHING NEW'
CupCheck made its rounds at musical festivals and NASCAR races throughout 2019 with Jepsen selling the game on-site. That all stopped when COVID-19 shut down gatherings nationwide in March 2020. Drunken NASCAR fans and hyper-competitive college guys were no longer the target demo for CupCheck — bored folks looking for something to do in the backyard during lockdown were suddenly keeping CupCheck afloat.
"It's hard to tell," Jepsen said when asked in COVID took a toll on his young company. "I don't know where we could have been if we could have done the summer events and tailgating. … But our game, you can play it anywhere. It has the base so you don't need grass or sand to play it on a beach. You can play it on concrete, your back yard, the quad at your apartment.
"People just got stir crazy and needed something new and fun to go outside and do."
Now videos of people playing CupCheck litter social media with everyone from toddlers to 60-year-old men diving to the ground to catch a cup. The best videos, as you'd guess, feature stumbling guys with a half-empty beer in one hand.
"Our game says 12-and-up in it, but you definitely have some adults playing the game. And after a few adult beverages it can get exciting," Jepsen said while admitting to the fact his play sometimes levels up alongside his BAC. "You get a little more creative when it comes to catching that cup as the day goes on and you've had a few of them. And for those spectators on the sidelines, the entertainment gets a lot better and you draw more of a crowd."
If a player wants take things up another notch, Jepsen said things get most interesting and intense when there's a little money on the line.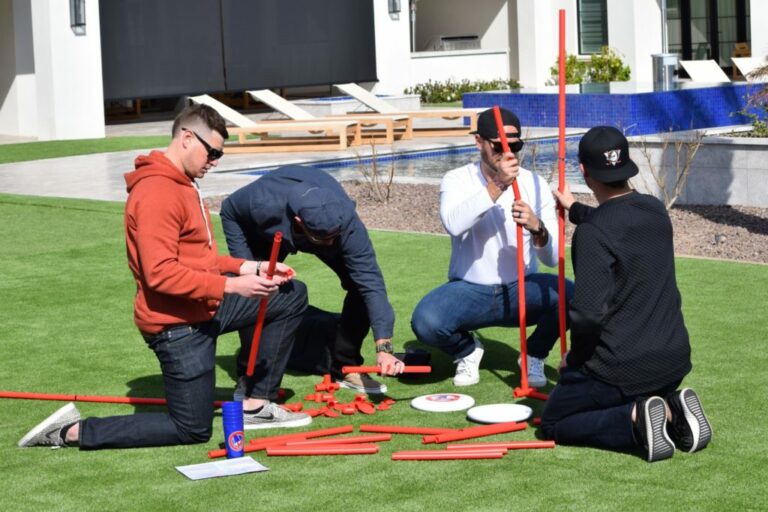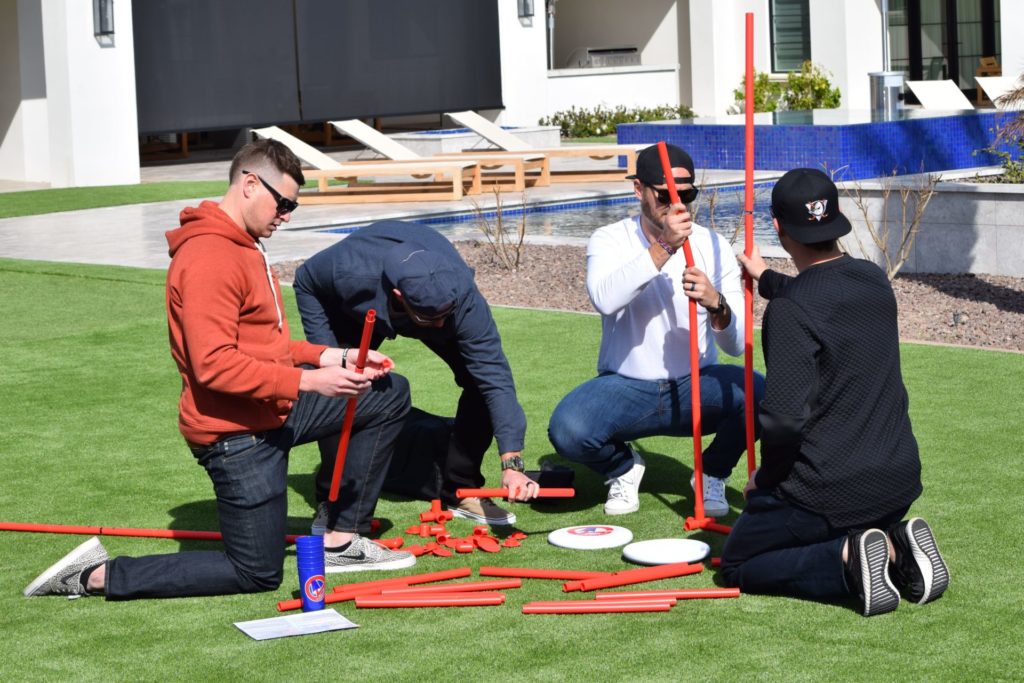 Jepsen, who played for four different MLB teams and appeared in nearly 500 games, now competes with his co-founders and family members at CupCheck every chance he gets. He said he often travels with the game because its package is small enough to stuff under an airplane seat.
'THIS IS OUR OWN LITTLE COMMUNITY'
CupCheck, for Jepsen and so many others, has become more than just a pile of plastic pipes and four cups. It's a conversation starter, a requested activity and a common thread in so many memories with friends, former teammates and close family members.
"This is our own little community," Jepsen said. "It's something that's cemented in our family's lives and the other guys, as well. It's a talking point. When you go somewhere make sure you have CupCheck with you because you're going to be playing it all day."
INSIDE TAILGATING'S TAKE ON CUPCHECK
I love the story of CupCheck for so many reasons, but I'll start by explaining why I think this may be one of the more perfect yard games on the market:
What makes CupCheck damn-near perfect:
It's lightweight and portable – no need
The unattached pieces (cups, disc) can be easily replaced or substituted if you can't find the originals
It requires no real skill and doesn't necessarily reward strength
Cups flying off these poles are impossible to predict, basically negating the advantage of experience
You're always doing something, playing offense and defense; no standing around
Games move quickly
Then there's the story behind the game. It was originally laughed off, then embraced, then adored, then invested in enough where world-class athletes felt it had a place in homes everywhere.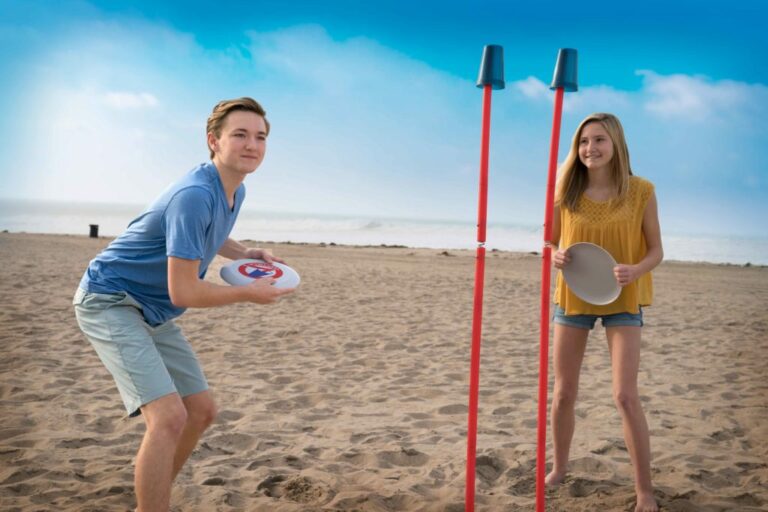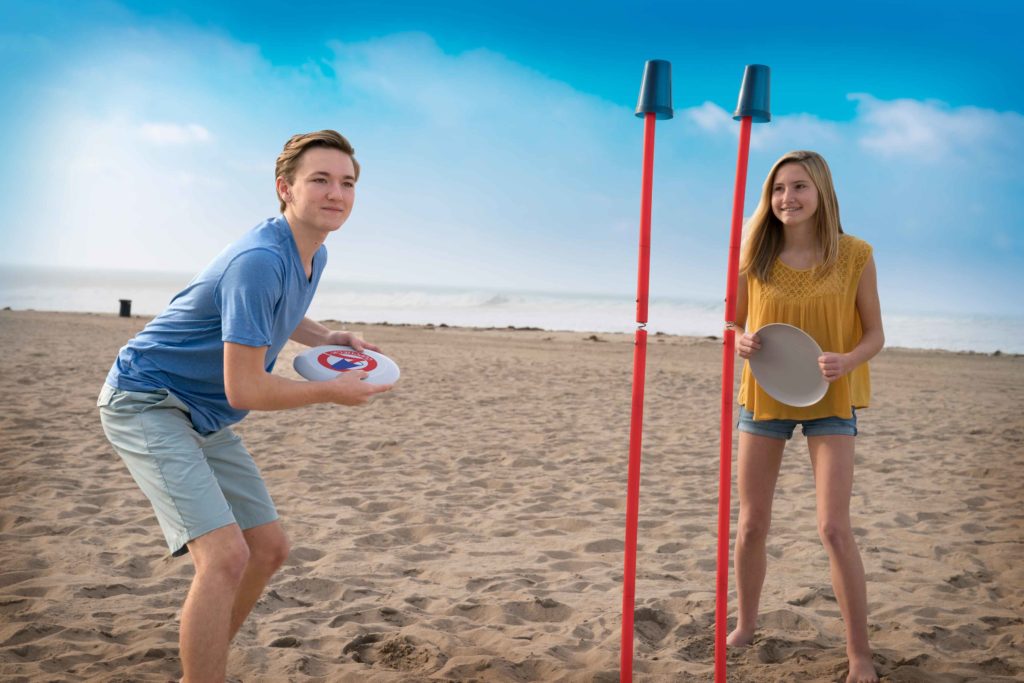 Then these athletes, multi-millionaires with no real need to become entrepreneurs or inventors of a yard, persevered through shattered expectations, manufacturing nightmares and then a pandemic to stick with a product they genuinely believe in.
Now, best of all, the hard work has been rewarded with a great product that's creating memories for people the same way it did for this group of teammates and friends.
Jepsen and his friends have made their rounds on local TV stations, MLB Network and even on Forbes.com to talk about CupCheck, but those stories focus on the fame factor of pro athletes banding together for a good time. I don't think that's the ultimate story for CupCheck.
This wasn't a group of baseball players that launched something on a whim … this is a group of friends, who happen to play baseball, that found something special and decided to share it with the world. They struggled at times but stick with it and created shared the joy of this game. And that's what CupCheck is about. That's what a tailgating lifestyle is about — sharing what you love with a community you love even more.
Cornhole Meets Darts
Sometimes the best way to make a fun game is to combine two games everyone already loves. This blend of cornhole and darts has become really popular at bars in the Midwest and is perfect for homegates.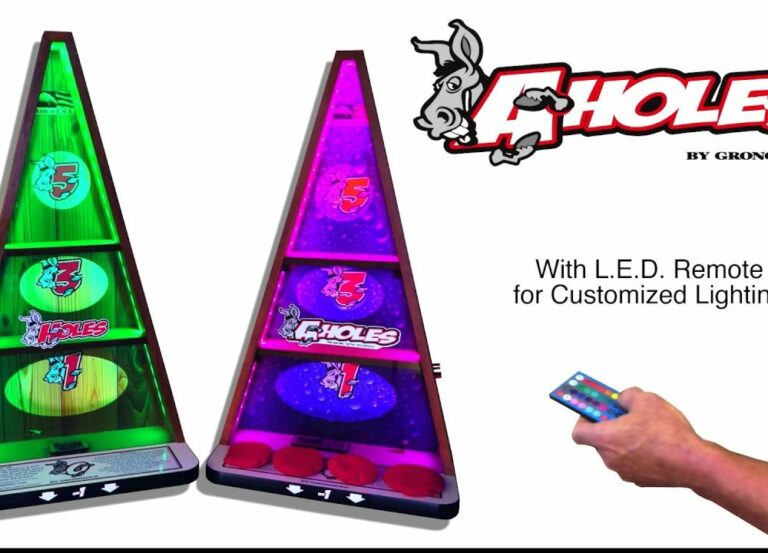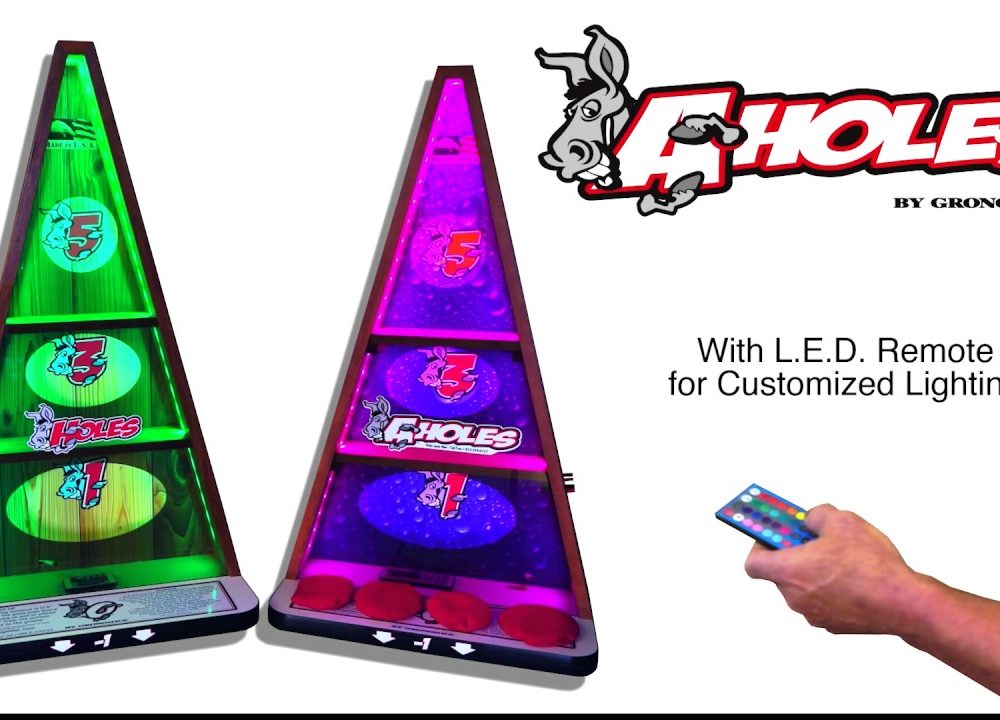 A new bar game called "AHoles" is becoming all the rage in the Midwest and we at Inside Tailgating are taking note. When folks from that neck of the woods start talking tailgating, we listen.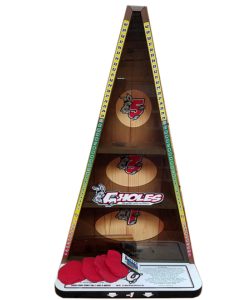 This creative new game combines the skills, scoring and setup of darts and cornhole. Players throw four bean bags to three holes in an "A-shaped" target 11 feet, 4 inches away. The game is portable, which means it's perfect for tailgating, the backyard or taking to your local pub.
AHoles was created in East Bethel, Minn. by Mike Rivard and is already featured in more than 600 restaurants and bars in Minnesota, Wisconsin and Iowa. More than 90 people showed up at the first ever AHoles tournament last December at a bar in Coon Rapids, Minn. – which, as we discovered, is a suburb of Minneapolis.
For folks who might be a little taken aback by the name (wink) there's also a version called Donkey Bags.
QB54
Right in time for football tailgating, the QB54 is perfect for football fans. It's an easy game to play at a homegate and can be set up using a lot of the things that you have around the home.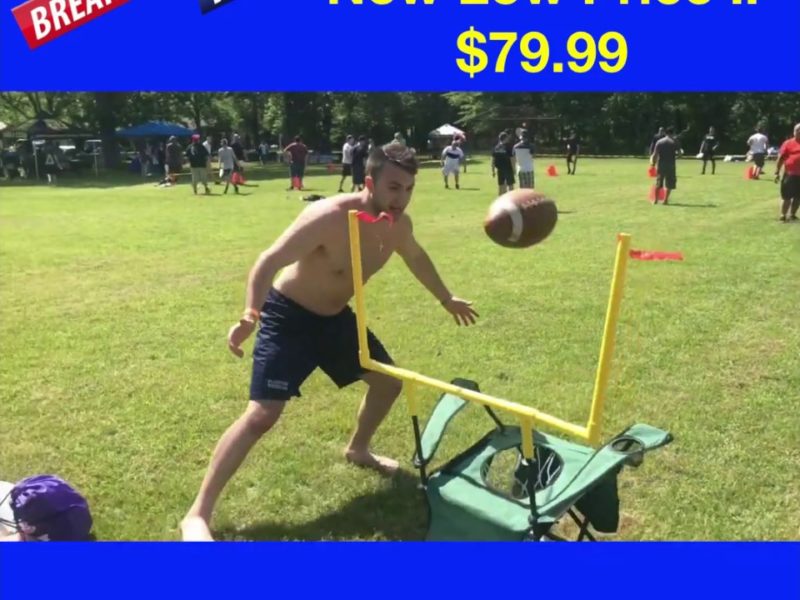 We at Inside Tailgating love the game called QB54 for its dual function, creativity and catchiness! It's two canvas tailgating chairs that convert into a goal and goalposts to play a two or four-person game of "football."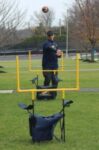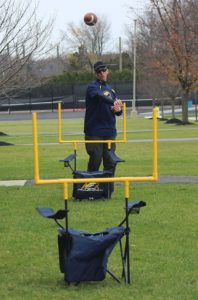 To play, all you need are two chairs and a football. The makers of QB54 have created a standard canvas tailgating chair that converts into an "end zone," complete with a basketball-goal shaped net to catch touchdown passes and bright yellow uprights for extra points.
The chairs are set 40 feet apart (or closer depending on skill level.) Players take turns making throws. If you throw the ball into the basket, it's a touchdown and six points. Hitting any part of the chair on the fly is three points and kicking the ball through the uprights gets you an extra point. If your kick goes into the hole, you automatically win the game then and there. Otherwise, the first team to 54 points wins. The game can be played one-on-one or in teams of two. It's great for adults and kids of all ages!
Other Tailgating Games Besides Cornhole
When it comes to planning games for your homegate, there are so many options. One of our favorites for football season is Phloops.
Phloops is a portable ring-toss tailgating game that you can play just about anywhere. It is great at the beach, in the tailgating lot, and you could even 'pack it in' on your next camping trip!! We here at Inside Tailgating like to PHIRE up the Phloops right here in our office!! They make a great coffee break or team bonding activity as well. The "phlingers," which are actually three rings connected together come in a variety of color combinations, so we went with yellow and red to inspire our team members here at Inside Tailgating headquarters.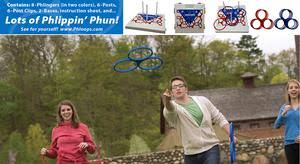 There are plenty of other options though, so you can pick your favorite team colors to coordinate your next tailgate party or just show support for your alma mater in your very own backyard. The game itself is easy to play and super PHUN for kids and adults alike. Phloops has combined skill and some luck together, into a simple ring-toss game that provides you with hours of good times to share with PHRIENDS and PHAMILY!! Structured for 2 to 8 players, you can get everyone at the party into the PHUN and even create your own Phloopin' tournament. (Thanks Michael Reed Kean).
Baseball catch. Simple but awesome.
Birdie Golf. The Bocce Birdee ($34.95), Birdee Tailgate ($59.99), the Birdee 3-in-1 ($69.95), and the Birdee Golf Pro ($89.95) are all perfect additions to your golfing and tailgating game repertoire. They set up and tear down in seconds and can be played with ease just like horseshoes or cornhole. Most importantly, all of the different variations come with Swing Mats so you won't scuff your clubs (which is something that all of us at Inside Tailgating needs).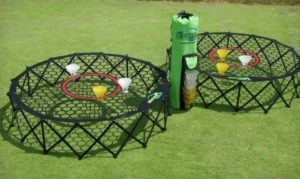 Ladder Golf, also known as "Flingy Pongy". A tethered ball toss game in which a number of tethered balls arranged at both ends of a series of cords and secured to the ends of the cords by knots are tossed from a prescribed distance toward a number of horizontal bars.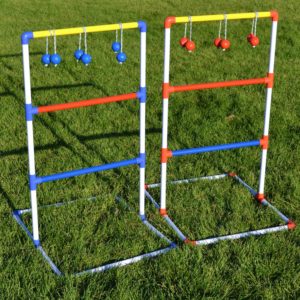 Washer Toss. Involves teams of players that take turns tossing washers towards a box or hole.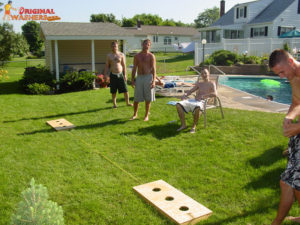 Sholf is a lawn game that is a cross between table shuffleboard and golf. Players take turns putting golf balls into scoring zones printed on a putting green.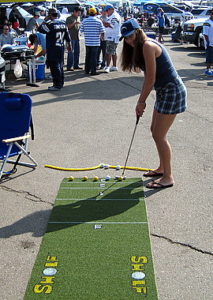 Polish Horseshoes (also called Spanish Horseshoes, Frisbeener in the midwest, French Darts in Virginia, and Beersbee in Canada is an outdoor game played between two teams of two people using a Frisbee, two glass bottles, and stakes nailed into the ground.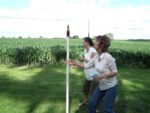 10 More Tailgating Games To Try
For even more fun at your homegate, here are ten more tailgating games you can try. These backyard games are perfect for inspiring a little healthy competition among your homegating guests.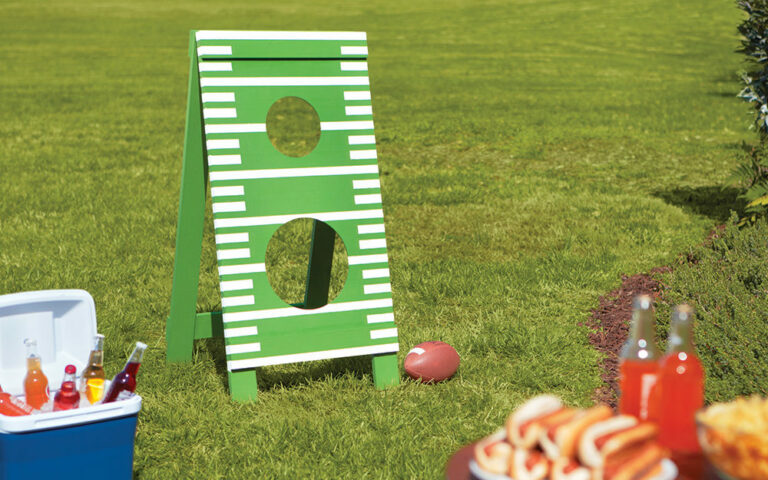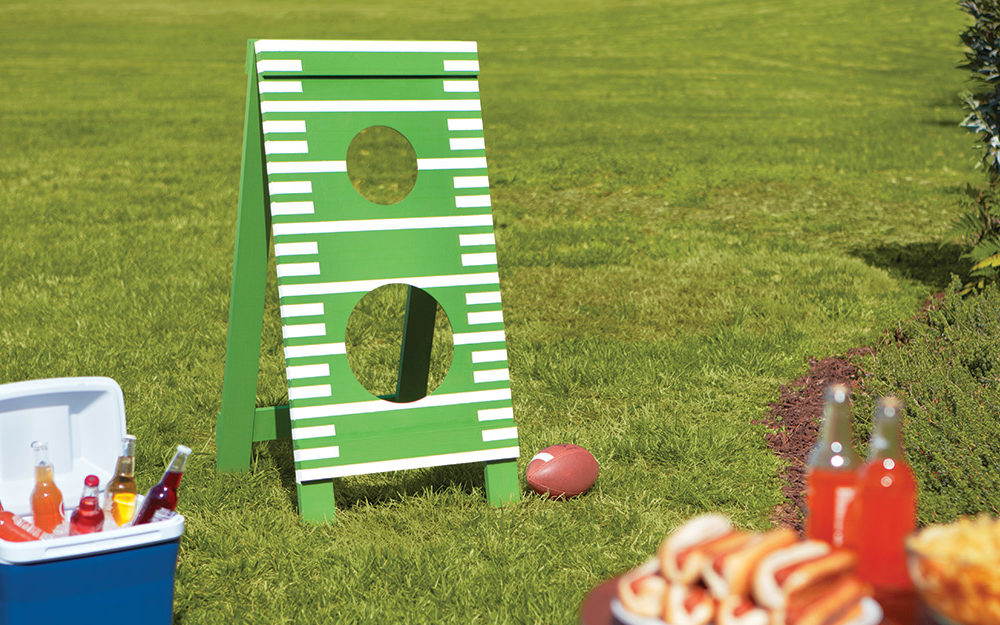 Looking for ways to liven up your homegating scene? Why not pull out some of your favorite tailgate games for the backyard? Or order something new to use now and enjoy again in the lots when we get back to tailgating together?
In case you don't have a cornhole board handy, or you've already worn yours out and are looking for something else to try, here are 10 of our favorite tailgate/yard games other than cornhole that are fun for the whole family to enjoy. (Oh, and if you're looking for a yard game – where drinking is part of the fun – check out our Select 6 tailgate games for ideas.)
Classics
1. Croquet. Yes, totally old school. But wouldn't it be fun to grab a wooden mallet and teach it to your kids to hit a croquet ball through a series of wickets? It would give you a little shot of nostalgia at the same time. You don't have to break the bank for a set either. Amazon has an array of sets like this one with a pack-away carrying case for $42.99.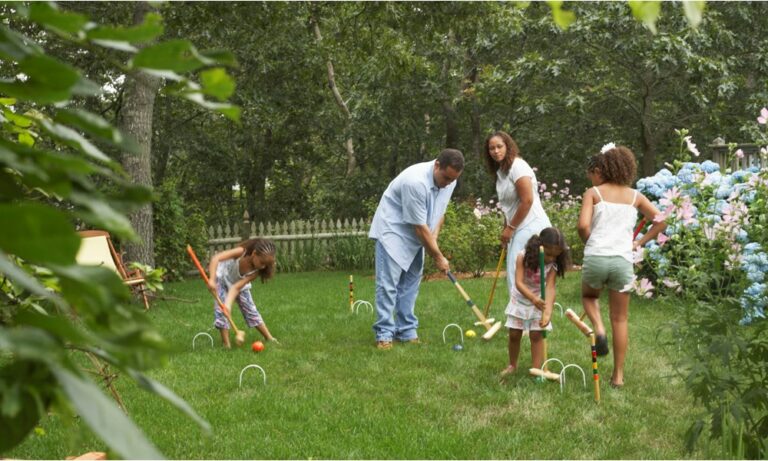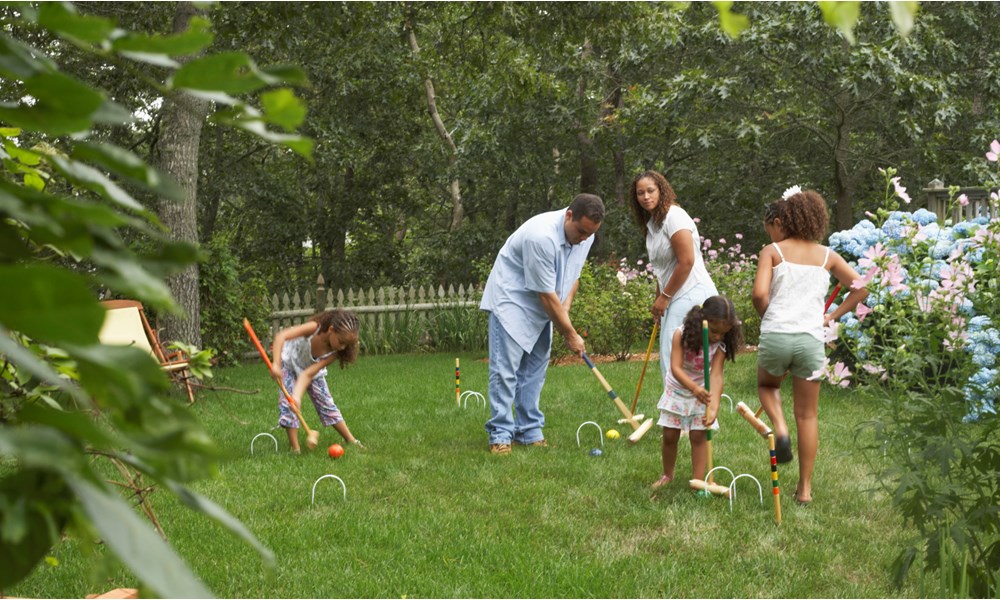 2. Bocce. Talk about a classic yard game – this one with roots that trace back to the Roman Empire! It's perfect for a little retro homegating entertainment. All you need is flat ground, whether it's a paved surface, dirt, closely-mowed grass or a formal Bocce court. This variation on yard bowling can be played by two to eight people. Here's one backyard set on Amazon.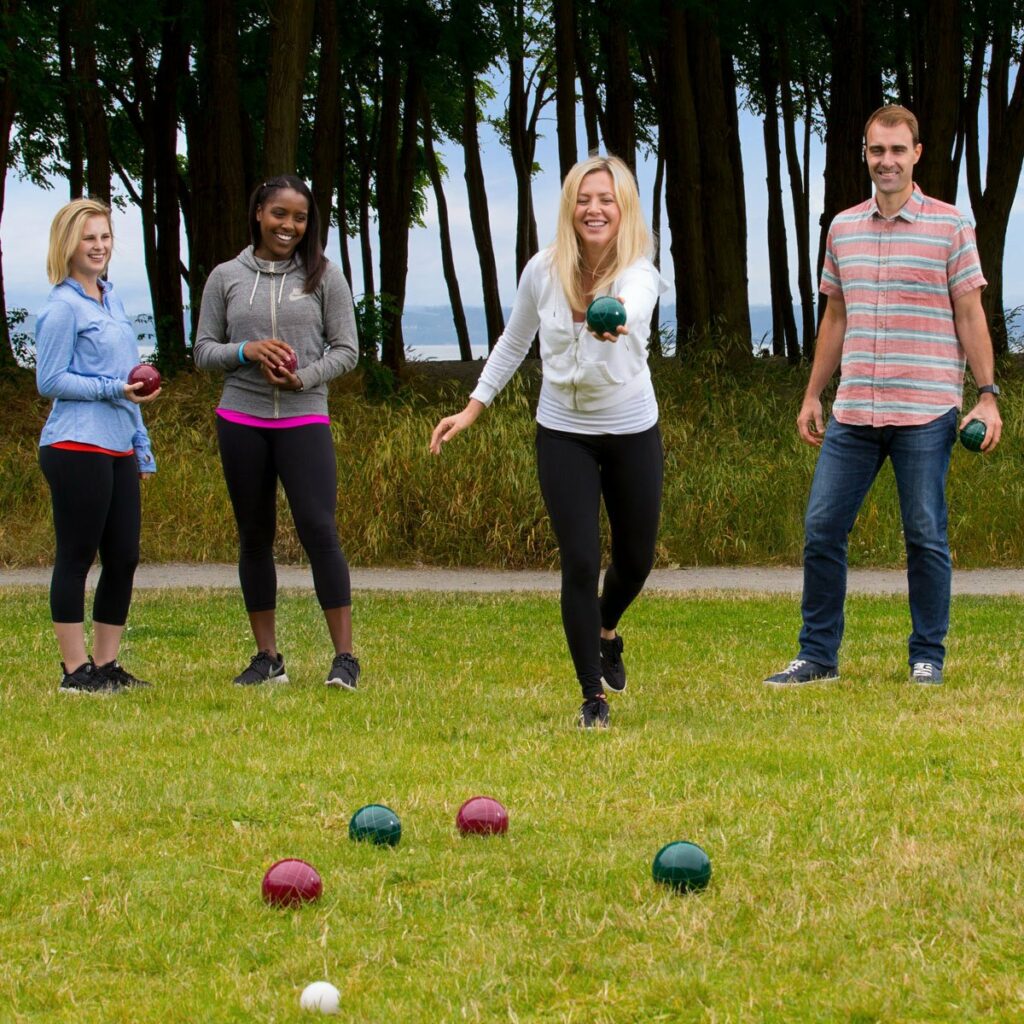 3. Horseshoes. If you actually want the real thing but without the safety hazard of flinging metal objects 40 feet? How about the Champion Sports Rubber Horseshoe Set? It's lightweight, comes with rubber playing mats and rubber horseshoes that allow you to play indoors too, without damaging walls or floors. It's easy to pack and ideal for kids.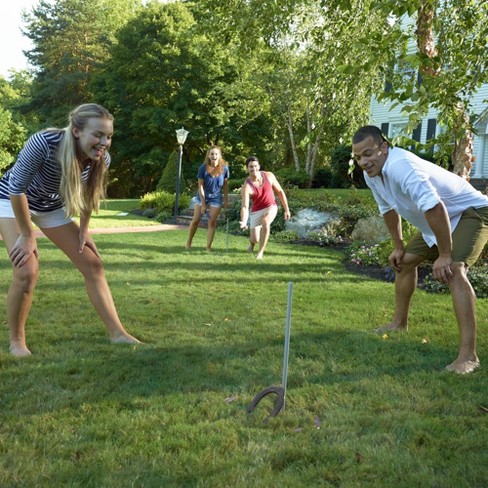 Updated classics
4. Glow Toss Game. So you've got the daytime hours covered, but need something special as the sun is setting? This light-up ring toss game is a whole new kind of fun, featuring light-up rings and stakes so you can play ring toss on into the night. It's not easy to find in stock at the moment, but try this one on Amazon or check out Glow Universe for details.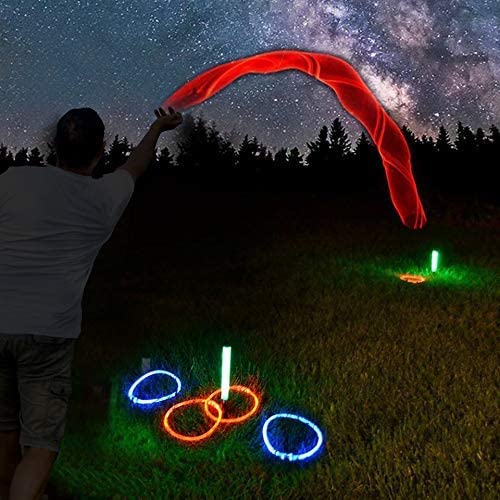 5. Lawn twister. Get a little rush from doing a DIY project and a fun game all in one. This outdoor take on an indoor classic doesn't adhere to social distancing of any kind but great fun for family who's already sharing tight quarters. All you need are some spray paint, four pieces of poster board, scissors and something round to trace, like a plate. For how-to and inspiration, try this site.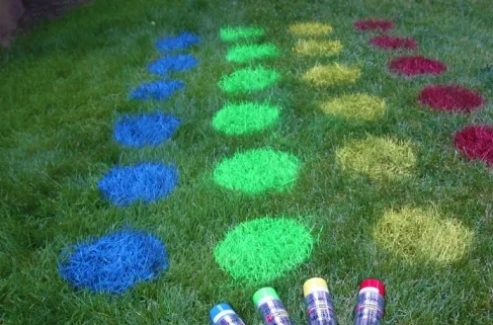 Crowd Pleasers
6. Ladder Golf. It's a tethered ball toss game. The goal is to wrap a bola, which in essence is two golf balls attached by a cord with knots at each end, around a rung on a ladder-shaped target. Each rung gets you a certain number of points. The game can be played by two or four players, indoors or outdoors, and is great for ages 14 and up. It's available on Amazon.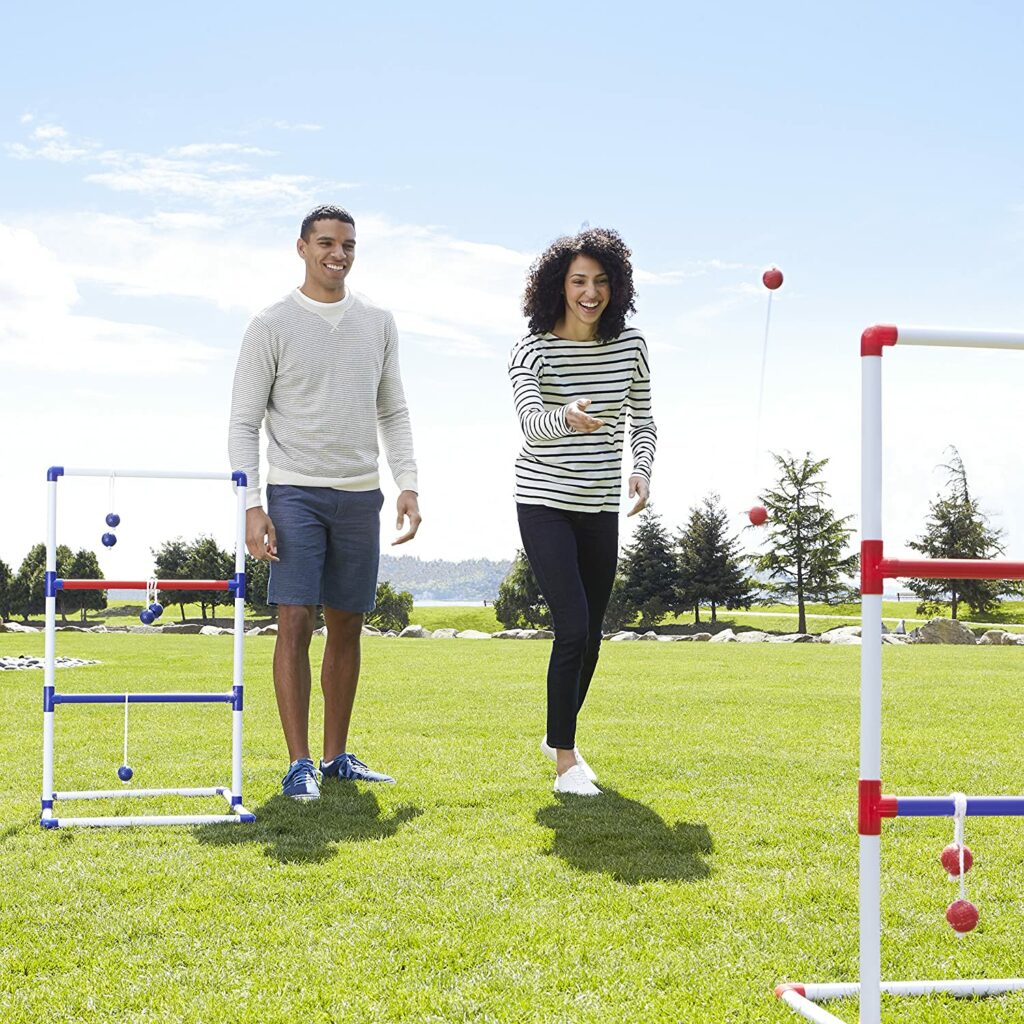 7. Polish Horseshoes. This frisbee game is also called Spanish Horseshoes, Frisbeener in the Midwest, French Darts in Virginia, and Beersbee in Canada. It's an outdoor game played between two teams of two people that involves trying to knock a glass bottle (sets come with unbreakable bottles) off a pole using a Frisbee. You do it while holding a beverage – or perhaps a phone, if you want to keep it family-friendly – in your other hand. Also known as Bottle Bash on Amazon.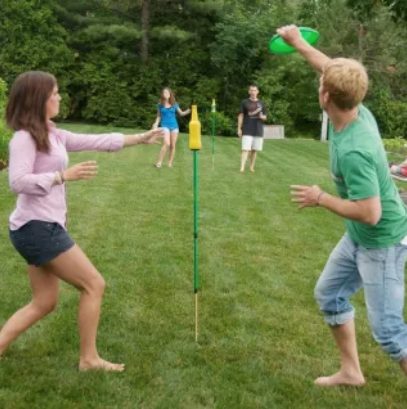 Modern player
8. Kan Jam. What originated as "Garbage Can Frisbee" is all grown up now and called Kan Jam. The disc-tossing game is played 2-on-2, which makes it a great option for homegating in the backyard. For a look at how it's harder to master than it looks – not to mention some laughs – check out our own "Tailgate Crashers" attempting to play Kan Jam, among other games at a NASCAR tailgate. A full set is available on Amazon for just $39.99.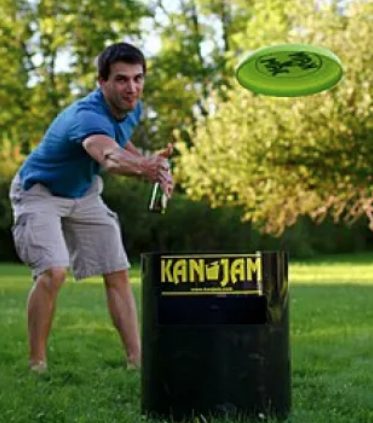 9. Spikeball. OK, this game not only looks fun (I've never played), it can double as a workout. This Shark Tank-featured distant cousin of volleyball looks fun, addictive and challenging. You play in teams of two, and any flat grassy area will do. It'd make a great game to pack and take to the beach on a vacation too, for future reference. Check it out on Amazon.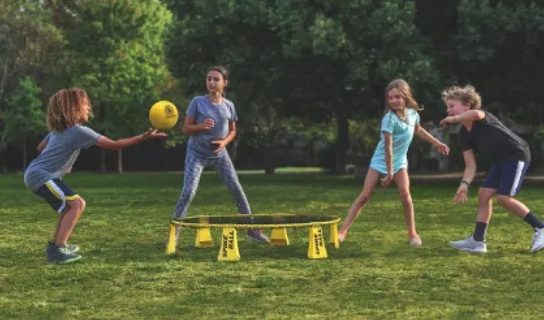 10. QB54. We at Inside Tailgating are fans of this football-tossing game created by two brothers from New Jersey. You get a set of two canvas tailgating chairs that convert into the game, complete with a basketball-shaped goal in what were the seats and attachable bright yellow "goal posts." It's win-win and available through Amazon.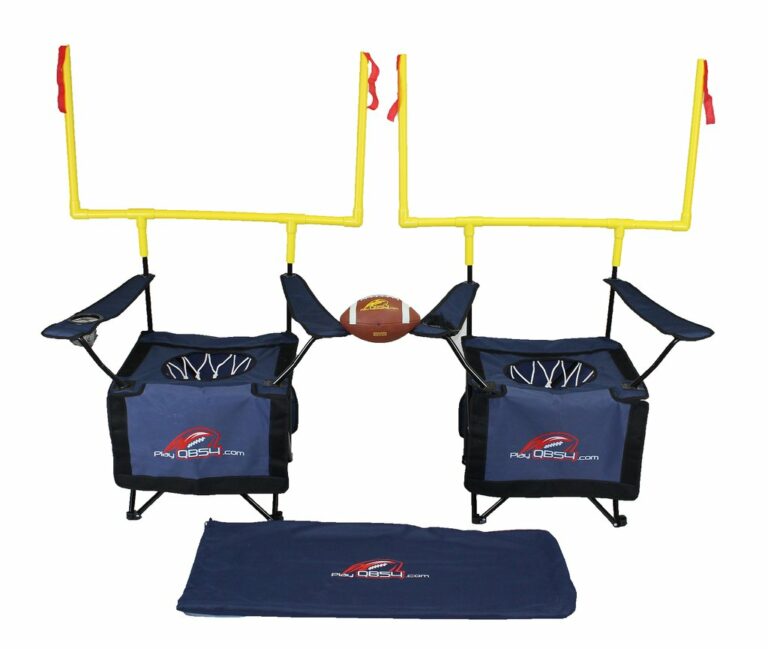 These fun games are perfect for your next homegating or tailgating party. They're perfect for all ages and get everyone into the spirit of the event. For more activities to do at your next tailgate, make sure to follow us on Facebook, Twitter, and Instagram. We feature some of the coolest ways to bring everyone together for a little healthy competition.
Don't forget to shop our Amazon storefront, where we've curated all of our favorite tailgating and homegating games, tools, accessories, and anything else you could need for the best tailgating experience.