Last Updated on 01/05/2022 by Inside Tailgating
When it comes to tailgating games, very few things compare to beer pong. Part table tennis, part drinking game, and part smack-talking competition, this lively game is a great option for any tailgate. To get you set up to entertain all your guests, here is our master guide to beer pong. In it, we recommend the best ping pong gear and introduce some new ways to mix it up and play the game.
You'll Need A Portable Beer Pong Table
To play this classic tailgating game, you'll need a great setup. Though a folding table, some red cups, and tape will do in a pinch, there are some great beer pong tables on the market. We love the Keg Works Portable Beer Pong Table.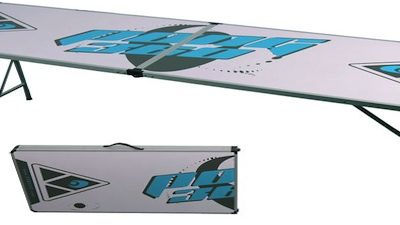 Portability is the key to any successful tailgate set-up, you need a beer-game table that is easy to transport. And that's where the Portable Beer Pong Table made by Keg Works comes in.
In addition to the cool, futuristic graphics of the pictured Galaxy Edition model, this table is also a bit of a design marvel. With a total weight of just 22 pounds, this table folds easily into a thin suitcase (also pictured above). The dimensions are 7' W x 2.3' H x 2' D when standing, and a compact 2' x 2' x 5.5" when folded.
The table features a dual-purpose cup area, able to hold six cups or 10 cups in the same triangular realm, not unlike a bowling lane. And cleaning the portable table is a breeze because of its melamine surface, the same type of finish on most dry-erase boards. The slick surface also allows the competitors to keep score right on the table, or taunt your opponents with the power of the pen.
For more information, connect to Keg Works.com.
Learn Some New Ways To Play
What we love about beer pong is that there are many ways to play. One of our favorite beer pong tailgating games is Pong-O.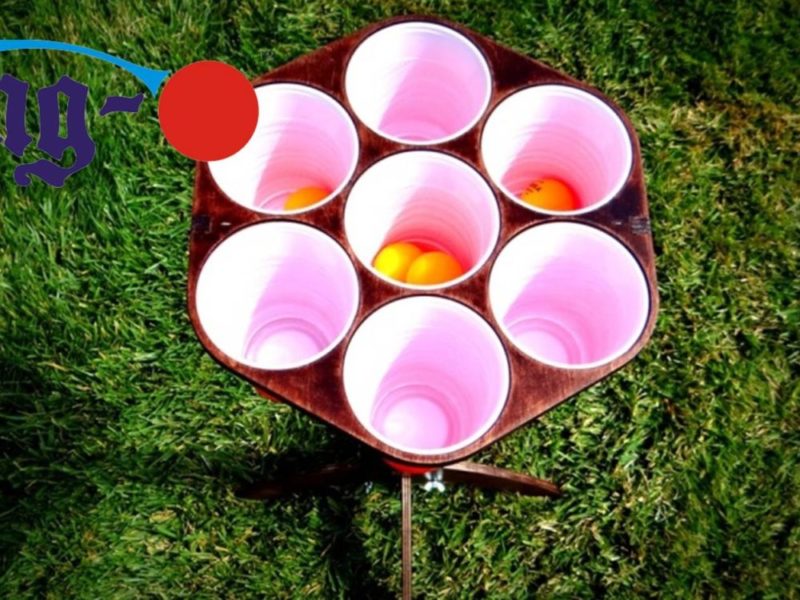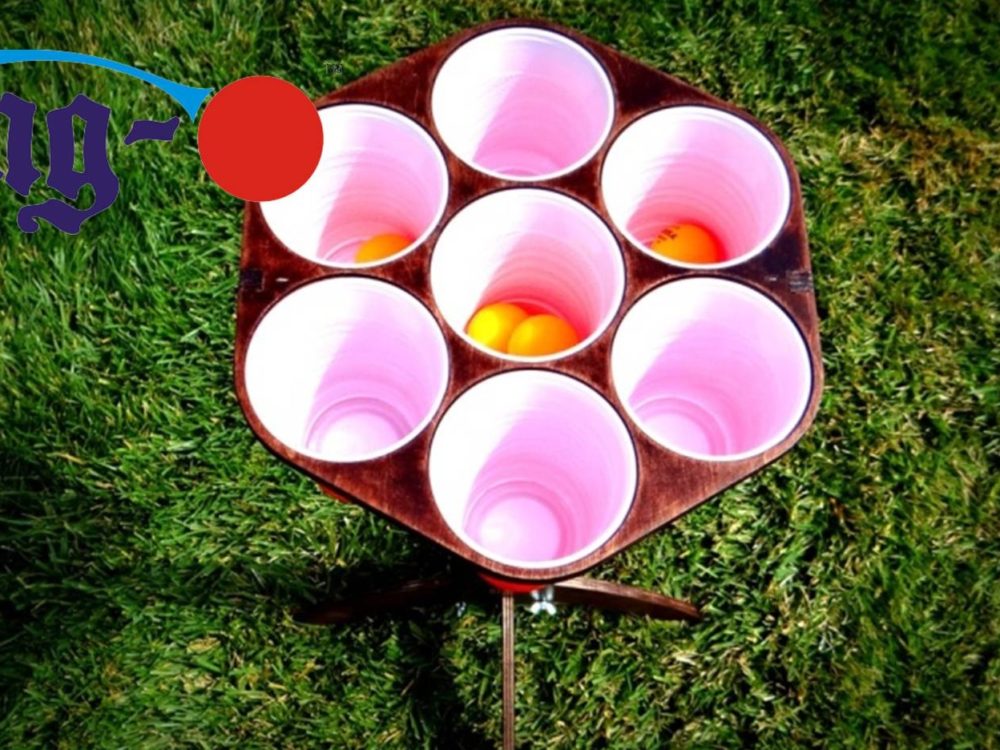 Imagine yourself at the beginning of a profanity-drenched beer pong match-up. You went first and it was nothing but Solo. Now, your opponent shakes the foam from the ball and prepares to retaliate. But wait, you better put your Ozzie Smith jersey on because you're about to play shortstop. Welcome to intensity, welcome to strategy, welcome to defensive scoring…welcome to Pong-O.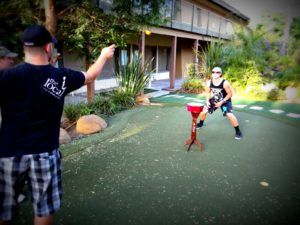 How You Play: If you are the shooter, you can score 2 points by making a shot in one of the outer cups and you can score 4 points by sinking a ball into the center cup. But here's where it gets interesting, your opponent will be crouched behind the Pong-O stand like a Russian dead-lifting champion waiting to catch your errant toss. Every snag deletes a point from your score. Oh snap!
This isn't your father's beer pong. Partially because the closest thing your father had to beer pong was drinking a Budweiser and playing some crappy Atari game, and partially because Pong-O isn't even beer pong anyway. According to creator Mark Pryor, the game is "different from beer pong, Pong-O does not need to involve alcohol. Points are scored rather than drinking. In this way it is also similar to the popular bag toss game a.k.a. "cornhole." Of course, if you are parched and wish to enjoy a refreshing beverage while you play, you will not be deviating too far from the spirit of the game.
The relationship between the ping pong ball and the solo cup is evolving, ladies and gentlemen, and it is guaranteed to challenge your agility and accuracy. Heck, you might even need a sweatband. So put the joysticks down, tighten up your Tivas and turn your amplifiers up to 11. There's a new game in town, and Pong-O is its name-o.
Check out their promo video above to see Pong-O in action or head to www.pong-o.com for more info!
Try Rob Gronkowski' Beer Pong Game "Grong Pong"
One of the best things about football is the players love to have as much fun as the tailgaters. Now with the Buccaneers, Gronkowski recently introduced the world to Grong Pong.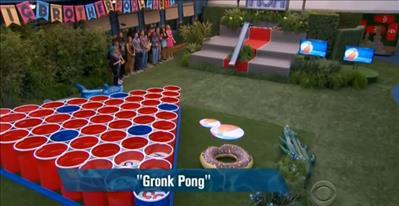 Rob Gronkowski is known to enjoy a cold beverage and game of beer pong when he is not catching balls and winning Super Bowls with Tom Brady and the New England Patriots. It is fitting that the summer reality show, Big Brother, tapped him to become a part of their #BBTakeover game twist and created a Head of Household challenge called "Grong Pong".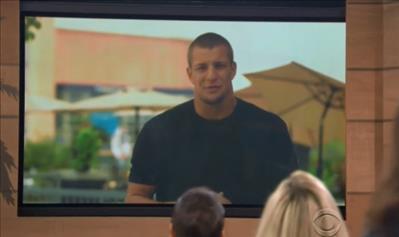 The concept is pretty simple and has elements of many other pong related tailgating games we enjoy like Pong-O and BearPong. Gronk Pong is a triangle of cans with different point values at the bottom of the can. Players roll a ball down a plank and launch it towards the cans. Whatever can your ball goes in is the point value you get. A simple, fun, and large backyard game – may be coming to a stadium fan zone near you at some point.
James Huling, a self-proclaimed "hillbilly Asian" from Wichita Falls. Texas with roots in Sumter, SC, ended up yielding the highest score, 53, to Vanessa Rousso, a professional poker player from Las Vegas, on the last shot of a playoff to determine the second HOH for the week.
Nothing But Net?
If you love beer pong and basketball, this is an awesome combination. The set up is similar to beer pong but instead of the cups set up on a table, they are hung along a basketball net.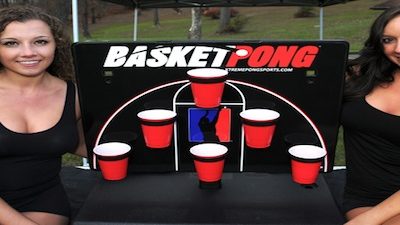 BasketPong is a lot like Beer Pong, where it undoubtedly got its inspiration from, but with more challenges and strategy involved. BasketPong has three different games to choose from. A regular pyramid is considered Pro, the downward pyramid gets an "All-Star" billing and playing with all eight cups is Xtreme. And like all basketball hoops, the game of H-O-R-S-E is also an option to play with a buddy or two with a BasketPong set.
The set-up of the game is pretty simple. A vertical backboard attaches to a base-supported pole. Then you attach the rims into the eight slots on the backboard. And it all folds up into a lightweight suitcase with a handle.
The goal of the game is to clear out all of the cups by making two shots into the same cup. If you make both shots in different cups, you get to go again. If not, the other team takes aim. Shooting distance is eight feet. The game also involves a defensive aspect not seen in Beer Pong. If the ball hits the rim the opponent can grab it out of the air before it has a chance to bounce in. If the ball is touched before it hits the rim though, goaltending is called and the shooting team chooses what cup it wants to be removed.
For all the official rules and ordering information, connect to BasketPong.net.
Beer pong is definitely one of our favorite tailgating games. If you're like us and love beer pong, make sure to follow us on Facebook, Twitter, and Instagram for more tips and tricks.
Let us know down in the comments how you like to play beer pong, we love trying new ways to play.