Last Updated on 08/18/2021 by Inside Tailgating
I'll admit it. I'm a sucker for a slow cooker. Cooking with a "Crocker" is one of my favorite ways to take the easy way out when it comes to preparing a delicious meal. A quick pass down the tailgating promotion aisle at the grocery store last week reminded me that slow-cooking for tailgates is not just a smart way to go, it's an easy way to show your team spirit.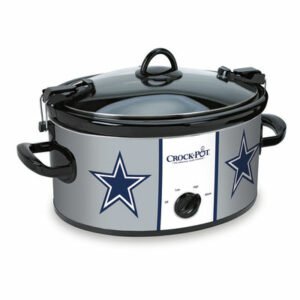 Crock-Pot sells slow cookers with your favorite college and NFL logos, which means you can cook up a great pot of chili, cheese dip, or barbecue pork and just unplug the crock-pot, pack it in your car and go. If you're like my husband and have adapters where you can plug things into your car battery, you can plug the Crock-Pot back in when you get to your tailgate, or if the game is close by, chances are your food will stay warm for a good while anyway.
My only complaint is Crock-Pot is only appealing to the masses with the school selections I found listed on their website. For the Duke graduate in the crowd, good luck. The only team from North Carolina you can find are the dreaded Tar Heels – which means I have a feeling our N.C. State Wolfpack lovin' publisher 'Lil Big wouldn't like that too much either. If you're headed out to the new Mercedes-Benz Stadium in Atlanta this weekend to tailgate for Florida State-Alabama, you're in business! Crock-Pot has got your Auburns and Alabamas, Florida States and Floridas, Clemson and South Carolinas, and Ohio States and Penn States, but I challenge them to go deeper! Meanwhile, if you want to check out their selection, click here for college and here for NFL-licensed items.