Last Updated on 07/08/2021 by Inside Tailgating
I'm a backpack person. I love being able to carry gear that's balanced on my shoulders and still having my hands free. Ask my husband and three young boys: diaper bags in our crew get carried around on mama's back. That way I have my hands free for chasing a toddler, pushing a grocery cart or holding onto that latte that's going to get me through the day (smiles).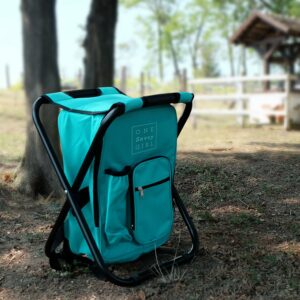 So when I was perusing Amazon for the latest in tailgating gear, the One Savvy Girl Ultralight Backpack Cooler Chair got my attention. Not only did the brand name jump out to me – I'm all for supporting fellow working women, especially women who create easy-to-use products for other women – but the convenience of carrying three tailgating necessities in one (the chair, the cooler and the snack pack) had me convinced.
The One Savvy Girl Ultralight Backpack Cooler Chair looks to me like something you can use to tailgate for the next big game or pack up for a picnic at the park. They weigh just three pounds, so you could buy a couple of them and let your little ones wear them! Why not let your kiddos carry their own lunch, drinks, and chair. When you've got more little ones than you do hands (we've got three!) it's the perfect solution for soccer games, swim meets, the beach, the lake, you name it. At $28.95 they're reasonable priced and you can justify getting several.
The girl in the ad on Amazon looks like a single gal looking to enjoy a day on the beach with a bottle of wine and a book. Hey, more power to that girl! I'd love to live vicariously through her for a day. In the meantime, this is a great idea for moms, dads, hikers, campers and tailgaters (they are big enough to hold a 12-pack of your favorite, ahem, beverage, with room to spare for ice and whatever else) – not just savvy girls!
She also has a wine tote bag with stainless steel stemless glasses that's super cute and portable.