Last Updated on 07/22/2021 by Inside Tailgating
Every month we pick a "Select 6," sharing our expertise on all things tailgating, whether it's our favorite portable grills, RVs, coolers, barbecue sauces, burger recipes or seasonal beers. Then we turn it over to you, our readers, to vote for your top pick. This month, while we move rapidly toward the start of the NFL season – we have chosen our Select 6 NFL Training camps which we based on the most accessible, fan-friendly and tradition-rich environments you can find to see NFL football rev up.
As a rule, we know your favorite camp figures to be the one where your favorite team practices. But we at Inside Tailgating are taking a broader view. While we give a hearty thumbs down to teams like the Oakland Raiders (Jon Gruden has closed their Napa Valley practices to everyone but season ticket holders) and the Philadelphia Eagles (only one practice was open, and the team charged admission for that – toward a charitable cause, but still) we give a collective thumbs up to these Select 6 NFL Training Camps.
Final voting will be announced Sept. 1 as the NFL gets set to open its season with a Thursday night showdown between the Chicago Bears and Green Bay Packers on Sept. 5
DALLAS COWBOYS


In an era of moving-home-for-camp, the Dallas Cowboys still make training camp a destination. And isn't Oxnard, Calif., a much cooler (literally) and sexier destination than an indoor practice facility in the greater Dallas area to escape the heat of Texas in July? Yes, we agree. Throw in the Dallas Cowboys cheerleaders, an NFL-leading 20 open practices, and the fact that the team returns home about halfway through camp to cater to the local fans, we think Cowboys camp offers it all.
INDIANAPOLIS COLTS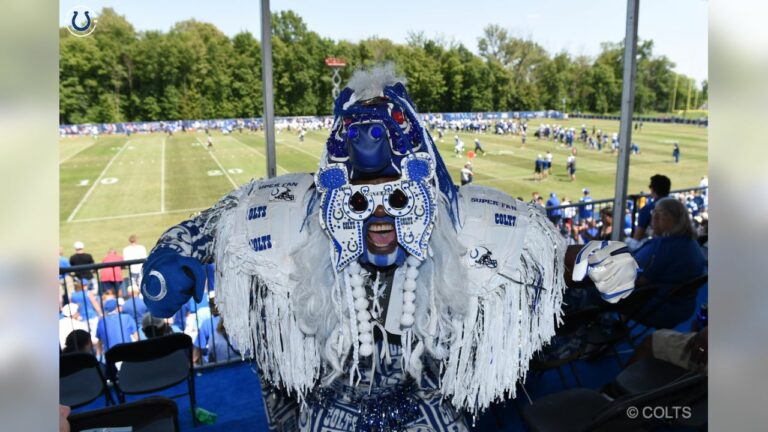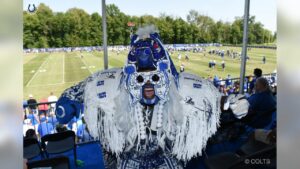 The Colts have a long tradition of running a fan-friendly camp, starting with a culture of open practices and autograph availability. But new general manager Chris Ballard, as well as Colts ownership, are taking it to new heights. Featured in camp this year: standing-room only fan sections on the practice field; skydivers delivering the practice ball to coach Frank Reich; a "Mom Mobile," an RV on site for nursing mothers; grandparents Day, Kids Day with rock wall and face painters, and "Thirsty Thursday" complete with a DJ. Sign me up.
GREEN BAY PACKERS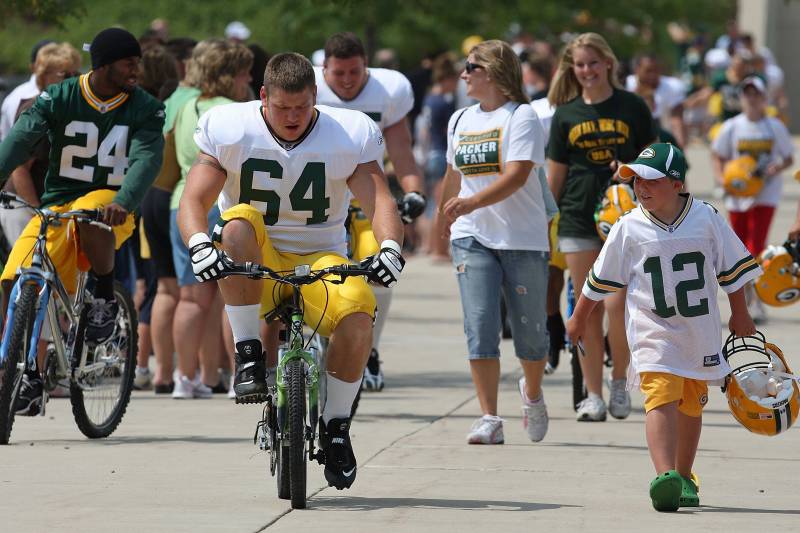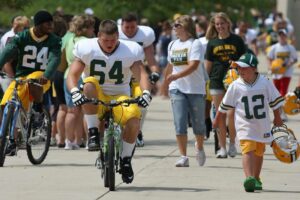 The Packers have the coolest camp tradition ever! Dating back to Vince Lombardi's time, kids bring their bikes to Lambeau Field in the hopes of being the lucky ones chosen by Packer players to ride from the locker room to the practice field, while the kid walks (or trots) alongside. That's old school player-fan interaction at its best. So is the team bunking up at St. Norbert College for 61 straight years, the longest running relationship among NFL teams. Fans are allowed to tailgate at Lambeau as always, as long as patrons clean up after themselves. Imagine tailgating at Lambeau in warm weather!
PITTSBURGH STEELERS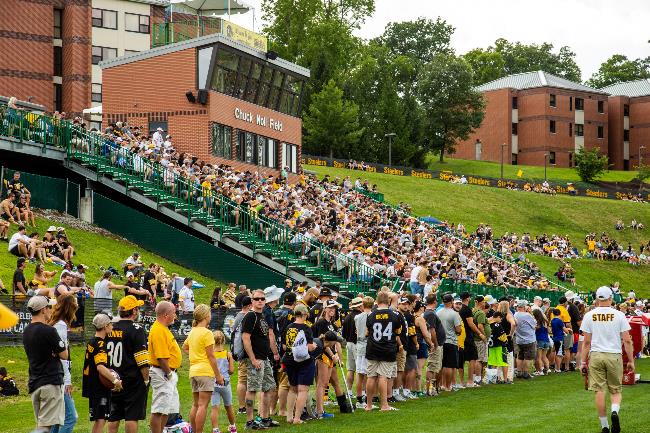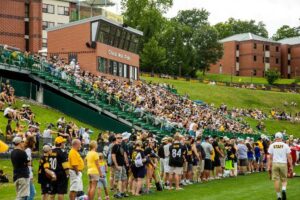 The Steelers set up camp for the 54th straight year in the picturesque setting of Saint Vincent College in Latrobe, PA. The only NFL team with a longer-running camp-college relationship is Green Bay (61 years.) Steeler fans will have seen 15 open practices, many while eating picnic lunches on the grassy hills surrounding the stadium. Steeler alumni are available for autographs to the first 200 fans every day. Steeler fans were even invited to attend on-campus mass and participate in a charity walk at the nature reserve with former Steeler Mel Blount.
NEW ENGLAND PATRIOTS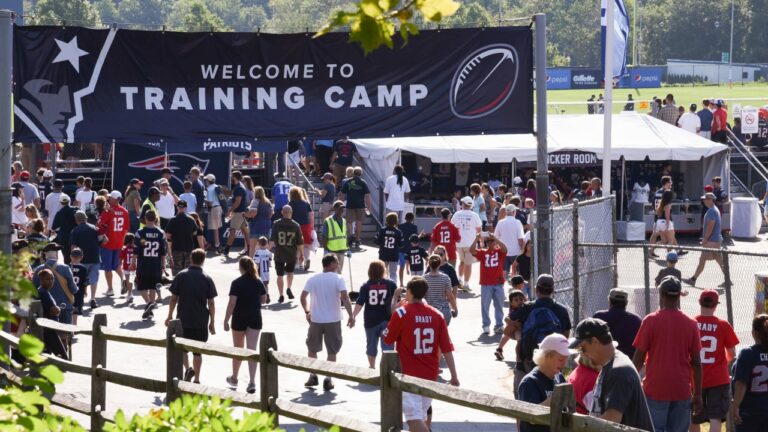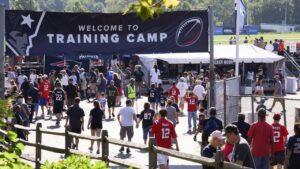 Practices are free and open to the public. Parking is plentiful. And when Tom Brady shows up, you automatically have game day-worthy buzz. When practice drills get dull, fans can walk over to Patriot Place, the shopping and entertainment district next to Gillette Stadium. It kicks into high gear for training camp, offering everything from food and live music to a baby animal farm and a caricature artist. Fans are treated to the Patriots Hall of Fame inductions as well. This year going in were Leon Gray and Rodney Harrison.
DENVER BRONCOS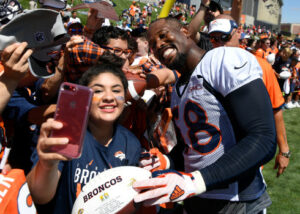 Nineteen of the Broncos practices were open to the public this training camp, second only to the Cowboys. Weekend practices draw as many as 5,000 fans to the grassy berm on the west end of the practice facility in the Denver suburb of Englewood, Colo. Players sign autographs by the ropes at the bottom of the berm after every practice. Linebacker Von Miller is a one-man show, known to dance his way onto the field and interact with fans, going so far as to play catch with kids in the stands. Food trucks make for easy grub.