Last Updated on 04/14/2021 by Inside Tailgating
At Inside Tailgating, we are constantly working to learn more about the tailgating demographic and have always known that tailgating isn't just partying and being rambunctious out in the parking lots of football stadiums, musical venues, and festivals.
There is a lot more that goes into tailgating as a whole and the ideas and the "act" of tailgating certainly has effects that reach far beyond the trash left in the parking lot after the game. As Americans across the nation are getting into the heart of "Tailgating Season," we recently ran across a study from a professor out of Notre Dame, that backs up our views on tailgating. The study points out excellent information about the fans, the camaraderie, and what tailgating actually contributes to in the long run.
Notre Dame Marketing Professor and Cultural Anthropologist, John Sherry and co-author, Tonya Bradford, have studied tailgating, examined their findings, and compiled their conclusions into a study entitled, "A Cultural Analysis of Tailgating."
In the study, Sherry compares tailgating to ancient harvest festivals during which Americans celebrated upcoming fall weather and the abundance of food from their summer harvest. In their findings, they have noticed that tailgaters, "literally turn their households inside out, bringing their kitchens and living rooms to the pavement outside the stadium, so that thousands of mini households are on public display on game-day," and goes as far as to refer to tailgating as "vestavals" (named after Vesta, the Roman goddess of hearth and home). Everything from lucky hats to tents, grills, food and beverages, chairs and television sets are all part of the social activity and play a huge part in the socio-cultural community of tailgaters that flock to stadium and concert venues around the country.
"Creating this private space in a public venue is an example of a 'consumption encampment,' during which consumers get together and 'camp out' as with the Occupy Wall Street movement camping out or even before a Jimmy Buffett concert. But with tailgating, fans are not only establishing family rituals that can pass through many generations, they are also becoming active participants in the game-day experience."
Sherry continues to examine what tailgating can actually do for the teams that tailgaters support…
"Tailgating is actually a very complex social, community-building exercise, not simply a wild party, during which fans are able to connect with and actually help create their school's brand," Sherry says. "Tailgating, for the fans, is literally helping to create Notre Dame, or Michigan, or USC."
As tailgating continues to grow and become much more of an American pastime, we appreciate the work that Professor Sherry and his co-author have done on the topic. We also believe that with this study, people will begin to realize that there are deeper rooted elements to tailgating that have similarities found in the overall cultural makeup of American society. Dr. Sherry has confirmed, in our eyes, that there are a lot of positive things to be learned from tailgating and what it achieves for our society and on campuses across the U.S.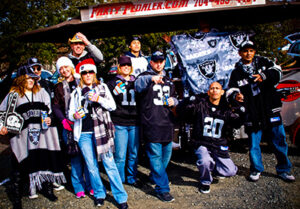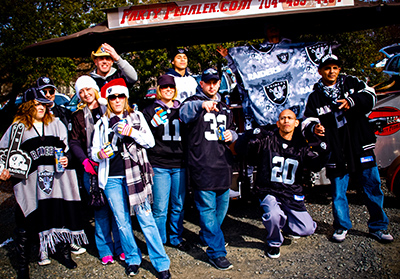 The next time you head out to the lots whether it be for a sporting event, concert, or festival, remember that you are not only out there to party and support your favorite team or artist, but you are also out there helping to create something much more important…a solid community with traditions and history that can be passed down for generations. Harvest Festivals may have been the "tailgate parties of the past" but we at Tailgating Ventures certainly enjoy the changes and evolution that they've taken to allow us to gather, stand up and cheer every weekend during the fall!
Tailgate Forever!